Looking for quick and easy dinner recipes? This Chicken Avocado Burritos come together with just 15 min prep! If you are in a big hurry to prepare a beautiful lunch or dinner, maybe it's time for you to try the healthy and easy Chicken Avocado Burritos. I consider this a real "trick up my sleeve" for situations like this.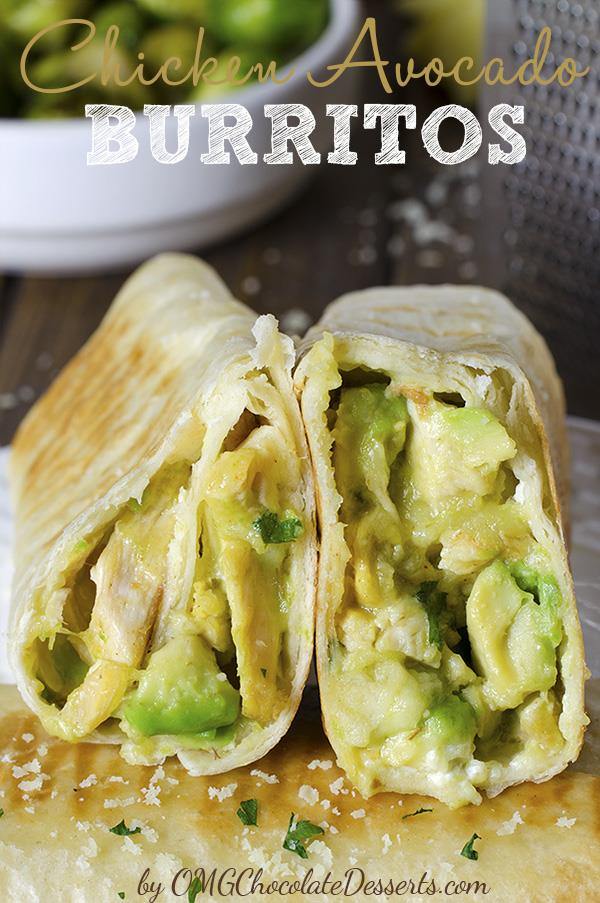 You know that I rarely put up recipes for savory dishes. When I started with the blogging story, the intention was for this to be a classic baking blog. But, there are a few savory dishes which simply had to have their place on this blog along with all the desserts. Those are dishes that my family members and I simply love and it is very hard for me not to leave a recording with a few photos and a short post on the blog
Well, exactly one of those recipes is Chicken Avocado Burritos. I really love tortillas and I often prepare them with all sorts of fillings. But, lately, tortillas have become my "joker" dish when I have really little time for preparation. Of course, my husband helps me wholeheartedly in decisions like this because he simply adores tortillas and burritos.
"Hmm, I have only half an hour to make something quickly. Got any ideas? "  I would often ask my husband in situations like that.
"Well make something with your tortillas "  would be one of the most frequent answer.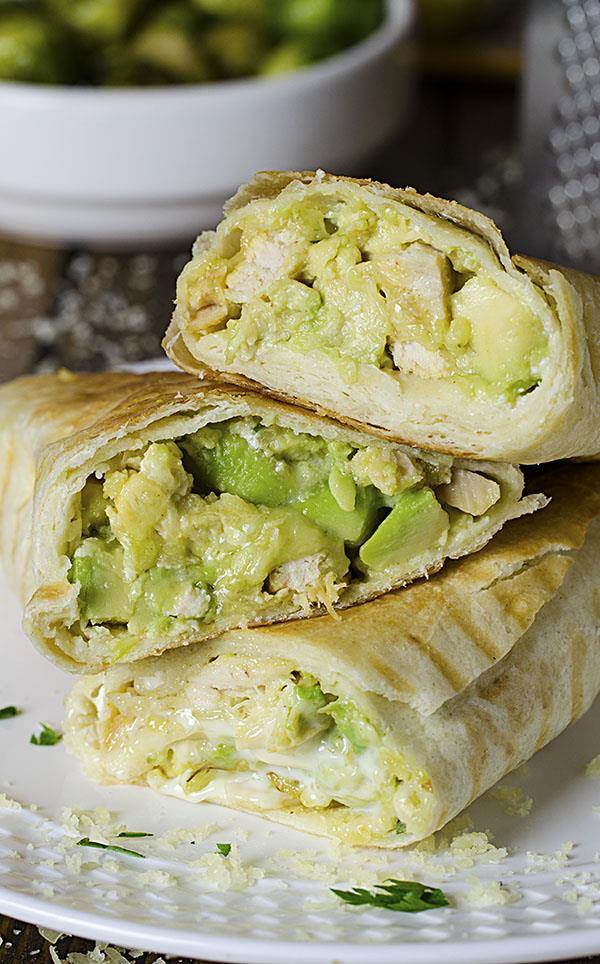 Yummy!!! What is even better for this dish is that you can serve it for lunch and also for dinner. Not rarely, my husband would devour what was left of the burritos as a snack.
The only question in that moment is which of the numerous burrito variations to prepare. One of my favorite tortilla combinations is with fried chicken and avocado. Just Imagine: fried chicken, sliced avocado, grated mozzarella cheese and cilantro. Really tasty and healthy as well. You cut all that into little pieces, fold it into a tortilla coated with sour cream, and fry it in a pan for a few minutes. And here it is on the table in front of you, the very tasty Chicken Avocado Burritos!
And so if you want to make your life in the kitchen a little easier and have a very tasty dish, this Mexican Chicken Avocado Burritos might just be the solution for you.
Chicken Avocado Burritos recipe instruction


Chicken Avocado Burritos

---

OMGChocolateDesserts.com

Yields 4

Looking for quick and easy dinner recipes? This Chicken Avocado Burritos come together with just 15 min prep!

Ingredients

2 cups cooked and shredded chicken (or 2 chicken breasts, salt and pepper- to taste, 1 Tablespoon mustard, 1 Tablespoon olive oil)

1 cup grated cheese (I use mozzarella)

1 avocado -diced

2 Tablespoons cilantro-chopped

4 large tortillas

4 Tablespoon sour cream

1 Tablespoon oil

Instructions

Heat 1 tablespoon olive oil in a frying pan, place chicken breast sprinkled with salt and pepper and roast for about 5 minutes on each side. Spread 1 tablespoon mustard over the chicken, add about 1/4 cup water add cook covered for a few more minutes.
Cut cooked chicken into thin stings.
Mix the chicken, cheese, cilantro, and the diced avocados.
Spread 1 tablespoon sour cream on each tortilla, add 1/4 of the mixture, form a roll.
Heat 1 tablespoon oil into a pan and place all four tortillas on the pan, cook for 2 minutes on medium- high heat. Flip on the other side and cook for another minutes or until the the tortillas are golden
Serve warm.

7.6.4

209

http://omgchocolatedesserts.com/chicken-avocado-burritos/

Show All Comments
Close All Comments