Lemon Custard Cake is a quick and easy dessert recipe, perfect for summer. This cake is soft and creamy, with refreshing lemon flavor. It's melt-in-your-mouth good! If you like light and creamy desserts, try Vanilla Magic Custard Cake or Easy Banana Magic Cake, too.
Lemon Custard Cake
If you are not familiar with magic custard cakes, these are triple-layered cake made from just one batter. During the baking process, batter separates into three different layers. Dense cake layer on the bottom, creamy custard-like filling in the center, and light and fluffy cake layer on top.
I've already shared recipes for four different flavors: vanilla, banana, strawberry, and chocolate custard cake. You must try these delicious, triple-layered cakes.  These are all so light and refreshing. Custard cake is the perfect dessert after a heavy meal, or delicious snacks during the hot summer days.
After chocolate, strawberry, banana, and vanilla, it was time to try out lemon-flavored custard cake.
It's summertime, the weather is hot and the lemon flavor seems like a perfect choice. There's just something so refreshing about the bright citrus flavor. I'm totally in the mood for lemon desserts these days. Last week I made Lemon Cheesecake Brownies, and today I present you my new lemon-infused recipe- delicious Lemon Custard Cake.
How to Make Lemon Custard Cake
First, you separate the eggs. Eggs must be at room temperature so you can beat egg whites really stiff and set them aside. Next, beat the egg yolks and sugar until pale yellow. It will take 2-3 minutes, then add melted butter and vanilla extract. Mix in flour until evenly incorporated.
Next, add lemon juice and lemon zest and mix until combined. Don't skip the lemon zest. Freshly grated lemon zest gives that wonderful burst of flavor. After lemon juice, slowly beat in the milk until well combined.
Finally, add egg whites and whisk by hand. It will seem hard to incorporate light and airy egg whites foam into the thin and greasy mixture, but you don't need to fold it in completely. It's OK to have small lumps from egg whites. In fact, you need to leave small lumps of egg whites. When you pour the mixture in the pan, lumps will float on the surface and create the top layer during the baking.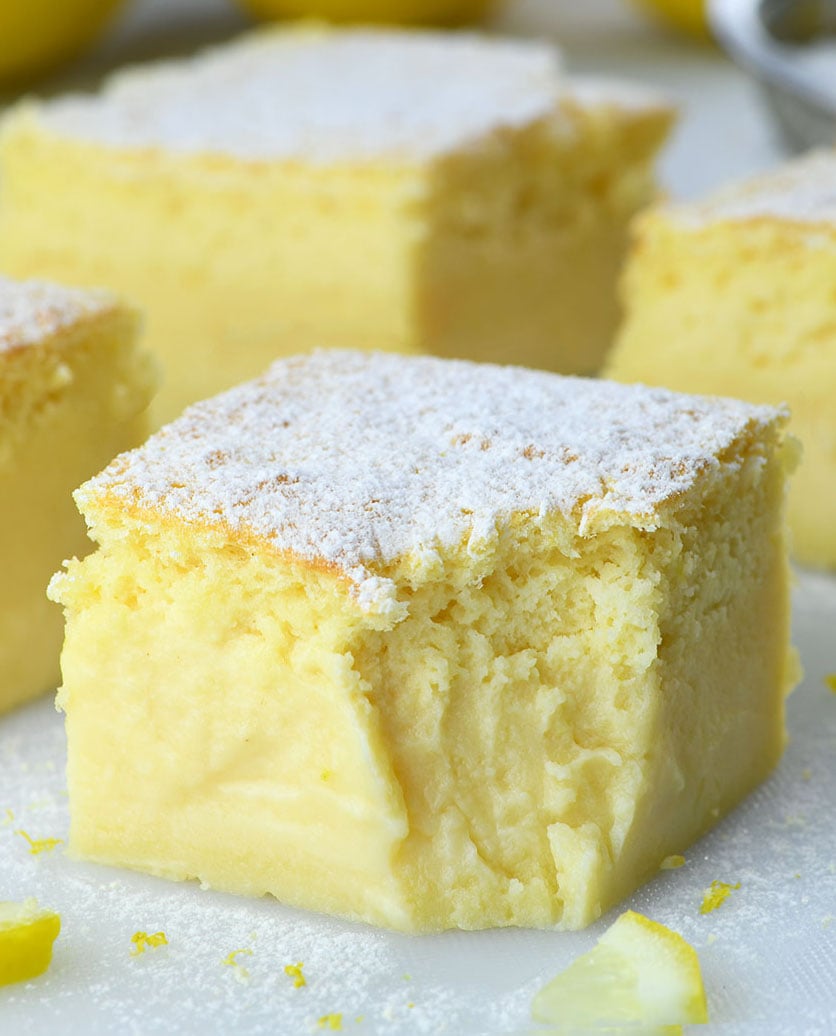 Pour the batter into the pan and bake for 40-60 minutes, until the cake is barely jiggly in the center, but the top is firm to touch. It's a bit tricky to tell when the cake is done. Baking time might vary depending on your oven or the pan you use but start checking after 35 minutes. Do not overbake it, or the cake won't have three layers. it will turn out rubbery and won't have a custard layer in the center. Cool the cake completely before dusting with powdered sugar.
Enjoy!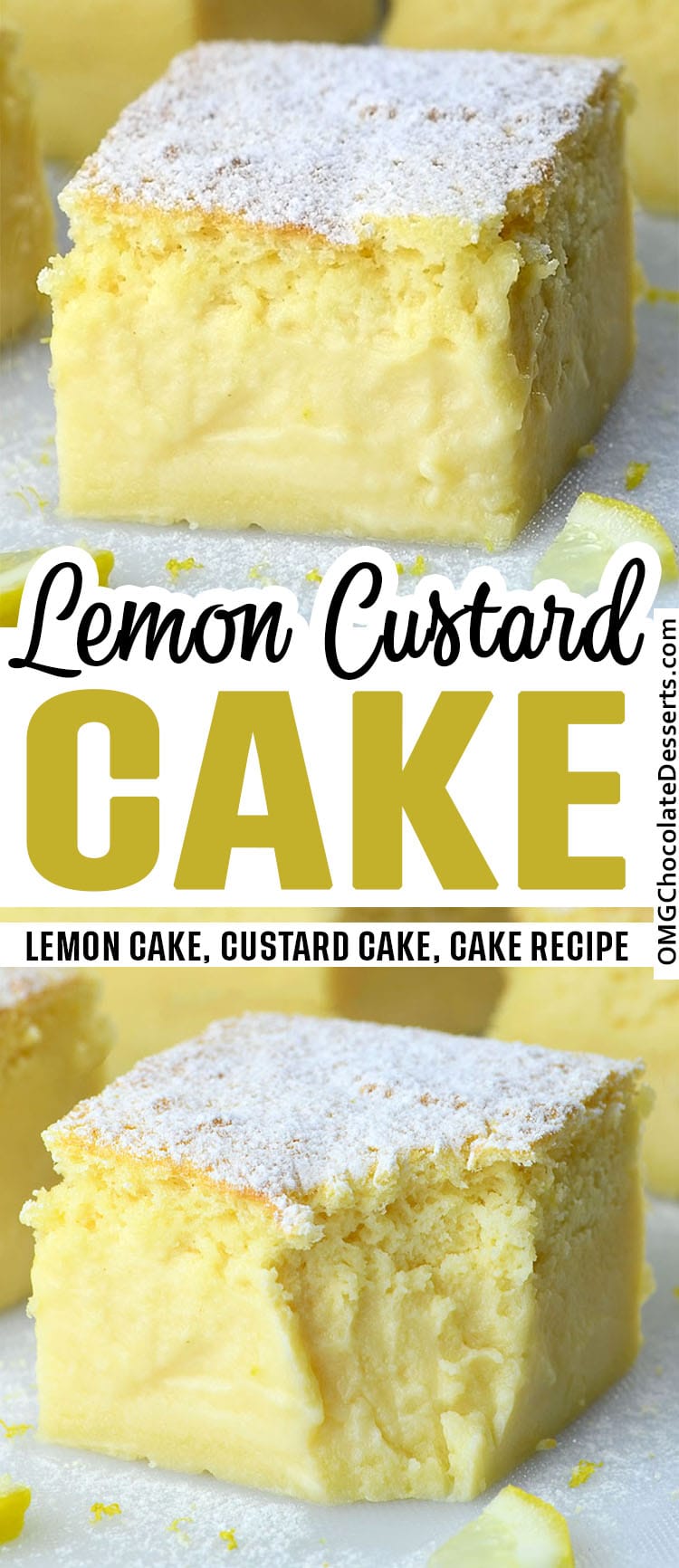 Print
Lemon Custard Cake
---
Author:

Prep Time:

15 minutes

Cook Time:

45 minutes

Total Time:

1 hour

Category:

desserts

Method:

bake

Cuisine:

American
Description
Lemon Custard Cake is a quick and easy dessert recipe, perfect for summer. This cake is soft and creamy, with refreshing lemon flavor.
---
Ingredients
4

 eggs (room temperature)-separated

¾ cup

 sugar

½ cup

 unsalted butter-melted and slightly cooled

1 teaspoon

 vanilla extract

¾ cup

all-purpose flour

¼ cup

freshly squeezed lemon juice
grated zest from 2 large lemons

1 ¾ cups

milk-lukewarm
powdered sugar for dusting
---
Instructions
Preheat the oven to 325°F. Line 8×8-inch baking dish with parchment paper leaving overhang the sides, lightly grease with cooking spray, then set aside.
Whip the egg whites until STIFF peaks form, set aside.
Beat the egg yolks and sugar until pale yellow.
Add melted butter and vanilla and mix until evenly combined.
Mix in flour until evenly incorporated.
Add lemon juice and lemon zest and mix until combined.
Slowly beat in the milk until well combined.
Add egg whites and whisk by hand. You don't need to fold it in completely. Leave small egg whites lumps. When you pour it into the pan, lumps will float on the surface and create the top layer during the baking. NOTES: The batter is very, very thin!!!
Pour the batter into the pan and bake for 40-60 minutes (until the cake is barely jiggly in the center, but the top is firm to touch). Baking time might vary depending on your oven or pan you use but start checking after 35 minutes. If the top browns quickly, you can cover the cake with aluminum foil. Do not overbake it, or the cake will turn out rubbery not custardy in the center.
Cool the cake completely before dusting it with powdered sugar.
Store leftovers in the fridge