Since you have slowly sailed into the world of food blogging, you must've realized that all the basic stuff like Word Press, hosting and publishing posts, are no big deal at all.  Now that you know how to manage successfully your Word Press, you've probably realized that there are still some tiny, little things for you to master, so that everything can look just the way you imagined at the very beginning.
But now there are some new issues that begin to arise:
You've made delicious chocolate mousse, but your photo is not as pretty as you would like it to be.
It takes too long to load a page. Hum, what can I do to speed up the process?
Oh, what's with these strange comments on your last post? You would prefer not to have to worry about them.
How can I get more people to see my last lovely post?
Good news, if you are concerned with all these questions, it means that you are slowly becoming an advanced food blogger. But how can you tackle all these new issues?
I could give you all sorts of advice, but in order for us to set out to solve these mysteries together, I've decided to enlist the majority of my own blog resources! Yes, that's right, these are the very things that make my blog look and function just the way I want it. I hope you will find some of these things useful and if you have any question at all, don't hesitate to ask, I'm here for you.
Starting Your Food Blog
If you haven't noticed yet, you can find a large text about starting a food blog on a separate page that is devoted to the topic. But for those of you who haven't read the page, I'm listing some of the resources that can help you at the very beginning.
Hostgator – If you decide to get into hosting business, my advice to you is to opt for a reliable hosting company. My choice for OMGChocolateDesserts.com would definitely be the HostGator. Of course, for start it is enough to use some of their basic hosting packages. A really great thing about this one is that once you become a true professional, the HostGator will offer you all kinds of advanced packages, and all you have to do is click the upgrade button. Another great thing about this company is that HostGator has the most professional backup software I have seen in my entire blogger life.

Thesis Theme For WordPress – One of the best choices for the theme- determines the look of your blog- is the Thesis theme. If you ask me why, I'll say it's one of the most adaptable themes I've had the chance to try out. With this theme you can practically give your blog any look you want! Another big advantage of this theme is that it is one of the best themes you can get that are SEO adjustable.
Remember, this theme doesn't come free of charge! And one more thing, if you are new to blogging, have in mind that you probably won't be able to set up all these things by yourself. You will need to have it done by someone a bit more experienced.

Free WordPress Themes – Of course, if you want a nice, but free theme, there is a wide array of fantastic themes that are as pleasing to the eye as they are functional. All you need to do is to dig into the WordPress base and you are sure to find something for your lovely blog. Nevertheless, be aware that one day you might stumble on a great blog with the same theme as yours. Well, it did come for free, didn't it?
WordPress plug-ins
Now, here's the list of the great plug-ins without which I cannot even imagine blogging in the WordPress. Some of these things will make your blogger life a lot easier, so my advice to you is to make some effort to install them in your WordPress blog.
WordPress SEO – If you are not familiar with SEO stuff, SEO plug-in is definitely the right choice for you. Once you install it a couple of new options will appear in the WordPress dashboard below your post. It's really simple, you just fill in the required fields and your post is completely Search- engine-optimized, you don't have to pounder it at all. Great thing, hah?
W3 Total CacheThis  – This terrific plug-in will make your pages load a lot faster than before. It will    dramatically improve the speed and user experience of your site, which will automatically make your blog a lot more professional, which should always be one of your goals.
Akismet – This plug-in is already installed in your WordPress, the only thing you have to do is register and enter API key, which you will get during the registration process.  Don't be lazy, don't skip this step, because this plug-in is quite possibly the best way in the world to protect your blog from comment and trackback spam. It keeps your site protected from spam even while you sleep. Don't miss the opportunity to use its potential!
Contact Form 7 – If you would like to have an automatic form for sending messages on your contact page, then this plug-in is a simple and easy choice for you.
Add This Social Bookmarking Widget – I simply adore this plug-in. If you want your post to be available on the Internet and like really popular some of the "share it" options are a must- have. This is where this lovely plug-in comes in handy. It's really simple. You just install it and you choose a spot where you want to place the famous "share it" buttons and that's it! Your magnificent photo can now be shared via Pinterest, Facebook or some other social network!
Easy recipe – This is a perfect little thing for all food bloggers. Easy Recipe makes it easy to enter, format and print your recipes, as well as automatically doing all the geeky stuff needed for Google's Recipe View. Most of bloggers use this plug-in and that's not without a reason. My advice to you is to become one of them!
Food photography tools
You won't believe me, but the most important thing that you absolutely have to have in your new post is a fabulous images of your food! It's not like you can bring a visitor in your kitchen and offer him/her a delicious piece of cake to show him how tasty it is. The only thing you can do is show him/her a photo of your culinary master-piece. That is why your photo has to be a piece of art too. At first it won't be easy, but with a little bit of practice your food blog can become extremely popular in a short period of time! Just think about the food blogs you like to read. They have the most beautiful photos, don't they?
Nikon D5100 – If you want to take really beautiful pictures, then you have to start using a dSRL camera! Don't worry, there's a bunch of great books on the subject, and all you need to do is find some time. Another thing! Don't let the prices intimidate you. At first they might seem exorbitant, but it is enough to buy some of the cheaper models, because with a bit of skill you can take master-piece photos just like you would with the most expensive one.
My absolute winner in this class is Nikon D5100! For a 699$ and with a solid objective, this camera will turn you into a master of photography. After all, if you like any of the photos on my blog, you should know that all of them were taken with this camera or its fore-runner D80.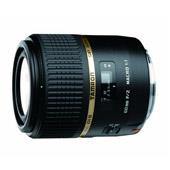 Tamron AF 60mm – Another thing that's bound to intimidate you is which objective to choose! My favorite lens is absolutely Tamron AF 60 mm. This is Macro lens which means you can take photos really close to your food! The problem cen be 480$ price. HoweverIf you want a super-cheap objective with a great quality, then Nikon 1.8fD is a perfect choice for you. For 120$, you'll get a perfect tool! Trust me, many of my photographer friends claim that when it comes to the quality, it can be matched with much more expensive models of this class.
Of course, don't expect miracles; instead be prepared to work on advancing your photography skills.
Tripod – This great tool is a practically invisible thing, but the one I cannot go without. In order for your photograph to be perfectly sharp, your hand needs to be absolutely still. So, don't think twice and place the camera on the tripod.
One more thing! Don't buy the cheapest models, because some are way too impractical.
Food photography books
Now, the new equipment is in, but your photos still don't look the way you would like them to. This is where some little tricks come in handy, the ones the beginner like you wouldn't know, despite the fact that they are crucial for the quality of your photo. Here I talk about food styling, the lights and preparing the food for photographing. Now you must thinking: OMG, how can I master all these things! Don't worry! I went through the exact same thing and I found some of the fantastic books available online to be extremely helpful. I choose two to present to you, but if you have already read a good one, even the better.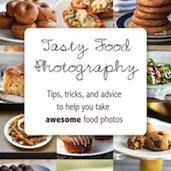 Tasty Food Photography – this is a fantastic book written by one of my favorite food bloggers, Lizzy. I kindly recommend it to all of you who are new in these waters, because it's intended for that kind of people. It's very simple and readable and there is a lot of practical advice in it.
Here is what Lizzy said about the book:
I've learned a lot of things – both big and small – in the last few years, and this book is my way of sharing all that with you. My hope is that these tips and tricks will be practical, easy to read, and ultimately help you take food photos that make people say, "I am dying to eat that right now!"
This is the first book I read after I realized that something were wrong with my food images! OMG! I missed so many things! But never to late! After that moment my photos started to look much better .
You can find many usefup tips like: basics on getting the right camera equipment, learning key photographic principles of aperture, ISO, and shutter speed,  knowing many new things about lighting and composition and learn how to style food using props, fabrics, and tabletops.
Driving Traffic to Your Food Blog
Now that you have all these lovely food posts, you certainly wonder how to attract the readers who will enjoy them and share them for other people to see. For me, this was a mission impossible in the beginning, but as time passed I discovered a few useful ways to make this happen. Basically, there are 3 things you should pay attention to: food porn sites, social networking and link parties. Here are some additional explanations.
Food Porn sites
These are high-traffic sites that are extremely popular with people who follow recipes! The whole point is that a food blogger (you now) should submit the new recipe to the site, attaching a preview photo with a short description and a link to the post. If you match the criteria of the site, your picture together with a new recipe and a link to the post will be will be uploaded to the site and thus available to a large number of visitors.
So, don't forget to submit your recipes to such sites and in a no time you will see a significant increase in your viewership. Here are some of the most popular Food porn sites:
Social networking sites
In order for your blog to achieve higher viewership, you need to enlarge you circle of friends, creating an opportunity for them to recommend your blog to their friends. Yeah, you guessed it right! This is where Facebook, Pinterest and other social networks jump in. Yeah, that's right; I recommend that you choose several social networks to be active on, thus widening the circle of your committed-to-recipes friends. The three social networks that you absolutely can't avoid and that can become a primary source of your blog visitors are as follows:

Pinterest – If you are a food blogger, having a decent Pinterest profile is a must-have. If your profile is popular and if you frequently update it, the viewership of your blog will increase up to an amazing rate in no time. After all around 60-70% of all food blog visits can be traced back to Pinterst. Think about that!
Facebook – I don't think I have to elaborate on this one! If you already have a facebook profile, just use it to make a new page reserved for the discussions about food and your blog. Make sure you get as any likes as possible and as time goes by this page will start bringing new readers to your blog.
Google+ – If you still haven't made an account on this network, make sure you get it done soon! Basically, it's the same the same thing as facebook, but it has a big advantage – your profile can improve your SEO.
Link Parties
Many food bloggers love this type of socializing with other bloggers from the same field of interest. The whole idea is very simple and interesting. Basically, the hosts of the link parties usually pick a day of the week or a month when all other people are invited to display their recipes on a given topic.
For example, every Tuesday, Niki invites all food bloggers on one of my favoutite food blogs Chief in Training, to publish their new posts on her Tuesday Talent Show link party. You just submit the link to your new post and within a couple of hours it will be visible to all visitors.
Not only will this attract a certain number of visitors to your blog, but it will also strengthen your position on google, because one of the best ways to achieve this is to have a large number of external links to your blog.
It's really simple and interesting and useful. Here are some of my favorite link party sites you can visit for start and master some of the things we talked about:
Chef in Treining , The Recipe Critic , High Heels & Girls , Your Home Based Mom , The Best Blog Recipes , Inside Bru Crew Life , Lady Behind The Curtain , Six Sisters Stuff ,  Sweet Bella Roos , Chocolate, Chocolate and More
I hope that now you have a clear picture about improving your food blog. Of course, different food bloggers have different resources and their own ways of improving their blogs! My advice is to explore those paths too, because with every single day there is something new in the world of food blogging. If I wasn't clear enough or you would like to know more about this topic, feel free to write to me. Perhaps your problems will be my inspiration for future post on food blogging.