Hello, everyone! Welcome to my little chocolate corner! Some of you might wonder about the ''chocolate" part! The explanation is simple: Whenever I turn around in my home, I find myself surrounded only by the real chocoholics 🙂 !
Approximately, I spend half a day chasing my cute little baby boy who has, out of the blue, decided to exercise the art of painting with his little chocolate fingers all over his new white t-shirt, whilst smiling at me with the chocolate covered adorable little face. And just as I manage to deal with the little one, the Grandpa, with his new found inspiration triggered by Marko's chocolate artwork, asks his well-known question: "'Oh, when are you going to make that simple chocolate cake of yours?'. Same story with my husband, of course! No use asking him about daily dessert wishes, anymore! The same answer has followed, for several years, now:"'Hmmm, something with a chocolate, perhaps?'. And when I finally manage to make my escape to my internet corner, after a while, I find myself gazing at some fantastic chocolate delicacy posted on one of my favorite blogs or the Pinterest.
Having all this in mind, there's just no use in fighting against it, but rather wrapping it all into a sweet, little chocolate adventure.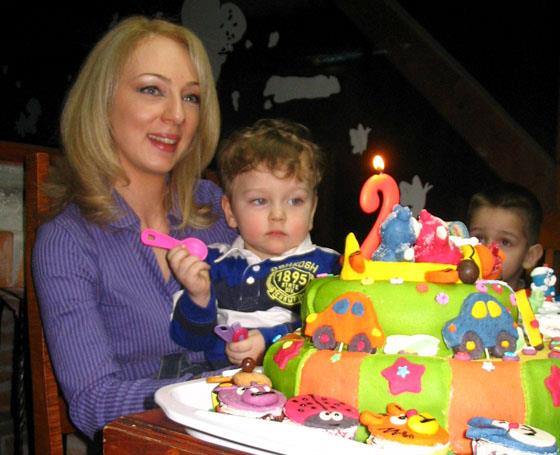 About us ( my sweet chocoholics 🙂 )
Oooops, sorry for not introducing myself earlier! My name is Vera and I am a stay at home mom of a cute little chocolate painter Marco and a wife to a loving husband who many of his long working hours puts into the typing on his computer keyboard (he is a web designer and a developer). If you met me 6- years ago and asked me about my future employment, I would probably have answered a judge or a lawyer (since I have a University degree in law). However, Life is grand and filled with surprises! Now, I take part in much more serious issues of life, such as: what kind of a cake to make for Marco's second birthday (hoping it turned out brilliantly, just as everyone has commented), what kind of a topping to make for the chocolate cupcakes, and so forth. And I really find myself enjoying in all of this!
My chocolate team
But, let's not talk just about me! Here are other important chocolate team members!
Of course the No 1 is my little son Marco, as an all time inspiration for a great number of my kitchen experiments. What kind of a cake is it if it cannot be properly rubbed in into the Marco's clothes? It couldn't possibly be any good! And, my boy is also the main critic of every dessert I make. The more of it ends up spread on his face, the higher value it reaches 🙂 .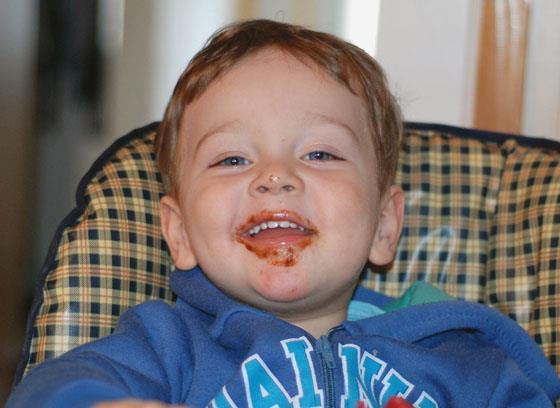 And, last but not the least, is my husband Darko – the technical engineer. He is a web designer and a developer, and he really knows a bunch of technical stuff that I can only dream about (he has designed and created our blog from scratch). Sometimes his enthusiasm kicks in and he tries to explain to me about the glitch that slowed him down, visible in the certain code lines of the PHP code, thinking that I could possibly be of any help in those web entanglements! Of course, that's my queue to go to the kitchen and return with a sweet, hot chocolate. Soon, after a few sips I hear him ask: "Hmm, what was I on about, anyway? ".
About OMG Chocolate Desserts
Now that you got a (sweet) taste of what you shall come across on this site, here is my idea how this blog should look like! And how far and in which direction all of this shall lead us, only the time will tell.
1. My Recipes

As simple as a piece of a chocolate cake :). A bit of playing around in my kitchen, a touch of photographing with my Nikon camera, some typing in WordPress, and behold: Our very first chocolate post! I sincerely hope you will like some of my recipes, and will find yourself inspired to engage in the magical kitchen activities. And if you find yourself in need of any advice, don't hesitate to ask! It will be my pleasure to hang around with you!
2. Blogger Resources
If you are a food blogger, then you certainly know that it is not such a simple task!  If only all of it would come down to making and eating delicious treats and delicacies! In order to compose a wonderful post which would save your magical chocolate day in the kitchen from oblivion, you must know stuff like WordPress, how to photograph food, SEO, etc.
Luckily for me, my husband is a professional in this area, so, by his side, I've learnt a great deal about all mentioned the above. So, I've made a resolution to, in this column, side by side with my husband, try and help out all the beginners in this area. I hope I will somewhat succeed.
3. The Best from Web
Every day, with a cookie and a cup of hot coffee by my side, there are a few moments when I manage to get away from my dear chocoholics. That period is reserved for the internet, for reading my favorite food blogs and Pinterest! I cannot begin to tell you how many astonishing recipes you can come across, and I feel truly sorry for not saving them somehow for all of you to see. Therefore, I've decided to save some of them for you. And to find out which ones I've selected for you, just check out (by using the left sidebar of my blog) the best web recipes, sorted out in some of my favorite chocolate categories.
I hope you'll really enjoy in this wonderful chocolate adventures!
Sincerely
Vera