I don't know why, but a few days ago, I found myself nostalgically scrolling through my old posts. More then a year of blogging is "gone with the wind" and in all that time, I posted almost 70 recipes. Who would say that a little playing around on the internet will turn into a real little food blog.
And of course, as soon as I begin remembering my best posts, the last station is probably the most popular post of them all – chocolate lasagna .
Wooow, as soon as I look at this photo, my mouth begins watering.
"No, Vera, it doesn't make sense to put on your blog a recipe that you already posted" the voice of reason was talking to me, while the chocoholic in me was screaming: "Come on, Vera, just one more treat of this chocolate heaven".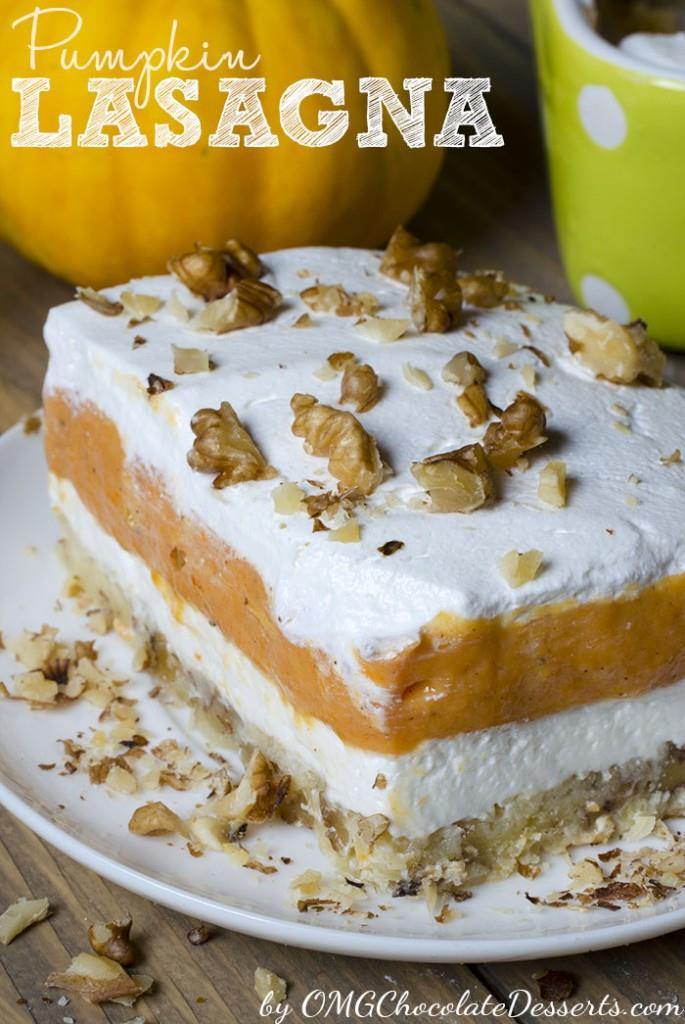 But, even though it was time for a new one, chocolate lasagna still wasn't one of the options.
"Hmmm, lasagna" the sound was still ringing in my head. "But, what if I switch chocolate with some other ingredient and make a completely new lasagna?" An idea was born.
What could I put in? And of course, what else can you think of when you enter september – one of the most popular autumn food– pumpkin.
" Pumpkin lasagna ? Sounds interesting. Let's see what I could make of it" I thought to myself happily.
And so I started from the crust! My chocolate lasagna had Oreo crust, but I think that would not have been a good combination with pumpkin. Ok, then baked crust with butter, walnuts and flour will be the choice for my pumpkin lasagna. Pecans also came into consideration, but since my supplies are always deficient, walnuts were my choice.
Ok, going on. The second layer is of course the unavoidable cream cheese and whipped cream, so I could immediately jump to the third layer of my treat. And there, a real little heaven is waiting for us, a mix of vanilla pudding and pumpkin puree. Gorgeous The color was really beautiful and the smell of pumpkin was giving promise of a real treat.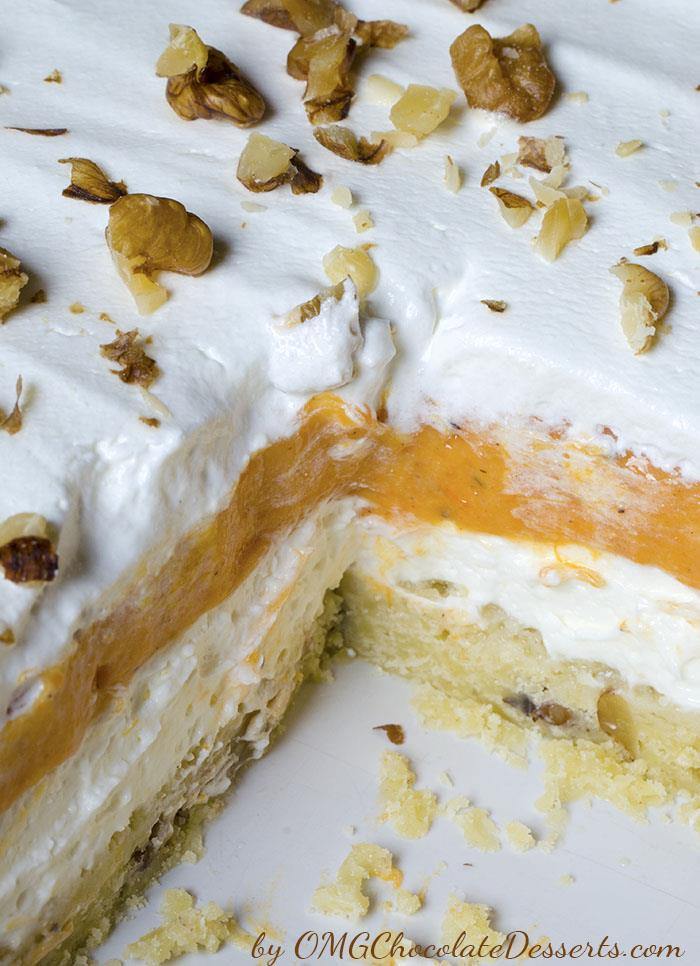 All that was left was to make these three layers a little sweeter with a little more whipped cream and to put chopped walnuts and our little pumpkin lasagna was ready to be cooled off in the fridge.
And then after an hour of cooling off, my completely new Pumpkin Lasagna was formally waiting to see who will eat the first bite of a fresh piece.Of course, when it comes to degustation, everything that is sweet must be tasted first by the greediest member of our family – you can assume it already, my husband.
" Pumpkin lasagna ? Never heard of it, but it looks interesting! But let's not spend time talking" proclaimed my husband before he took the first bite.
And the first bite quickly became the second, then the third…. the only thing you could hear is: "Vera, can you give me another little piece?". My pumpkin lasagna was a big success and it's chocolate sister now has a deserving heir!
Print
Pumpkin Lasagna
---
Author:

Prep Time:

30 minutes

Cook Time:

15 minutes

Total Time:

45 minutes
Ingredients
For crust:
1 cup

flour

1/2 cup

butter-softened

1/2 cup

toasted walnuts (or pecans)-chopped
For cheesecake layer:
8 oz

. cream cheese- softened

1 cup

powdered sugar

1 cup

whipped topping
For pumpkin layer:
2 1/2 cup

s milk

3

small pkgs. vanilla instant pudding mix

15 oz

Pumpkin puree

1 tsp

. cinnamon
For topping:
1 cup

s whipped topping

1/4 cup

toasted walnuts (or pecans)-chopped
---
Instructions
Preheat the oven at 350 F and spray 8×8 inch baking dish. (NOTES : I made Pumpkin Lasagna with these ingredients in 8×8 inch baking dish, but some people have commented that they have a problem to fit it, so I suggest you to avoid this potential problem using a 9×9 inch baking dish)
Mix flour, butter and 1/2 cup walnuts, press into a sprayed baking dish and bake for 15 minutes, remove from the oven and let it cool completely.
Mix cream cheese and powdered sugar until it's light and fluffy, add 1 cup whipped topping and spread over cooled crust. Set in the fridge while making pumpkin mixture.
Mix milk and vanilla instant pudding mix, add pumpkin puree and cinnamon and mix until it's smooth. Spread over top of cheesecake layer.
Spread remaining 1 cup of whipped topping and sprinkle chopped walnuts and set in the fridge for at least 3 hours.