A few days ago, watching my favorite chocolate Pinterest table, I came to a really childish idea. I remembered the age old question which my friends and I asked ourselves when we were teenagers. Which three things would you take with you to a desert island?
"Well, Vera, which of all of your chocolate treats would you take to a desert island?" I was thinking to myself and laughing at the same time and knowing it was mission impossible. Of course, after that, you begin thinking, measuring and comparing different chocolate treats. Soon I was literally drooling 🙂
"Yes, that must be it", I came to the conclusion looking at the beautiful Dark Chocolate Cheesecake. And as soon as I came to that conclusion, a picture of a proud Chocolate pie showed itself to me and asked: "Vera, you would seriously go without me"? 🙂  I couldn't settle one situation, when the next one jumped right in front of me: decadent Tiramisu Brownies. "Take us too", they were smiling gingerly. And as time went on, there was less and less trace of an answer.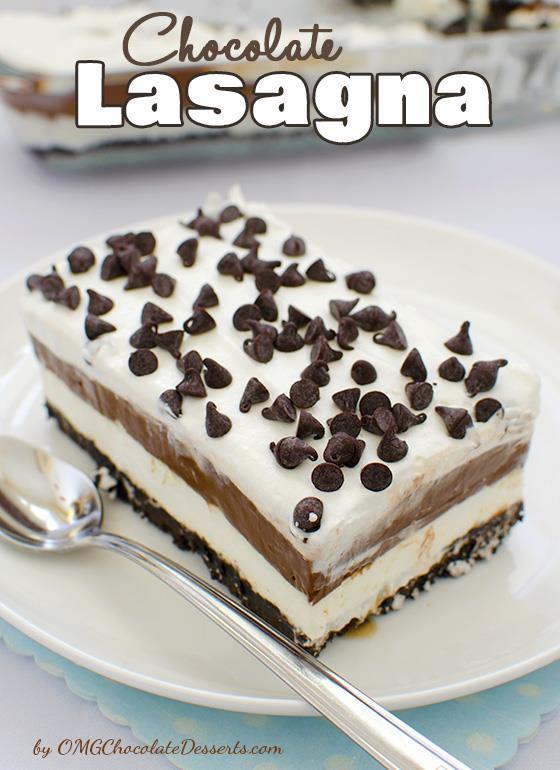 And while many of chocolate desserts went on, one mysterious dessert was waiting for their five minutes of fame. And then…kaboooom !!! In front of me was, believe it or not – gorgeous Chocolate Lasagna. Wooow, OMG, wooow!!! That was it! If I ever have to go to a desert island, surely, the desert that I take with myself will be His Majesty – Chocolate Lasagna 🙂 .
Of course, you can imagine that I was doing this only looking for a next chocolate adventure and there it was, right in front of me! But my quest wasn't looked so easy. I was scared! Lasagna looked so decadent!
Never mind!  After about 30. recipes that I have already put on this blog, I have learned a very important lesson. There is no such thing in my kitchen that will not be eaten in a matter of seconds by my chocoholics even in case of failure.
And in the end, it was not that bad! Hand on heart, it didn't really look like it did on the best photos on Pinterest, but, one thing speaks louder than any word: the casserole that I baked my Chocolate Lasagna in was already waiting to be washed after just a few hours 🙂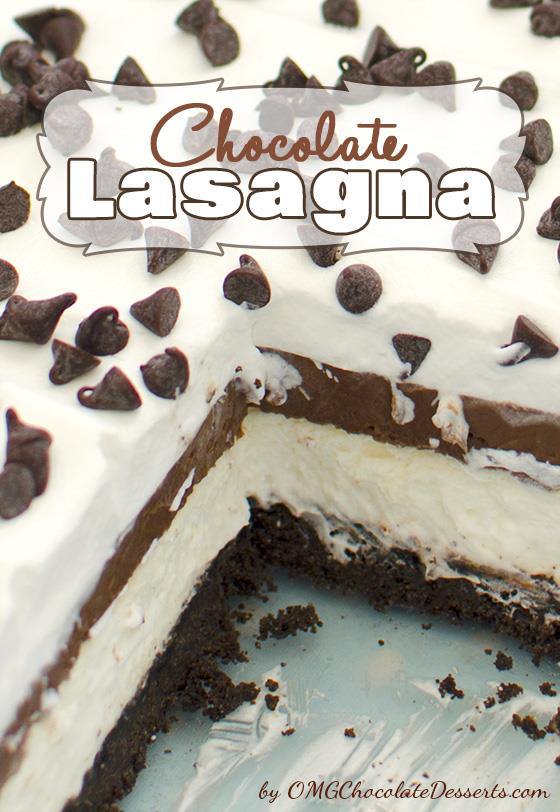 Chocolate Lasagna
---
OMGChocolateDesserts.com
Light and easy, no-bake layered dessert with crushed Oreo, cream cheese and chocolate pudding, topped with Cool Whip and chocolate chips.
Ingredients
36 Oreo cookies (regular, not double stuff)
6 tablespoon butter-melted
8 oz cream cheese-softened
1/4 cup granulated sugar
2 tablespoons cold milk
12 ounce tub Cool Whip-divided
2 – 3.9 ounce packages Chocolate Instant Pudding.
3 1/4 cups cold milk
1 and 1/2 cups mini chocolate chips
Instructions
In a food processor finely crushed Oreo cookies into fine crumbs.
In a large bowl using a fork mix Oreo with 6 tablespoons melted. When the butter is mixed, transfer it to a 9 x 13 inch dish and using a spatula press down the crumbs into the bottom.
Transfer the crust in the refrigerator while you are mixing the fillings.
Mix the cream cheese until it's fluffy, add 2 tablespoons of milk and sugar, and mix well. Stir in 1 and 1/4 cups Cool Whip.
Spread the mixture over the crust.
In a medium bowl mix chocolate instant pudding with 3 and 1/4 cups cold milk. Whisk for a few minutes until the pudding starts to thicken
Spread the pudding over the cream cheese layer.
Let it sit for 10 minutes to firm up the pudding.
Spread remaining Cool Whip over the top and sprinkled with mini chocolate chips.
Freezer for 1 hour, or the refrigerate for 4 hours before serving
7.6.4
169
https://omgchocolatedesserts.com/chocolate-lasagna/
Show All Comments
Close All Comments