Looking for the best and easy recipe for a classic, melt-in your-mouth New York Style Cheesecake?  Rich and dense, but creamy and smooth at the same time, this cheesecake is absolutely delicious!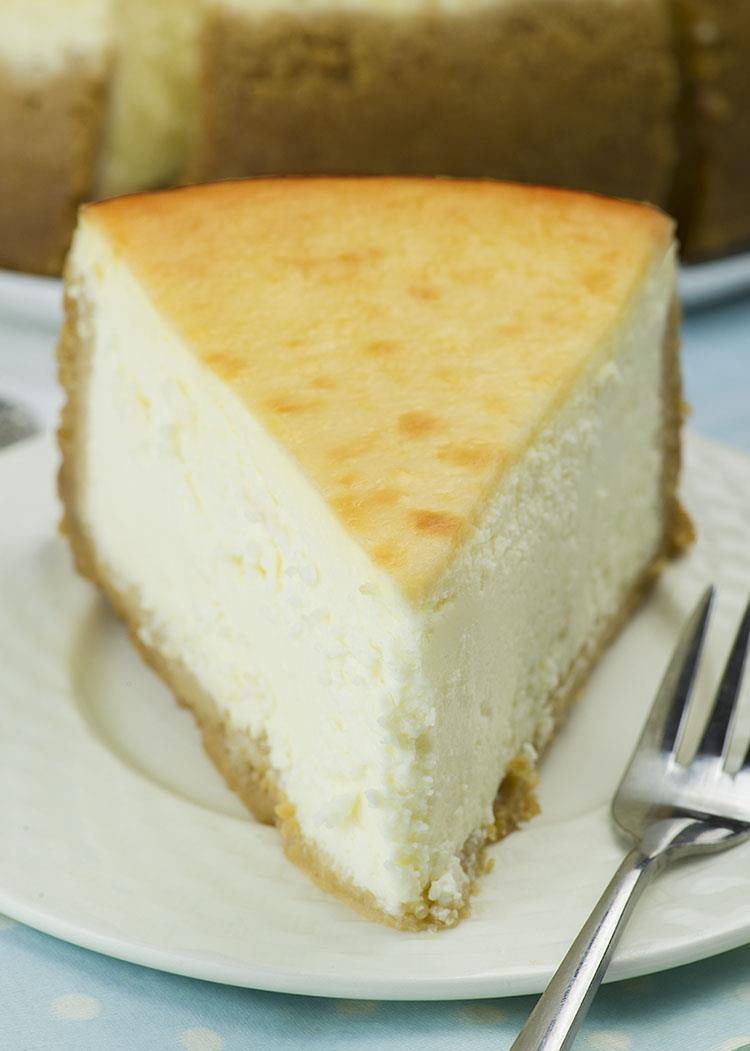 Finely here I am today, sharing the recipe for easy take on a classic. After all these years of blogging, I realized that I have a dozens of cheesecake recipes, but non for a classic, go-to, basic cheesecake. In order to make it right, I get back to the start with this New York Style Cheesecake recipe.
Cheesecakes are my greatest love in a dessert world. I love any kind of cheesecake, bake or no bake, regular size or mini cheesecakes. Crazy about these sweet and decadent desserts I even  transformed them into a truffles, fillings for cake, chimichangas … I just can't help it.
As I said, I love experimenting with all sorts of cheesecake creations so I carried away and forgot to show you how to make a classic cheesecake.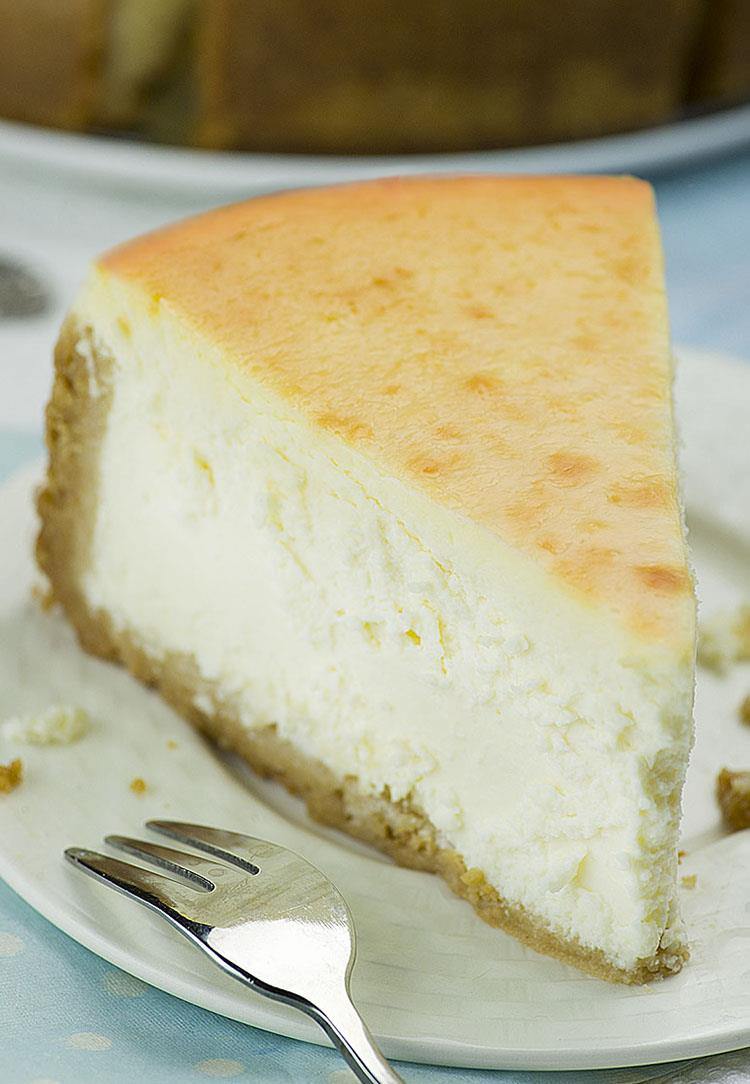 New York Style Cheesecake is just a simple combo of basic graham cracker crust and smooth and silky cream cheese filling. It's a bit tangy but rich in texture thanks to addition of sour cream in filling.
Some types of New York style cheesecakes use sour cream for topping, but I like to mix it into filling. That's easier than applying it onto cheesecake after cooking and replace it in the oven, making the cheesecake twice-baked.
How to make the best New York Style Cheesecake
In order to achieve rich and dense, but smooth and creamy consistency of a cheesecake, make sure to use full fat cream cheese and room temperature ingredients.
The most common issue is how to avoid the cheesecake cracks at the top. That won't look good if your cheesecake doesn't have topping.  Cracks may be caused by over beating the batter, so make sure to run your mixer on low speed. You don't want to incorporate a lot of air into the batter. Just slowly combine ingredients until smooth.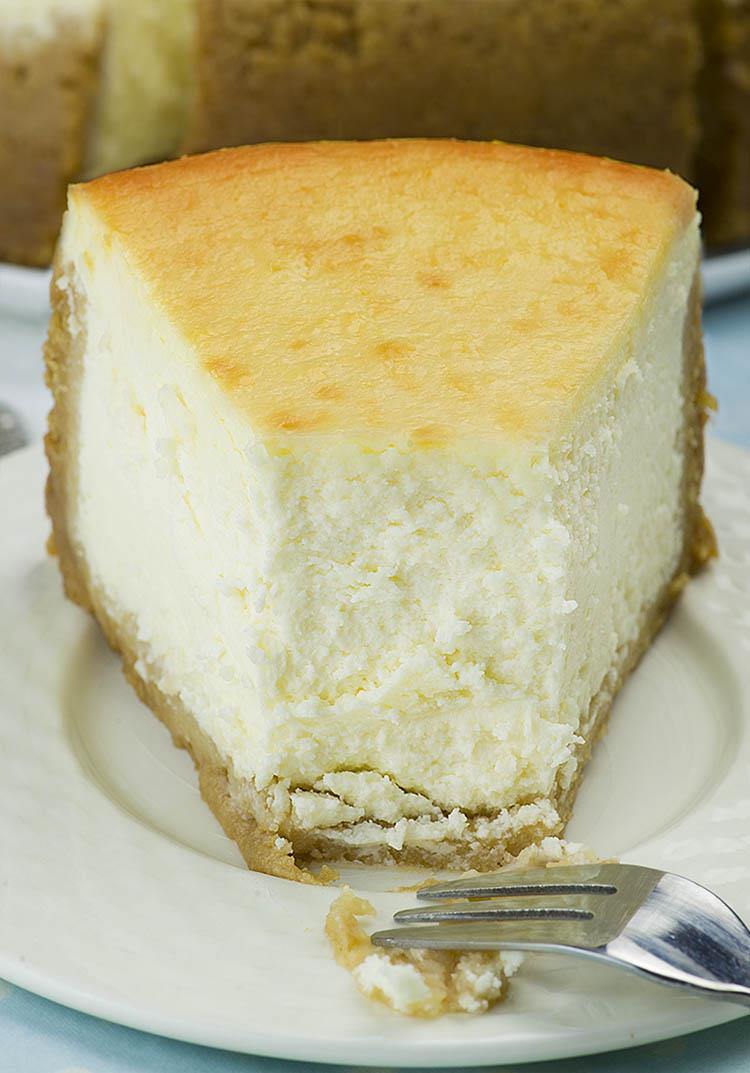 Cracks could also appear because too much moisture is lost during baking or the cheesecake is over baked. That's way you should always use water bath. Water bath keep moisture and also evenly distribute the heat.
Above all, cheesecake should have nice, smooth and creamy consistency. That's way you don't want to over bake your cheesecake. When it's done it should be firm but the center should look a little wet and if you shake the pan gently  it should still wobbles a little. Don't worry, it will firm up as it cools.
Also a good trick is to turn off the oven after baking and let your cheesecake sits in with a door slightly open. Wait for an hour before bring it out at room temperature. It will prevent failing and cracking.
Given these points, making perfect cheesecake is really simple and easy. Get on and bake!
What's your favorite cheesecake?

Print
New York Style Cheesecake
---
Author:

Prep Time:

15 minutes

Cook Time:

1 hour and 10 minutes

Total Time:

-26026181.683333 minute

Category:

dessert
Description
The best and easy recipe for a classic, melt-in your-mouth New York Style Cheesecake recipe.
---
Ingredients
For the Crust:
2 cup

s graham cracker crumbs

3 Tablespoon

s sugar

5 Tablespoon

s unsalted butter-melted

1/8 teaspoon

salt
For the Filling:
2

lbs. full fat cream cheese-softened to room temperature

1½ cup

s sugar

¼ tsp

. salt

2 teaspoon

s vanilla extract

1 Tablespoon

fresh lemon juice

1 Tablespoon

cornstarch

4

eggs-room temperature

3/4 cup

sour cream- room temperature

¼ cup

heavy whipping cream- room temperature
---
Instructions
Preheat the oven to 350 F and place the rack in lower third.
Place double layer of extra large aluminum foil under your 9 inch springform pan and cover the bottom and sides of the pan, wrap it tightly around the sides to make sure no water gets in during baking in water bath.
To make the crust mix together graham cracker crumbs, sugar, melted butter and salt. Press the mixture into the bottom and sides of springform pan. Bake for 10-12 mins, then set aside to cool.
Turn down the oven temperature to 325 F!!!
To make the filling beat softened cream cheese until smooth and creamy.
Gradually beat in sugar until light and fluffy.
Beat in salt, vanilla, lemon juice and cornstarch.
Beat in eggs one at a time. Run your mixer on low speed. You don't want to incorporate a lot of air into the batter. Just slowly combine ingredients until smooth.
Beat in sour cream and heavy whipping cream.
Place springform pan into roasting pan. Pour the batter into springform pan and smooth the top. Pour boiling water in roasting pan halfway up the side of the springform pan make sure no water drip on the batter.
Place in the oven and bake at 325 F for 1 hour and 45-55 minutes.
When the cheesecake is baked let it sit in the oven with the door slightly open for 1 hour (don't forget to turn off the oven!!!)
Remove the cheesecake from the water bath, dry the bottom of the pan, run a thin knife around the edges to loosen the cake and let it cool to room temperature. Cover the top and place it in the fridge to chill for at least 5 hours or overnight before serving.
Release the ring from springform pan before serving.