MMM, peach cake !!! If you thought "well, here's a wonderful treat that I will prepare for my guests on the next coming together", please forget that immediately. Not because of the fact that this beautiful dessert is not tasty because this is a really awesome treat for all peach lovers. The main reason is that there is no way to cut a quality peace of this peach cake and that it stays in one piece :).  It is simply impossible. What you will get on your plate is a pile of peaches and dough, but when you try the first little spoon of this pile, the first thing you will see next is a guaranteed empty plate.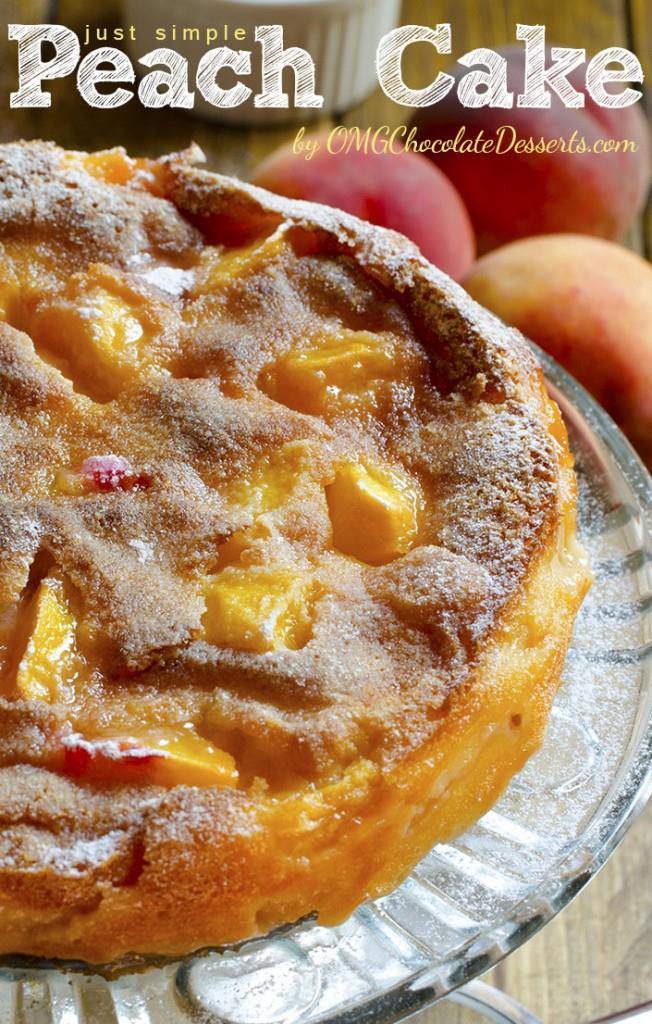 A few days ago I got the permission to interfere in my husband's diet.
"Maybe a light cake" he was acting like he was angry even though I had already caught him a few times swallowing chocolate and sweets of all kind like it was nothing 🙂
OK, we will find something with fruit" I was pretending like I understood his pain although I knew that the diet was over and the days of chocolate are coming back to my kitchen.
And on the table, there were 10 beautiful peaches smiling at me. I have them at my house all the time since my son Marco simply adores them.
"Great, finally something the whole family could eat – Peach cake ". I was very happy and I ran to find a few recipes on Pinterest that I saw much earlier.
And really, everything looked so simple and I took to work immediately. Sugar, eggs, peaches and a few small things and everything was ready to be baked in the hot oven.
And so, in 70 or 80 minutes on my table was a beautiful cake with a beautiful smell which was spreading around the kitchen.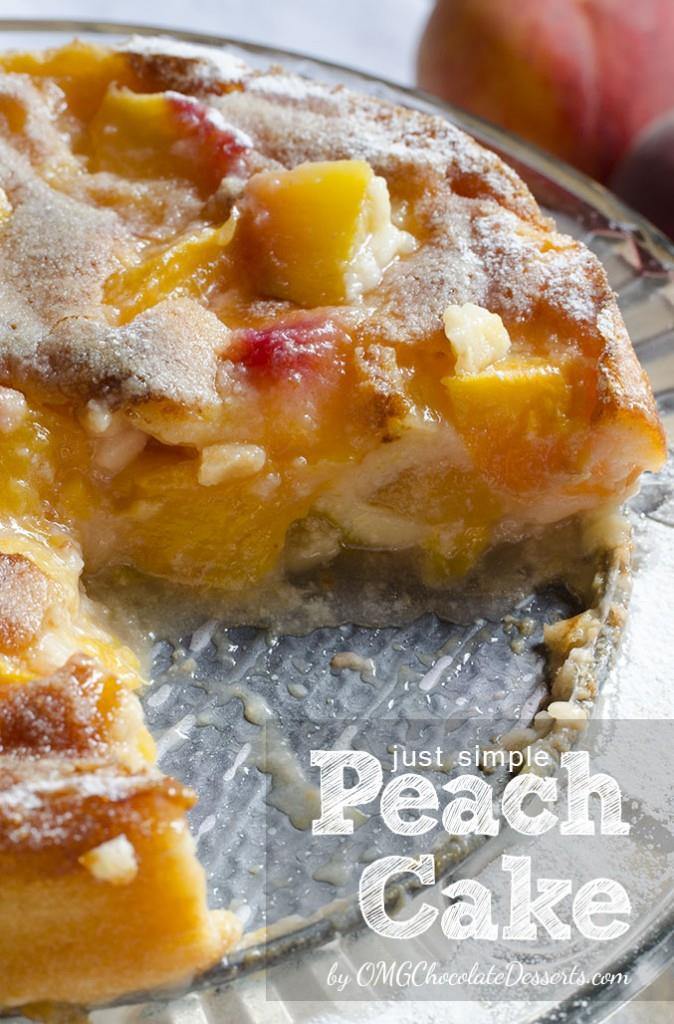 But after the cake got cold, I tried to get a slice out, nut, the slice flew all over the plate.
"Doesn't matter, I will be much more careful from now on" I thought while I was cutting the second slice, but the result was the same.
But when my "gourmands" jumped on the cake, nobody mentioned it once. You could just hear mumbling and munching and the forks hitting the plate. The cake was really heavenly delicious and yet refreshing.
Well, OK, it doesn't always have to look like it's going to be at an expo, but if somebody has an explanation for this problem, please call me!!!
Print
Just Simple Peach Cake
---
Author:

Prep Time:

15 minutes

Cook Time:

55 minutes

Total Time:

1 hour 10 minutes

Category:

Dessert
Ingredients
2/3 cup

sugar

1

egg and 1 egg yolk

1 tsp

. vanilla

1/3 cup

butter-melted and cooled

1/2 cup

al- purpose flour

1 tsp

. baking powder

6 Tablespoon

whole milk-room temperature

6

peaches- peeled and chopped into chunks
Powdered sugar and whipped cream or vanilla ice cream-for serving
---
Instructions
Preheat oven to 355° F, grease 9-inch springform pan and sprinkle the inside of the pan with a little brown sugar. Line the bottom of the pan with parchment paper and wrap the outside of the springform pan with aluminum foil and place on a baking sheet.
In a medium bowl, whisk together flour and baking powder, set aside.
Mix eggs and sugar until it is light and fluffy, add vanilla and (cooled!!!) melted butter, mix until combined.
First add milk and mix, then whisk in flour mixture.
Gently fold peaches into the batter.
Pour in to the prepared pan and bake for 50-55 minutes.
Cool completely in the pan. Once cooled, refrigerate in the pan before serving.
Dust with powdered sugar and served topped with sweetened whipped cream or vanilla ice cream.