Who doesn't love strawberries? Juicy, ripe, red strawberries are a great snack on their own, and even better when used in delectable treats like cakes, parfaits, ice creams and beverages. With their fresh fruity flavor, they are sure to be a huge hit wherever you serve them!
So, here is a collection of mouthwatering strawberry desserts for your Summertime strawberry cravings!
Strawberry Jello Lasagna is quick and easy, no-bake dessert recipe for a delicious spring or summer treat. Made with fresh strawberries, whipped cream and cream cheese filling, Golden Oreo crust, and strawberry crunch topping, this strawberry lasagna is the best no-bake layered dessert.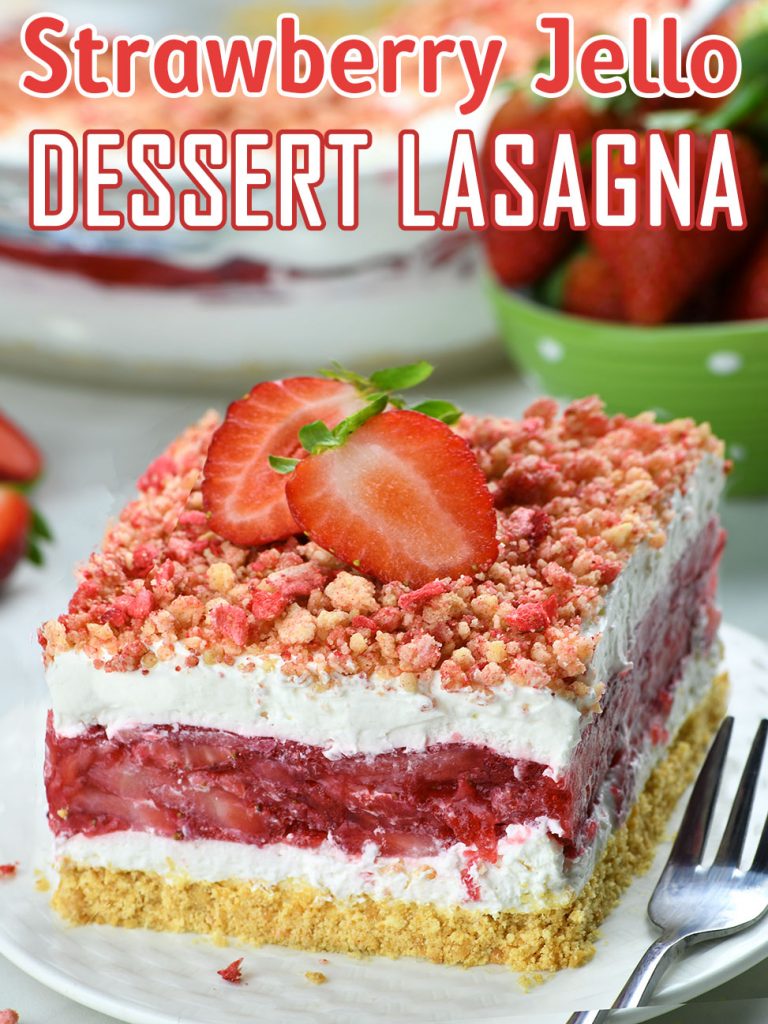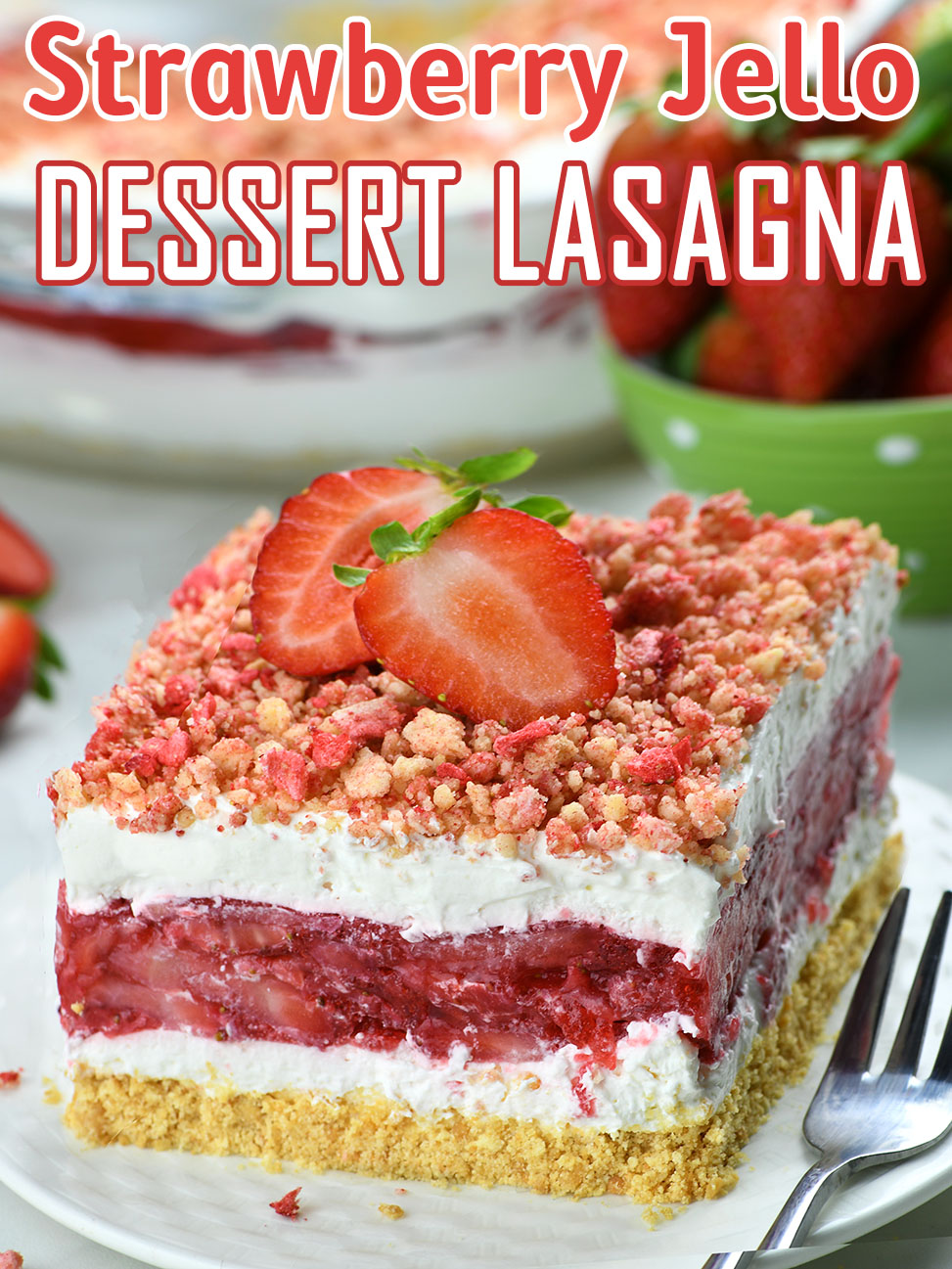 Easy Frozen Strawberry Dessert a perfect spring and summer dessert for all strawberry fans. This refreshing, creamy, frozen dessert made with fresh strawberries and a crunchy graham cracker layer, topped with graham cracker crumbs is very quick and easy to prepare.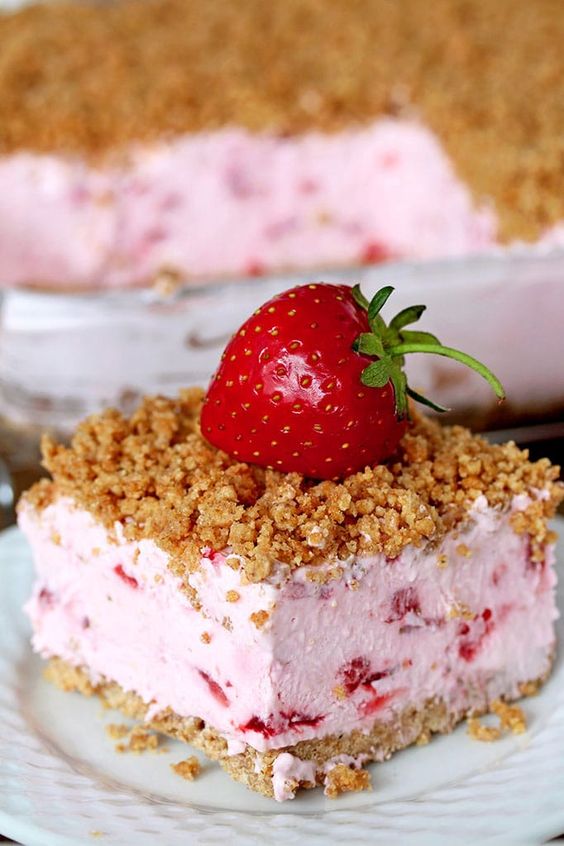 No Bake Strawberry Jello Lasagna is quick and easy dessert recipe for refreshing summer sweet treat and use only few ingredients: fresh strawberries, whipped cream, strawberry Jello, cream cheese, Golden Oreo, white chocolate and strawberry Greek yogurt. Delicious layered dessert is a twist on classic Strawberry Jello Pie.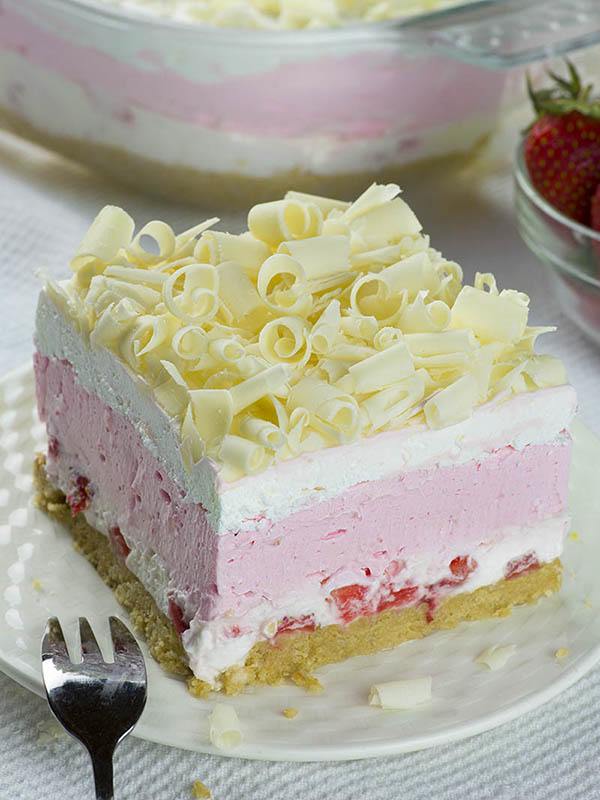 This strawberry shortcake cheesecake will be the most talked-about dessert at any party. A cheesecake layer is surrounded by moist, strawberry cake and finished with a cream cheese frosting. A crunchy cookie crumble topping provides the perfect blend of flavors and texture in every bite.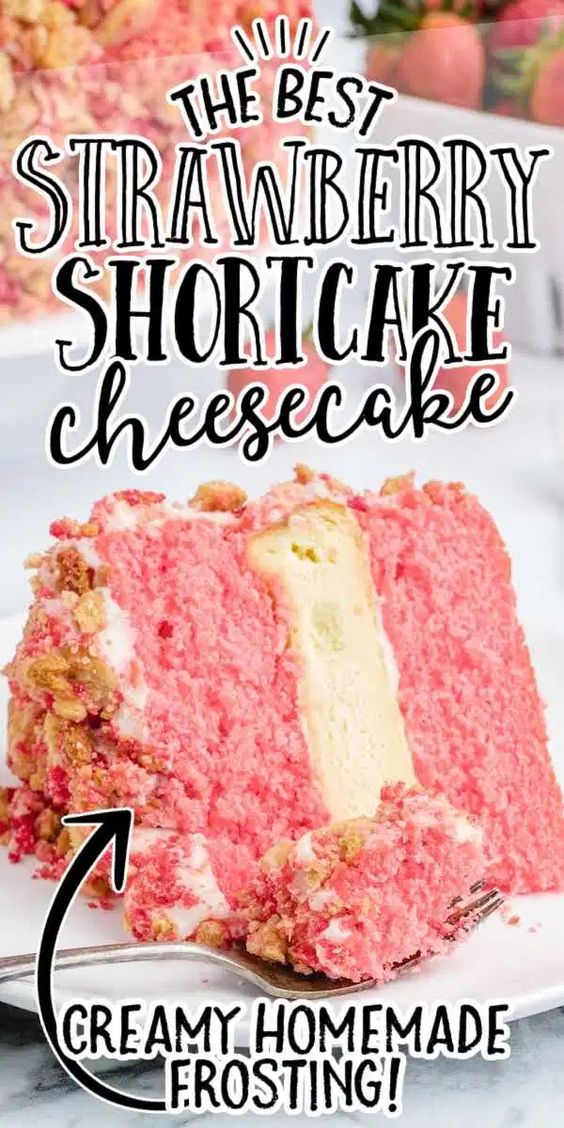 Cream Cheese Strawberry Cookies are delicious, soft and chewy cream cheese cookies with fresh strawberries and white chocolate chunks. A sweet strawberry cookie recipe is just what you need for the summer ahead!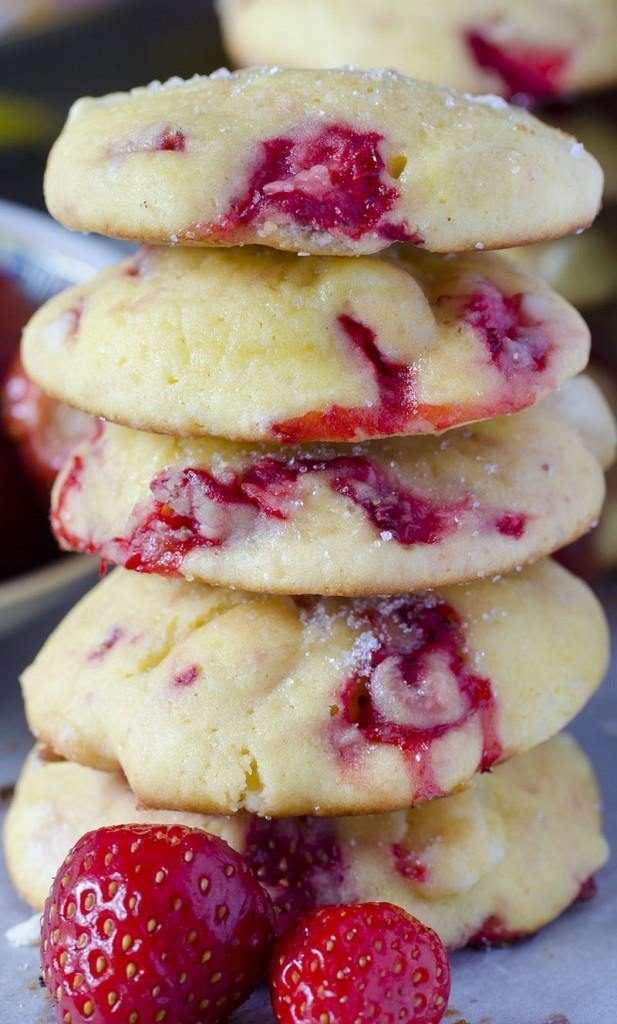 Strawberry Lemon Blondies ~ these easy strawberry blondies are moist and dense, (think soft shortbread) with plenty of little jammy pockets thanks to a cup of diced fresh strawberries in the batter. A hint of lemon gives these strawberry bars a bright, tangy vibe.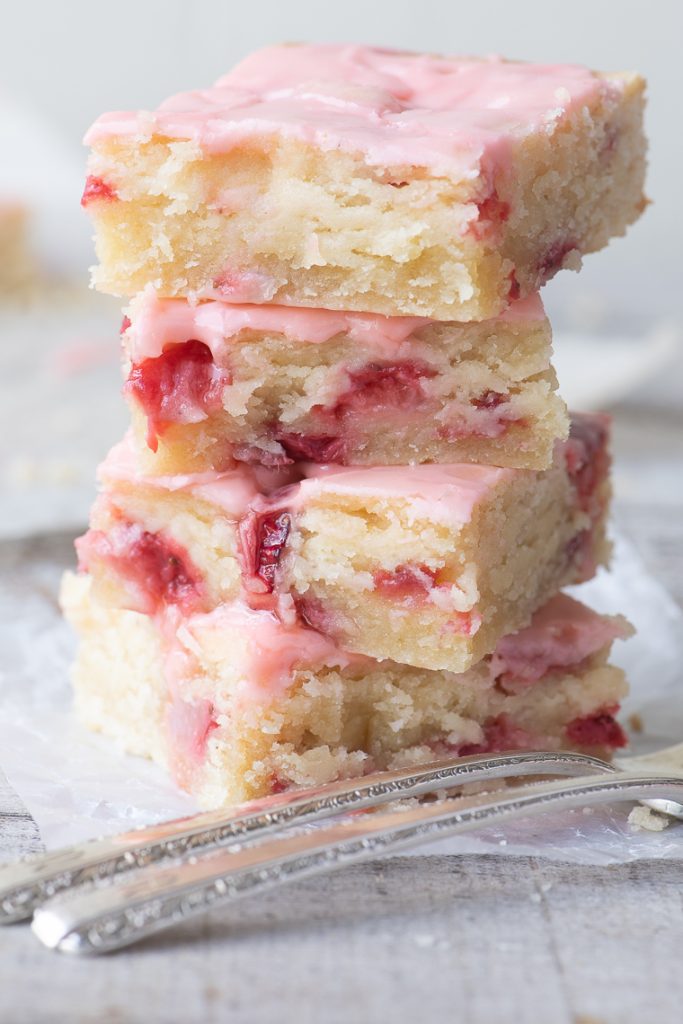 Strawberry Cheesecake Chimichangas are a quick and easy treat! Creamy cheesecake filing with fresh strawberries, rolled in tortillas and coated with cinnamon sugar.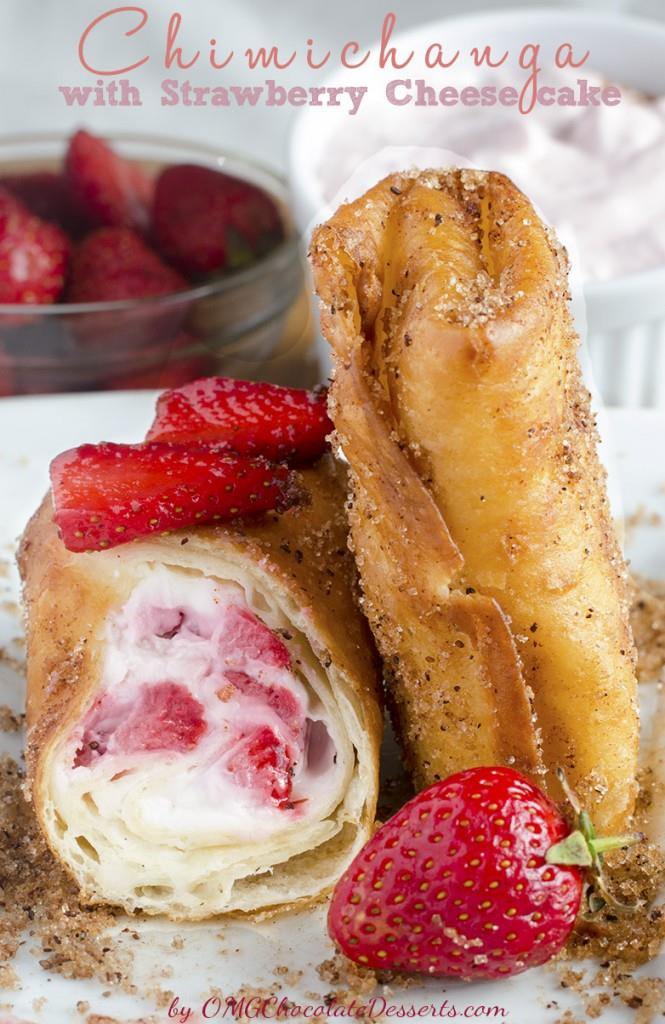 No Bake Strawberry Cheesecake Lasagna will make all Your Strawberries and Cream dreams come true. This is your ticket to becoming a backyard-barbecue legend, perfect for 4th of July or any other family get-togethers.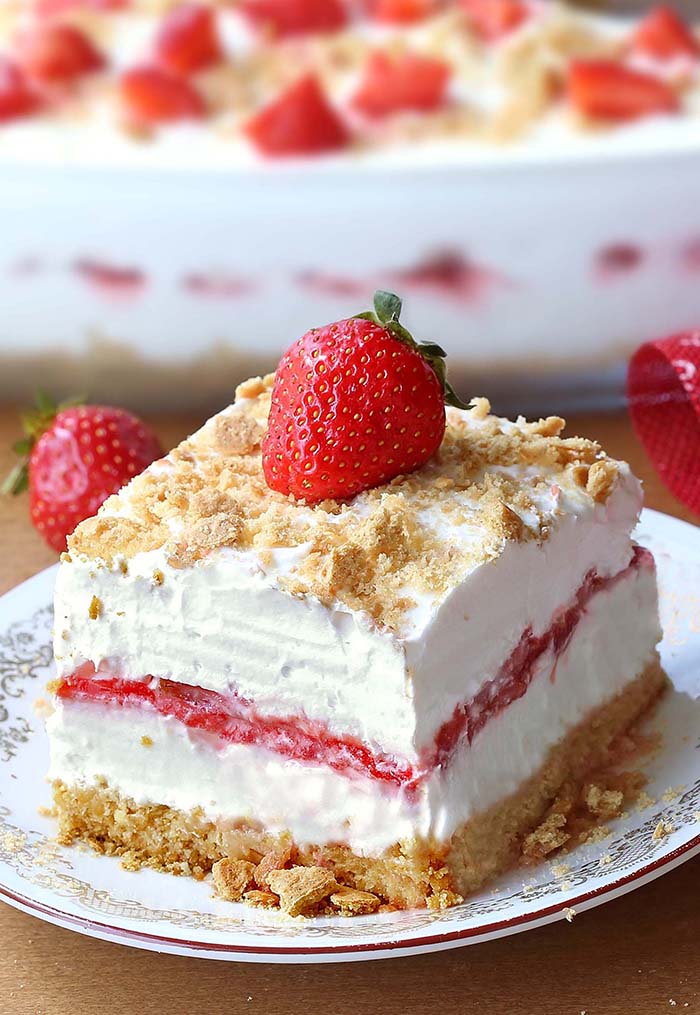 These Strawberry Dumplings served with a scoop of vanilla ice cream are perfect for spring and summer. Crescent rolls filled with strawberries and baked in butter & brown sugar sauce. They're the perfect balance between soft and crispy!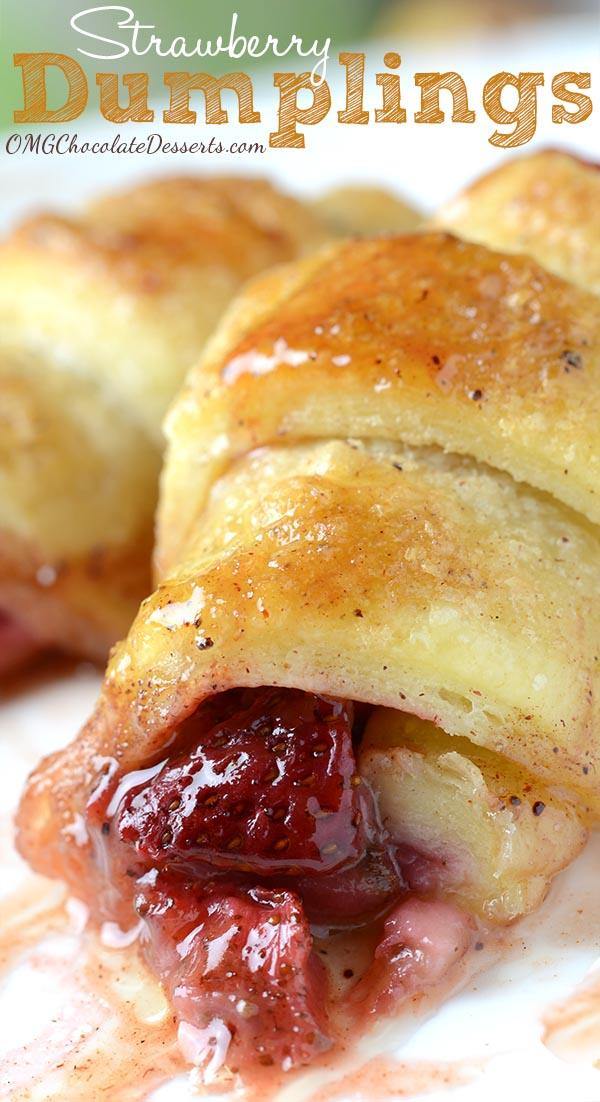 No need to bake with this strawberry pretzel salad. A simple pretzel crust is topped with a sweetened cream cheese and cool whip middle layer, then finished off with a strawberry jello layer for this delicious dish.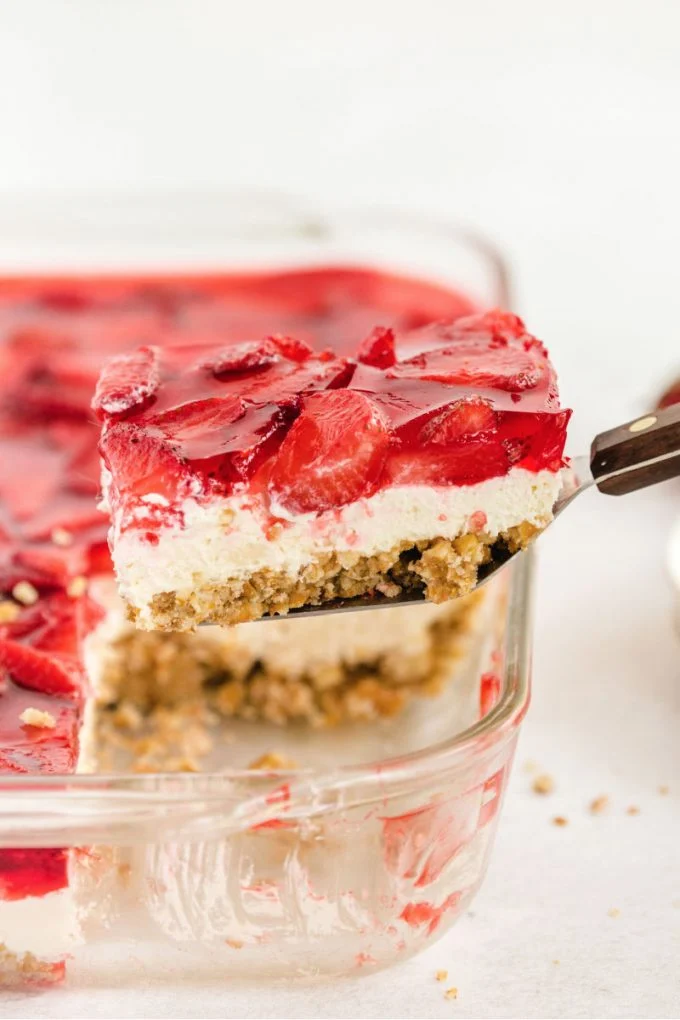 Strawberry Shortcake Cupcakes are a quick, easy and cute version of Strawberry Shortcake Cake. They taste just as good as the cake version but can be held in your hand!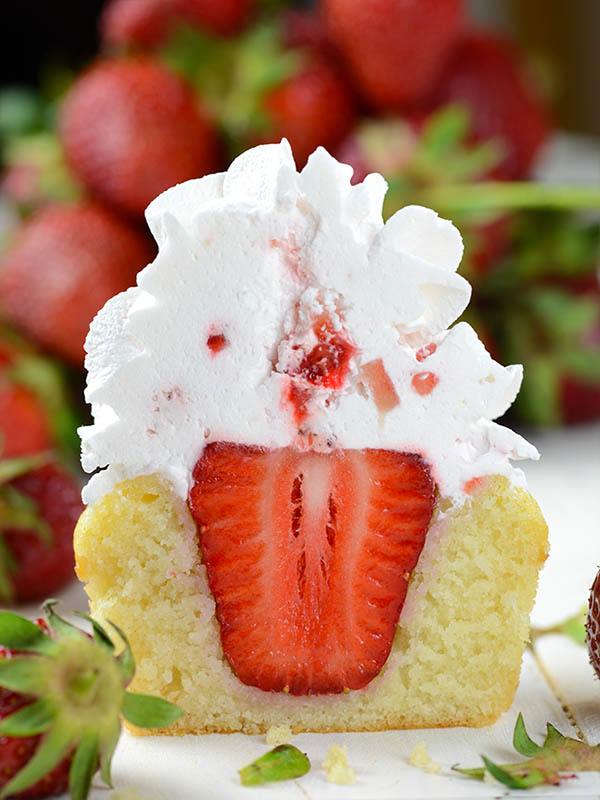 With layers of cream cheese, Cool Whip, cheesecake pudding and fresh strawberries, this Strawberry Cheesecake Lush will quickly become your new favorite summer dessert!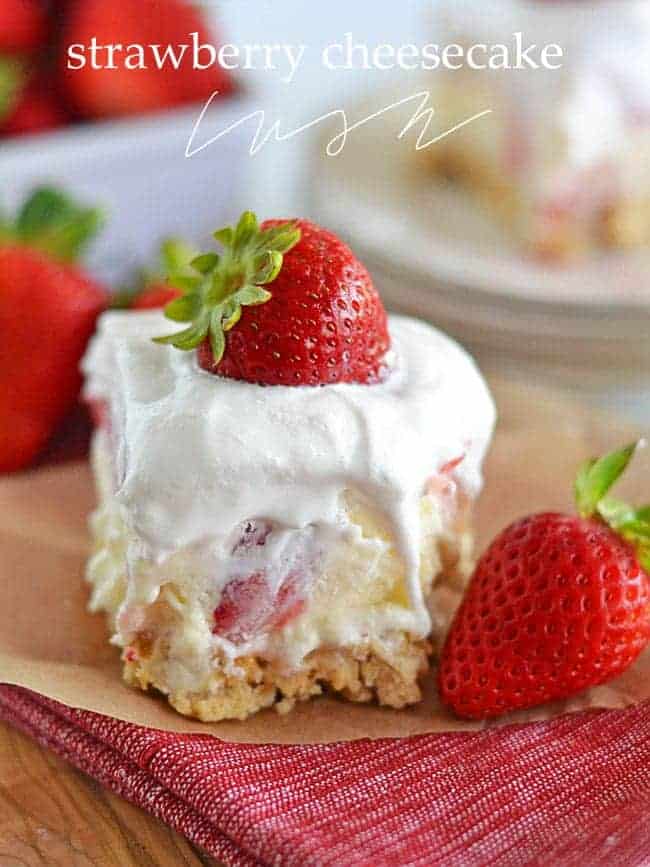 Strawberry Chocolate Cake is like the best chocolate covered strawberries you've ever eaten!!! Moist chocolate cake topped with fresh strawberries, rich chocolate mousse, chocolate ganache and chocolate curls on top.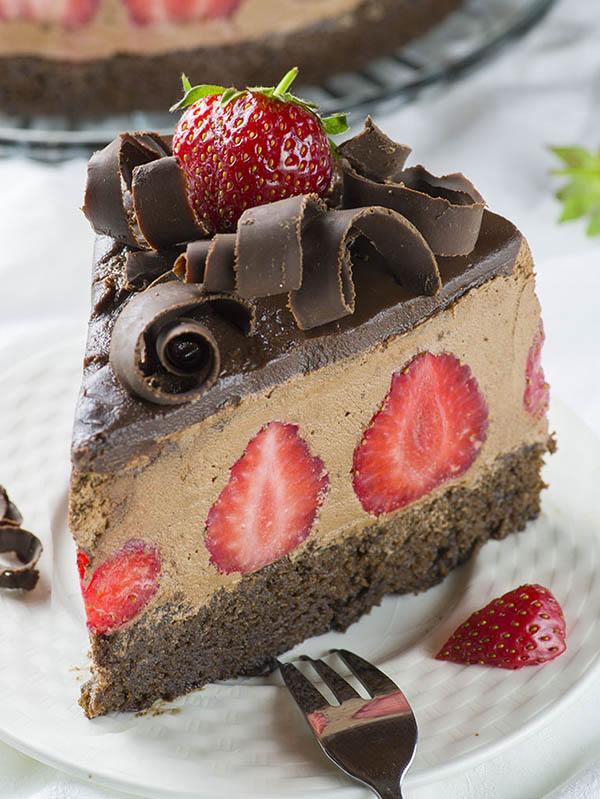 Strawberry sweet rolls are the perfect spring treat! The dough is made with a strawberry cheesecake coffee creamer that add a nice strawberry flavor. Inside the sweet rolls is cream cheese and strawberry pie filling that not only smells amazing while being baked but tastes amazing too!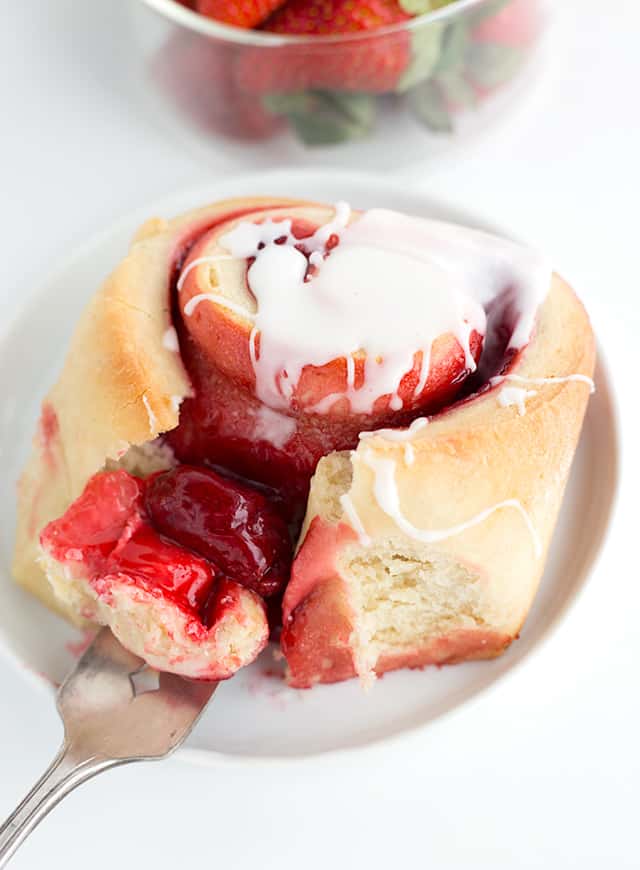 Easy Skinny Strawberry Oatmeal Bars is super simple, one-bowl and no-mixer recipe for healthy dessert, kid-friendly snack or breakfast on-the-go!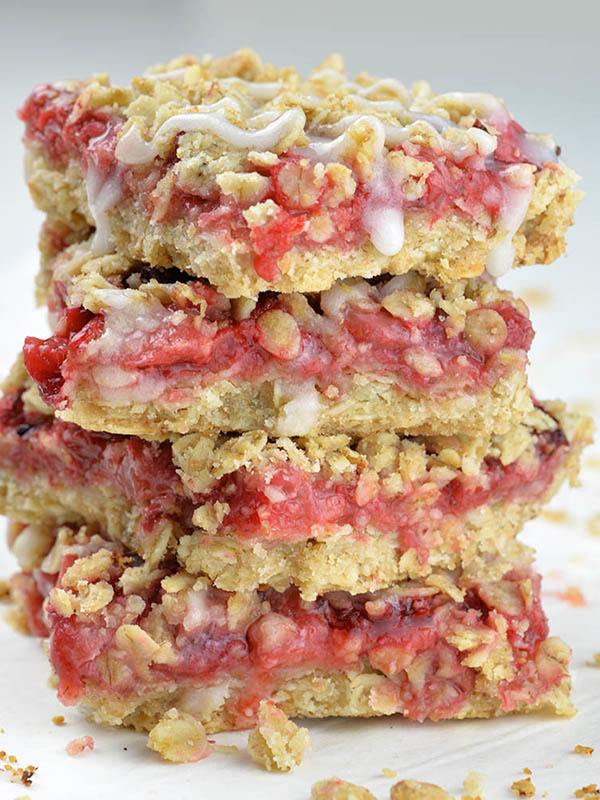 This Homemade Strawberry Cake is full of sweet, fresh strawberry flavor! Moist strawberry cake layers are paired with a strawberry cream cheese frosting for the ultimate strawberry cake.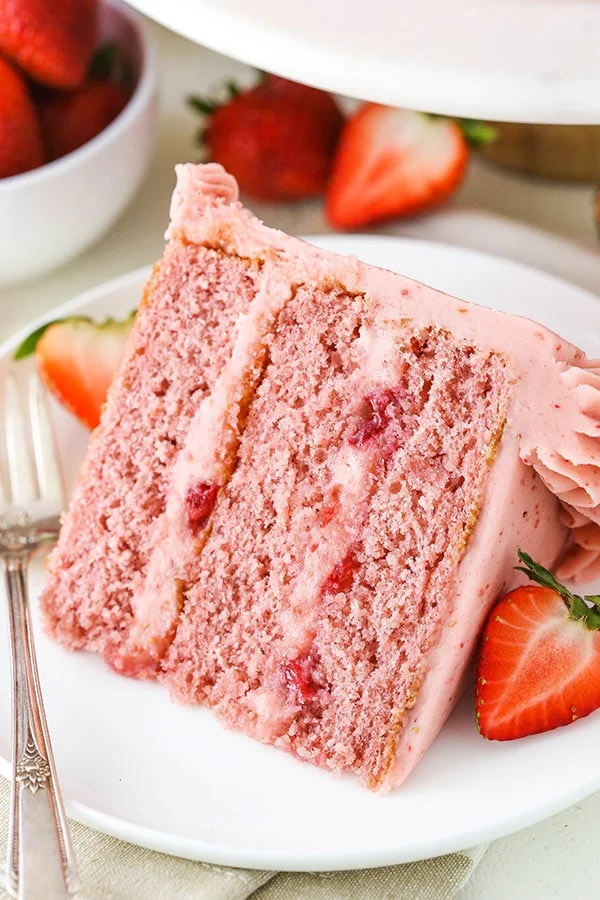 Strawberry Cream Cheese Muffins with Streusel Crumb Topping are moist and flavorful breakfast muffins, and they burst with strawberries in every single bite. Juicy strawberries and cream cheese make an irresistible flavors combo. These muffins are so simple to bake. With just a few basic ingredients and fresh strawberries, in only half an hour you will have an outrageous breakfast to start your day.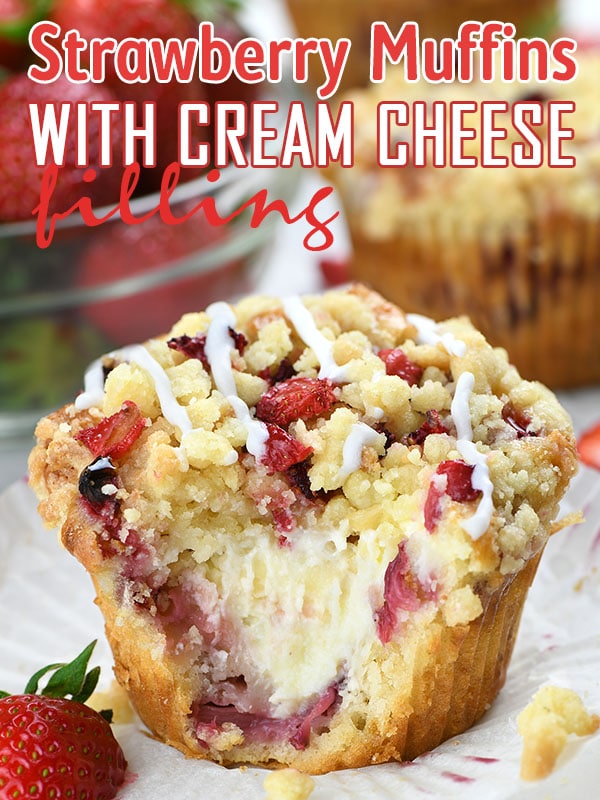 Strawberry Banana Bread will become your new favorite easy quick bread recipe! This is a ONE BOWL Banana Bread recipe full of fresh strawberries and a nice glaze on top – and it has a secret ingredient that makes it even easier to make!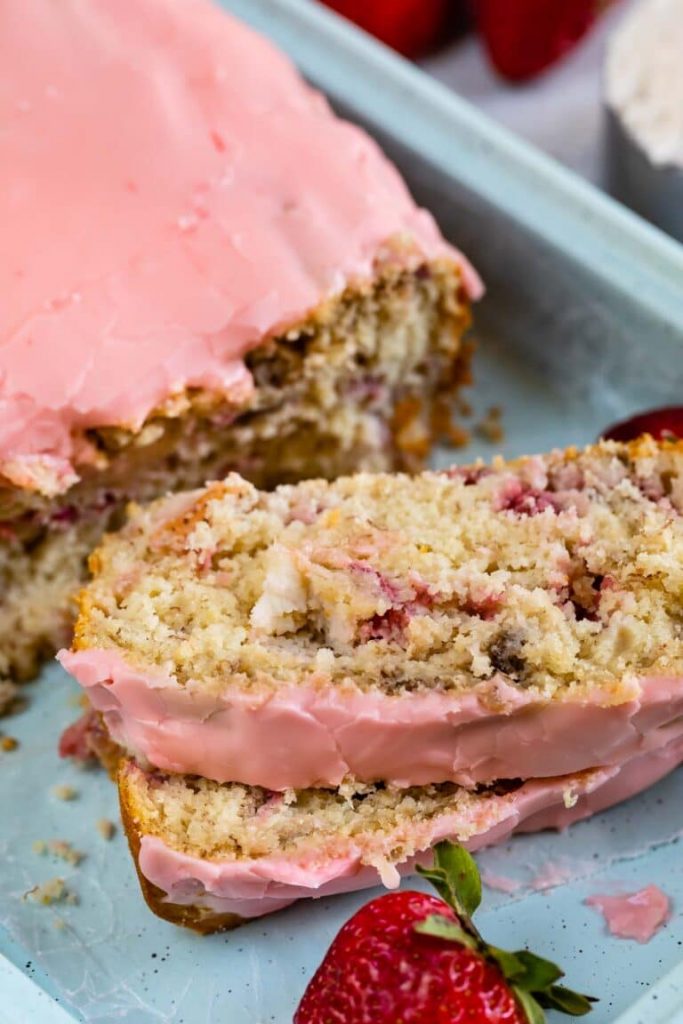 Layered No-Bake Strawberry Cheesecake
Layered No-Bake Strawberry Cheesecake is a quick and easy cheesecake recipe. It's a light and refreshing spring and summer cake with fresh strawberries nestled on a Golden Oreo crust, vanilla cheesecake layer, and lick-the-bowl-good strawberry filling. There's no artificial flavor and colors!!!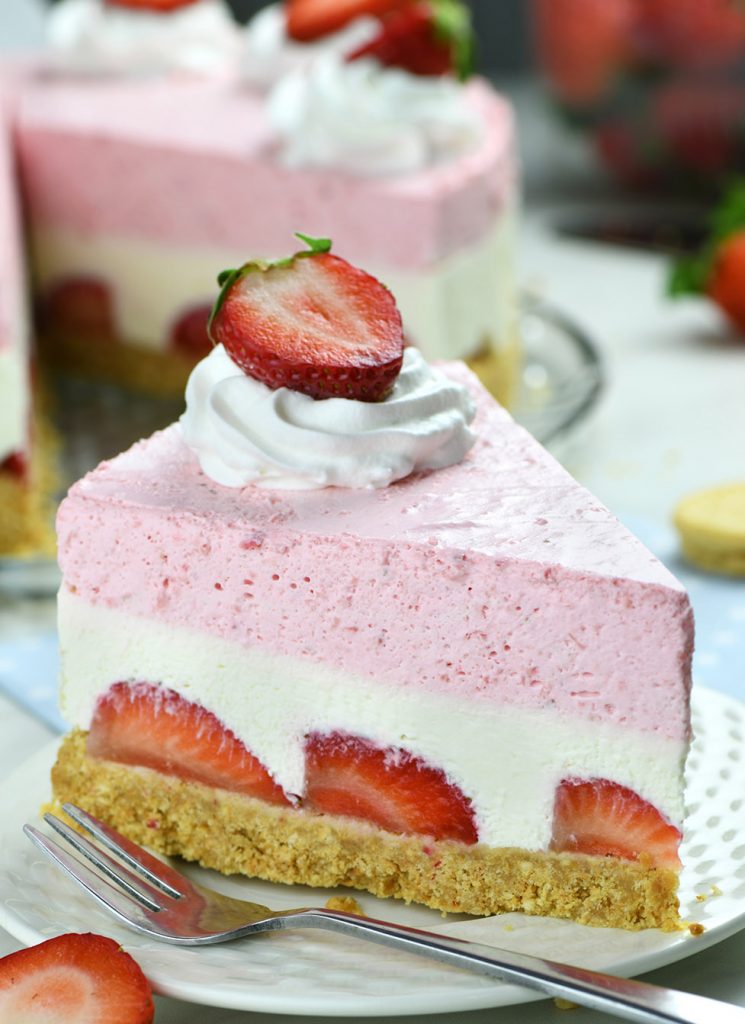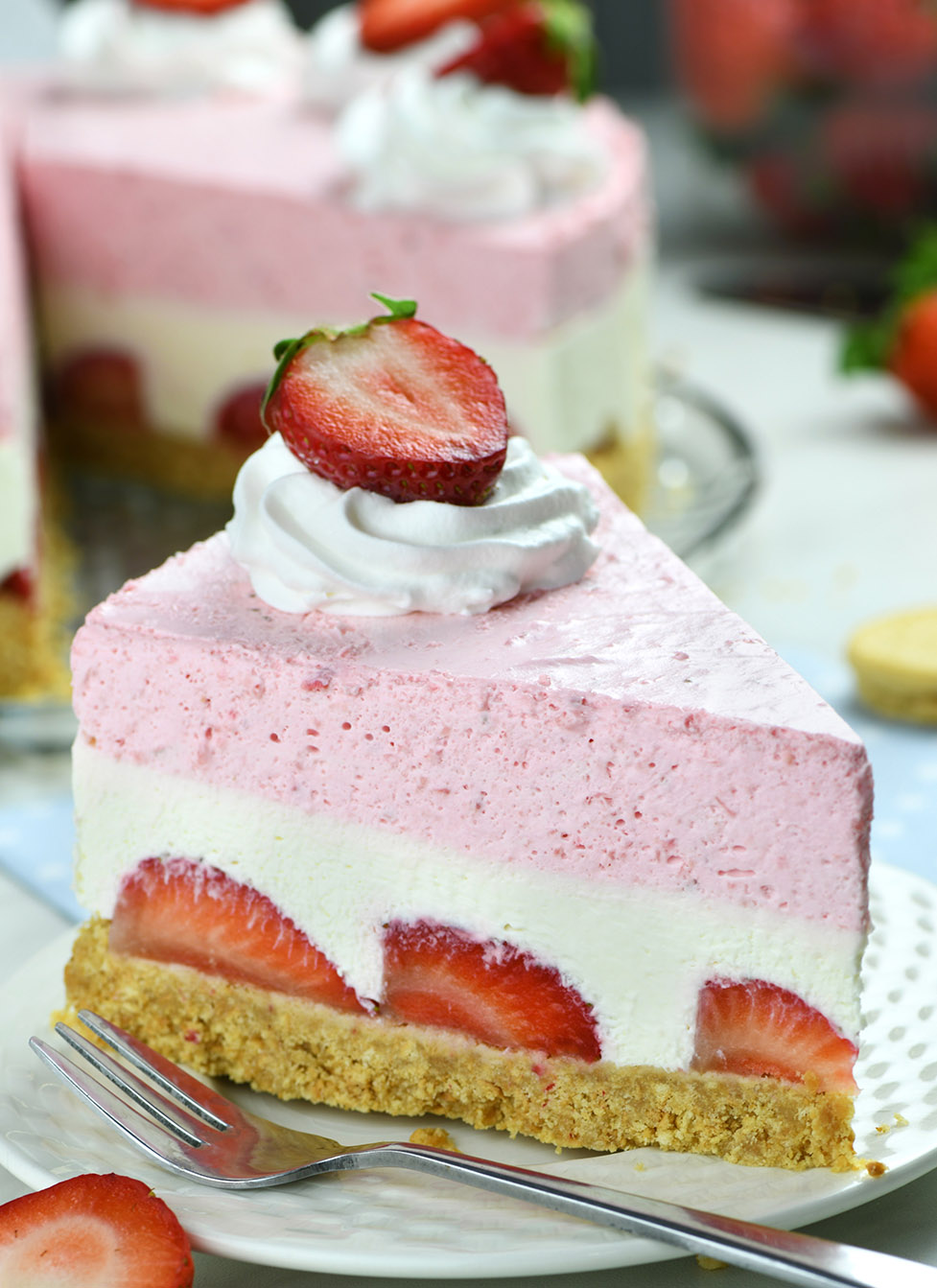 Strawberry Poke Cake is made with white cake mix, soaked with a mixture of white chocolate strawberry sauce, topped with strawberry pie filling, and fluffy whipped cream. This is the perfect dessert year-round, and especially during summertime at potlucks and picnics.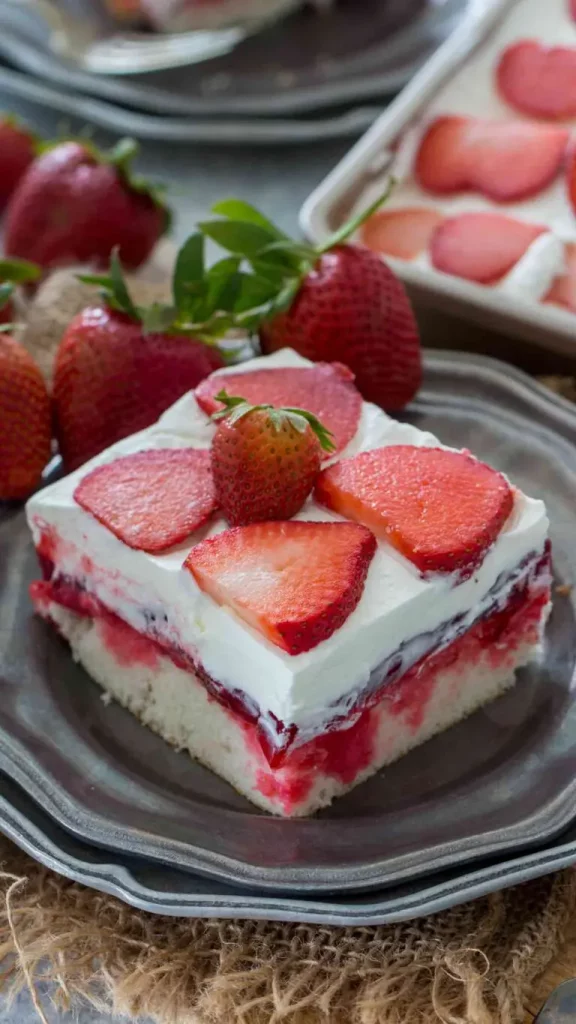 These Cream Cheese Strawberry French Toast Muffins are stuffed with fresh strawberries and cream cheese. Fun to make and even more fun to eat! This breakfast muffin recipe is perfect for your weekend brunch.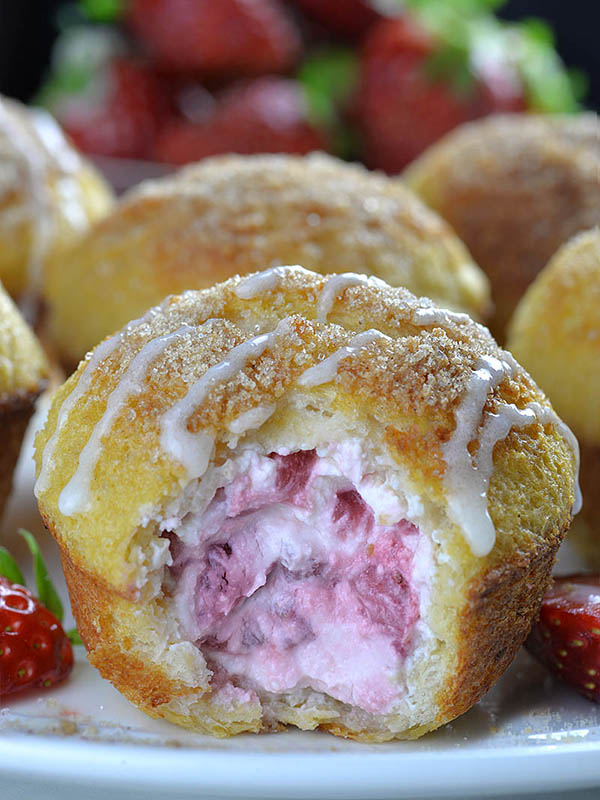 Have you tried Cheesecake Tacos? They are a mini strawberry cheesecake taco you serve up for dessert! They have a crispy, crunchy graham cracker coated shell with a thick and creamy pipeable cheesecake filling and a strawberry glaze topping.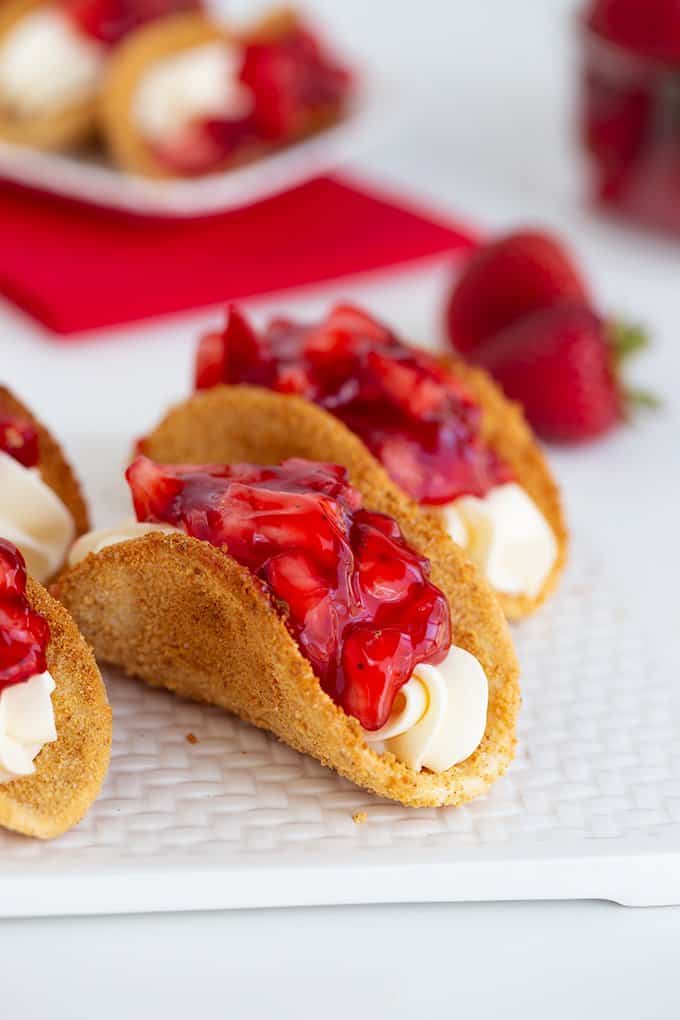 Strawberry Coffee Cake is a sweet and tangy breakfast or snack cake! Layers of homemade strawberry sauce make this coffee cake a perfect spring and summer treat. For lemon lovers, I suggest the lemon version of this coffee cake: Lemon Coffee Cake with homemade lemon curd.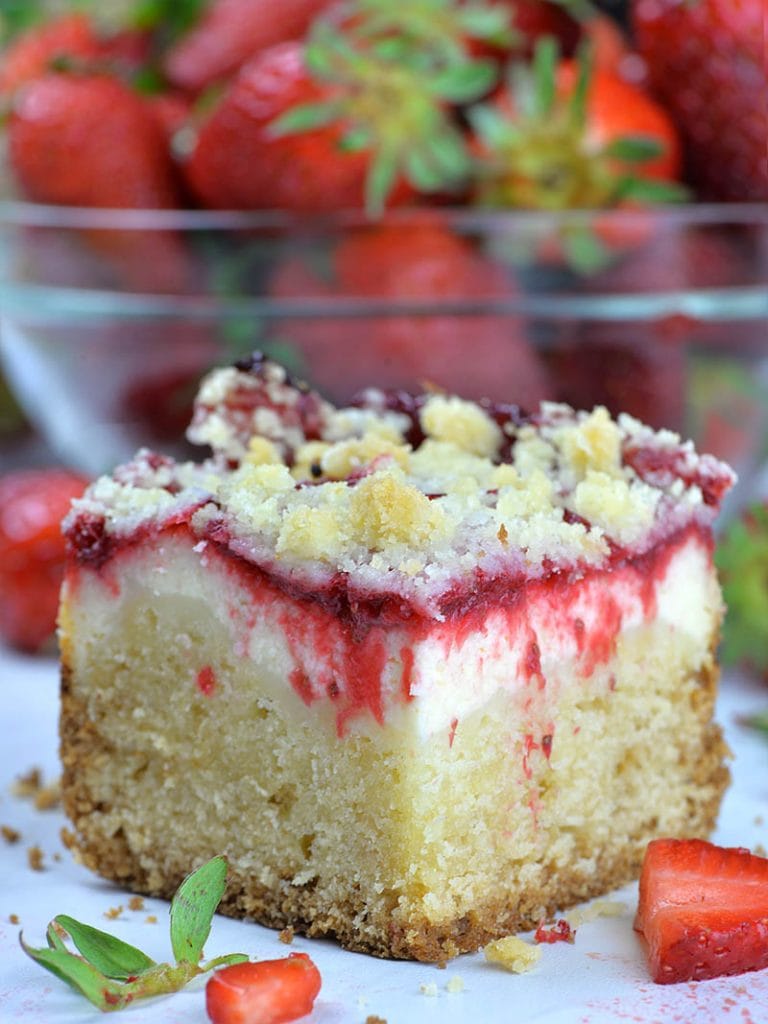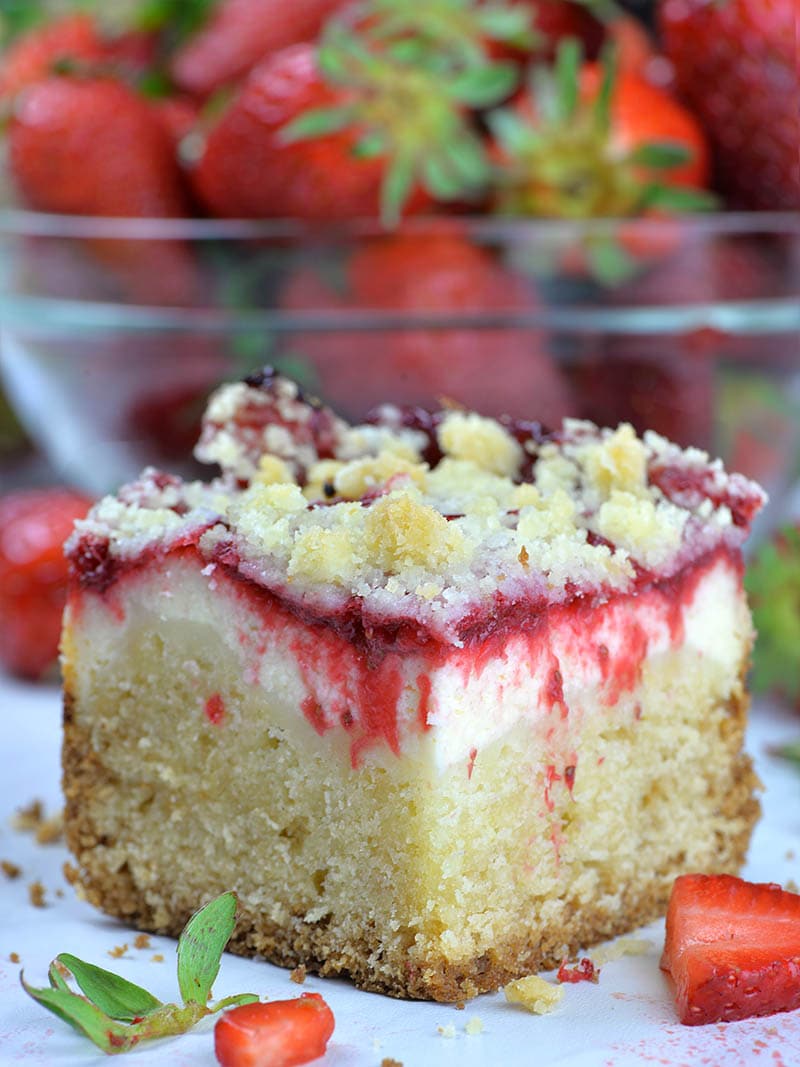 Simply the best Strawberry Shortcake Cake! Perfect vanilla cake layered with fresh whipped cream and strawberries – the perfect summer dessert!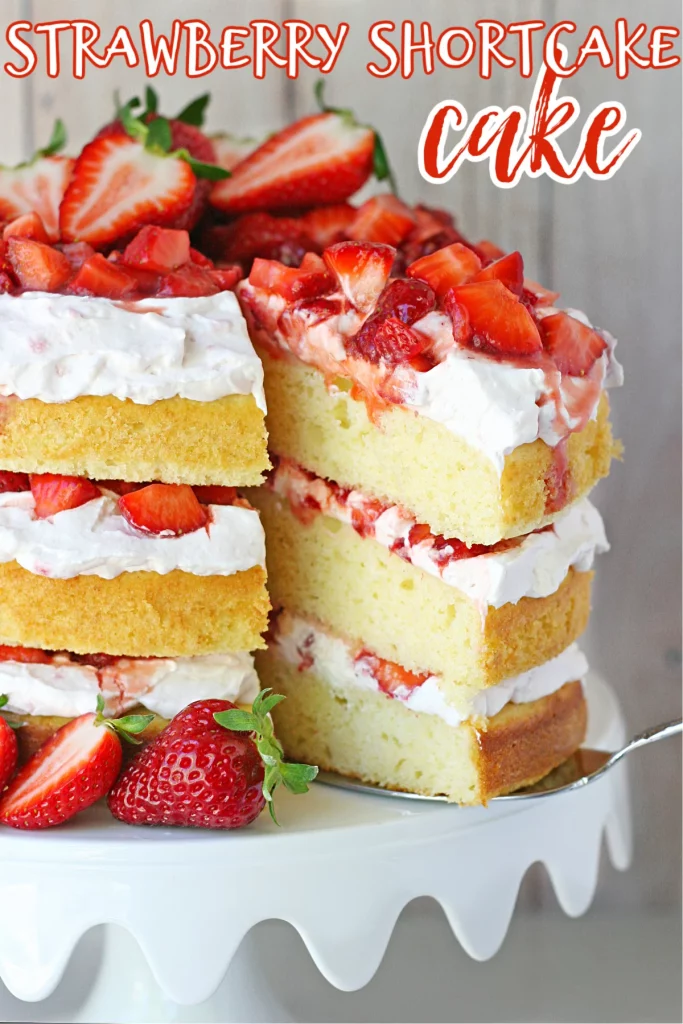 Strawberry Icebox Shortcake is a delicious twist on two classic spring and summer treats! Now you don't have to choose between your favorite fresh strawberry desserts: Strawberry Shortcake and Strawberry Icebox Cake. You can have the best of both worlds, packed into one simple dessert.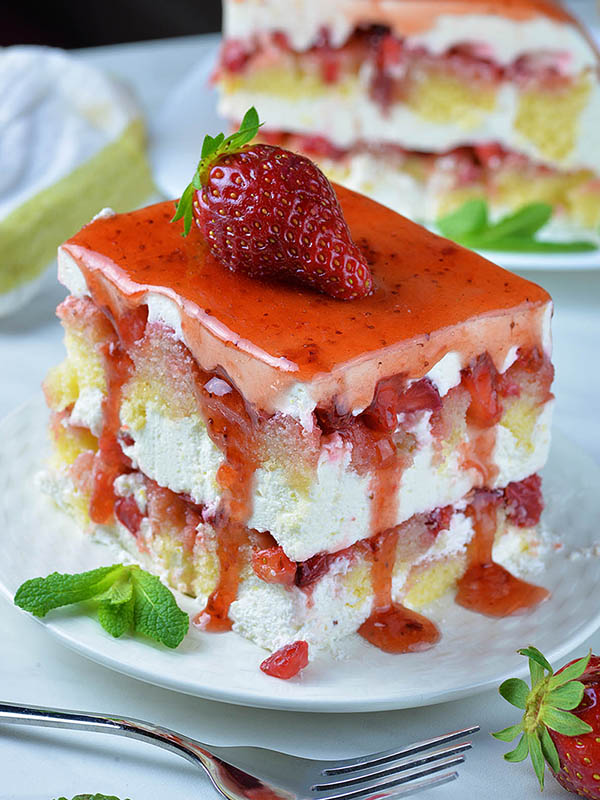 These strawberry cheesecake cookies are soft, buttery, and filled with real strawberry pieces in every bite. They are naturally flavored and stuffed with a delicious cream cheese filling!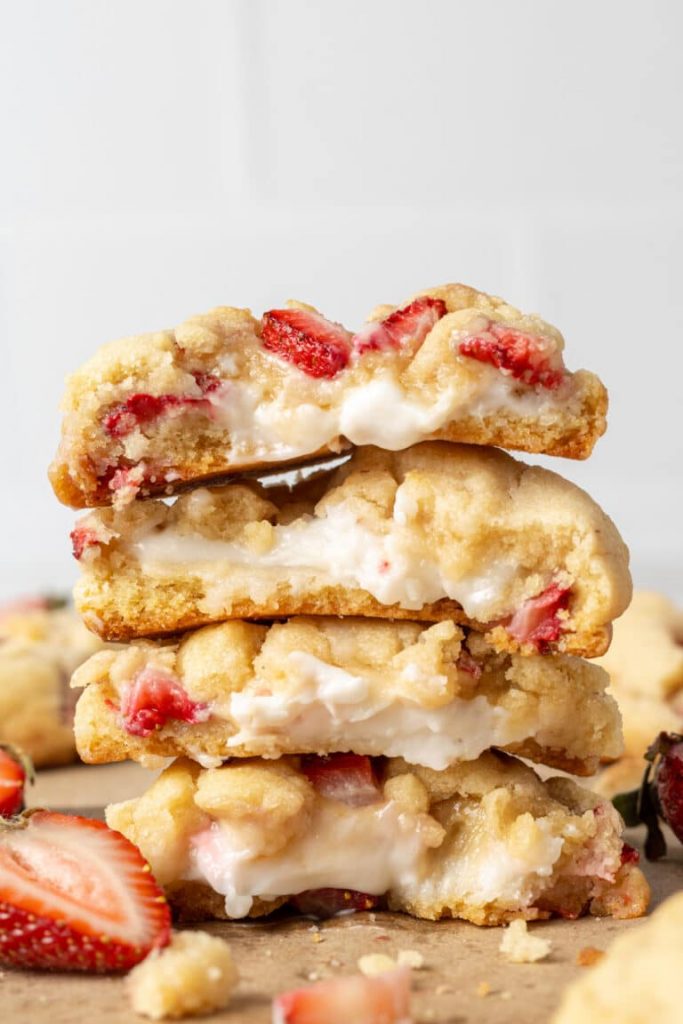 Strawberry Cheesecake Coffee Cake – one cake with seven irresistible layers: buttery and moist vanilla crumb cake, creamy cheesecake filling, juicy strawberries, another cake layer topped with sliced strawberries, crumb topping and sweet vanilla glaze. This decadent multi-layer cake recipe will blow your mind!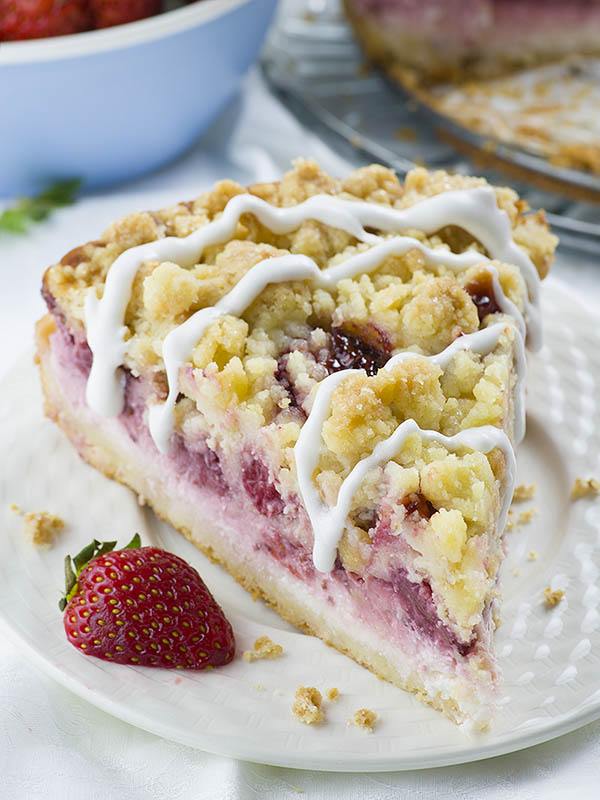 Perfect for any time of the year, this Strawberry Creme 'Passion' Poke Cake is dazzling, passionate and bursting out the doors with dreamy strawberry and cream flavors!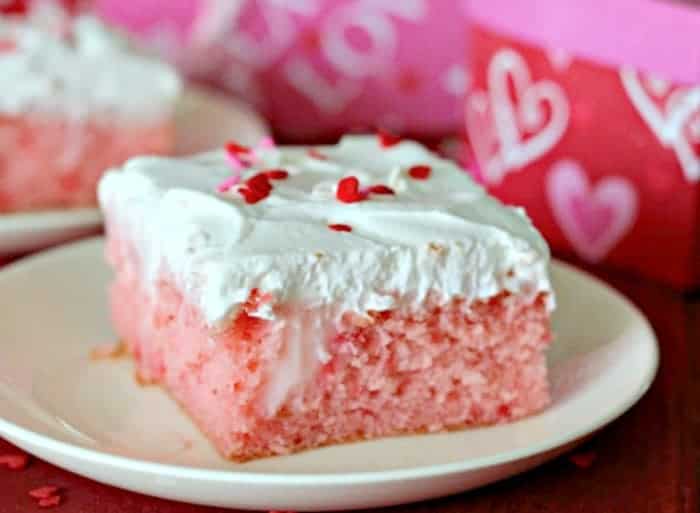 Strawberry Cheesecake is an easy recipe for delicious spring and summer dessert. This cake will look perfect at your Easter table, too! This strawberry dessert is the classic, melt-in your-mouth New York Style Cheesecake with a delicious twist! It's finished with a gorgeous homemade strawberry topping and it tastes as amazing as it looks!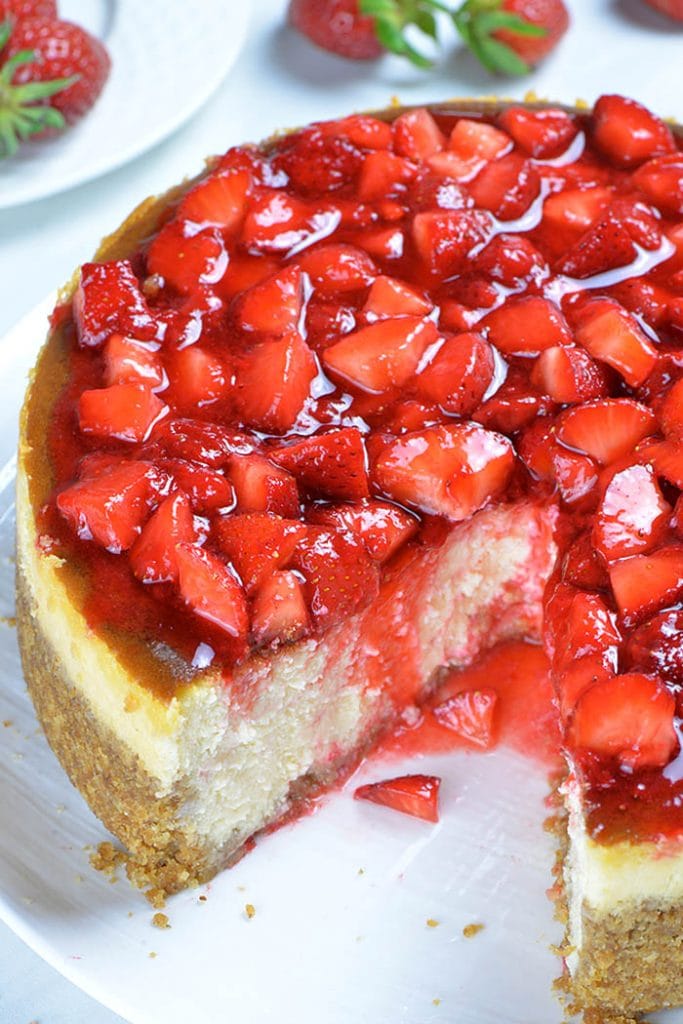 This strawberry swirl fudge is a quick and delicious treat for Valentine's Day. It's just as pretty as it is yummy!