Strawberry Chocolate Cake is like the best chocolate covered strawberries you've ever eaten!!! Moist chocolate cake topped with fresh strawberries, rich chocolate mousse, chocolate ganache and chocolate curls on top. This is serious chocolate fix, plus the cake looks pretty darn impressive! But I'll tell you a secret, this show-off cake is quite simple to make! If you are a true chocolate lover, you must try this Flourless Chocolate Cake, too! And for fresh strawberry season I recommend Strawberry Shortcake recipe!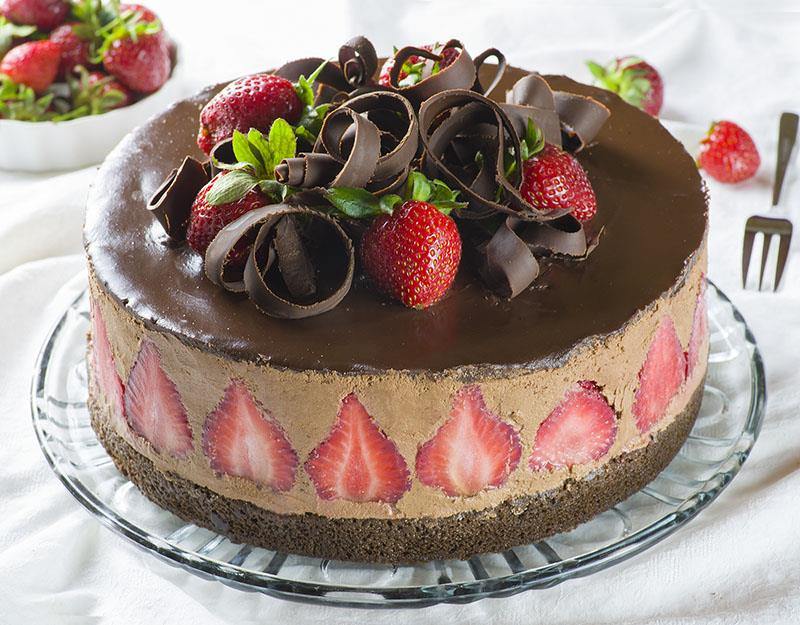 Yes, this cake looks really time-consuming, considering the list of instructions in the recipe, but don't let that intimidate you. It's long list of steps but every step is really simple.
The cake base is my favorite go-to chocolate cake recipe. It's one bowl recipe! You can make it a day ahead, wrap and set in the fridge and make the mousse next day.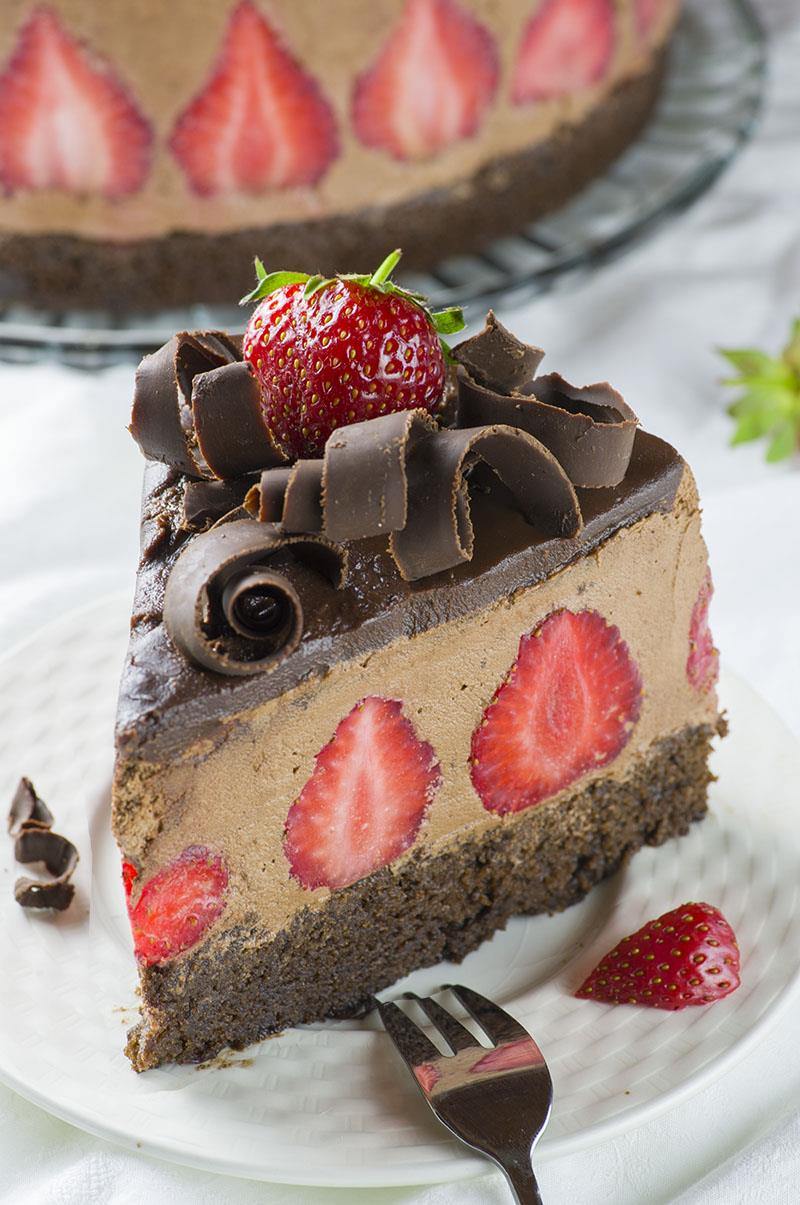 Chocolate mousse is also very simple, just the combination of butter, white chocolate and semi-sweet chocolate melted together and mixed with heavy cream and sugar. I used combo of white chocolate and semi-sweet chocolate to make it sweeter and lees chocolatey, considering rich cake base and chocolate ganache on top. I also added a little gelatin just to make sure the filling holds together and cut the slices easily.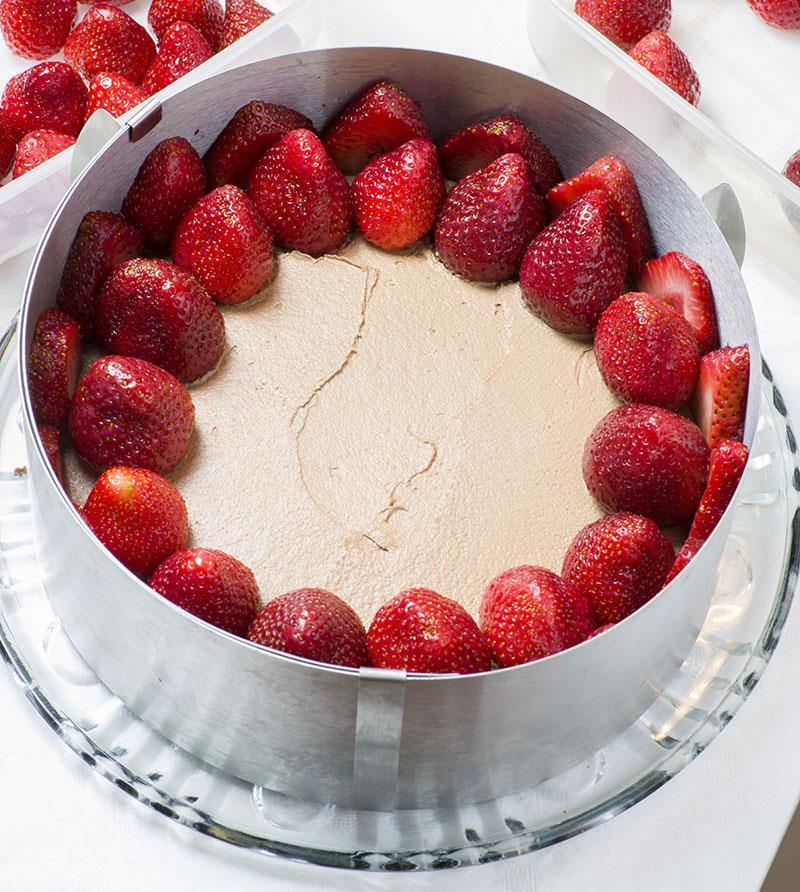 You don't need that much active time for this Strawberry Chocolate Cake but the filling has to be in the fridge for a few hours or overnight to set, so you have to plan this cake a few days before it's meant to be served. But every effort is totally worth it!!!
This delicious and really serious looking cake is something you have to try while the fresh strawberries are in season. And what would match better with strawberries than chocolate?! These two are meant to be together! You could enjoy in fresh, juicy strawberries and get serious chocolate therapy with just a single slice of this cake.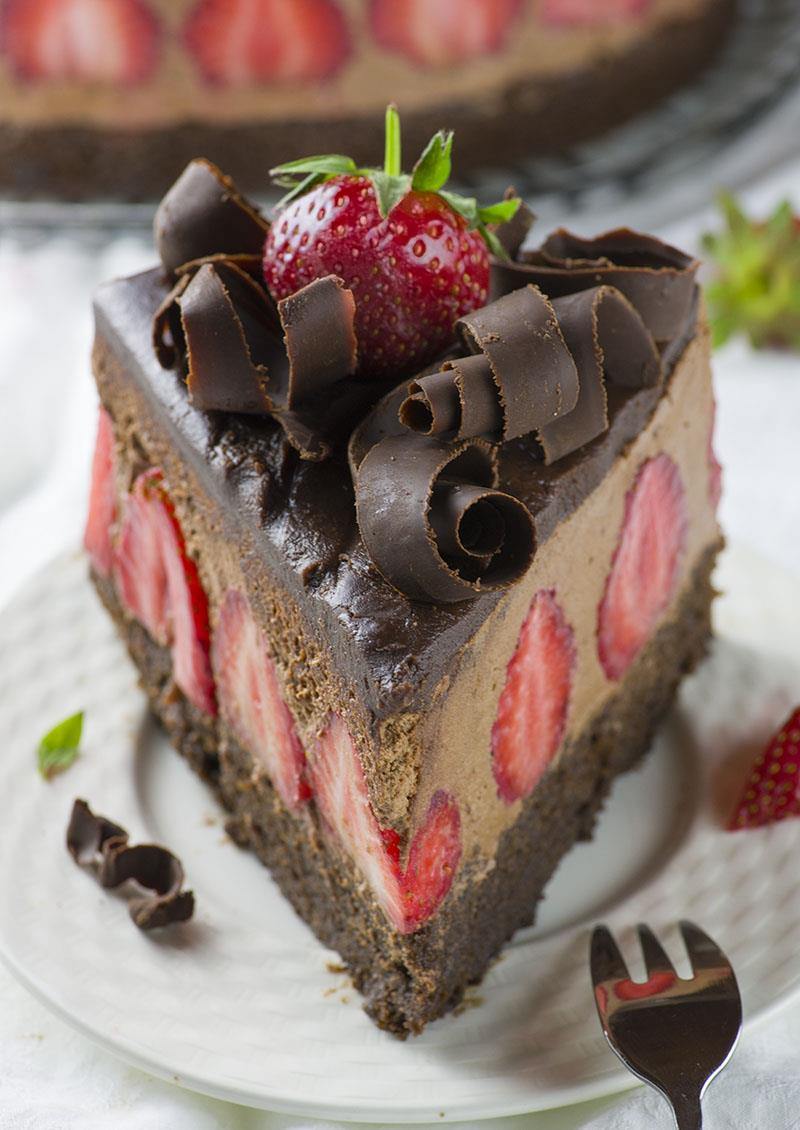 After all, Strawberry Chocolate Cake tastes really awesome. Sweet strawberries perfectly balanced rich chocolate flavor in the cake base, filling, ganache and curls decoration.  Yes it sound like too much chocolate, but if you are a true chocoholic, I'm sure you'll love it.
This is also one really show-off cake. If you have to make pretty looking dessert for some special occasion, like someone's birthday (like I did this time)this cake will make a really big impression beyond question.
Craving for more strawberry cake recipes!?
This easy Strawberry Shortcake Cake recipe make delicious layers of dense, buttery and  moist vanilla cake filled with fresh whipped cream and fresh sliced strawberries.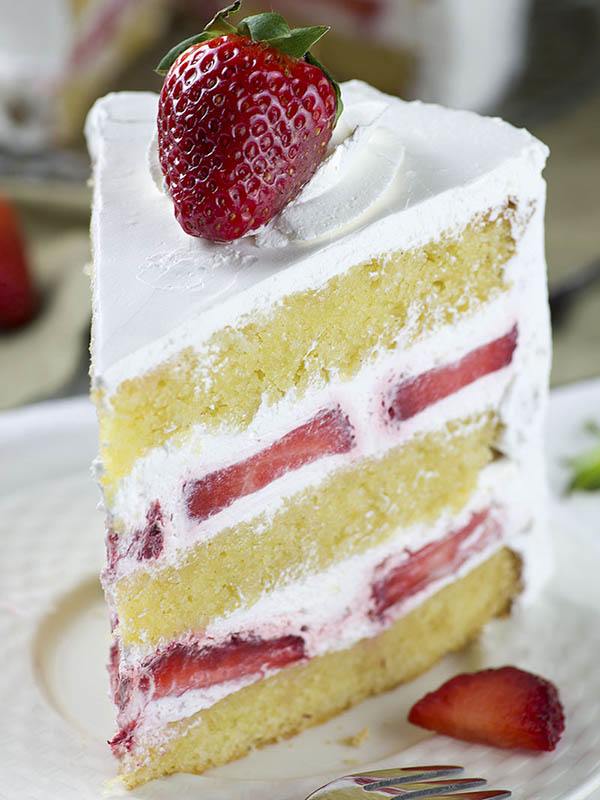 Strawberry Jello Cake recipe is the yummiest combo of all-time favorite spring and summer desserts: strawberry shortcake, strawberry jello and no-bake cheesecake.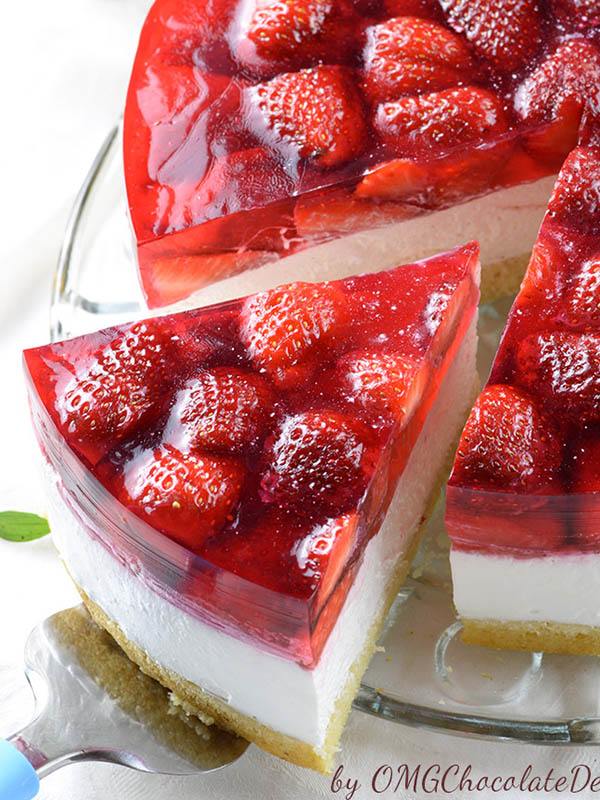 Print
Strawberry Chocolate Cake
---
Author:

Category:

dessert

Method:

bake

Cuisine:

American
Description
Strawberry Chocolate Cake is like the best chocolate covered strawberries you've ever eaten!!!
---
Ingredients
For Chocolate Cake:
1 cup

sugar

3/4 cup

+

2 tablespoons

all-purpose flour

1/4 cup

+

2 tablespoons

cocoa

3/4 teaspoon

baking powder

3/4 teaspoon

baking soda

1/2 teaspoon

salt

1

egg

1/2 cup

milk

1/4 cup

vegetable oil

1 teaspoon

vanilla extract

1/2 cup

boiling water
Chocolate Mousse:
6 Tablespoons

unsalted butter

12 oz

. high-quality semisweet chocolate(chopped)

3.5 oz

.white chocolate(chopped)

1 3/4 cups

heavy whipping cream

2/3 cup

powdered sugar

1 1/2 teaspoons

vanilla extract

2 teaspoons

unflavored gelatin

2.5 Tablespoons

cool water

2 quarts

strawberries ( try to find small strawberries)
For Chocolate Ganache:
2/3 cup

heavy cream

5.5 oz

. semisweet chocolate( chopped)
For Chocolate Curls:
3.5 oz

. semisweet baking chocolate

1 tablespoon

vegetable shortening (or vegetable oil)
---
Instructions
NOTES: to assemble the cake you'll need 9×3 inch springform pan.
To make the chocolate cake :
Preheat the oven to 350°F, grease 9 inch round baking pan and line the bottom with parchment paper. (for this step DO NOT use springform pan because the batter is very runny, it might leak)
In a large bowl stir together dry cake ingredients: sugar, flour, cocoa, baking powder, baking soda and salt.
Add egg, milk, oil and vanilla and mix on medium speed for 2 minutes. Add ½ cup boiling water and mix until combine.
Pour the batter in the pan and bake until toothpick inserted in center comes out clean (25-35 minutes). Cool 10 minutes in the pan, than remove from pans to wire racks upside down (this flattens domed cakes) and cool completely.
For chocolate mousse filling:
In a small dish soften 2 teaspoon unflavored gelatin in 2.5 tablespoons cool water, set aside.
In a heat-proof bowl combine chopped semi-sweet chocolate, white chocolate and butter. Melt over double boiler or microwave. Stir until smooth and set aside to cool.
Heat softened gelatin on low heat and stir to dissolve and became completely free of lumps, set aside to cool.
Mix 1 3/4 cups heavy cream and vanilla extract until medium peaks form, gradually adding powdered sugar. Mix in gelatin.
Stir a few tablespoons of whipped cream into melted chocolate mixture to lighten it. Then transfer chocolate mixture into remaining whipped cream and gently fold in with a spatula, scraping the bottom to incorporate the cream completely.
To assemble the cake:
Place cooled chocolate cake onto serving plate and set the ring from springform pan around the cake.
Spread a thin layer of chocolate mousse filling onto cake (about ½ cup should be enough).
Cut the stem ends of the strawberries flat. Cut in half vertically as many strawberries as needed to go around the inside edge of the pan, than fill in the entire bottom with whole strawberries(if some strawberries are too tall just cut off more when stemming them because all strawberries should be about the same size).
To spread the filling easier and not to disturb strawberries, transfer it into piping bag and fill in all the gaps between strawberries (be careful not to skip some gaps!). Spread the rest of the mousse on top of the strawberries and smooth the top. Place in the fridge for 4-6 hours, or overnight to set.
When the mousse has set make the ganache. Simmer 2/3 cup heavy cream and pour over 5.5 oz chopped chocolate. Let it sit for a couple of minutes, then start stirring gently until all chocolate has melted and the ganache became smooth. Spread on top of the cake and place back in fridge until the ganache has set.
Run a thin knife around the cake and release the ring from springform pan.
To make the chocolate curls:
Melt 3.5 oz. semisweet baking chocolate with 1 tablespoon vegetable shortening (or vegetable oil) and spread in a thin layer onto baking sheet(but not too thin or the curls will breaking) Place in the freezer for 6-8 minutes to harden. Take out the chocolate from the freezer and leave on the counter for 2 minutes. Use a metal spatula and begin to scrape along the end of chocolate. If the chocolate is too hard it will break so wait for a while to soften at room temperature. If it's too soft and won't make the curls place the chocolate back in the freezer.
Gently arrange the curls on top of the cake and garnish with strawberries.
Store in the fridge.