Cream Cheese Strawberry Cookies are delicious, soft and chewy cream cheese cookies with fresh strawberries and white chocolate chunks. A sweet strawberry cookie recipe is just what you need for the summer ahead!
If you are wondering what to make with fresh strawberries, check this delicious and easy Strawberry Shortcake Cake recipe, too.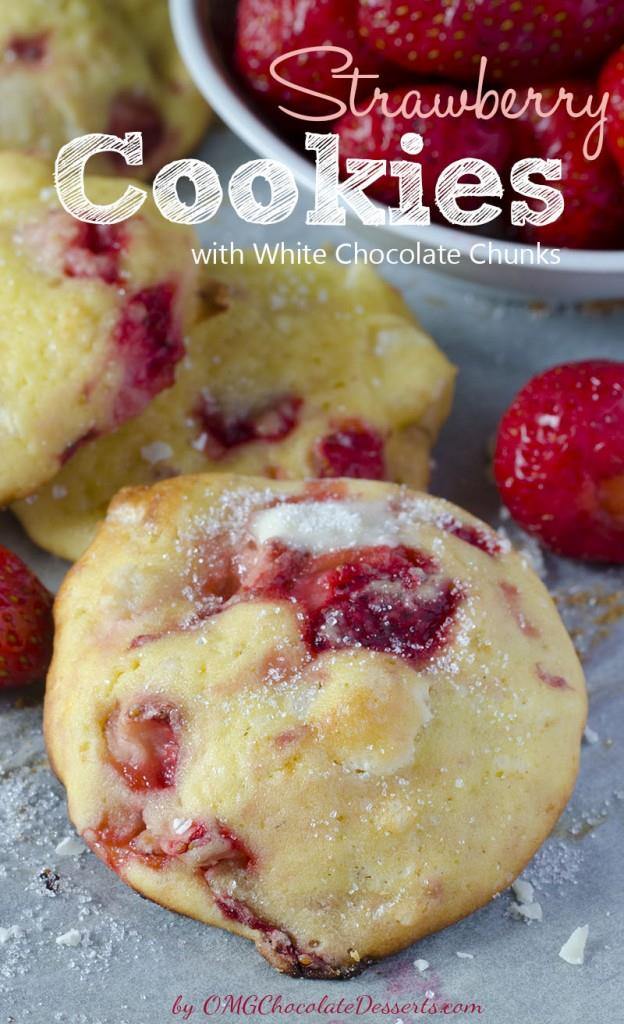 Cream Cheese Cookies with Fresh Strawberries
A few days ago, my good friend Alex came to my place for "only five minutes"!
"Vera, I don't have much time to chat. I just came by to leave you these strawberries which I picked for Marco", he said while giving me a bowl of beautiful strawberries which smelled through the whole house the moment he brought them.
"Thanks Alex. They are beautiful. I will say hello to Marco for you", I told him not wanting to disappoint him because my picky son doesn't even want to look at strawberries this summer, no matter how beautiful they are.
"Hmmm, maybe I could play some kind of trick on my little bad boy. If I make him cookies (one of his favorite snacks) with these strawberries, maybe he won't rebel" I was thinking full of optimism.
And in that moment, I thought of a recipe I wanted to try for a long time: Cream Cheese Strawberry Cookies. The week before I had made a magic cake and a peanut butter cheesecake – and although delicious – I wanted something different. And besides all that, after chimicange and cheesecake, I have become a little addictive to the combination of strawberries and creme cheese.
White Chocolate and Strawberry Cookies
Everything was there, creme cheese, flour, sugar and when I took a look at the original recipe, it was like lightning out of the blue! Cream Cheese Strawberry Cookies are made with dried strawberries!!!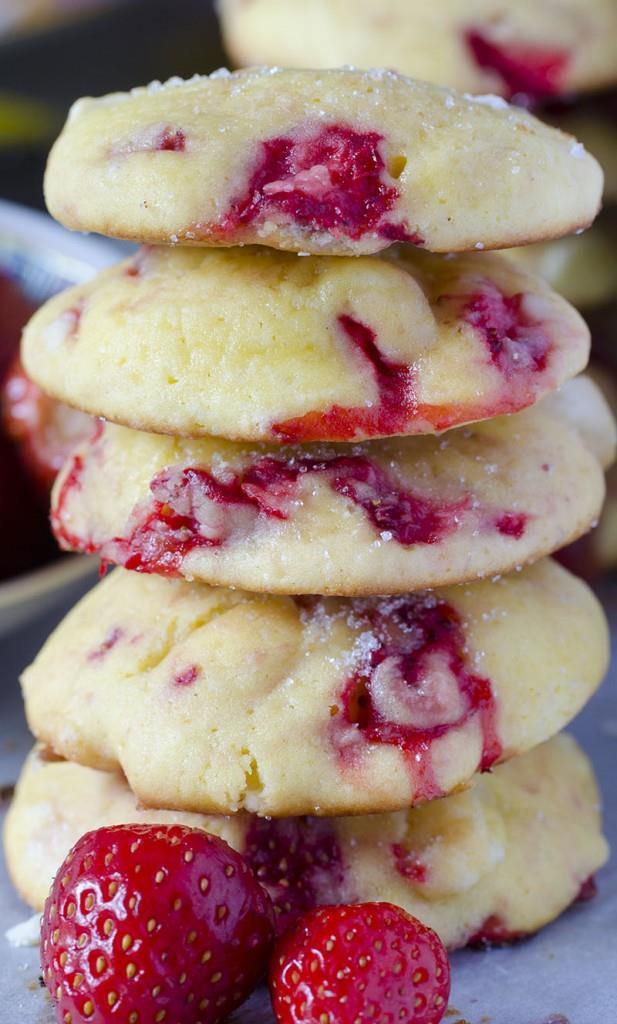 What to do? If I put fresh strawberries, maybe my little cookies won't be so delightfully white with juicy, red pieces of strawberry. The strawberries will lose their color and they will paint the cookie dough.
"Don't give up, Vera", a voice was talking in my ear.
It was time for a few tricks. In order not to lose color, I squeezed a little lemon juice over the strawberries, then drained them and sprinkle flour over them in order not to color the dough and that the strawberries would not sink in while baking. And of course, so that Marco would like this treat, and make it a little more attractive to eat, I will throw in his favorite ingredient. Look, it's chocolate! But this time, it will be pieces of white chocolate.
I cut a whole bar of white chocolate, mixed it into the cookie dough, and the experiment was totally successful. After half an hour, on my table was a plate full of sweet cookies, which looked great and simply melted in the mouth. Only one step was left…
"Marco, come quickly and try the cookies mom made for you", I invited my son proud of my trickery. Marco, seeing a pile of sweet cookies, filled his hands with a few pieces . But, instead of eating them, he started making a tower from the cookies!
And that was it, he didn't even want to take a bite since he saw the strawberries immediately.
Of course, if you asked yourself about the destiny of my Cream Cheese Strawberry Cookies,  all the fallen towers were quickly eaten by a man who is not so picky– of course, my husband 🙂
If You Like These, Make Sure To Try These Yummy Cookies Too!
Soft and chewy Blueberry Cookies with fresh blueberries, white chocolate chunks and gooey cream cheese and blueberry jam filling in the center are really the best blueberry cookies ever.
Lemon Shortbread Cookies with bits of white chocolate, topped with lemon curd are delicious and refreshing summer treat.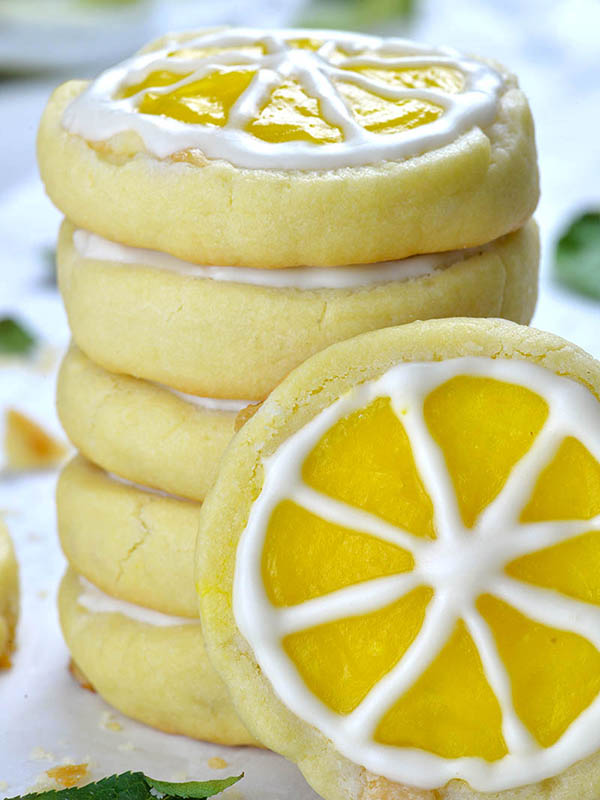 Print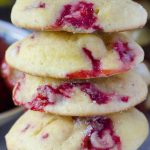 Strawberry Cookies With White Chocolate Chunks
---
Author:

Prep Time:

20 minutes

Cook Time:

15 minutes

Total Time:

35 minutes

Yield:

24

cookies

1

x
Category:

Dessert

Method:

Oven

Cuisine:

American
Description
Cream Cheese Strawberry Cookies are delicious, soft and chewy cream cheese cookies with fresh strawberries and white chocolate chunks. A sweet strawberry cookie recipe is just what you need for the summer ahead!
---
Ingredients
1 1/4 cup

all-purpose flour

1/2 teaspoon

baking powder

1/8 teaspoon

salt

1/4 cup

unsalted butter-softened

4 oz

cream cheese-softened

3/4 cup

sugar

1

egg

1 teaspoons

vanilla extract

3/4 cup

chopped fresh strawberries

2 tablespoon

lemon juice

1

–

2

tablespoon flour

5 oz

white chocolate-chopped
sanding sugar
---
Instructions
Preheat the oven to 350 F and line pans with parchment paper.
Pour fresh lemon juice over chopped strawberries, drain them after a few minutes.
Whisk together 1 1/4 cup all-purpose flour, salt and baking powder and set aside.
Beat butter with sugar and cream cheese until it's light and fluffy.
Add egg and vanilla and mix well.
Gradually add flour mixture and mix until it's well combined.
Stir in chopped white chocolate.
Sprinkle strawberries with 1-2 tablespoon flour, toss them until all strawberries are coated with thin layer of flour and then stir them really gently in the batter.
Drop heaping tablespoon of batter onto pan leaving an inch space between.
Set the cookies in the refrigerator for 5-10 minutes before baking.
Sprinkle the cookies with sanding sugar if you want, but do not overdo it because they are sweet enough.
Bake for 13-15 minutes( until the edges become golden brown).
Let them cool a few minutes in the pan than transfer them to a wire racks to cool completely.