If you are looking for the best Christmas cookie recipe White Chocolate Strawberry Shortbread Cookies is really over- the- top!!! Traditional buttery shortbread cookies are amazing on their own. But now they get a holiday makeover with delicious mix-ins: dried strawberries and white chocolate! If you are more for a classic, then check this Soft Chocolate Chip Cookies!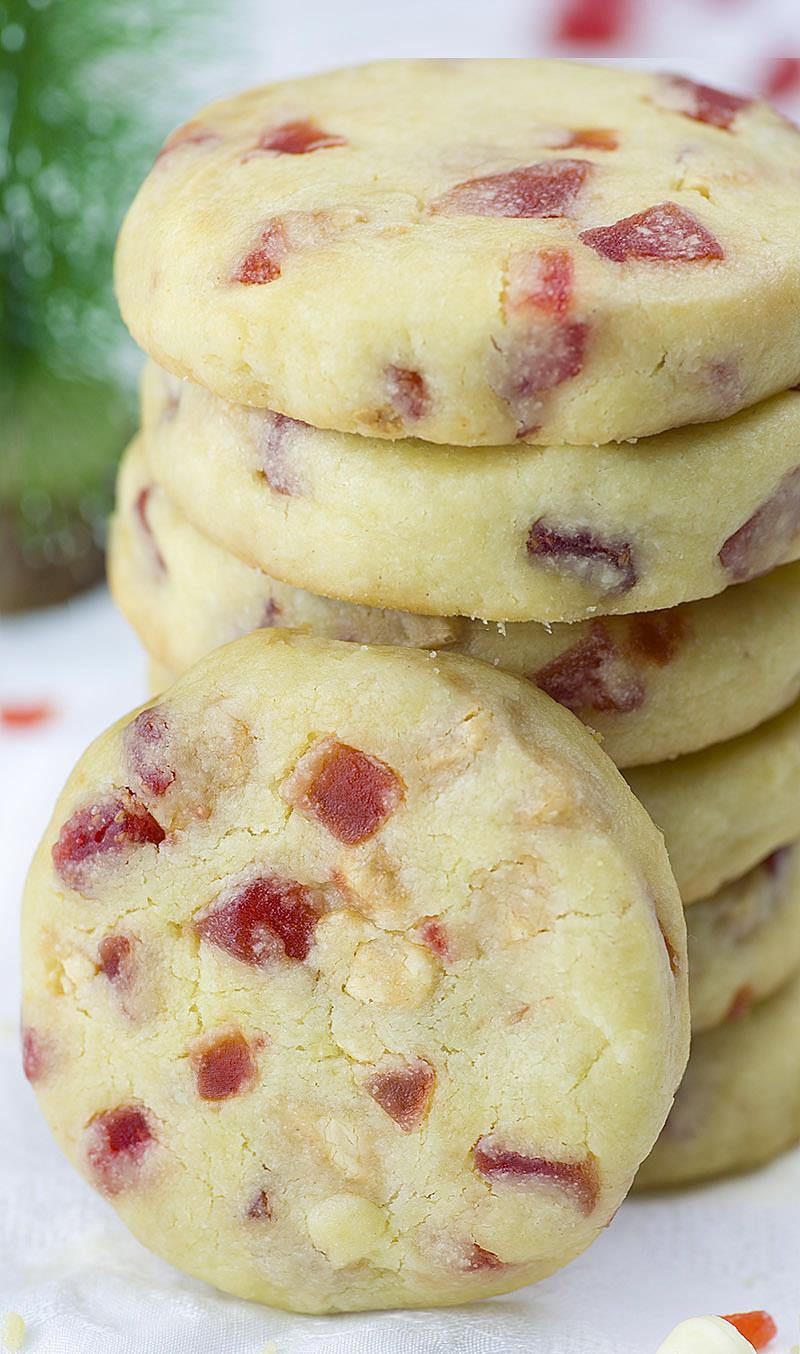 I started my holiday baking season with White Chocolate Cranberry Cookies. Then I mentioned that I have set myself the challenge to find THE BEST CHRISTMAS COOKIES FOR SANTA! And I stick to my plan!
I think these delicious  Strawberry Shortbread  Cookies could be the winner! They are decadent, rich and buttery and pieces of strawberries and white chocolate make them look really festive and fun. Not to mention the taste…  As I said, they are really over-the-top!!!
Without doubt Strawberry Shortbread Cookies are sure to be the hit of any holiday party.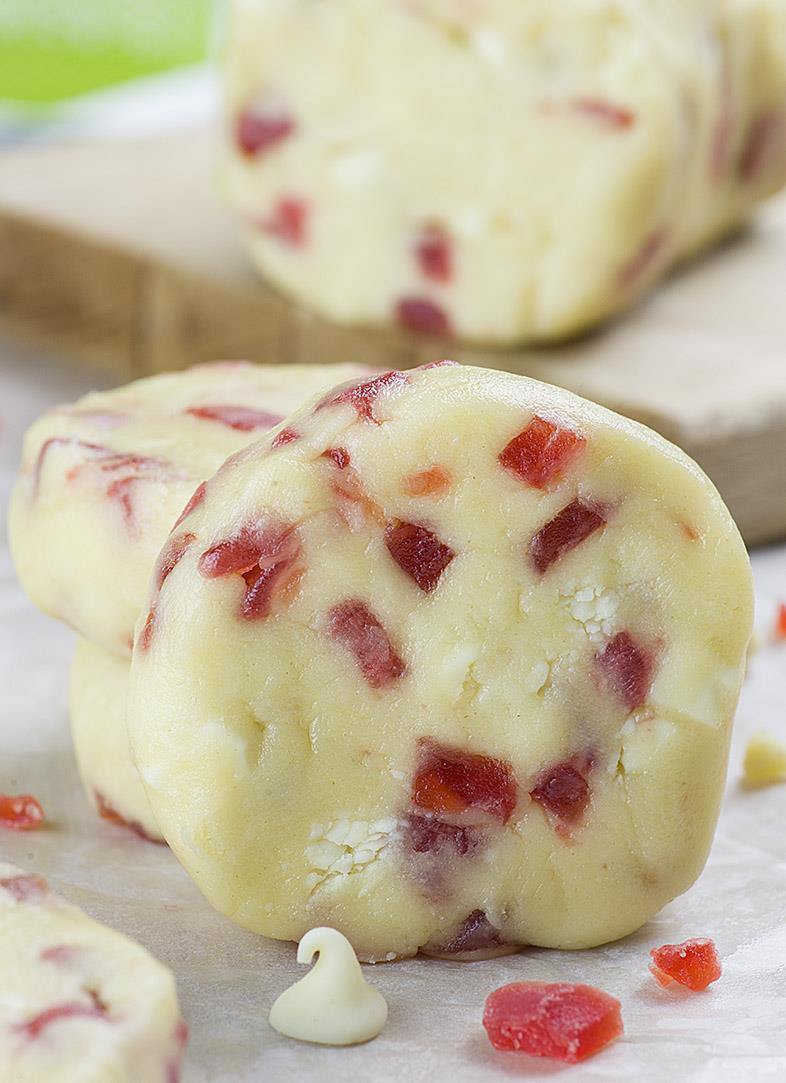 During the holiday madness it is good to have a few time saving recipes. My favorites are quick and easy recipes for desserts that freeze well so you can store them in the freezer for a few months. When the time comes you will easily fill up your Christmas table.
So far I've share a lot of those recipes, but my favorites are Cranberry Pistachio white Chocolate Truffles, Red Velvet Truffles and Homemade Peppermint Patties. These are all incredible fun and festive Christmas desserts.
But somehow for Christmas is always the most popular a cookie buffet. It's great because everyone got to try lots of different flavors and you have something sweet to send home with your guests.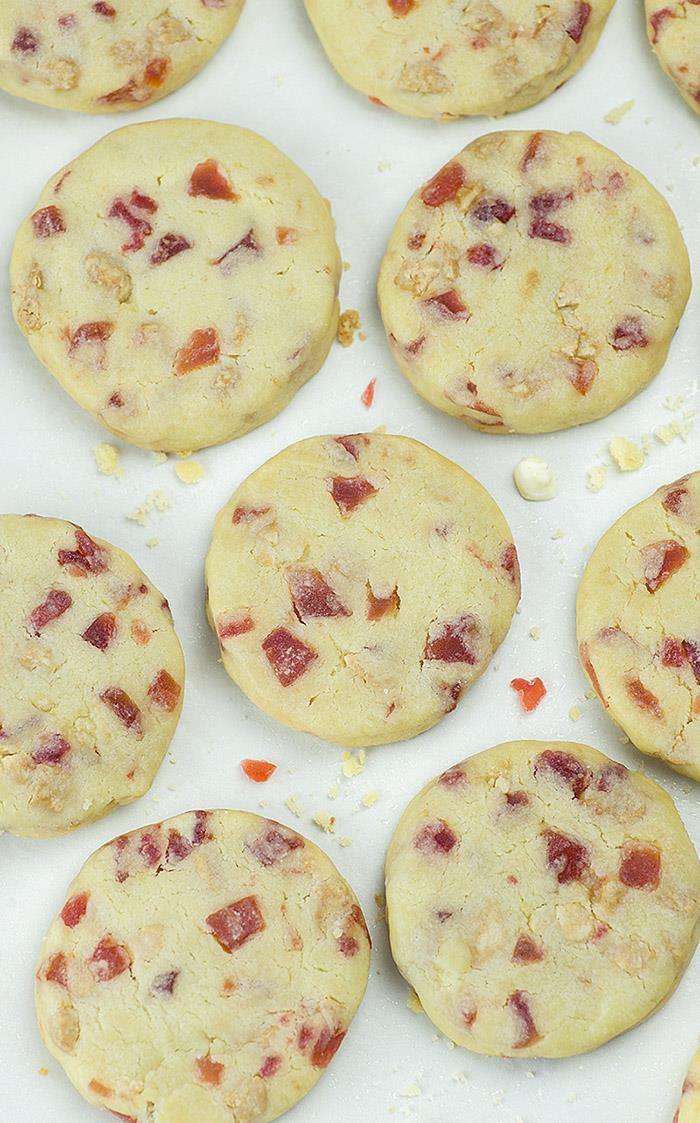 Speaking of cookies, they don't get much easier than slice-and-bake shortbread cookies. I have my favorite go-to shortbread recipe with 4 simple ingredients: butter, sugar, salt and flour.
Using different add-ins I've already made so many different cookies all vying for the title of Best Christmas Shortbread Cookie. Surely you know my Maraschino Cherry Shortbread Cookies I made last year. But if you are a not huge fan of fruits, I have a classic combo: Peanut Butter Shortbread Cookies with Chocolate Chips.
I love all those flavors, but without doubt these White Chocolate Strawberry  Shortbread Cookies are my favorite.
What is your favorite holiday cookie?

White Chocolate Strawberry Shortbread Cookies Recipe:
Craving for more Christmas Cookie recipes!!!
Make the classic shortbread cookies with red bits of Maraschino Cherry and you will get beautiful Christmas Cookies – Maraschino Cherry Shortbread Cookies.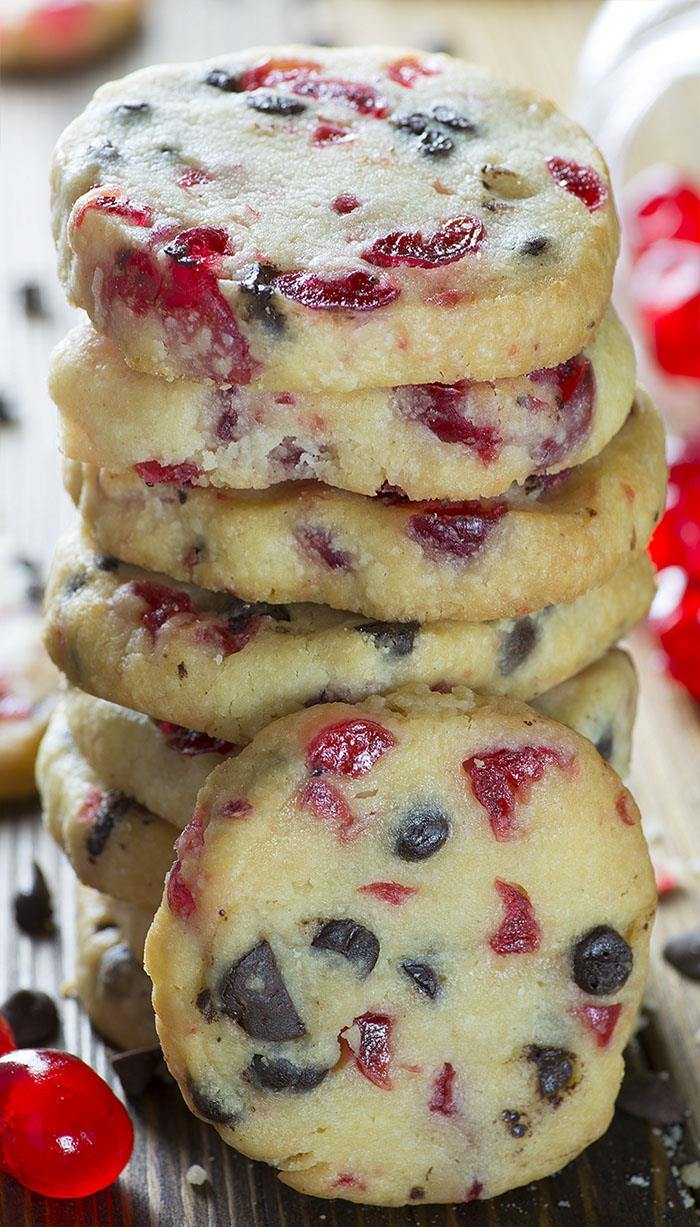 Peppermint Crunch Sugar Cookies are easy Christmas cookies that will make a festive addition to your holiday cookie plate.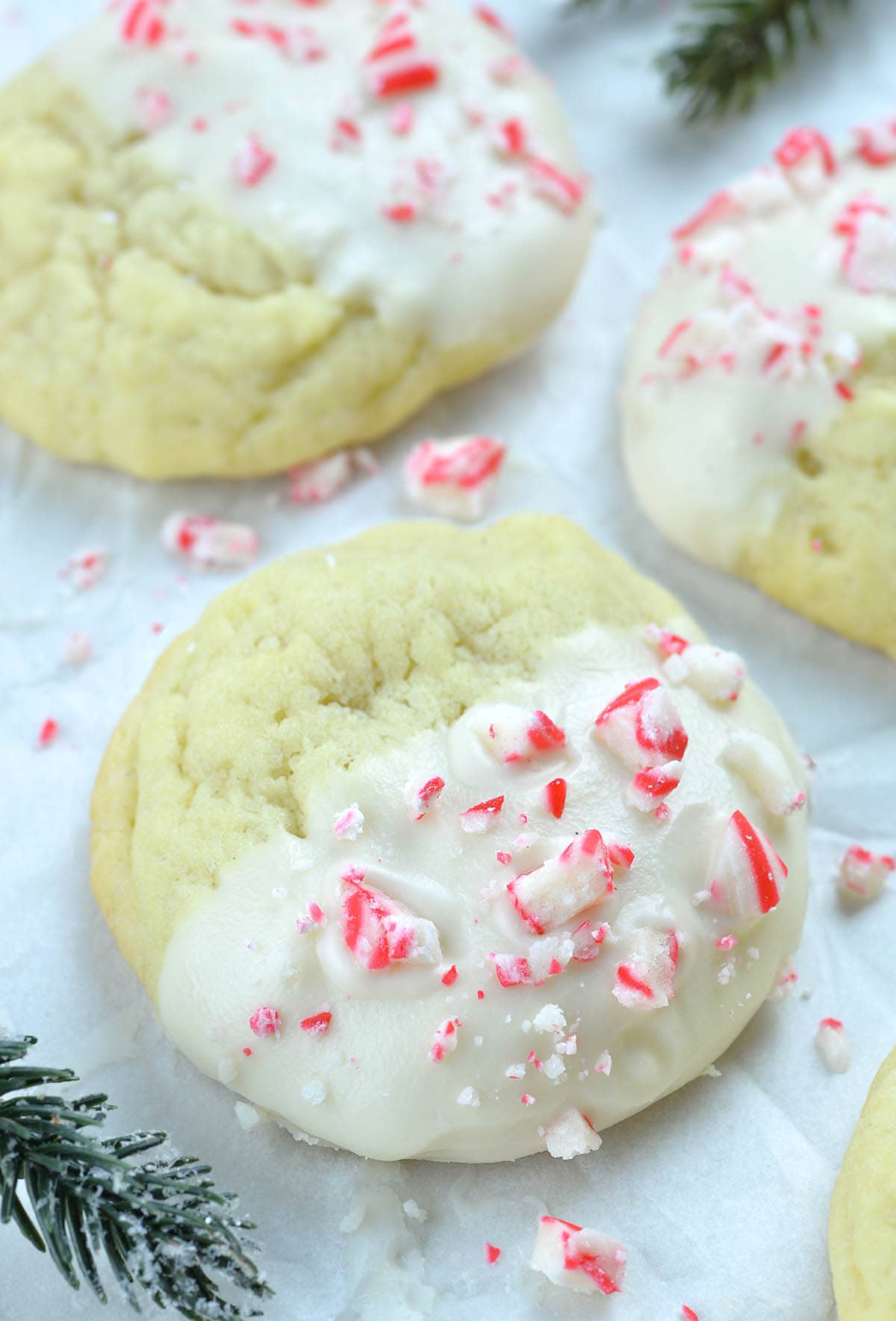 Easy Shortbread Cookies Recipe is delicious and easy to make dessert, snack and traditional Christmas treat.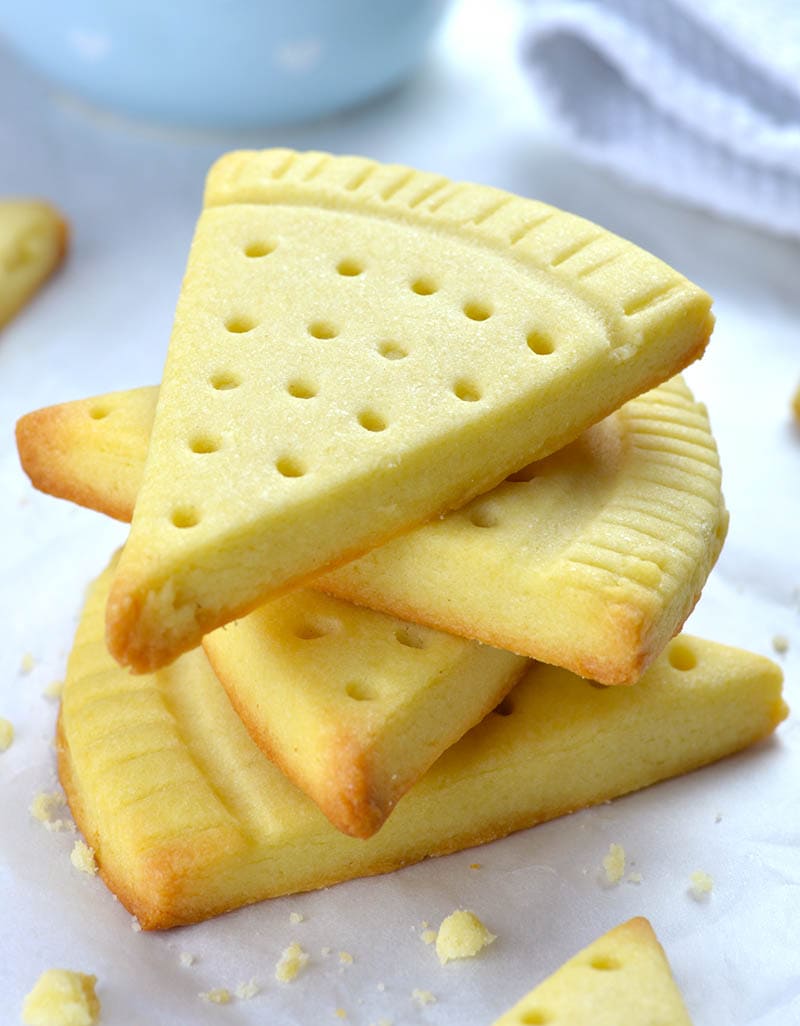 Print
Strawberry White Chocolate Shortbread Cookies
---
Ingredients
1 cup

softened unsalted butter

1/2 cup

+

2 tablespoon

s confectioners' sugar

1 teaspoon

vanilla extract

½ teaspoon

salt

2 cup

s all-purpose flour

¾ cup

dried strawberries finely chopped

2/3 cup

white chocolate chips (or finely chopped white chocolate)
---
Instructions
Mix butter, sugar, vanilla and salt until smooth.
Turn you mixer on low speed and gradually add flour. Mix until combine.
Stir in finely chopped dried strawberries and white chocolate.
Transfer the dough on a piece of parchment paper and roll into 2 inch diameter log, gently press with your hands, wrap tightly in parchment paper and refrigerate the log for 2 hours to firm. If you make ahead, you can store the dough up to four days in a fridge or freeze up to 3 months, but then you must wrap the log with plastic wrap!
When the log is firm, preheat oven to 325 F, line baking sheets with parchment paper.
Unwrap the log and using serrated knife cut into 1/3 inch thick slices. If the dough crumbles too much leave it at room temperature 5-8 mins then slice.
If the slices lose their shape press it back together with your fingers and place them onto baking sheet with one inch of space between.
Bake 15-20 minutes until the edges are lightly golden. Cool on baking sheets for 5 mins then transfer to a rack to cool completely.