Sex in The Pan! Really a fun name for a dessert!
"It's usually like that when modern food bloggers give names to their recipes" my husband was joking when I told him what was next on my dessert list.
"And what am I supposed to say to mom and dad when I take this piece for them to try? Mom, dad, try Sex in the Pan? he was laughing while he was watching the photo of his future treat on the internet. But when he saw what was soon to be on his plate, his tongue was hanging out.
"Wooow, now I know why it's called like it is. It looks so good."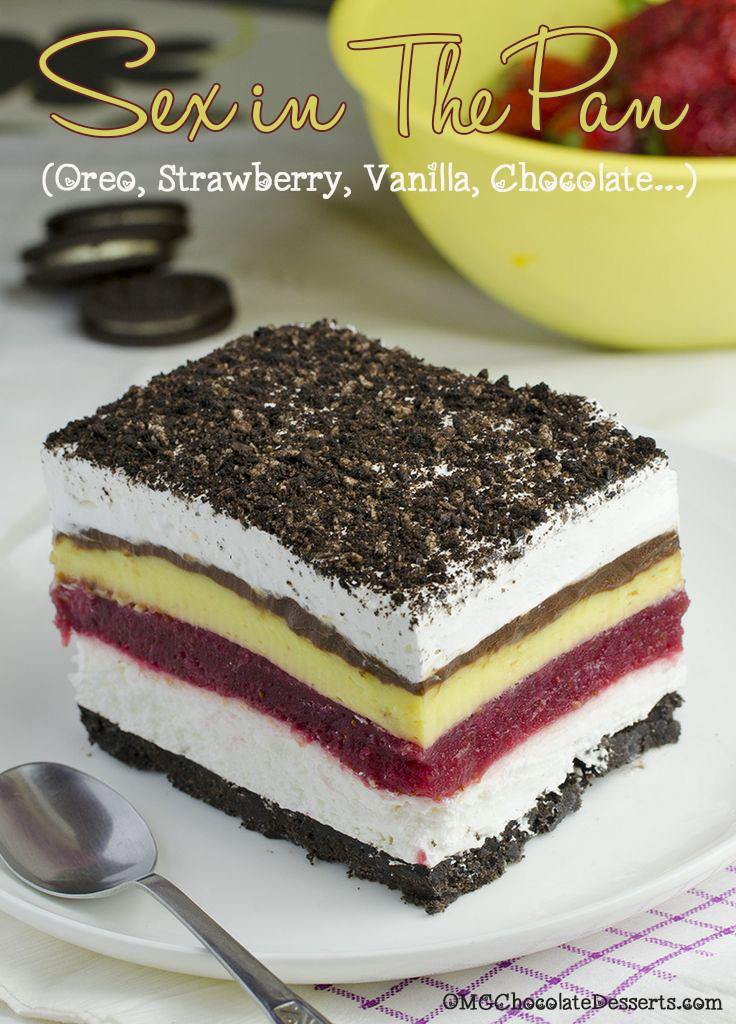 And if you search a little on Google or Pinterest, you will find a few variations of this recipe. My favorite is on the blog jocookcs.com. Beautiful layers of vanilla pudding, chocolate and whipped cream with a bunch of grated chocolate over the last layer. It looks like heaven.
"You know what, Vera? It reminds me a little of the phenomenal Chocolate Lasagna you made before" said my husband.
"Of course, but I will change it a little and it will be completely different", I was happy already thinking about what kind of innovations I could make.
"Oh, no, improvisation again", said my husband, who always wants the meals I make to be just as same as the picture, while I always like to make something "out of the blue".
And of course, it was the same again. Very quickly, besides the basic layers of vanilla pudding and chocolate, I imagined Oreo crust and a beautiful little layer of strawberries that I just bought fresh of the market.
And so it was! In no time my Sex in The Pan began growing step by step. First minced Oreo with melted butter, then cool whip and  cream cheese layer, then a red layer of cooked strawberries, sugar and jelly, and a thin layer of chocolate ganache and in the end – another layer of cool whip and cream cheese with  Oreo and chocolate dirt.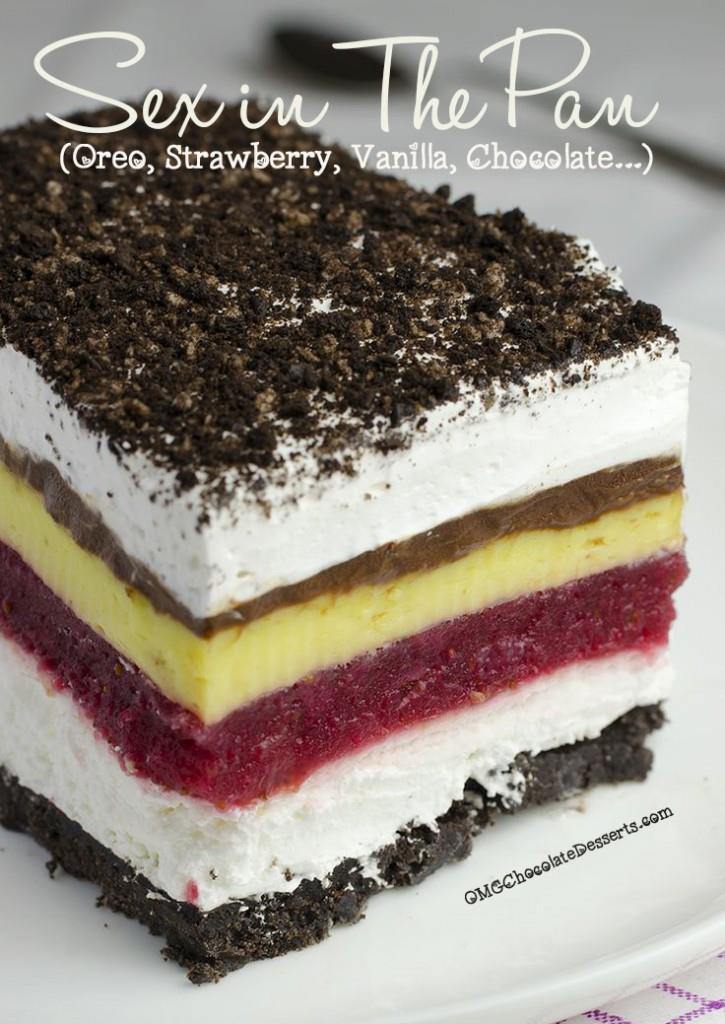 "Well that's not even close to what you showed me in the photo", my husband was disappointed as he was watching me cut of pieces of my version of Sex in the Pan.
But when he tried a piece of the cake while I was cutting it to make photos, there were no more words. In the next few minutes you could hear just munching 🙂
"Well, looks like your parents won't get to know what Sex in the Pan is" I was teasing my husband who cleaned up half of the cake in  the pan no time .
In the end, you will probably come to the conclusion that this is not your classic Sex in the Pan, but it is still a beautiful dessert. And a little  remark: if you decide to try this, reserve yourself a little more time because every layer that you make has to cool for a while in the fridge before you start with another. Enjoy!!!
Print
Sex in The Pan (not so ordinary)
---
Author:

Category:

Dessert
Ingredients
36

Oreo cookies (regular, not double stuff)

6 tablespoon

butter-melted

8 oz

cream cheese-softened

1/4 cup

granulated sugar

2 tablespoon

s cold milk

12 ounce

tub Cool Whip-divided

2

–

3.9

ounce packages Vanilla Instant Pudding.

3 1/4 cup

s cold milk

2

pound strawberries

3/4 cup

sugar

3 tablespoon

gelatin dissolved in 6 tablespoon water

8 oz

chocolate-chopped

1/2 cup

heavy whipping cream

4

Oreo-crushed (for garnish)
---
Instructions
In food processor, finely crushed Oreo cookies into fine crumbs.
In a large bowl, using a fork mix Oreo with 6 tablespoons melted butter.
Transfer it to a 9 x 13 inch dish and press down the crumbs into the bottom.
Set in the refrigerator while you are making the fillings.
Mix the cream cheese until it's fluffy, add 2 tablespoons of milk and sugar, and mix well. Stir in 1 and 1/4 cups Cool Whip and spread the mixture over the crust, transfer into refrigerator.
In a large sauce pan combine chopped strawberries with 3/4 cup sugar and dissolved gelatin and cook for 15 minutes (bring to boil than reduce the heat and continue cooking, stirring constantly) . Set aside to cool, than spread over the cream cheese layer and transfer in the freezer for at least half and hour.
In a medium bowl mix vanilla instant pudding with 3 and 1/4 cups cold milk. Whisk for a few minutes until the pudding starts to thicken
Spread the pudding over the strawberry layer.
Let it sit in the fridge for 10 minutes to firm up the pudding.
To make the chocolate ganache layer bring heavy whipping cream to boil, remove from the heat and stir in chocolate. when it's smooth and slightly cooled spread it over the vanilla pudding layer and set in the gridge for 10 minutes.
Spread remaining Cool Whip over the top and sprinkl with crushed Oreos.
Freeze for 1 hour, or the refrigerate for 4 hours before serving