Cranberry Pistachio White Chocolate Truffles are super cute and festive no-bake dessert! They look like little snowballs and when you take a bite, you'll realize it's seriously tasty stuff!!! This is the tastiest Christmas dessert recipe ever!!!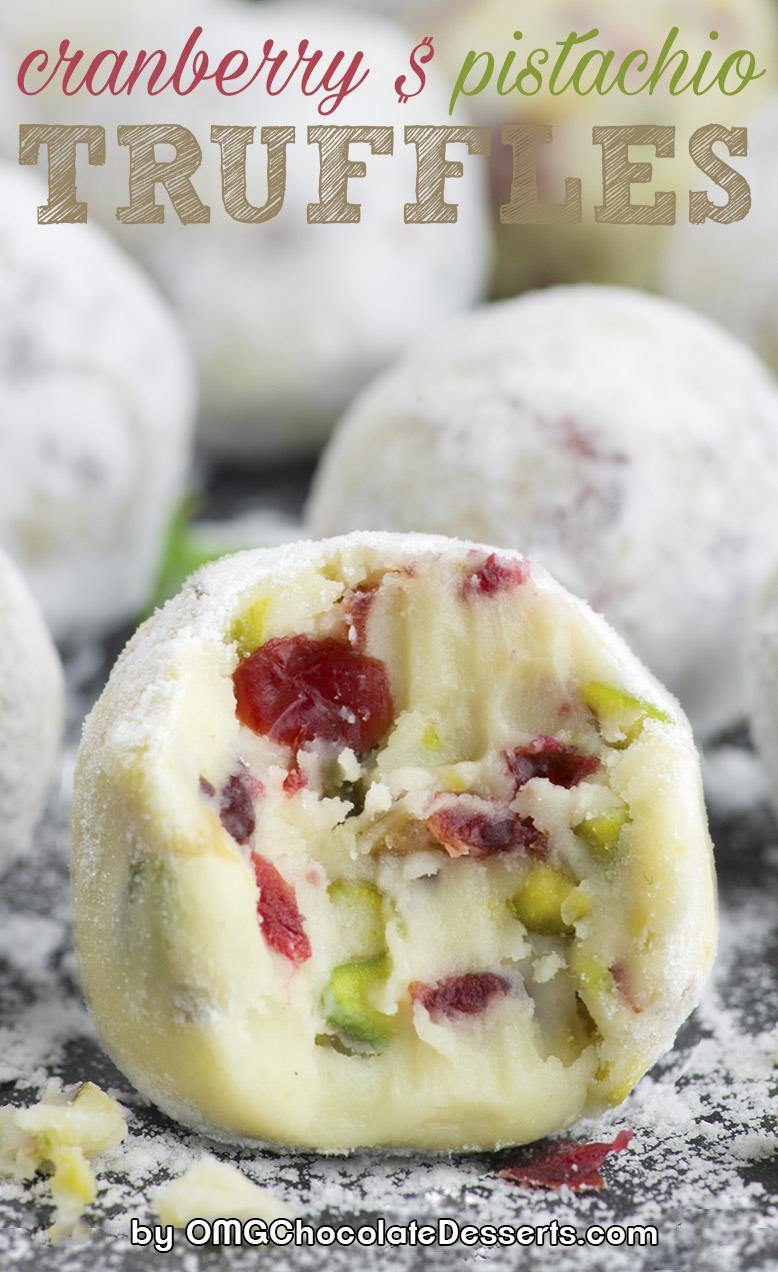 However, you must add this Cranberry Pistachio White Chocolate Truffles to your holiday party menu!
And white chocolate speckled with pieces of bright red cranberries and green pistachio make these yummy little balls really cheerful. Moreover, these Cranberry Pistachio White Chocolate Truffles are rolled into powdered sugar what makes them look super festive, like cute snowballs. What could you want more of a Christmas dessert?!
But Cranberry Pistachio White Chocolate Truffles are not just pretty looking treat, they are incredibly tasty! Tart cranberries cut out the sweetness of white chocolate and pistachio makes them really decadent and rich. And that is perfect combination of flavors! finally, white, red and green colors simply scream Christmas.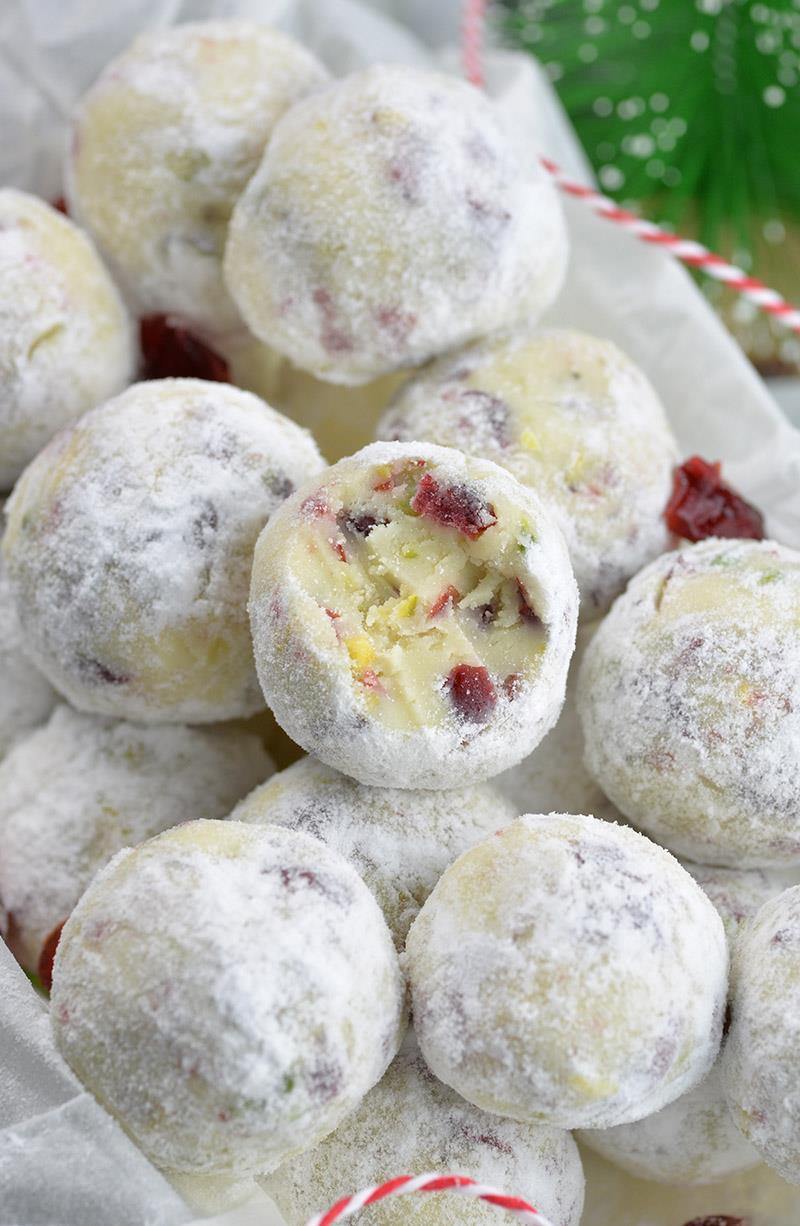 Here is one good reason why you should try this Cranberry Pistachio White Chocolate Truffles if you are looking for delish recipe to make for holiday. This is really simple no bake recipe and you could make it in advance and store in the fridge for a week or freeze it for longer storage.
however, I look forward to Christmas, but we all know how stressful it could be around Holidays. Don't get me wrong, I love holidays! Holidays are great! Families gather at home to spend precious moments together and make unforgettable memories. But you have to put a lot of work to cook and bake for your loving family and friends. Plus decorating a house, a lot of shopping and wrapping gifts need to be done…! And I don't want to sound dramatic, but the key is in a good organization and planning in advance.
When you already know that you'll be short on time just before holiday, good news is that some work can be done in advance. That's what's great about this recipe!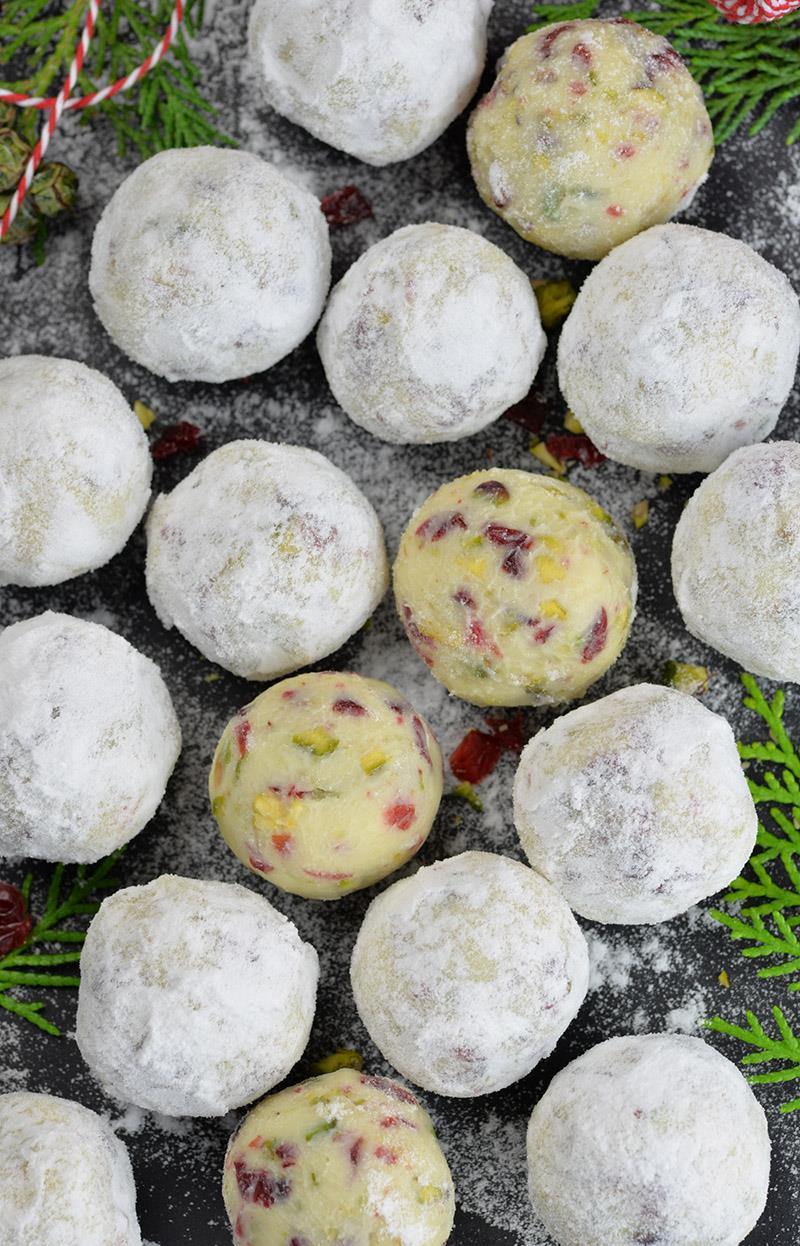 These Cranberry Pistachio White Chocolate Truffles  will look great at your Christmas tray. And even if you don't want to freeze them, they really don't require a lot of active time. Just chop some cranberries and pistachio, melt white chocolate, butter and heavy cream, stir all together and place in the fridge for a few hours. While you are waiting the mixture to firm you could complete some other tasks. At the end, roll the mixture into small balls, coat with powdered sugar and your Christmas delight is ready for party.
You could take these cute and tasty Cranberry Pistachio White Chocolate Truffles to cookie exchange or pack them and make great homemade gift for a friends.
I love cranberry recipes and when Christmas season starts, I simply crave cranberry EVERYTHING! It's maybe because of their bright red color what makes very dessert look so cheerful and festive. Cranberry desserts are also very delicious. I suggest you to try my White Chocolate Cranberry Pound Cake, too. It's still one of the most popular recipe on my blog after a couple of years. And if you share my love for cranberries, please check these awesome White chocolate Cranberry Cookies that opened my Christmas desserts series this year!
If you need more great White Chocolate Truffle recipes look at those Lemon, Orange Creamsicle or even Blueberry truffles. They are all made of the same base, three simple ingredients: melted white chocolate, heavy cream and butter. You could easily adapt them to your taste, the possibility are endless!

Cranberry Pistachio White Chocolate Truffles Recipe:
Print
Cranberry Pistachio White Chocolate Truffles
---
Description
These Cranberry Pistachio White Chocolate Truffles are super cute and festive no-bake dessert!
---
Ingredients
11 oz

. white chocolate – chopped into small pieces

5 Tablespoon

s unsalted butter

3 Tablespoon

s heavy cream
pinch of salt

1 teaspoon

orange or vanilla extract (optional)

1/3 cup

finely chopped dried cranberries

1/3 cup

finely chopped toasted pistachio

1/2 cup

powdered sugar
---
Instructions
First, in a small sauce pan over low-medium heat melt butter, add heavy cream and stir just to combine.
Then stir in salt (and orange or vanilla extract if desired) and set aside.
Over a double boiler melt finely chopped white chocolate, stirring casually until smooth and completely melted. But DO NOT over heat the chocolate!!! Although, it takes some time to melt completely, but do not heat above 105 F or the chocolate will separate and be unusable (if touched with finger, it will feel about the same temperature as your body)
Remove from heat and using a rubber spatula gently stir in lukewarm mixture of butter and heavy cream into melted chocolate. NOTES!!!Butter and heavy cream mixture should be approximately the same temperature as melted chocolate when you combine them.
finally, stir in chopped cranberries and pistachio and let it sit at room temperature for an hour, cover with a plastic wrap pressed on the top of the mixture so a film does not form. Then refrigerate for 2-3 hours (until firm).
When the mixture is firmed, using a small spoon or a melon baler scoop out the mixture and roll into an inch balls. It might stick to your hands so clean your hands with a paper towel after rolling each ball.
Finally, roll each truffle into powdered sugar to coat them well.
Store in the fridge in airtight container up to 1 week or freeze for longer storage.