Strawberry Custard Cake is the best of all magic custard cakes I've ever tried. It's delicious, creamy and smooth and bursting with fresh strawberry flavor. Moreover, the recipe is very easy and quick, too.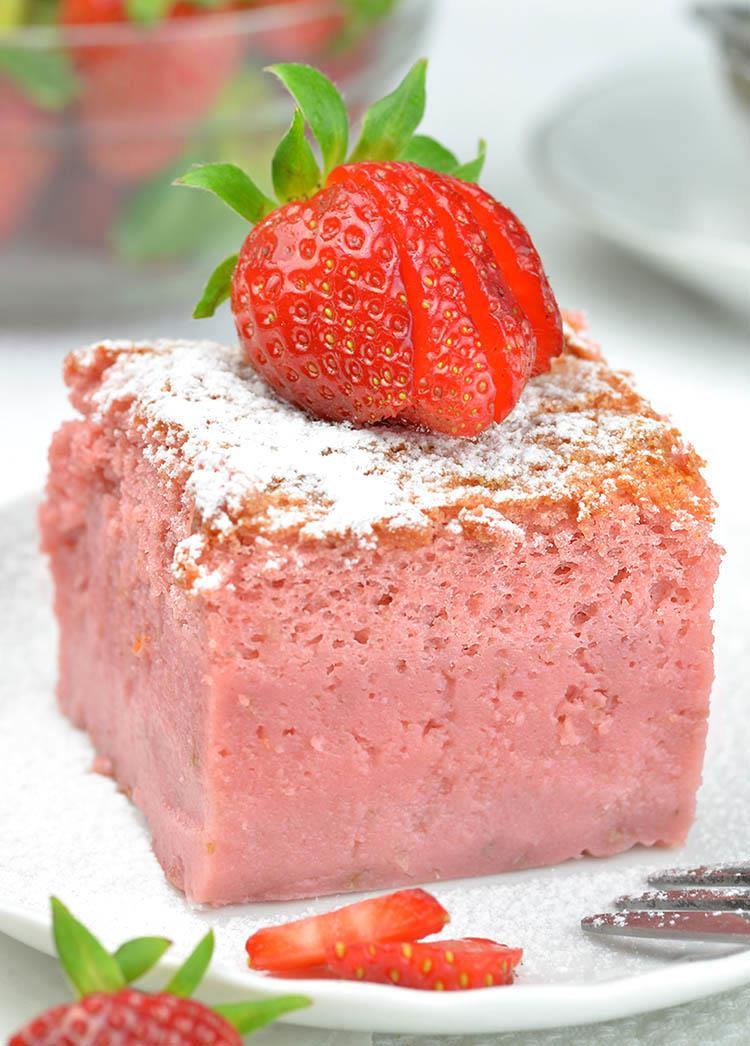 When fresh strawberries meet classic Vanilla Magic Custard Cake, these two together make seriously magical dessert!!! Strawberry Custard Cake is really over-the-top!!!
Speaking about magic custard cakes, so far I've tried many. First I made classic Vanilla Magic Custard Cake. And that was love at the first bite. So I had to try chocolate version. You might remember my Chocolate Magic Custard Cake. Then I decided to add a little bit of fruity flavor, so I made Easy Banana Magic Cake.
All those magic custard cakes were delicious but this Strawberry Custard Cake goes beyond all of them. When I put it in the oven to bake, I knew immediately that this would become my favorite custard cake ever. And wonderful sweet smell of strawberries and vanilla that spreads through my kitchen swept me of my feet.
To tell the truth, I had to make this Strawberry Custard Cake twice in just one day. And that's not because the first one didn't turn out good. Actually it was great, but I couldn't help myself not to dig in warm and jiggly soft strawberry custard.
I knew that every custard cake has to cool completely if you want to make nice clean slices. Cooled custard turns slightly dense and but I wanted that wobbly, warm custard and  I wanted straightway. Therefore I had to make another Strawberry Custard Cake so I could take the photos for this post. Luckily, this Strawberry Custard Cake recipe is really simple, quick and easy to make so it wasn't a big dill. And much less problem was to eat two cakes.
Quick and Easy Magic Custard Cake Recipes

Strawberry Custard Cake Recipe:
Print
Description
Strawberry Custard Cake is the best of all magic custard cakes I've ever tried. It's delicious, creamy and smooth and bursting with fresh strawberry flavor.
---
Ingredients
For strawberry puree:
10 oz

. fresh strawberries

2 Tablespoon

s granulated sugar

1 Tablespoon

fresh lemon juice
For the cake:
4

egg whites
Dash of salt

4

egg yolks

1 ½ cup

s powdered sugar

½ cup

unsalted butter-melted and slightly cooled

1 ¼ cup

milk-lukewarm

1 ¼ cup

strawberry puree

1 teaspoon

vanilla

¾ cup

all-purpose flour
A few drops of red food coloring-if desired
powdered sugar-for dusting the cake
---
Instructions
Preheat the oven to 325 F and coat 8 x 8 (2 inch deep) square baking dish with cooking spray and line with parchment paper leaving an overhang on two sides. Lay the second piece of parchment paper on top, across the first one, leaving an overhang on the other two sides so you can take the cake out of the pan easier.
First, make strawberry puree. Place strawberries, lemon juice and 2 tablespoons sugar in a blender or food processor and pulse until smooth.
Next, beat egg whites until soft peaks form, add a dash of salt and continue beating until stiff peaks form, set aside.
In another bowl beat egg yolks, gradually add powdered sugar and continue beating until light and fluffy and the mixture is pale yellow.
Add melted butter in egg yolks and mix until combine. Then add strawberry puree, milk and vanilla and mix on low speed until combine. Mix in flour until combine, too. The batter is really thin and that's OK. Mix in a few drops of red food coloring if desired.
Finally, add beaten egg whites into the mixture and using a rubber spatula or a whisk gently incorporate them. A distinct layer of fluffy lumps and clumps of egg whites should remain at the top. Do not overstir or overmix it, because egg whites should float on top when you pour the batter in baking dish.
Bake for 50-70 minutes or until the cake is just barely jiggly in the center, but feels firm to touch.
Cool the cake completely, then dust with powdered sugar and serve. Garnish with fresh strawberry if desired.
Notes
Baking time might vary depending on your oven or baking dish you use (glass, ceramic, metal…) but start checking after 50 minutes. If the top browns too quickly before the minimum of 50 minutes, you can tent the top with aluminum foil.