This easy Strawberry Shortcake Cake recipe make delicious layers of dense, buttery and  moist vanilla cake filled with fresh whipped cream and fresh sliced strawberries. Easy spring ( or summer ) dessert recipe to celebrate the arrival of my favorite season. But if you are more for no bake desserts check this delicious  No Bake Strawberry Jello Lasagna recipe.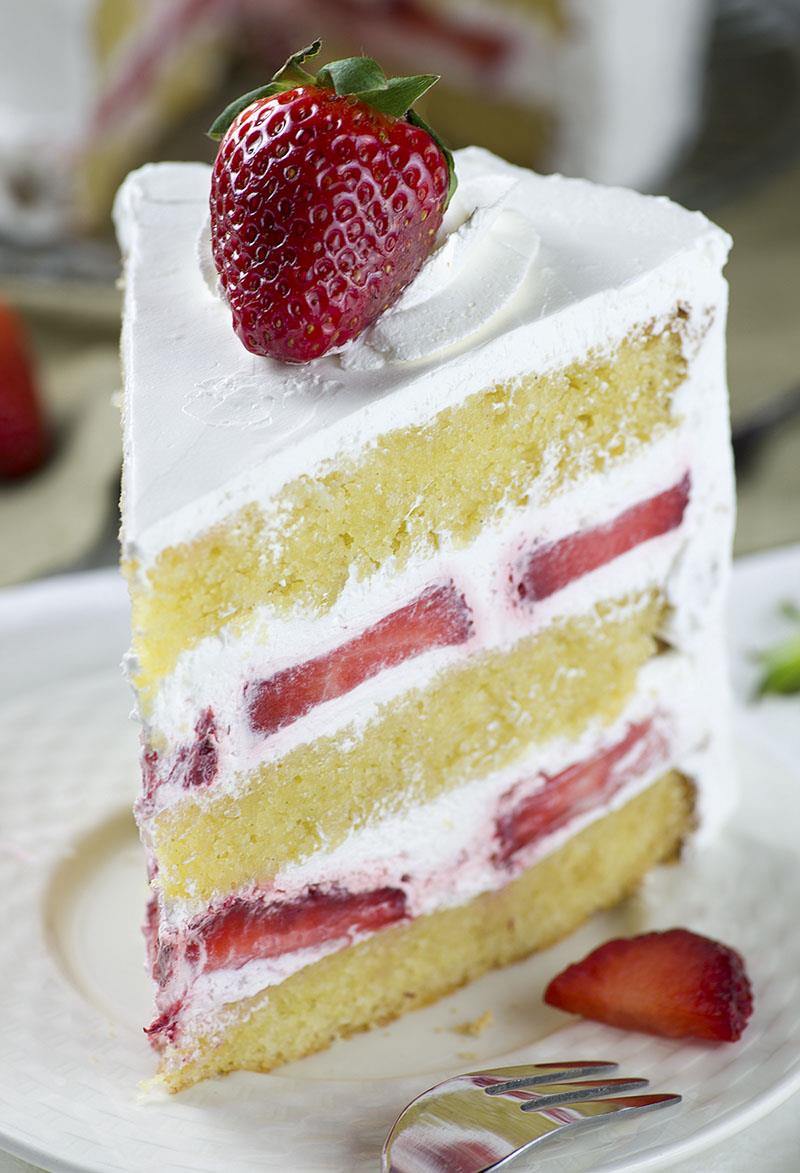 Strawberry Shortcake
Finally spring has come !!!
Although I was very impatient and I have already tried on some spring inspired recipes – Strawberry Jello Cake, Lemon Poppy Seeds Muffins and not to forget one of my all-year-round favorites, the Custard Cake.  When you run a food blog the fridge is always crowded with food (desserts in my case) which I can't get to share to my friends and neighbors and especially we don't get to eat it all by ourselves.
I simply don't have enough time and space to make the dessert we really like twice, because food blog always requires some new recipes. But a few days ago I had to make my favorite Strawberry Pound Cake, just purely for my whim. I like it so much so I still had to do it again.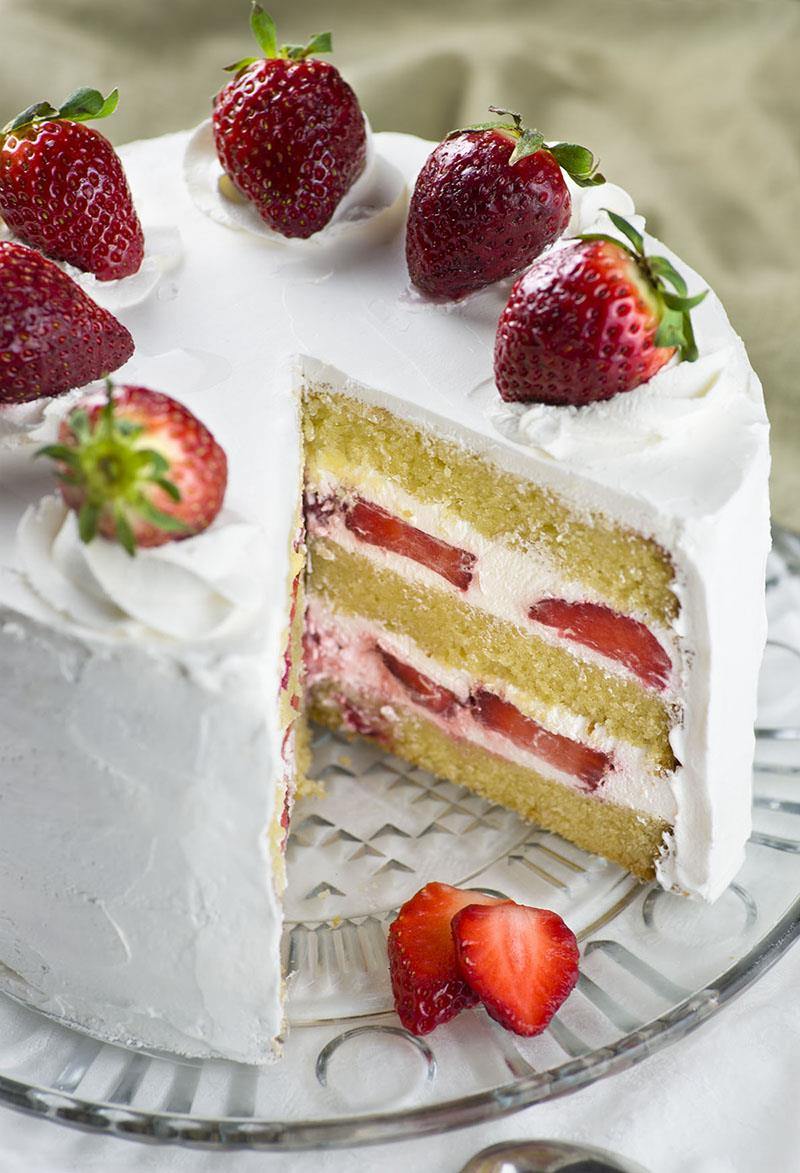 Now let's get back to today's topic. Spring baking season has officially started !! YAY!!! For me it means to test and develop recipes with fresh and juicy fruits. The stars of this episode is STRAWBERRIES (again). What can I say, I LOVE, LOVE strawberries and any dessert with strawberries included.
I  had plenty of fresh, juicy strawberries and heavy cream in my fridge as well, so I could easily made some sweet biscuits, macerated the strawberries, plopped them over the biscuit, pilled the cream and had a dessert ready, but… Been there, done that… I wanted this cake to be different since the holiday is only few days away. It has to look festive and fancy as the Easter dessert should be, but still it must be easy and simple to put together.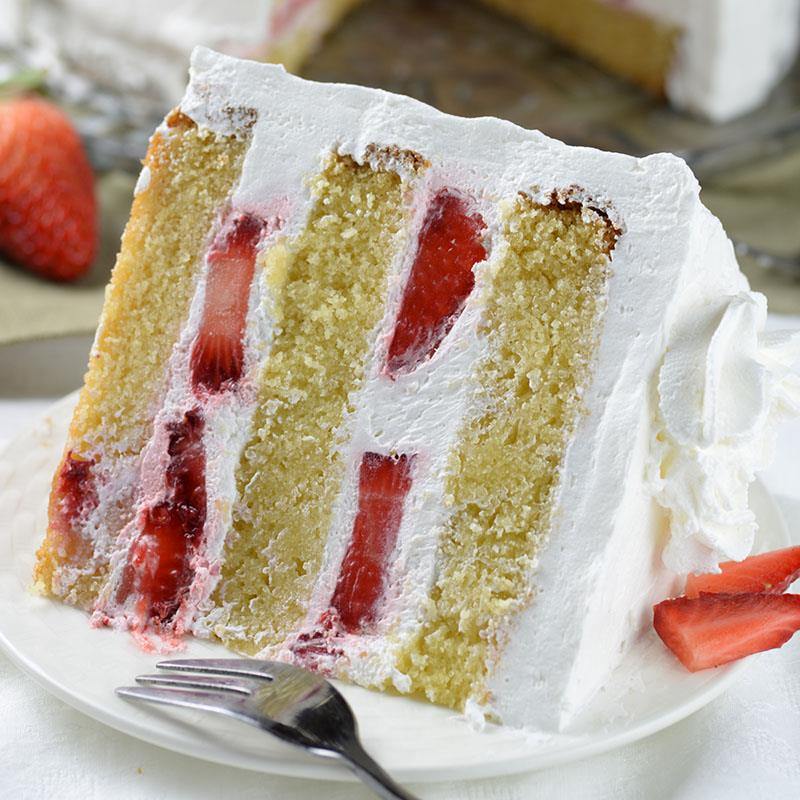 How do you make strawberry shortcake from scratch?
And so I get this Strawberry Shortcake Cake. It's more cross between strawberry cake and strawberry short cake. It has layers of freshly whipped cream and fresh strawberries, but I haven't mixed sliced strawberries with sugar to release their juices as I should with the classic Strawberry Shortcake. I made flavorful vanilla cake, sliced it to get three round cake layers and brushed them with lemon and sugar syrup instead of strawberry juice.
For the filling I used fresh whipped cream flavored with vanilla extract and sliced strawberries. And the cake is, well, more pound cake cake–not the biscuit-like in the classic strawberry shortcake recipe. But  it's all here: vanilla cake, fresh strawberries between the layers of whipped cream, and strawberry garnish.  I packed them slightly different but I still could call this  Strawberry Shortcake recipe.
Craving for more strawberry cake recipes!?
Strawberry Chocolate Cake is like the best chocolate covered strawberries you've ever eaten!!! Moist chocolate cake topped with fresh strawberries, rich chocolate mousse, chocolate ganache and chocolate curls on top.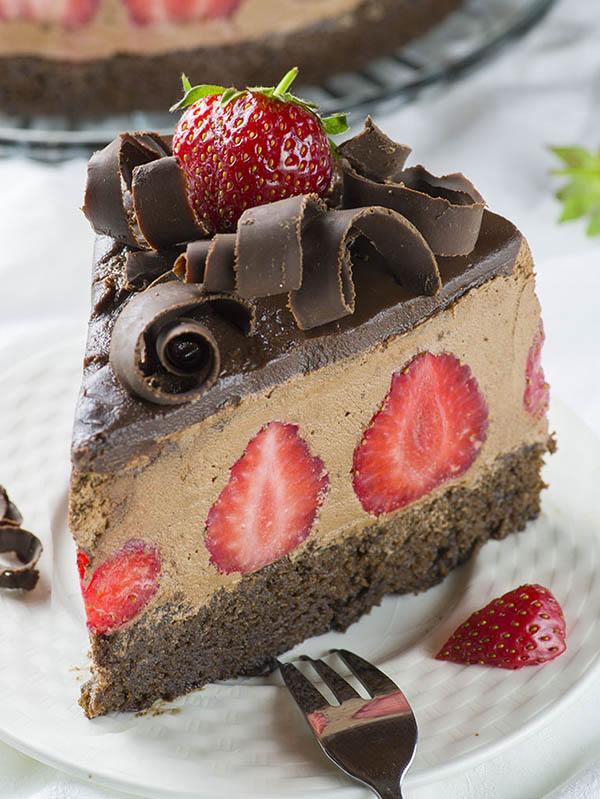 Strawberry Jello Cake recipe is the yummiest combo of all-time favorite spring and summer desserts: strawberry shortcake, strawberry jello and no-bake cheesecake.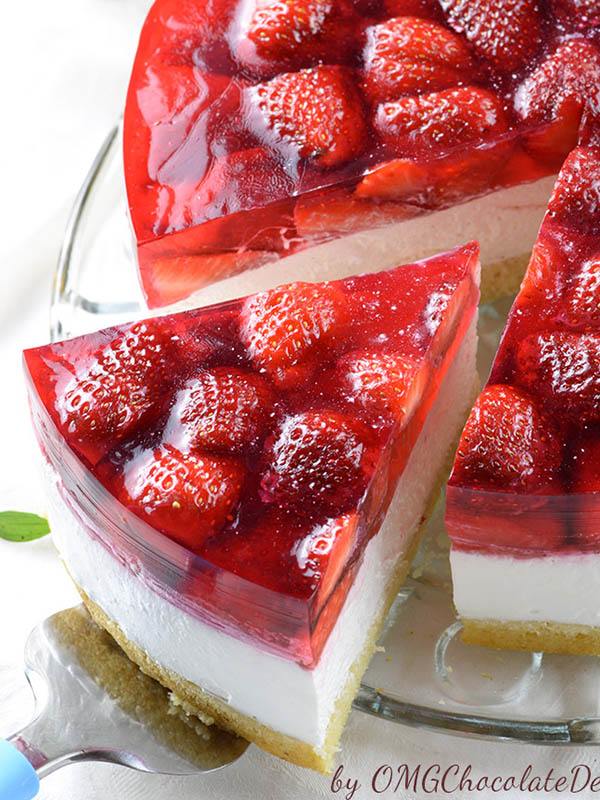 Strawberry Icebox Shortcake is delicious twist on two classic spring and summer treats!  You don't have to choose between your favorite desserts with fresh strawberries: Strawberry Shortcake and Strawberry Icebox Cake.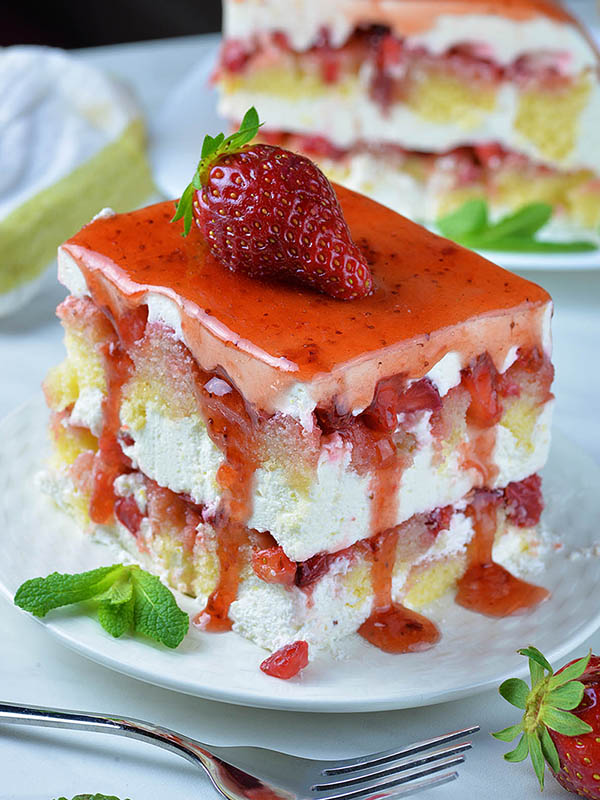 Pin Strawberry Shortcake image for later:

Print
Strawberry Shortcake
---
Author:

Category:

Dessert

Method:

bake

Cuisine:

American
Description
Strawberry Shortcake- layers of dense, buttery and moist vanilla cake filled with fresh whipped cream and fresh sliced strawberries. Easy spring ( or summer ) dessert recipe to celebrate the arrival of my favorite season.
---
Ingredients
Vanilla Cake:
2

and 3/4 cups (

343g

) all-purpose flour (don't overdo it with flour or the cake will be too dry)

1/4 cup

cornstarch

1 teaspoon

salt

3/4 teaspoon

baking powder

1/2 teaspoon

baking soda

1 cup

unsalted butter-softened to room temperature

2 cups

granulated sugar

4

large eggs- room temperature

2 teaspoons

vanilla extract

1/2 cup

whole milk- room temperature

1/2 cup

sour cream
For the Syrup:
1/4 cup

granulated sugar

3 Tablespoon

water

2 Tablespoon

fresh lemon juice
Filling and frosting:
2 cups

heavy whipping cream

1 cup

powdered sugar (or more to taste)

1

–

2

teaspoon vanilla extract
About

1

lb. fresh strawberries-sliced 1/4 inch thick (reserve some for garnish)
---
Instructions
To make the cake:
Lower the oven rack to the lower third position and preheat the oven to 350F degrees. Spray the inside of a 8 x3 inch round cake pan ( the pan must be 3 or 3 1/2 deep or the cake will overflow the pan) with nonstick spray or grease thoroughly with butter, than line the bottom and sides with parchment paper. Set aside.
In a large bowl sift together the flour and cornstarch , than whisk in the salt, baking powder and baking soda. Set aside.
Beat the butter on high speed until smooth and creamy (about 1 minute). Add the sugar and beat on high speed for 2 minutes until creamed together well.
Add the eggs and the vanilla. Beat on medium-high speed until combined well.
With the mixer on low speed, add the dry ingredients in three additions alternating with the milk and sour cream beginning and ending with the dry ingredients, and mixing each addition just until incorporated. Do not overmix!!!(The batter will be slightly thick)
Spoon the batter evenly into the pan, smooth the top and bake for 50-65 minutes or until a toothpick inserted into the center comes out clean(the time might vary depending on the pan you use and every oven is different but don't dry it too much). Cover the cake loosely with aluminum foil if the top browning quickly. Once done, remove from the oven and invert on a wire rack to cool completely.
To make the syrup:
Combine the granulated sugar, water and lemon juice in a small saucepan over medium heat. Cook until the sugar has dissolved, stirring constantly, remove from heat and set aside to cool.
Filling:
Whip the heavy cream until soft peaks form. Start adding powdered sugar gradually and beat until really stiff peaks form. Mix in vanilla and set aside.
To assemble the cake:
Using large sharp knife trim 1/10 inch from the top and the bottom of the cake to remove the browned surface, than slice the cake to get three rounds (each round should be about 3/4 to 1 inch thick).
Place first round onto serving dish and brush the top with 1/3 of the syrup. Spread evenly a thin layer of the whipped cream(use about 1/2 cup), than arrange half of the sliced strawberries on top of the cream ( leave the rim empty because the strawberries will release juice and it will color the cream around the cake if you place them all the way to the edges). Spread another layer of the whipped cream to cover the strawberries completely ( 1 cup of whipped cream should be enough).
Place second cake layer and repeat the process (brush with 1/3 of the syrup, spread 1/2 cup whipped cream, arrange the strawberries, than spread 1 cup of whipped cream)
Place the last layer of the cake and brush with the rest of the syrup.
Cover the whole cake with thin layer of whipped cream and set in the fridge for at least 30 minutes. If the rest of the whipped cream is to thick to make a smooth layer on top end edges of the cake add a little milk ( about 1 tbsp. to thin it and than spread onto the cake).Garnish with strawberries and serve.
Store in the fridge.