Strawberry Jello Cake is the yummiest combo of all-time favorite spring and summer desserts: strawberry shortcake, strawberry jello and no-bake cheesecake. After one bite, you'll be totally hooked on fresh strawberry goodness!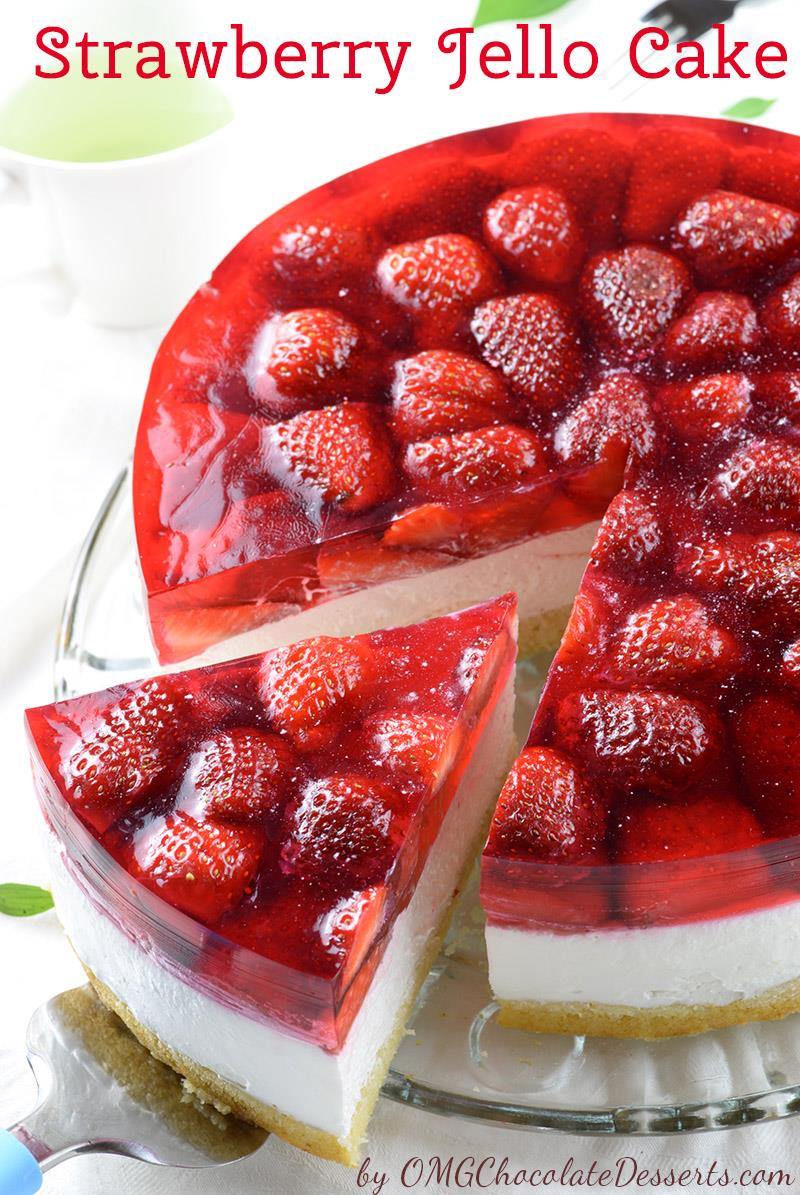 Strawberry Jello Cake
Strawberry Jello Cake is very light, fluffy, not too sweet and it's so easy to assemble.
It may sounds so bold, but this Strawberry Jello Cake is one of the prettiest cake I've ever made. And it's equally delicious what makes it even more irresistible. It starts with vanilla sponge cake as a base (this Magic Custard Cake is a great magic cake when you're into vanilla). Then it's followed with light as a cloud no-bake cheesecake filling and thick layer of strawberry jello loaded with sweet, fresh strawberries.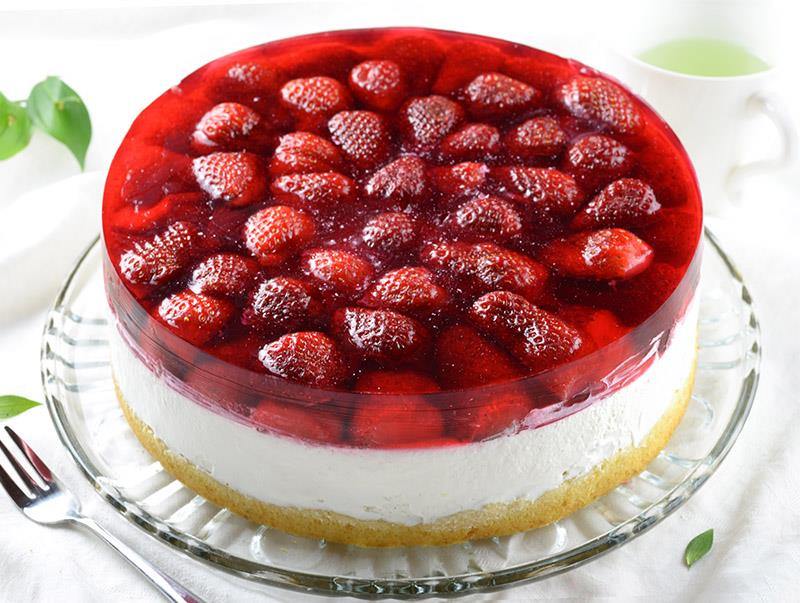 Although strawberries are not yet in a full season, a few days ago I saw this wonderful, juicy fresh strawberries on the market so I had to have them. And after all those carrot recipes, Carrot Cake Cupcakes and Carrot Cake Cheesecake, I was craving for some refreshing, fruit dessert to continue my spring recipe collection. And so I came up with gems like this Strawberry Jello Cake.
I know, I know… I'm talking about spring and there is rain-every single day. These cake really cheered me up last week during 5 day of rain. It really brought some sunshine inside.
When I've got those beautiful strawberries, I couldn't decide what kind of dessert to make. For hours I'll go back and forth: Strawberry shortcake? Strawberry cheesecake? Strawberry pretzel salad? Which one should I make?? Then I just decided to do all three of them, just packed in one amazing treat.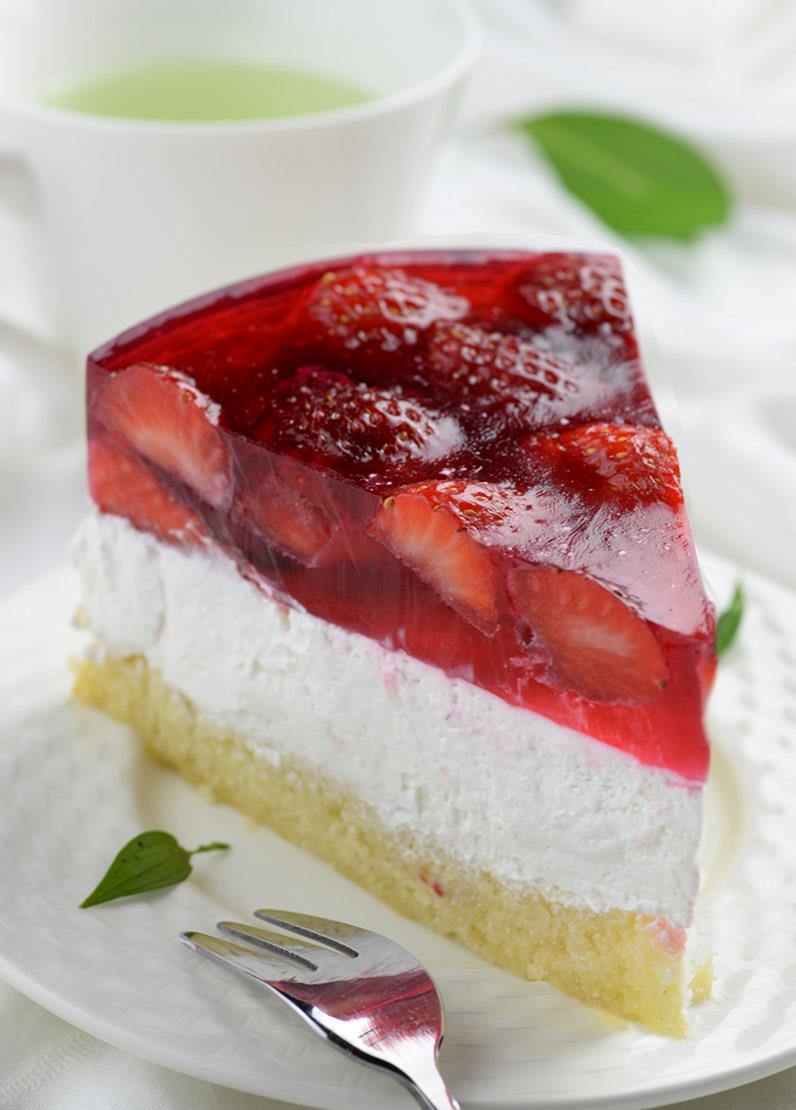 I've already had on my blog recipe for Strawberry Shortcake only in a cupcake form. I also had No bake Strawberry Cheesecake, but none for Strawberry Pretzel Salad. And then I thought, Strawberry Pretzel Salad is showing up at every party, spring or summer family gathering or potlucks and the original recipe that I got includes frozen strawberries and it will be total waste for these fresh, juicy strawberries.
So I decided to take a little of each recipe and put them together into one perfect cake- Strawberry Jello Cake.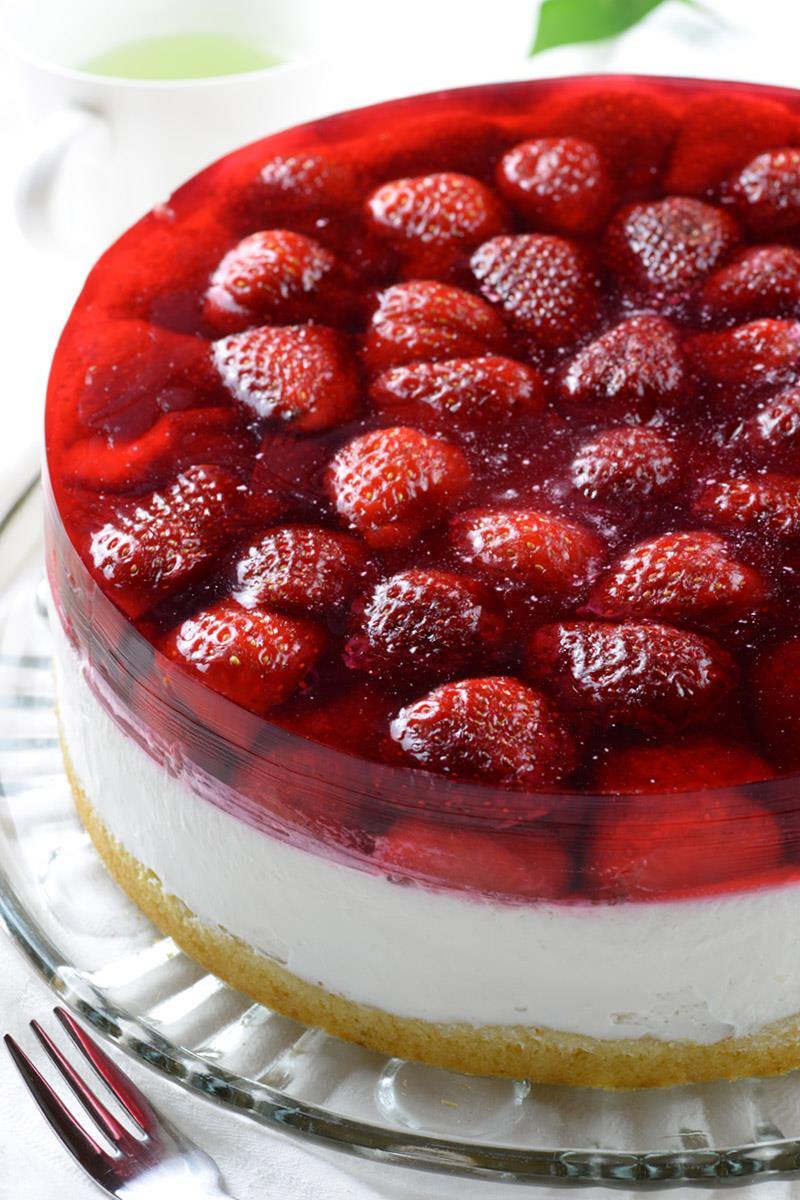 It's called a cake but it's really so easy to put all together. Vanilla sponge cake is my go-to vanilla batter recipe from Sally's Baking Addiction, that I like to use every time I need really moist, fluffy and flavorful cake base. Cheesecake filling is a simple mixture of cream cheese, vanilla and fresh homemade whipped cream (not Cool whip or other ready to use stuff) . And I added some gelatin, just to hold all that together and to make sure it will cut nice and easy.
And my favorite part about this cake is strawberry jello layer. Fresh strawberries inside the jello look so pretty and gives delicious refreshing taste, perfect for spring or summer dessert.
After first bite, you'll know what I'm talking about 

Print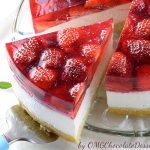 Strawberry Jello Cake
---
Prep Time:

20 minutes

Cook Time:

18 minutes

Total Time:

38 minutes

Category:

Dessert

Method:

Oven

Cuisine:

American
Description
Strawberry Jello Cake is the yummiest combo of all-time favorite spring and summer desserts: strawberry shortcake, strawberry jello and no-bake cheesecake. After one bite, you'll be totally hooked on fresh strawberry goodness!
---
Ingredients
For Vanilla Cake:
3/4 cup

all-purpose flour

1/4 teaspoon

baking powder

1/4 teaspoon

baking soda
dash of salt

4 Tablespoons

unsalted butter- melted

1/2 cup

sugar

1

large egg

6 tablespoons

milk

1/8 cup

plain Greek yogurt

1 teaspoon

vanilla extract
For Cheesecake Filling:
1 cup

heavy whipping cream

1 cup

powdered sugar

8 oz

. cream cheese-softened

1

and 1/2 teaspoon vanilla

2 Tablespoons

cold water

1

and 1/2 teaspoon gelatin
Strawberry Jello:
1

lb. fresh strawberries- hulled and sliced in half

1

(6 oz.) package strawberry jello

2 cups

boiling water
---
Instructions
Preheat oven to 350 F, line 9 or 9 1/2 inch round cake pan with parchment paper, grease with cooking spray, set aside.
In a bowl combine flour, baking powder, baking soda and salt, set aside.
Melt the butter in a small sauce pan over low heat and set aside to cool.
Transfer melted butter to a large bowl and using electric mixer on a low speed mix in sugar (it will be grainy), then mix in egg, milk, yogurt and vanilla.
Slowly add dry ingredients into egg mixture and mix on low speed until combined spread the batter into prepared pan and bake 18-20 minutes (until the toothpick inserted in the center comes out clean). Let it cool in the pan for 10 minutes then transfer to a rack to cool completely, then transfer cooled cake onto serving plate. And place the ring from 9 or 9 1/2 x 3 inch springform pan around the cake.
Dissolve 1 1/2 tsp. gelatin in 2 Tbsp. cold water and let it set for a few minutes, then microwave or place into a hot water bath to dissolve completely, set aside to cool.
Beat cream cheese until light and fluffy.
Beat heavy whipping cream until soft peaks form, gradually add powdered sugar and continue beating until stiff peaks form. Mix in vanilla and dissolved gelatin, than add cream cheese and mix to combine. Spread onto cooled cake and place in the fridge for 30 minutes.
Prepare Jello with 2 cups boiling water and set aside to cool to room temperature.
Wash, hull and halve the strawberries lengthwise, then line around the edges of the cheesecake layer. Line up the next row by stacking slightly on top of the strawberries in the first row, and continue to cover the whole cheesecake layer.
Pour the room temperature Jell-O over strawberries(the cheese cream will melt if the jelly liquid is too warm).
Refrigerate until jello is set than run a thin knife around the cake and release the springform pan ring and serve.
Notes
The cake is about 2 1/2 to 3 inch tall so you'll need 9 or 9 1/2 x 3 inch ring from springform pan to assemble the cake and to have enough room for jello!!!