Pineapple Upside Down Cake – triple dose of old-fashioned, buttery, brown sugared, melt-in your-mouth pineapple upside-down cake layered with sweet, pillowy homemade cinnamon-vanilla whipped cream. Bonus: no mixer required for the cake recipe (just for the whipped cream). Triple the glaze and triple the fruit and you've got a whole new world of awesome!!!  This is the kind of show-stopping cake you want to bake for guests, friends and family.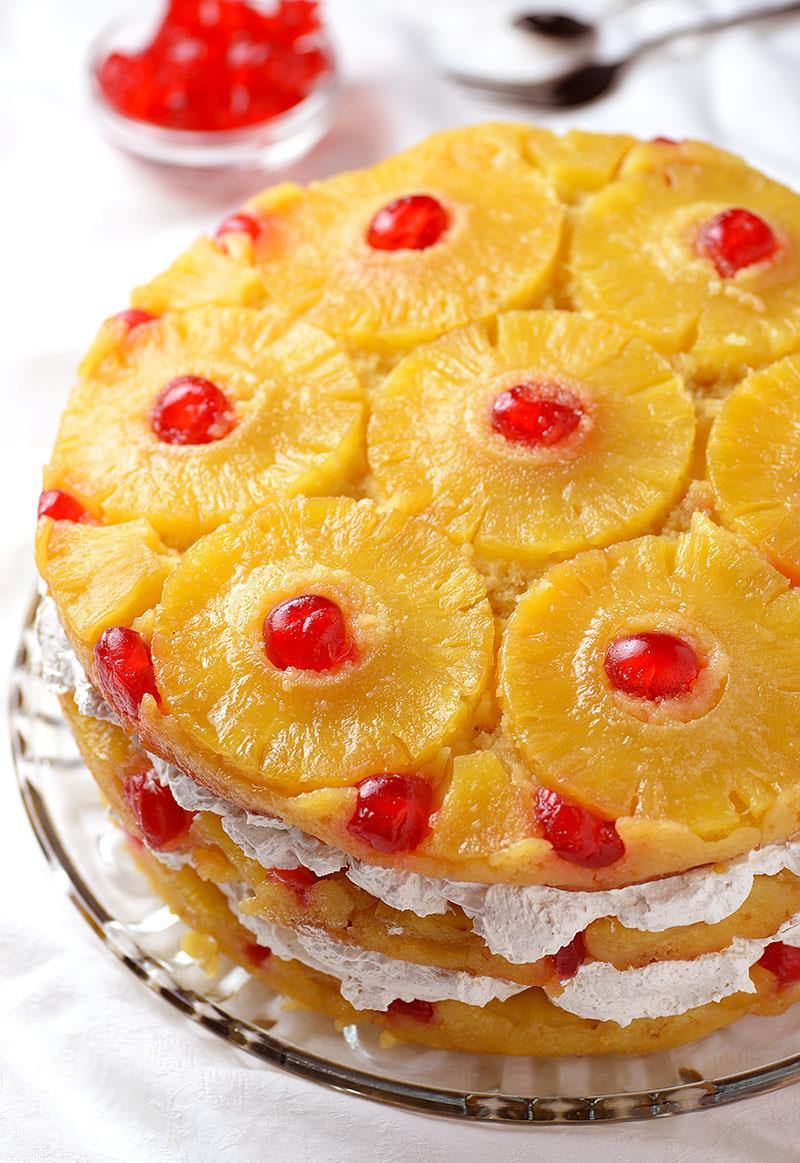 This super moist and full of flavor cake has three layers of caramelized pineapple and maraschino cherries with buttery brown sugar juicy glaze, and that's the best part of every pineapple upside-down cake, right?!
When I saw this cake at A Latte Food  I became  totally obsessed with it. It took the finest part of the entire Pineapple Upside Down Cake and tripled it in every single bite, plus there's light and fluffy whipped cream full of delicious cinnamon flavor. It seems like a dream come true, so I had to try it.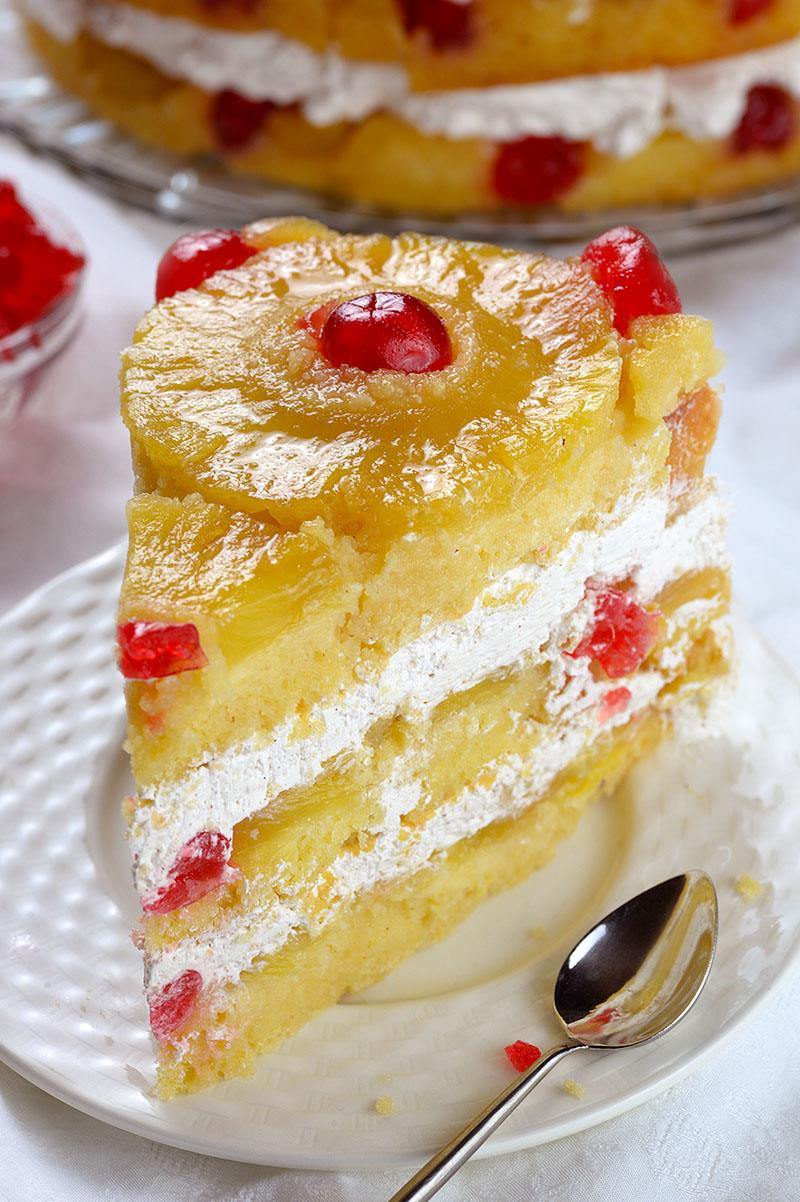 Don't get me wrong, I like the old –fashioned pineapple upside down cake,  with thick cake part full of brown sugar and vanilla flavor (check out this delicious Magic Custard Cake recipe if you're into the vanilla flavor) and the buttery, browned sugar juicy topping dripping on all sides of the cake, but this way I could get a lot more of my favorite part.
Three layers of pure deliciousness sound so much better than one layer!!!
If you ever baked Pineapple Upside Down Cake than you know as the cake bakes, the buttery brown sugar sauce bubble up the sides, creating a buttery glaze on all sides of the cake. And  it's absolutely the best part!  So you can imagine how juicy, moist and buttery this cake will be when the cake batter part and the glaze part are in a different ratio, in favor of the glaze of course.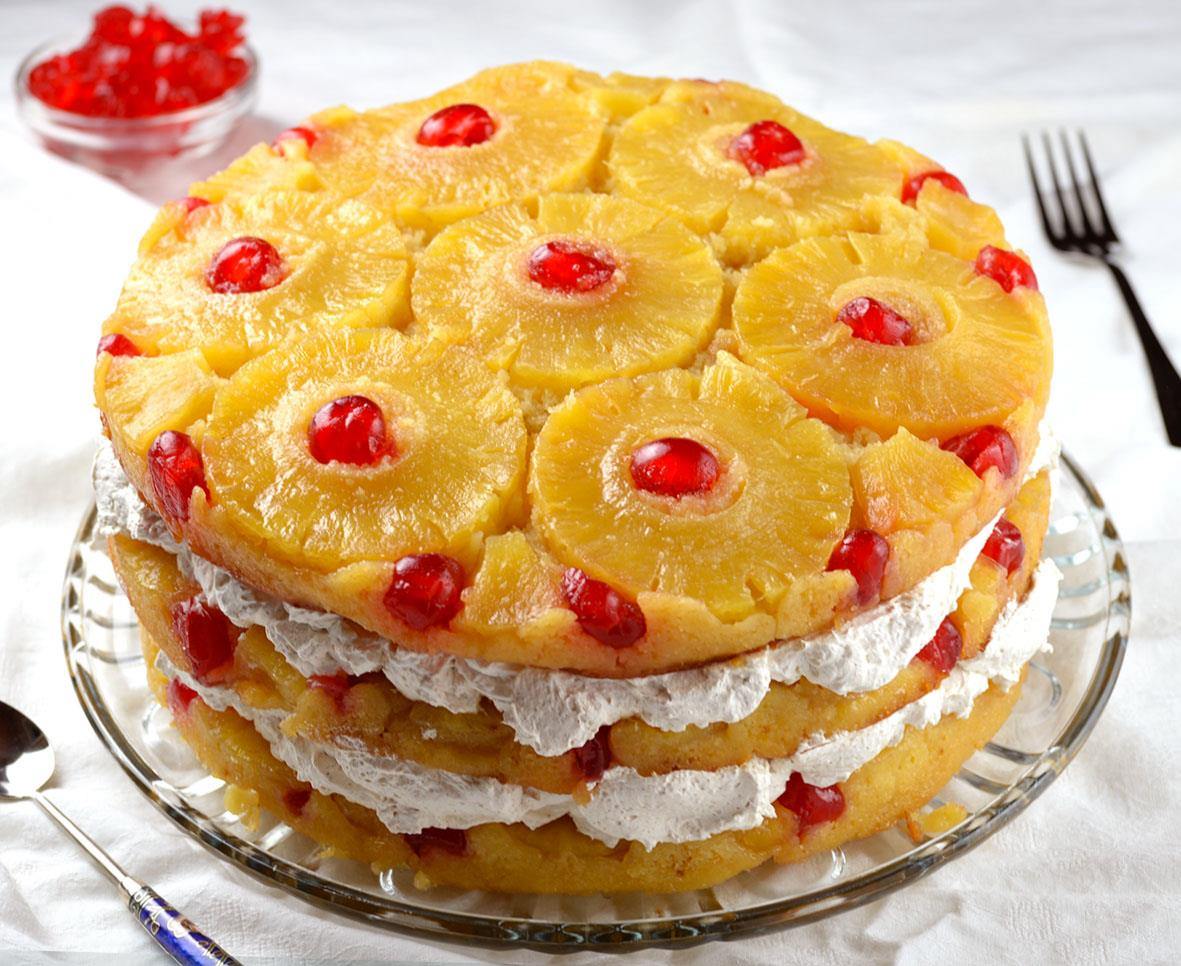 For a cake base I use my own vanilla cake recipe with melted butter. I love this recipe because there's no mixer required. There's no need to mixing the butter and sugar, adding the ingredients one by one…Just whisk by hand melted butter and sugars, add wet ingredients whisk a little, add dry ingredients whisk to combine, pour the batter in the pan and you're done. Since I don't have three round cake pans and I had to wait for every layer to bake to use the pan again, I made the batter in three parts. It might sounds as a lot of work but every part of the batter is done in a few minutes and you don't even need to clean the bowl in between.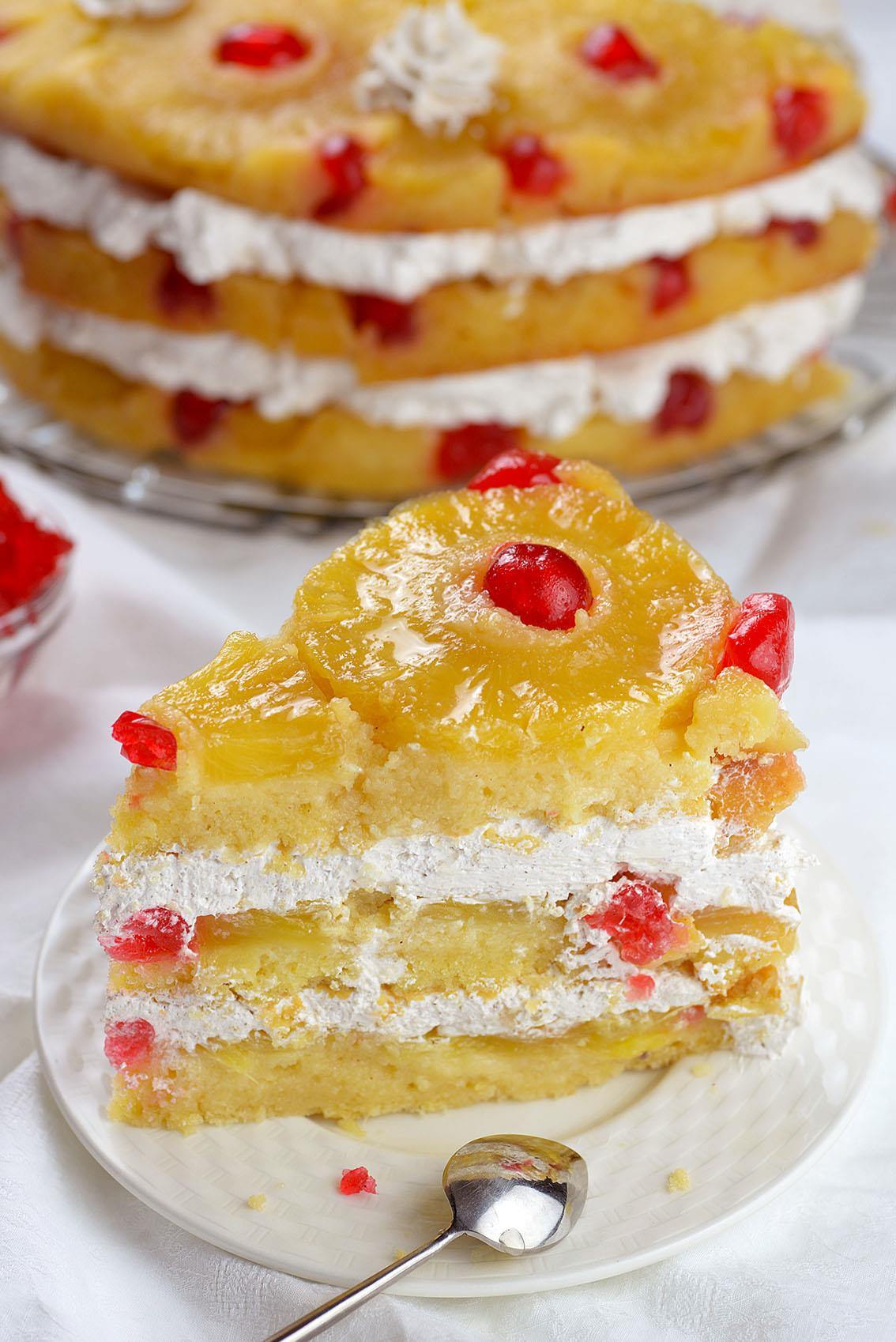 It's a little time consuming waiting for 30 minutes to use the pan again, but if you have three 9 inch round cake pans you will finished these cake really quick and easy.
This luscious springtime Pineapple Upside Down Cake will become your favorite instead of standard Pineapple Upside Down Cake recipe.
Pineapple Upside Down Cake Recipe
Print
Pineapple Upside-Down Cake
---
Category:

Dessert
Description
This luscious springtime Pineapple Upside Down Cake will become your favorite instead of standard Pineapple Upside Down Cake recipe.
---
Ingredients
For the topping:
9 Tablespoon

s unsalted butter-melted

1 cup

packed light brown sugar

3

(20 oz.) can sliced pineapple(

8

ring for every layer) -drained and save the juice

40

–

50

maraschino cherries (if they are large use

20

–

25

and cut them in half)
For the cake:
2 1/4 cup

s (210g) sifted all-purpose flour, don't over measure

3 Tablespoon

cornstarch

1 1/2 teaspoon

baking powder

1/2 teaspoon

salt

3/4 cup

packed light brown sugar

3 Tablespoon

s granulated sugar

9 Tablespoon

s unsalted butter- melted

3

egg

1/2 cup

plain Greek yogurt

3 Tablespoon

s milk

6 Tablespoon

s pineapple juice -reserved from the canned pineapple

1 Tablespoon

vanilla extract
Filling:
2 cup

s heavy whipping cream

1/4

–

1/2

cup powdered sugar (to taste)

2 tsp

cinnamon

2 tsp

vanilla extract
---
Instructions
Preheat oven to 350°F and prepare 3 9 inch round cake pans. If you don't have three pans you can repeat the process for each layer after one is done.
Spread 3 tablespoons melted butter into the bottom of each round cake pan. Sprinkle brown sugar onto the butter ( 1/3 cup brown sugar in each pan). Arange the pineapple slices to cover the bottom of the pan and arrange cherries between the pineapple slices. Set aside.
To make the cake in a medium bowl, sift together flour, corn starch baking powder and salt, set aside.
In a large microwave-safe bowl, melt butter in the microwave, whisk in the sugars – mixture will be gritty. Whisk in egg, yogurt, milk, pineapple juice, and vanilla extract until combined. Slowly whisk in dry ingredients until no lumps remain. Gently pour/spoon batter into prepared pans and smooth the top. Bake 30 minutes (until toothpick inserted in the center comes out clean). Invert first layer on a large serving plate and the other two on a parchment paper to cool completely.
To make the cinnamon whipped cream using a mixer whip the heavy whipping cream until soft peaks form, add cinnamon, powdered sugar and vanilla and continue beating until stiff peaks form. Reserve 1/2 cup of cinnamon whipped cream for garnish.
To assemble the cake spread 1/2 of remaining whipped cream onto bottom cake layer. Using really large spatula transfer second cake layer onto whipped cream layer (be careful the cake layer could fall apart really easy), spread remaining whipped cream and top with the third cake layer.
Cover the cake and store in the refrigerator for up to 3 days.