Pineapple Grilled Chicken Sandwich is healthy lunch idea for work or easy dinner for whole family. The recipe is super simple and quick. Chicken breasts marinated in BBQ sauce, grilled and packed with pineapple, cheese and veggies make awesome sandwiches perfect for picnic, party or potluck.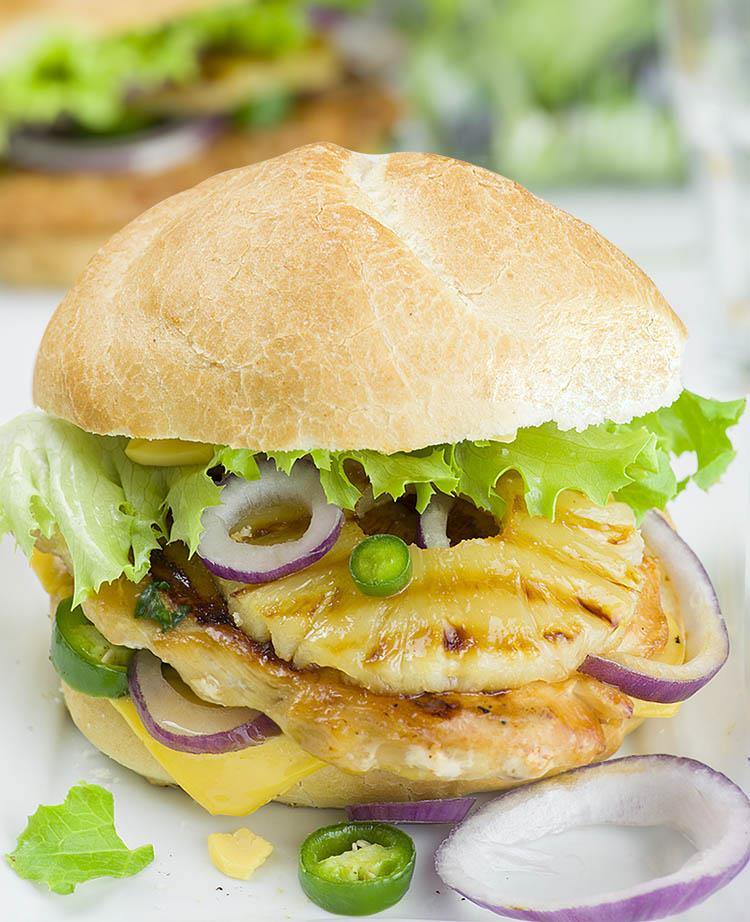 Pineapple Grilled Chicken Sandwich is healthy and tasty. Therefore if you omit the jalapenos, this sandwich is great kids lunch box idea.  Jalapenos are great, they add so much flavor to food, but can be very spicy for kids. So you can easily adapt the ingredients for picky eaters by changing the veggies you'll add alongside the grilled chicken and pineapple.
I love all kind sandwiches and wraps. Sandwiches are quick and easy solution for lunch or dinner and everybody love them.  You may check these yummy Chicken Caesar Salad Wraps, Chicken Avocado Burritos or Chicken Avocado Salad Roll Ups. They are also easy and healthy lunch and dinner recipes, ready in less than half an hour.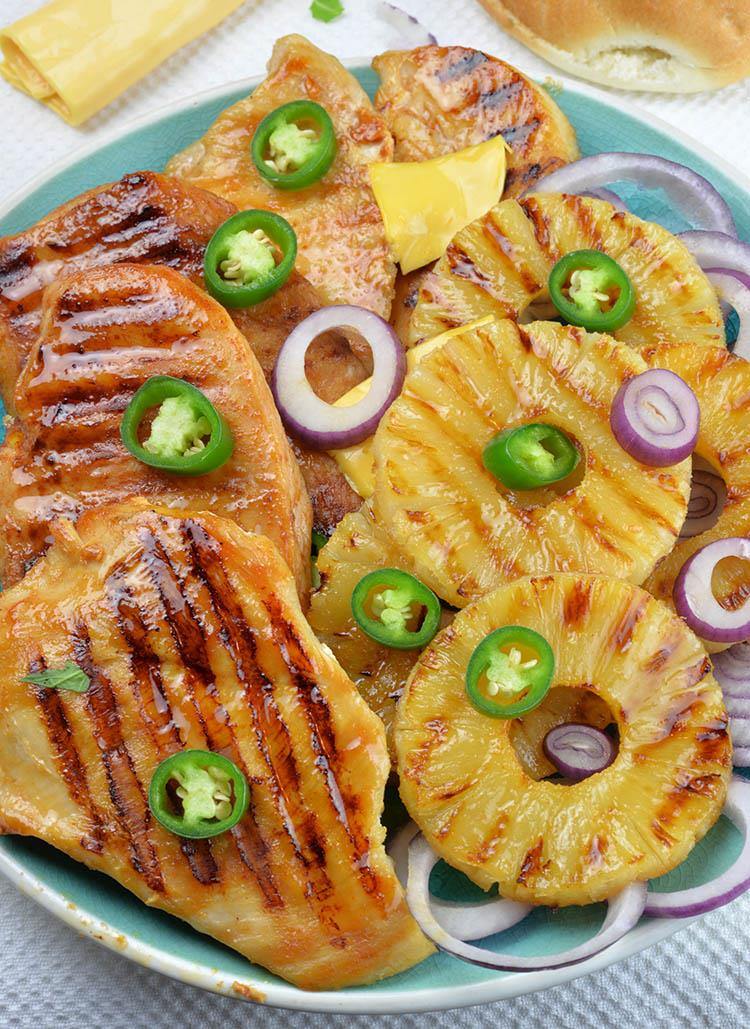 Sandwiches are lunchtime classic. My first choice is always a good CHICKEN sandwich. But I love to experiment with different flavor combo. This time I wanted to try a not-so ordinary chicken recipe.
In fact I decided to make a little Hawaiian twist to BBQ chicken. Sweet and juicy, grilled pineapple makes perfect addition to BBQ chicken.  I love this combo so much.
For a sandwich base I used Kaiser roll. I like to toast it lightly and then add a slice of cheese on warm roll so it melts. Then top the cheese with grilled chicken, jalapenos and red onion slices and a piece of crispy lettuce.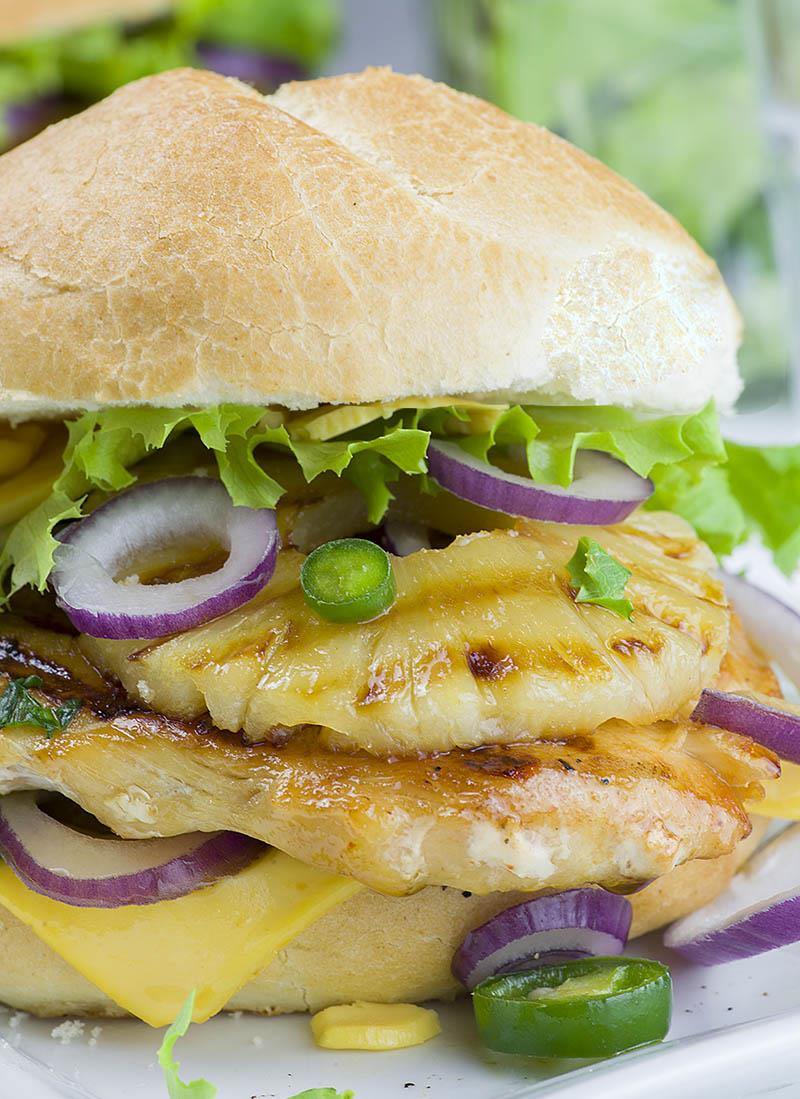 For this easy recipe you'll need a few minutes to grill the chicken, pineapple and rolls.You'll have delicious meal ready in 20 minutes.
You can take this Pineapple Grilled Chicken Sandwich to work or pack in kid's lunch box for school. They are great additions for summer parties by the pool, picnics or potlucks.
Easy Chicken Recipes
Easy Crockpot Teriyaki Chicken 
Chicken Avocado Stuffed Garlic Bread

Print
Pineapple Grilled Chicken Sandwich
---
Description
Pineapple Grilled Chicken Sandwich is healthy lunch idea for work or easy dinner for whole family.
---
Ingredients
4

chicken breast fillets (about

1/2

inch thin)
BBQ sauce

4

slice of cheese (of your choice)

4

pineapple slices

1

jalapeno- sliced

1

red onion-sliced

4

pieces of lettuce

4

Kaiser rolls
Olive oil to brush the grill
---
Instructions
Cover chicken breast fillets with BBQ sauce and place in the fridge for at least 30 minutes (or overnight) to marinate them.
Brush the grill with oil and heat until hot.
Discard remaining BBQ sauce from the fillets and place them on the grill and cook for 5-7 minutes on each side.
Grill the pineapple slices for 2 minutes per each side (or until soft and caramelized).
Slice the rolls in half and lightly toast on the grill. Place a slice of cheese on the bottom part of warm roll. Top with chicken, pineapple, jalapenos and red onion slices. Place a piece of lettuce and top of the roll.