Have you ever seen the movie "Forget Paris" with Debra Winger and Billy Crystal? I always loved the part when Ellen (Debra) goes crazy about the fact that Mickey (Billy Crystal) always eats the same dish in restaurants! I can't exactly remember what dish it was, but the scene always reminded me about how my husband wondered about why I always order my favorite Honey Sesame Chicken in every restaurant!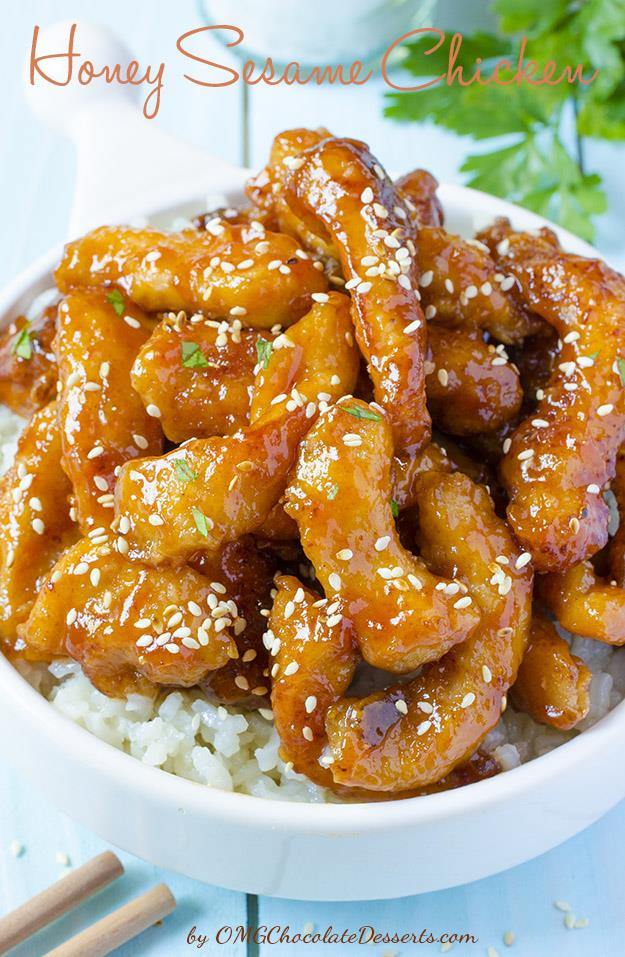 "I can't believe it. You ordered Honey Sesame Chicken again!" my husband was perplexed once more after we ordered the dish in our favorite restaurant.
"No, not "again". Don't you remember that I ordered that grilled dish the last time"
"Yes, but before that, you ordered your famous Honey Sesame Chicken twice and while you ordered the grilled dish, you were whining the whole time why you didn't order the chicken last time" my husband reminded me.
"Yes, but what can I do. I simply love that dish" i concluded humbled.
"How come you never posted this recipe on your blog? " was the next question.
"Well you know that I don't like to post savory recipes often"
"Yeah, but this is not any recipe, this is your Honey Sesame Chicken " he was playing around with me.
"Yeah, yeah, just make jokes, but don't whine when I serve it in our kitchen in a few days. You will get what you asked for" I was already waving the finger at Darko 🙂
And so it was! Only a few days after our talk at the restaurant, I served my husband sweet revenge when he was hoping the least .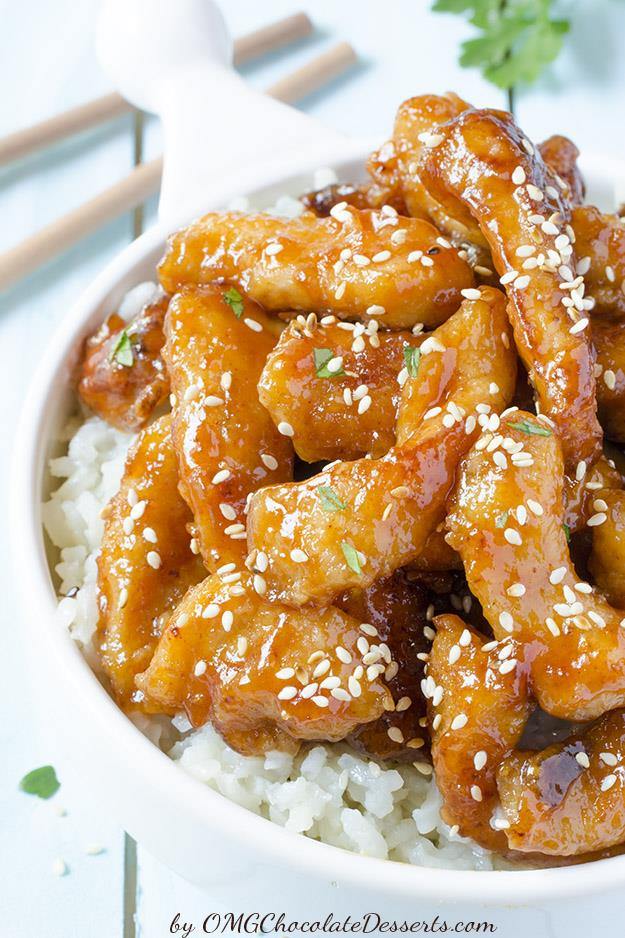 "Vera, what do we have for lunch today?" he asked after a hard day at work
"Your favorite pasta!". My sweet revenge was ready.
But when my husband sat at the table, on it was beautiful Honey Sesame Chicken and I was laughing out of satisfaction.
"You got what you were asking for". I was teasing him now.
But that didn't have any affect on my husband, who attacked the chicken as soon as he sat at the table .
"Well it's not really revenge. Did I ever say that I don't like this dish? The only thing that was miraculous to me is how can somebody love it that much" he was smiling as the Honey Sesame Chicken was rapidly disappearing from the table 🙂

Ingredients
4 chicken breast-cut into strips
1 Tablespoon sesame seed oil
1 Tablespoon olive oil
2 Tablespoon soy sauce
2 teaspoon brown sugar
3 Tablespoon cornstarch
7 Tablespoon flour
1 teaspoon salt
1/2 teaspoon pepper
vegetable oil for cooking
For Sauce :
2 Tablespoon honey
2 Tablespoon sweet chili sauce
6 Tablespoon ketchup
4 Tablespoon soy sauce
1/2 cup water
sesame seeds- toasted
Instructions
Cut chicken breasts into stripes.
Combine soy sauce, sugar, sesame and olive oil, add chicken breast and marinate them for at least 1 hour (but you can leave them in marinade for a few hours if you have time)
Drain chicken.
Heat vegetable oil in a pan on medium heat.
Combine cornstarch, flour, salt and pepper.
Add chicken to flour mixture (don't put all chicken at once, work in a few batches) toss it to cover each stripes with flour well, transfer to a pan and fry until golden brown.
To make the sauce in a medium sauce pan combine honey, chili sauce, ketchup, soy sauce and water, bring to a boil, reduce the heat and simmer until sauce starts to thicken.
Pour sauce over fried chicken, toss to coated all well, then sprinkle with toasted sesame seeds.
7.6.4
141
https://omgchocolatedesserts.com/honey-sesame-chicken/
You Might Also Like: