Chocolate Chip Cookie Dough Valentine's Hearts are irresistible cupid inspired dessert. Chocolate, peanut butter and cookie dough in the shape of a heart – do I need to say more?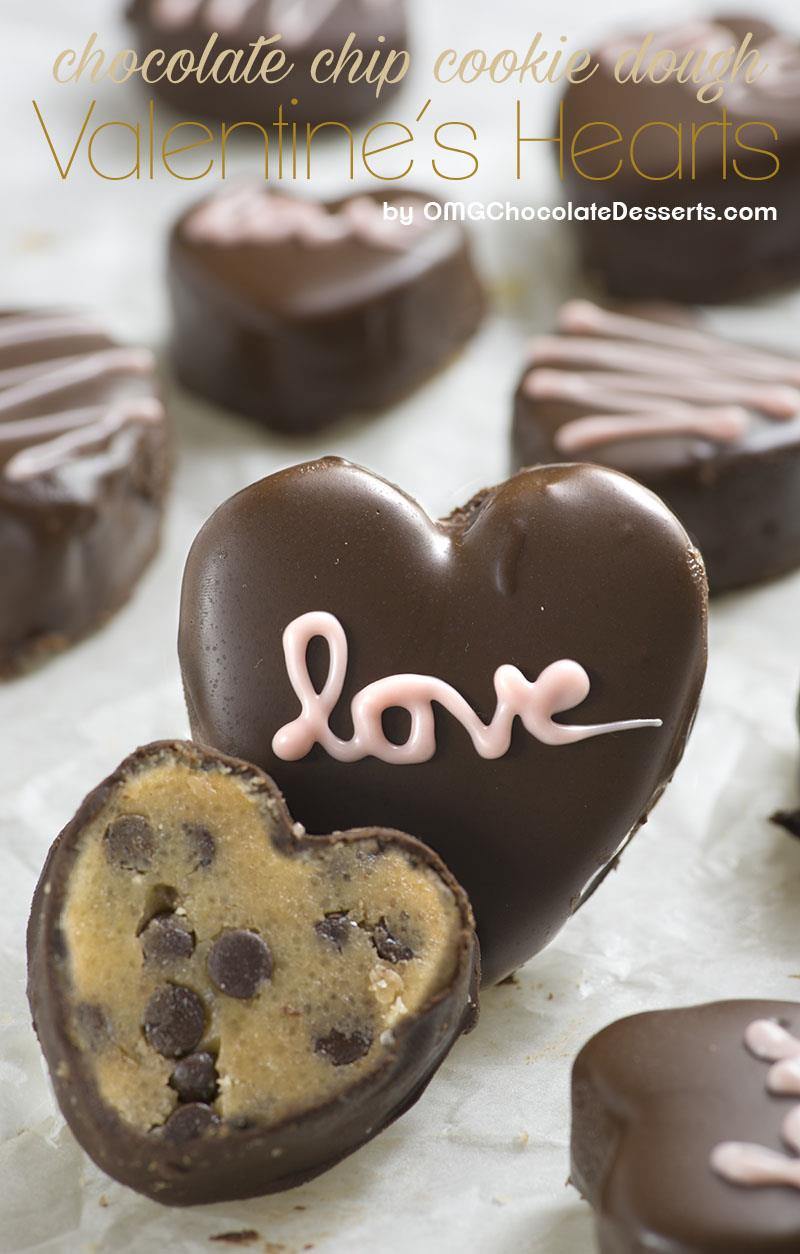 It's been barely a few days since I shared with you my Red Velvet Truffles . If you read my post then you know that I was determined, this year I want to make changes and I won't make heart shaped Valentine's treats like I did a last few years. But, never say never… I also still can't stay away from the fatty and sugary but oh-so-deliciously peanut butter cheesecake, so who can tell what the future holds!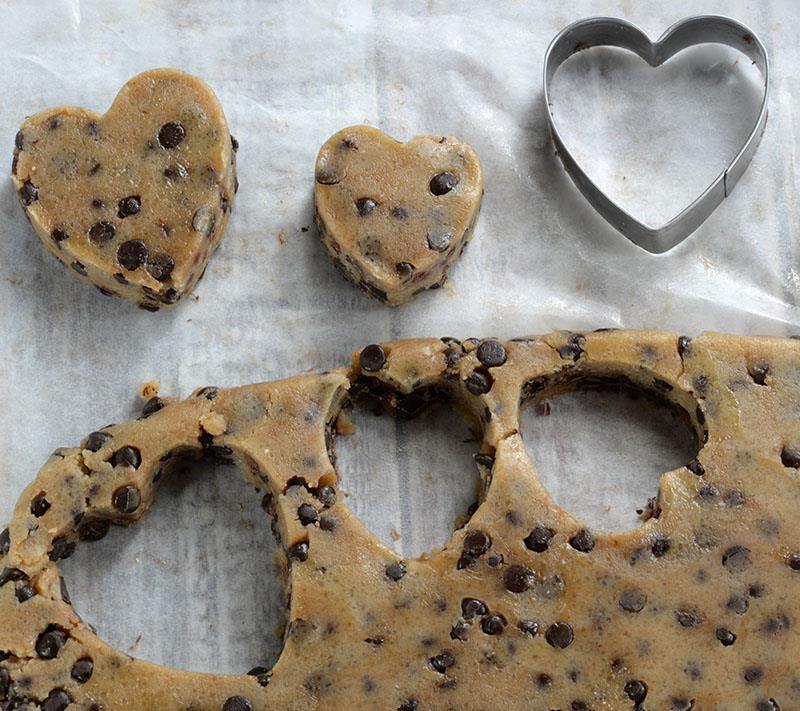 You may have read it, but obviously my dear hubby didn't. When he had arrived from work yesterday, so proudly handed me a small package . It was a set of heart shape cookie cutters in different sizes. He said that was a little early Valentine's gift. He had already learned that food bloggers make Christmas recipes for Halloween, and after Christmas and New Year we start baking Valentine's desserts. So he assumed that I'll need these cookie cutters . I did not want to disappoint him so I had to try them immediately. Finally, I really have to appreciate his good intentions, you must admit that rarely any husband would bought kitchen supplies.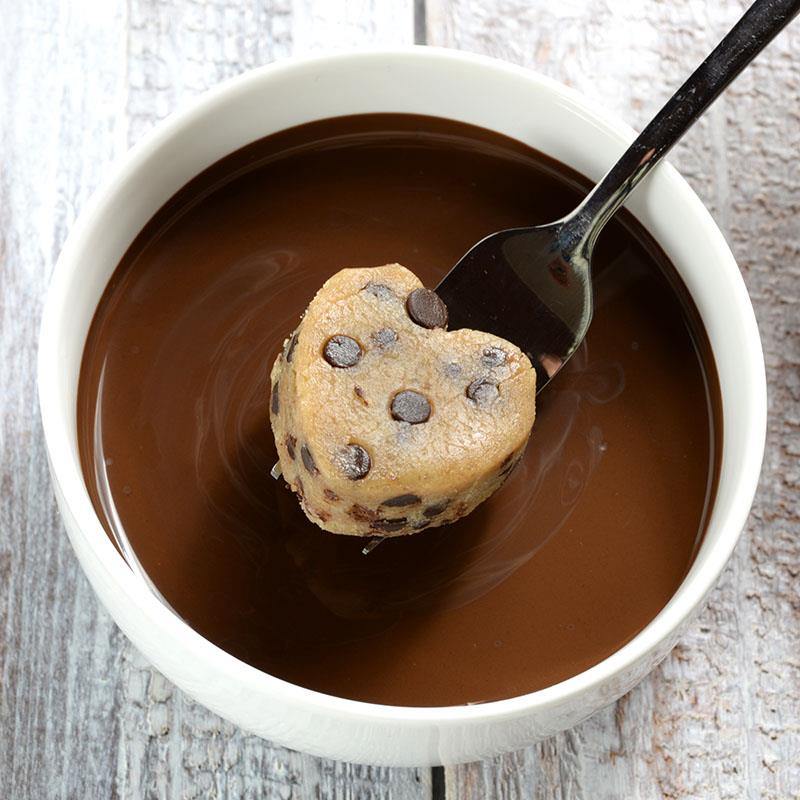 And here I am again, going back to the good old hearts…but I have a good excuse. I wanted to return the love to my husband and decided to make him one of his favorite treats.
If you are wondering what does this Chocolate Chip Cookie Dough Truffles have to do with heart shaped cookie cutter here's the answers.
I used recipe for popular cookie dough bars that you've already seen on many blogs, but I made a little twist. I didn't make the classic bars. And I used my new cookie cutters to cut off the hearts and than dipped them into the melted chocolate. I haven't use my gift to bake good old cookies, because my husband is one of many who rather steal raw cookie dough than eat baked cookies. Whenever I bake cookies, especially those with chocolate chips he always seems to find something to do in the kitchen and while I turn around he managed to steal some cookie dough .Well, now he will get the whole portion for itself.
My husband didn't even imagine what yummy surprised was waiting for him inside these irresistible Chocolate Chip Cookie Dough Truffles. He probably thought that's Oreo truffles or something like that. You can't imagine how happy he was when take a first bite and find out that peanut butter cookie dough overloaded with chocolate chips was hidden inside crispy chocolate shell.
Craving for more Valentine's desserts?? Check these:
This Chocolate Peanut Butter Valentine's Heart recipe is super simple and easy to make. But these cute chocolate peanut putter hearts are melt-in-your-mouth gooooooooood!!!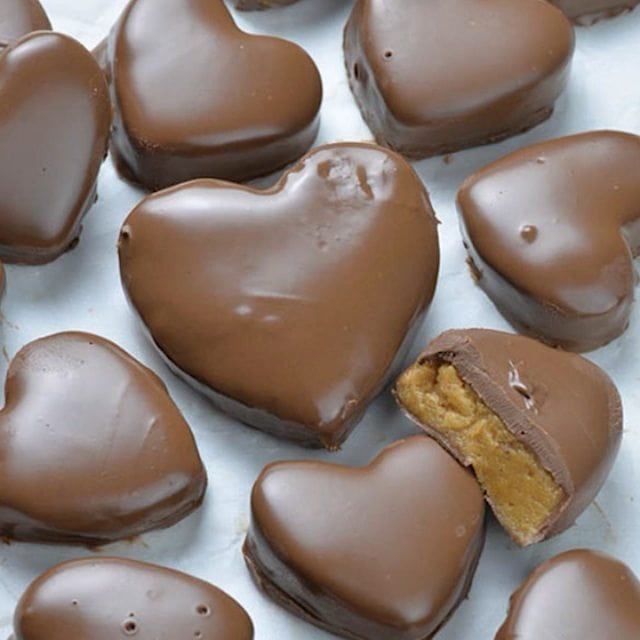 Oreo Truffles now in a new, special Valentine's Day Edition :). Truffles in the shape of a heart, creamy inside, crunchy on the outside!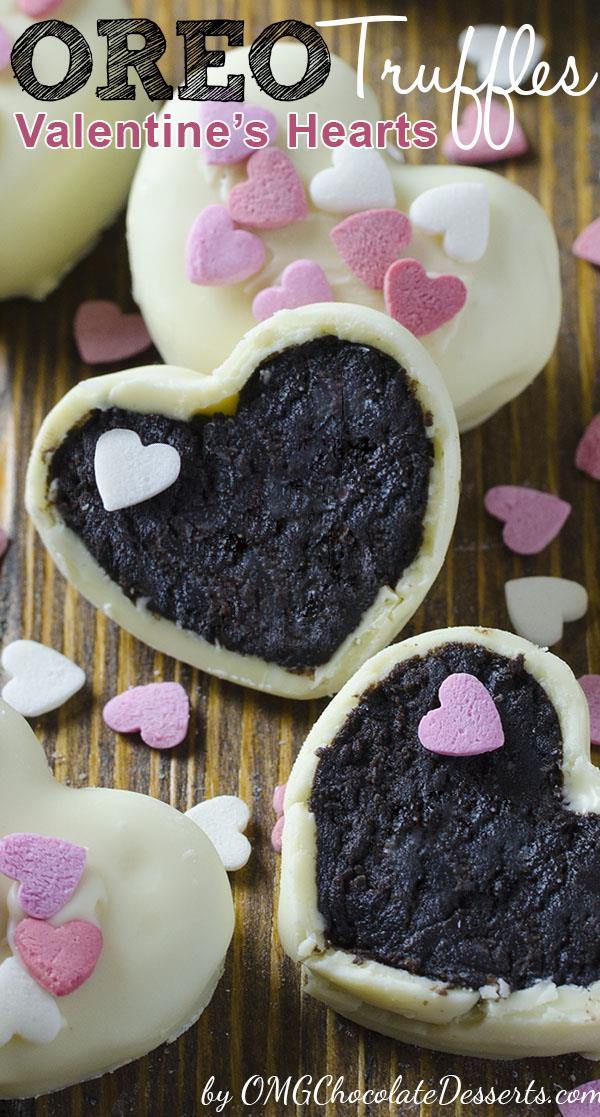 Print
Chocolate Chip Cookie Dough Valentine's Hearts
---
Category:

Dessert
Description
Chocolate Chip Cookie Dough Valentine's Hearts are irresistible cupid inspired dessert. Chocolate, peanut butter and cookie dough in the shape of a heart – do I need to say more?
---
Ingredients
1/4 cup

unsalted butter-softened

1/2 tsp

pure vanilla extract

6 tablespoon

s light brown sugar, packed

2 tablespoon

s peanut butter

1 cup

all-purpose flour

7 oz

. sweetened condensed milk

1 cup

mini chocolate chip morsels
For dipping and decoration:
10. oz

semi sweet baking chocolate

1.5 oz

white chocolate for garnish
A few drops of pink or red food colors
---
Instructions
Beat softened butter and brown sugar until fully combined, then add vanilla and peanut butter and beat until fluffy.
Add flour and sweetened condensed milk and beat until combined.
Fold in the mini chocolate chip morsels.
Press the mixture into an 8 x 8 inch baking dish lined with parchment paper and set in the fridge to chill.
Pull off the parchment paper to lift the dough from the baking dish. Using heart shaped cookie cutter cut off the truffles and place them on a tray lined with parchment paper. Set in the freezer while melting chocolate.
Using a fork dip the truffles into melted chocolate ( one at the time), slightly tap the fork against the side of the bowl to trim the excess chocolate and place the truffle back on the parchment paper. Set them back in the fridge to firm.
Melt white chocolate, stir in a few drops of red food color, transfer into a small bag, cut the corner off and pipe melted chocolate on top of the truffles.