Valentine's Day is just around the corner. And you are probably looking for fun and tasty Valentine's treat to make.  Stop looking! This Chocolate Peanut Butter Valentine's Heart recipe is super simple and easy to make. But these cute chocolate peanut putter hearts are melt-in-your-mouth gooooooooood!!!
Chocolate Peanut Butter Valentine's Heart
Chocolate Peanut Butter Valentine's Heart is a delicious dessert, but also great as a homemade gift. You can pack a bunch of these tasty treats and give to someone you love. A homemade gift is always the best way to show just how much you care.
Do you remember my Peanut Butter Christmas Trees  and Homemade Reese's Eggs? To tell the truth, these were both insanely GOOD!!! However, I could not resist to make my homemade Reese's cups again. But this time in the shape of heart.
Well, peanut butter and chocolate are match made in heaven, right!? I don't know a single person who does not like Reese's.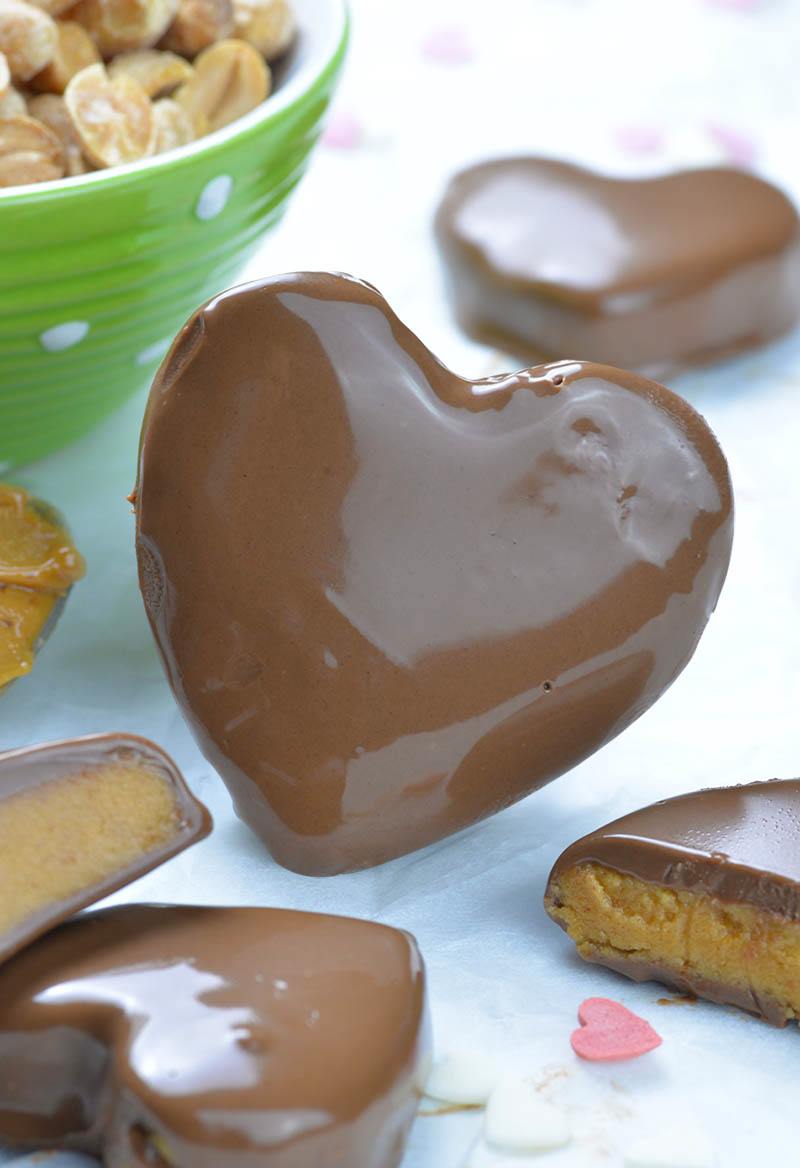 However, if you are a fan of Reese's like I am, these homemade Reese's Peanut Butter Valentine's Heart will become your favorite dessert recipe, too!
As a matter of fact, as a food blogger, I always have the problem with all that excess food I must make constantly. So, I share my cakes, cookies, pies and other baked goods all over the neighborhood. But when I make homemade Reese's, I jealously keep them all to myself.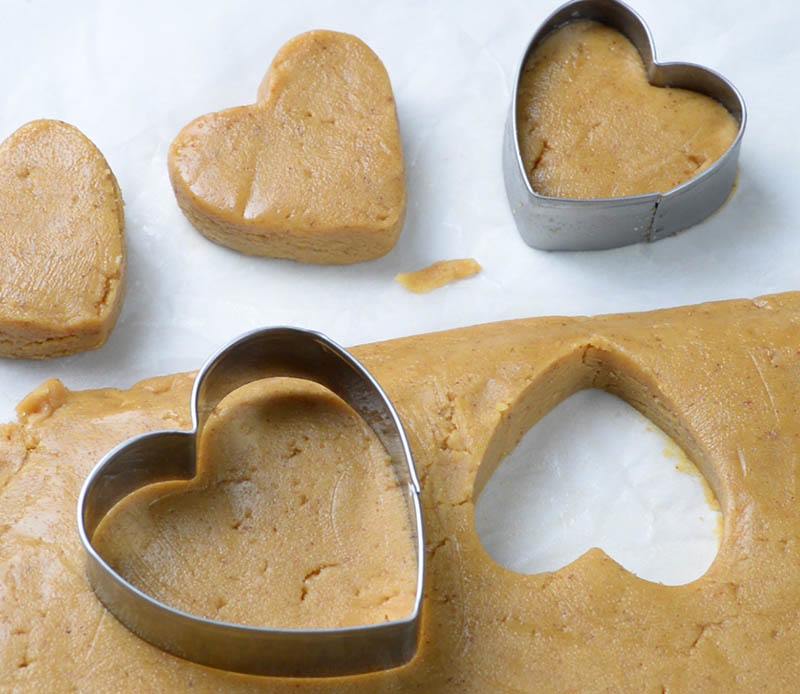 In the spirit of the upcoming holidays, Valentine's Day, my homemade Reese's Cups just got a new festive makeover!!! For Easter I made my homemade Reese's cups in a shape of eggs, for Christmas they disguised in cute little Christmas trees. And what other form would be appropriate for Valentine's Day than a heart, right?!
For Valentine's Day everything is in the sign of the heart and even food.
So, the past few years I've already shared a few of delicious little treats in the shape of heart. That were Ding Dong Valentine's Hearts, Oreo Truffles Valentine's Hearts, Chocolate Chip Cookie Dough Valentine's Hearts
And if you are looking for more Valentine's Day recipes, check it HERE.
XO-Vera

Reese's Peanut Butter Valentine's Heart Recipe:
Print
Chocolate Peanut Butter Valentine's Heart
---
Author:

Prep Time:

30 minutes

Total Time:

2 hours

Yield:

20
Description
Chocolate Peanut Butter Valentine's Heart are delicious dessert, but also great as a homemade gift.
---
Ingredients
1 cup creamy peanut butter-room temperature
¼ cup unsalted butter-melted
2 Tablespoons brown sugar
2 teaspoon vanilla extract
¼ teaspoon salt
2 cups powdered sugar
10-12 oz. chocolate chopped in small pieces (I used half of semi-sweet and half of milk chocolate) or use good quality candy coating (it's easier to work with than with real chocolate, if you don't have too much experience)
---
Instructions
Line 8 x 8 inch dish with parchment paper, leaving the paper overhang the sides so you can easily lift it later and set aside.
Then in a mixing bowl stir together peanut butter, melted butter, brown sugar vanilla and salt, until sugar dissolve. Next, gradually mix in powdered sugar.
Press the mixture into prepared dish. Smooth the top with spatula or simply press it with your palms to flatten into about ½ inch thick layer.
Place it in the freezer until firm enough for cutting.
When the mixture is firm enough, line a tray with parchment paper and set aside.
Using small cookie cutter in the shape of heart, cut out the hearts and place them on the tray. Don't waste any batter, pick up leftovers, kneed, press with your palms and you will be able to cut out at least a few more hearts.
Place them in the freezer until firm.
Then melt the chocolate (or candy coating) and line another tray with parchment paper.
Using a fork, dip each heart into melted chocolate to cover completely. Gently tap the fork to drip of the excess of chocolate. (Since the peanut butter mixture softens really fast at the room temperature, I suggest you to take just a few hearts at the time from the freezer, because it's easier to work with the firm hearts!!!) Place chocolate covered hearts on the parchment paper lined tray. Refrigerate until chocolate has set.
Store in the fridge or freeze for longer storage.
Notes
The number of hearts depends on the size of your cookie cutter. Mine was about 1 ½ inches and I made about 30 hearts.