Oreo Truffles now in a new, special Valentine's Day Edition :). Truffles in the shape of a heart, creamy inside, crunchy on the outside! Except being a really tasty treat, if you pack them nicely into a cellophane with a ribbon, it could be a great homemade gift.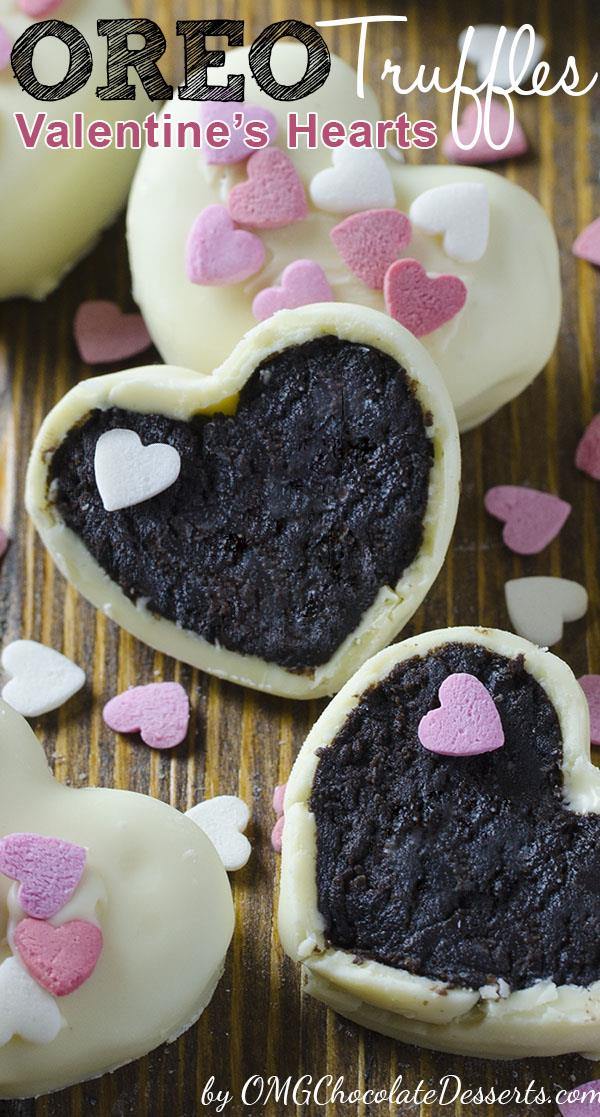 If you remember my last few recipes, like Peanut Butter Chocolate Bars and Nutella Cheesecake, and now these truffles, maybe you have noticed that all are no-bake recipes. Maybe you are thinking that I'm getting a little lazy (well, there is some truth in that) but it is not the main reason for my choice. I'm a real Oreo Cookies addict (like many of you) and I totally love every dessert which is made of it. Similarly to the Reese's Cheesecake, Oreo Cream Cheese Truffles have been seen numerous times, especially on Christmas cookie plates, but as for me, it's never enough!
Since we are closer and closer to Valentine's day, I came to the idea to make an interesting twist with this classic treat, and make my Oreo Truffles in the shape of a heart. I was a little suspicious that my idea to cut the truffles with a cookie cuter will not be successful. But not only was it successful, it turned out that it is much quicker and easier than to roll dozens of balls with your hand. It is really a piece of cake, you ground the Oreo, mix it with creme cheese, spread the mixture onto a baking paper, place in the freezer for awhile (so you could cut the truffles more easily) and then dip the hearts into melted chocolate.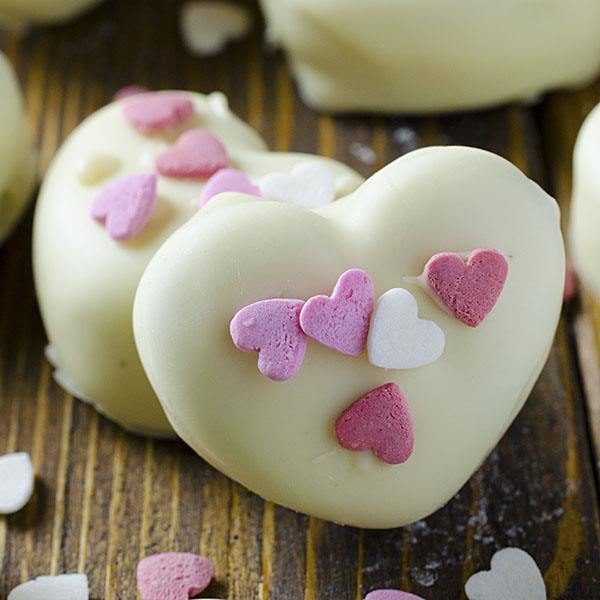 I dipped these truffles into chocolate twice so I would get the thick lair of crunchy shell(just as I like it), but it is your choice if you will make this additional step. Although, it has one advantage, besides looking better and being tastier, you don't have to be so careful when you dip the truffles into the chocolate, because if don't cover them perfect with the first layer, you will surely cover it with the second. You can add some sprinkles for festive looks, and also, they add extra crispiness and are in a perfect harmony with the creamy texture of the truffles.
Don't be scared, maybe they look complicated, but these Oreo Truffles are so simple and easy to make, so tasty, that there is no chance you will regret the work you put in. Although, they have one downside, when you serve them, they disappear in the blink of an eye.

Print
Oreo Truffles Valentine's Hearts
---
Author:

Category:

Dessert
Description
3 ingredients heart shaped Oreo Cream Cheese Truffles covered with white chocolate, perfect for Valentine's Day
---
Ingredients
24

Oreo cookies-crushed into fine crumbs

5 oz

. softened cream cheese

12

–

14

oz. high quality white chocolate (you can use white chocolate candy coating or vanilla almond bark)
Heart shaped sprinkles-optional
---
Instructions
Line a tray with baking paper.
Crush whole Oreos with the filling in a really fine crumbs and combine it with softened cream cheese.
You can do this by hands, press it with a back of the spoon, or use a mixer with paddle attachment(the mixture is really thick and I prefer to knead it by hand).
When it's all evenly combined transfer the mixture onto baking paper and spread it in an even layer about 1/2 inch thick (or more, depending how large is your cookie cuter).
Place the tray in the freezer for 45 mins (or more) until it's harden enough for cutting.
Cut out the truffles with heart shaped cookie cuter and place them back in the freezer for 20-30 mins(truffles must be frozen before dipping into chocolate).
Line another tray with baking paper and set aside.
Take a few hearts from the freezer ( so the rest won't soften while you are working) and dip one frozen hearts at the time into melted chocolate with a fork. Tap off the excess chocolate and transfer the hearts onto baking paper and top with sprinkles (if you don't want to dip them twice in the chocolate). If you want to cover the truffles with second layer of chocolate( like I did), then after first dipping into chocolate, place chocolate covered hearts in the freezer to harden the chocolate faster and repeat the dipping process, and then top with sprinkles.
Work in small batches because the heart must be frozen when place them into melted chocolate.
Store in an airtight container in the fridge(or freezer for longer storage).
This recipe makes 16-20 small (about1.5 inch) hearts.