Almond Coconut Cake is a delicious blend of almond, coconut, white chocolate and lemon flavors. Almond sponge cake and white chocolate coconut filling with a hint of lemon topped with Raffaello candies and desiccated coconut.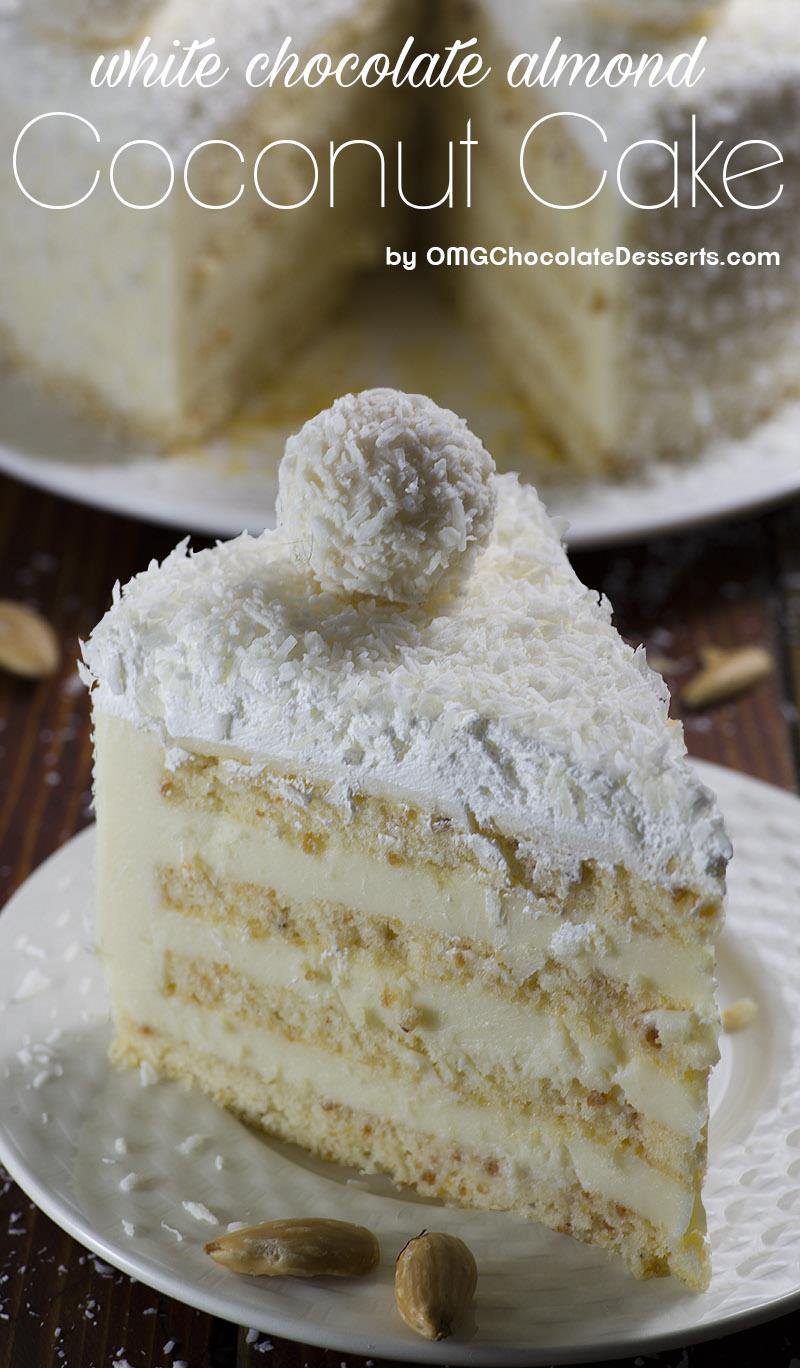 Almond Coconut Cake
To be honest I really had doubts when I should give a name for this recipe. An original recipe that was my starting points was Raffaello cake. Although the cake is really beautiful and delicious I can't say that it tastes like Ferrero Raffaello confectiones. It has moist and soft almond sponge made with browned butter.
The filling is made with white chocolate, coconut milk, cream and Greek yogurt, but it also has a hint of lemon flavor thanks to freshly squeezed lemon juice added into melted chocolate. It's coated with thick layer of desiccated coconut. In the end it is the perfect combination of all these flavors. I made several changes from original recipe. I skipped grated lemon zest in the filling, because I thought it will be overpowering, and I was right (I'm not a fun of lemon in my cakes )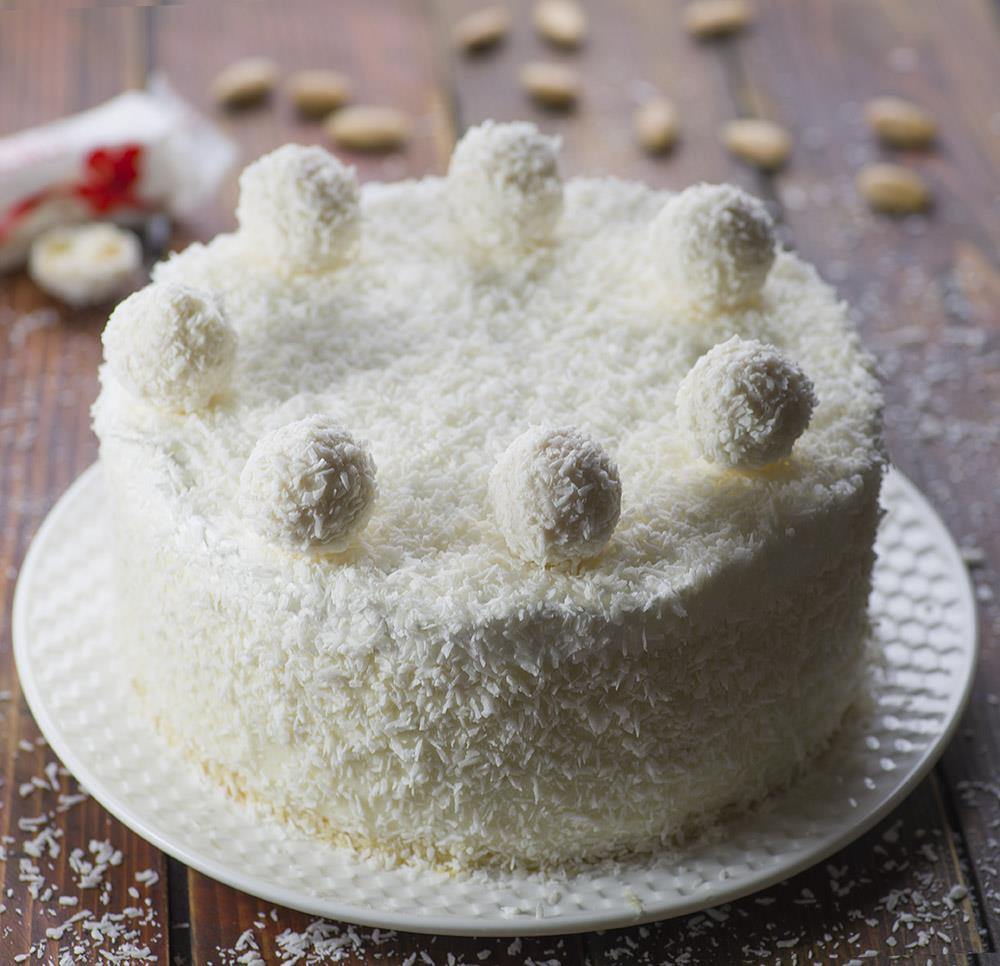 Perhaps I'm a little late to sharing this recipe with you as it would be perfect white dessert for Christmas or New Year but as they say, better late than never. Actually I made this lovely Almond coconut cake as a surprise for my husband to serve it after New Year's dinner. He is a huge fan of Ferrero Raffaello confectiones.
If you want to see a smile on his face just give him a box of Raffaello, and he will literally devour them in no time. I know that homemade cake would not be able to create that unique combo of crispy shell filled with milk cream and blanched almond, covered with flakes of coconut that my husband simply adores, but I was willing to try anyway.
Almond sponge was just a breeze to make, but the filling gave me a headache. First of all it takes much more time to make than I thought because I had to wait for hours to chill it. I got stuck late into the night in my kitchen because I started to make a cake in the evening.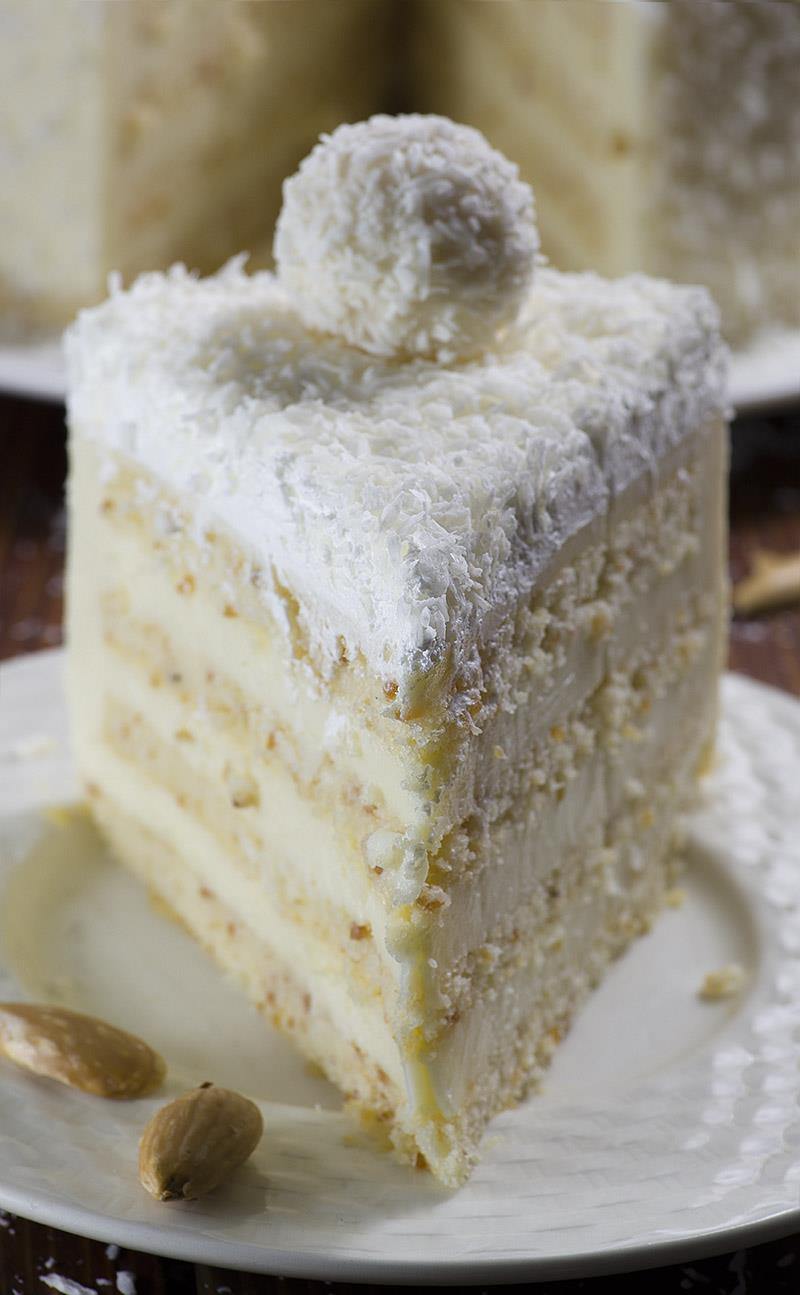 And second, the filling was so thin and runny even after it was cooled so I almost gave up and throw it in the sink. But around two in the morning I decided to pour the filling mixture over the cake layers because the cake is making in the mold anyway, and went to sleep.
All night I turned in bed and could not wait for morning to see what happened. I thought that I would just find a huge mess in the fridge. I thought the filling will never thicken enough. It would be such a shame, I am food blogger so we have desserts all year round and now we will celebrate New Year's Eve without dessert!!! My husband will not stop joking at my account until next year. I waited for the morning with the same anxiety as a child when waiting to finds a gift from Santa Claus under the Christmas tree.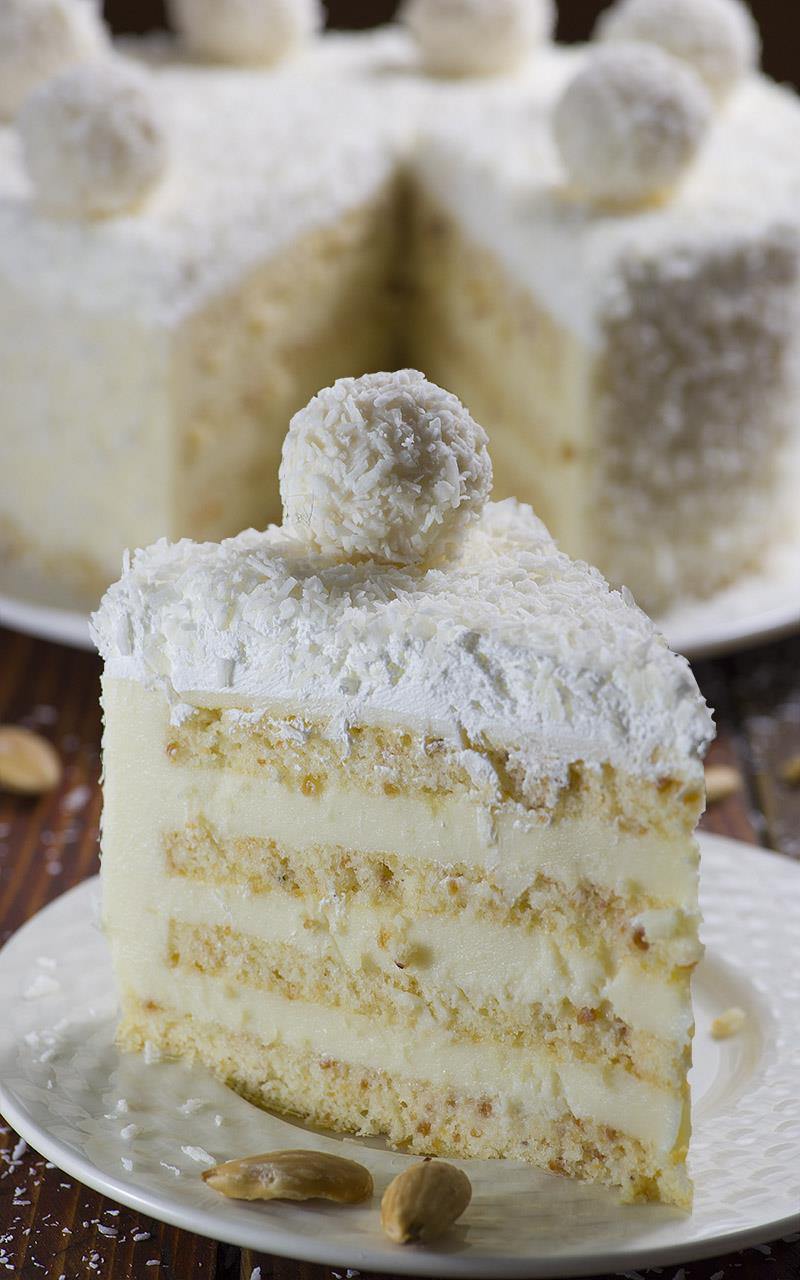 But this Almond coconut cake was the best surprise. When I remove the cake from the mold it was the most beautiful cake I have ever made. The filing was so smooth, thick and luscious. I was relieved and I can't describe you how happy and pleased was my husband when he tried his dessert.
Print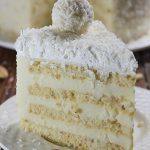 Almond Coconut Cake
---
Prep Time:

35 minutes

Cook Time:

15 minutes

Total Time:

50 minutes

Category:

Dessert

Method:

Oven

Cuisine:

Ameerican
Description
Almond Coconut Cake is a delicious blend of almond, coconut, white chocolate and lemon flavors. Almond sponge cake and white chocolate coconut filling with a hint of lemon topped with Raffaello candies and desiccated coconut.
---
Ingredients
For almond sponge:
7

large egg whites

1

and 3/4 cups (

225 g

) powdered sugar

1/2 cup

+ 1 tablespoon (

125 g

) unsalted butter

3.5 oz

(

100g

) toasted almonds-ground

1 cup

(

100g

) sifted cake flour
A pinch of salt
Filling:
14 oz

. (

390 g

) white chocolate-chopped

1

and 1/3 cups Greek yogurt

1/2 cup

heavy cream

1 cup

coconut milk

1 tablespoon

gelatin dissolved in 3 tablespoon cool water

2 tablespoon

freshly squeezed lemon juice
For decoration:
1/3 cup

heavy cream

2 teaspoon

powdered sugar(or more to taste)

1 teaspoon

vanilla

8

–

10

Raffaello pralines
Shredded/Grated coconut (approximately 1 cup)
---
Instructions
The cake should be made a day ahead because it has to chill overnight in the fridge before you will be able to assemble it completely!!!
To make the almond sponge:
Preheat the oven to 350 F and line two baking trays with parchment paper, set aside.
In a small saucepan heat the butter until lightly browned, then let it cool completely.
Mix the egg whites with a pinch of salt until soft peaks form. Gradually add powdered sugar and mix until combine. Mix in cooled browned butter. Gently stir in ground almond and flour.
Divide the mixture on the two baking trays forming a thin layers (10 x 14 inch each).Bake for 15-16 minutes (until light golden)
Let the almond sponge cool, then cut 2 circles from each layer. You should cut out one 7 inch round layer (that will be the base layer) and three 6 inch round layers.
You can cut the leftover sponge into small rectangles and oven-dry them to make tasty breakfast biscotti.
To make the filling:
Dissolve the gelatin in cold water.
In a small saucepan heat the coconut milk and heavy cream until it boils. Remove from the heat and let it cool for a few minutes, then add chopped white chocolate and stir until it has melted completely. Add the dissolved gelatin and stir until it' melted completely through the heat of the coconut milk and chocolate. Finally, stir in lemon juice and let it all cool to room temperature (it will take some time to cool the chocolate and milk mixture to room temperature, about an hour and you should stir it periodically)
Add the Greek yogurt and put it in the fridge for a few minutes to thicken. NOTES: When you combine the chocolate mixture and yogurt and set it in the fridge for 10-15 minutes it will seems chilled but it will still be thin and runny!!! Don't worry it will thicken overnight while the cake is in the mold and placed in the fridge!!!
To assemble the cake:
You'll need ring from springform pan or pastry ring (it should be 7 inch in diameter and 3.5 -4 inch tall)!!!
Place the 7 inch layer of sponge in a spring form and pour 1/4 of the filling. Continue with 6 inch sponge and pour 1/4 filling on each. Place the cake in the fridge overnight (or at least for 5-6 hours)
Beat 1/3 cup heavy cream with 1 teaspoon vanilla and powdered sugar to taste, until stiff peaks form. Spread the cream on top of the cake then gently remove the cake from the mold and decorate the side and top with coconut, garnish the top with Raffaello candies.
Store in the fridge.