" Oh, no! Not, cheesecake and chocolate again!" That will probably be the first thing you will say if you are followers of my blog. I know, I know. Maybe I'm going a little too far with this combination but what can I do when everyone in the house loves it? And when  I see these beautiful mini-cheesecakes in little cups, doesn't matter how many times I say to myself: "No, Vera, it's time for something else", the ending is the same: this treat Is on the table.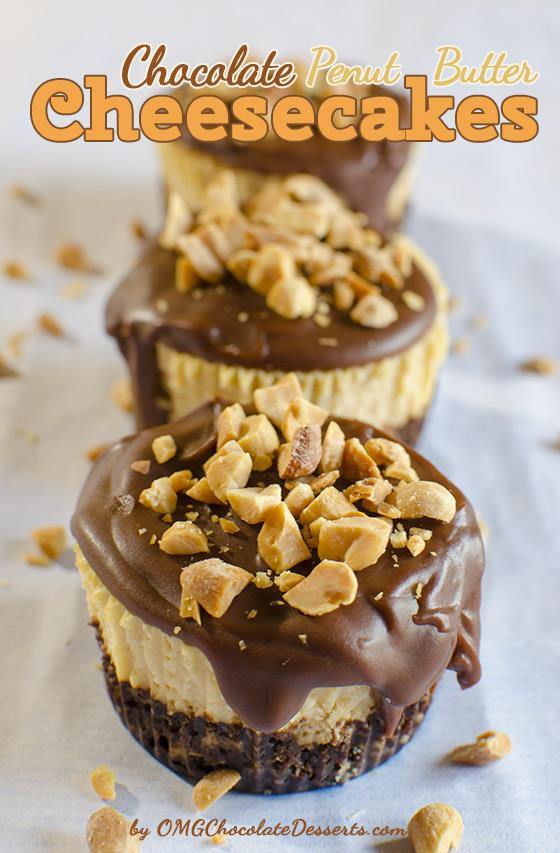 It was exactly like that when I found these beautiful "Mini Chocolate Peanut Butter Cheesecakes" on Pinterest. Can you please not blame me for opening the fridge and looking for all the ingredients one does and does not need for this great desert and starting work that same moment? 🙂 Whatever, but the ingredients were all there to my great delight ! Peanut butter, cream cheese, chocolate, peanuts and chocolate cookies were all standing there, waiting, and they were screaming at me: "We are ready, we are ready".
And as I said, I went to work immediately. And to be honest, there is not much work for a desert like this! A thin crust of chocolate crumbs will only take a few minutes, not more then a cheesecake mix of creme cheese and peanut butter! You align the cups in your baking pan and you are ready! And while you are waiting for your sweet little peanut butter cheesecakes to be baked, you only have to cut the peanuts into smaller peaces and prepare the chocolate for the ganache with which you will overflow the sweet cups. And that is all. Now think: is it worth it?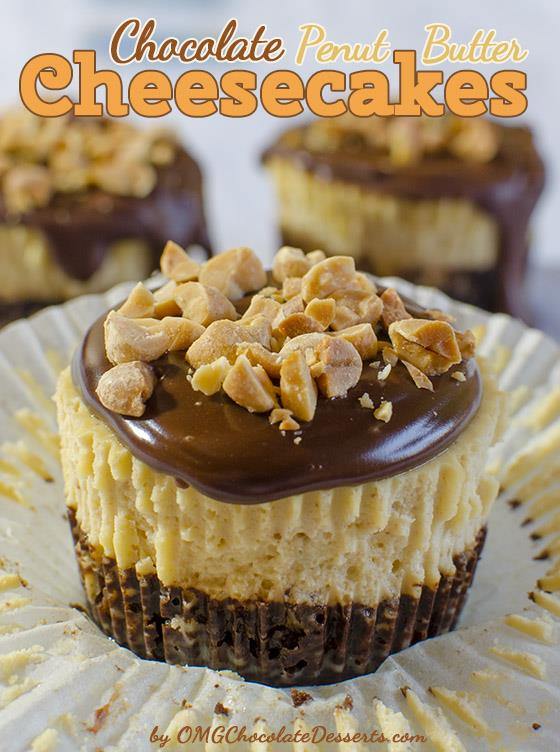 And here is what I got in just a short time! They really looked wonderful. And when I took the first bite, I lost the last sense of guilt for torturing you with cheesecake and chocolate again. My sweet little Peanut Butter Cheesecakes had a taste out of this world. OK! No more torture! I promise! In the next few posts, there will be no cheesecake. Except…

Ingredients
For crust:
1 cup finely crushed chocolate graham crackers (or cookies)
4 tablespoons unsalted butter or margarine, melted
1 tablespoon granulated sugar
For filling:
16 oz cream cheese, softened
1/2 cup peanut butter
2/3 cup powder sugar
1 teaspoon vanilla
2 eggs
For topping:
12oz. semi-sweet chocolate chopped
1/2 cup heavy cream
1/4 cup chopped peanuts
Instructions
Preheat the oven to 325 degrees F and line a cupcake pan with paper liners.
In a bowl mix together graham cracker (or cookie crumbs), sugar and melted butter.
Divide crumbs in the cupcake liners and press it on the bootom. Bake for 10 minutes, remove from oven and set aside.
In a large mixing bowl, mix together cream cheese, peanut butter, powder sugar and vanilla on medium speed until well combined.
Beat in eggs (one by one) until evenly combined.Do not over mix it.
Spoon cheesecake filling over the crusts and bake at 325 F for 20 minutes or until the toothpick comes out almost clean.
Remove from oven and cool completely.
Melt the chocolate and stir in heavy cream. Spoon chocolate ganache on top of each cheesecake. Sprinkle chopped toasted peanuts on top for garnish.
Store cheesecakes in refrigerator.
7.6.4
162
https://omgchocolatedesserts.com/mini-chocolate-peanut-butter-cheesecakes/
Show All Comments
Close All Comments