Peanut Butter Cheesecake Truffles are delicious bites of smooth peanut butter cheesecake loaded with chocolate chips, covered with crunchy chocolate shell. I love the taste of chocolate peanut butter cheesecake, it's simply delicious!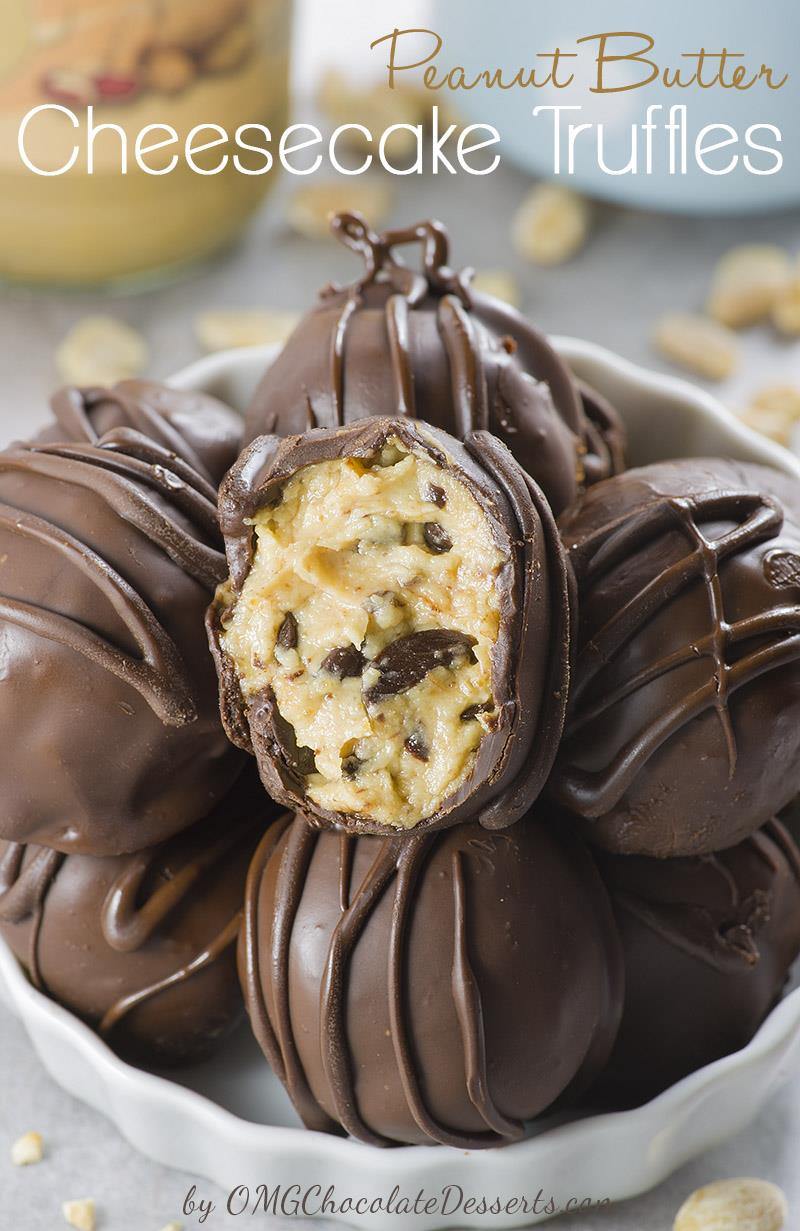 I must warn you, you should try to make the truffles very small, the ingredients are rich and you want them to be one small bite!!!
Peanut Butter Cheesecake Truffles are heavenly treat for real peanut butter-chocolate combo lovers. These yummy bites are so rich and decadent and you will satisfy all your sweet cravings with just a few of them. Crunchy chocolate shells are hiding creamy and rich peanut butter cheesecake full with chopped bitter-sweet chocolate chips.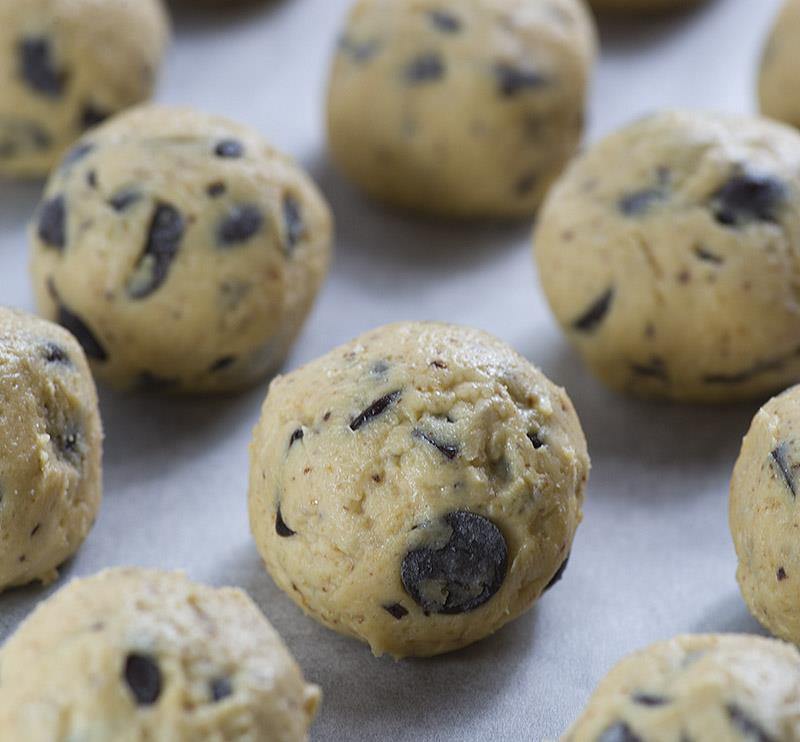 MY LATEST VIDEOS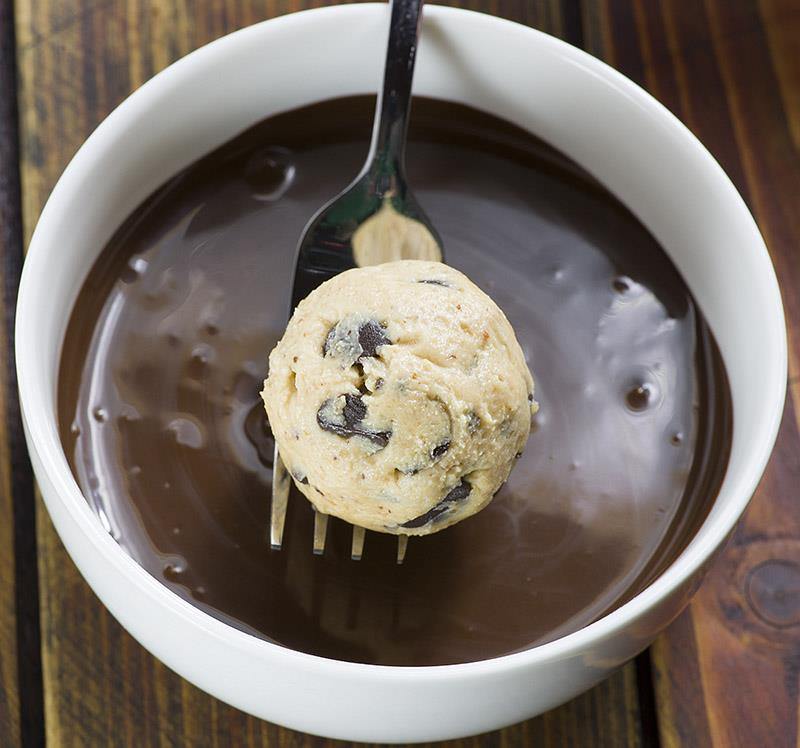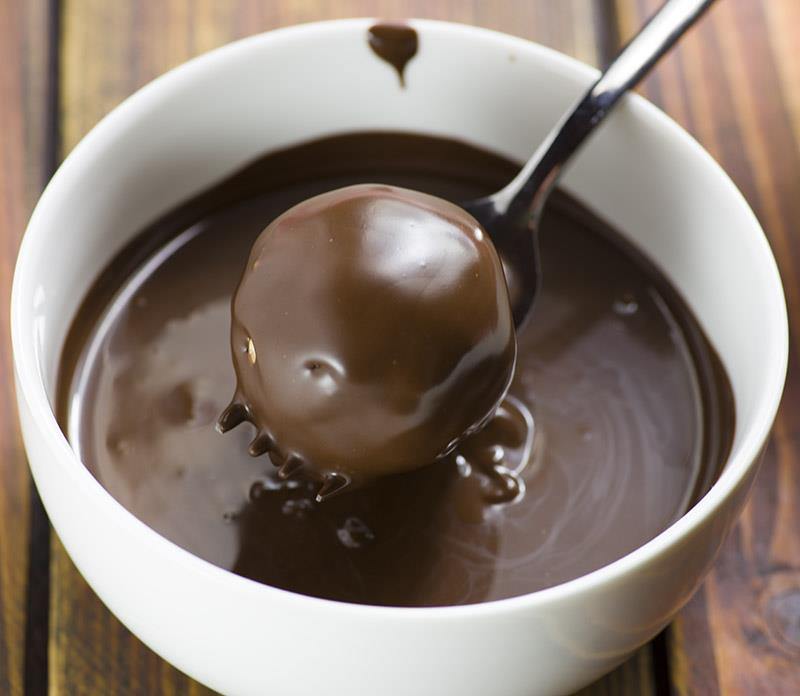 This luscious flavor combination in a form of small bites is perfect treat to enjoy yourself or to give away as a holiday gifts or party favors.
Perhaps you have noticed that I started a mini-series of sweet and savory bite sized food on my blog. Winter is a festive time full of celebrations and gathering that require the most delicious treats. Finger-food appetizers and desserts are always the best choice. You can easily serve them for Christmas or New Year's Eve party. Perhaps it's  too late for this but this festive season is continues, so I recommend you to try my Jalapeno Pimento Cheese Balls  for Super bowl party and as a dessert serve this rich and indulgent  Peanut Butter Cheesecake Truffles, men will be delighted with this menu.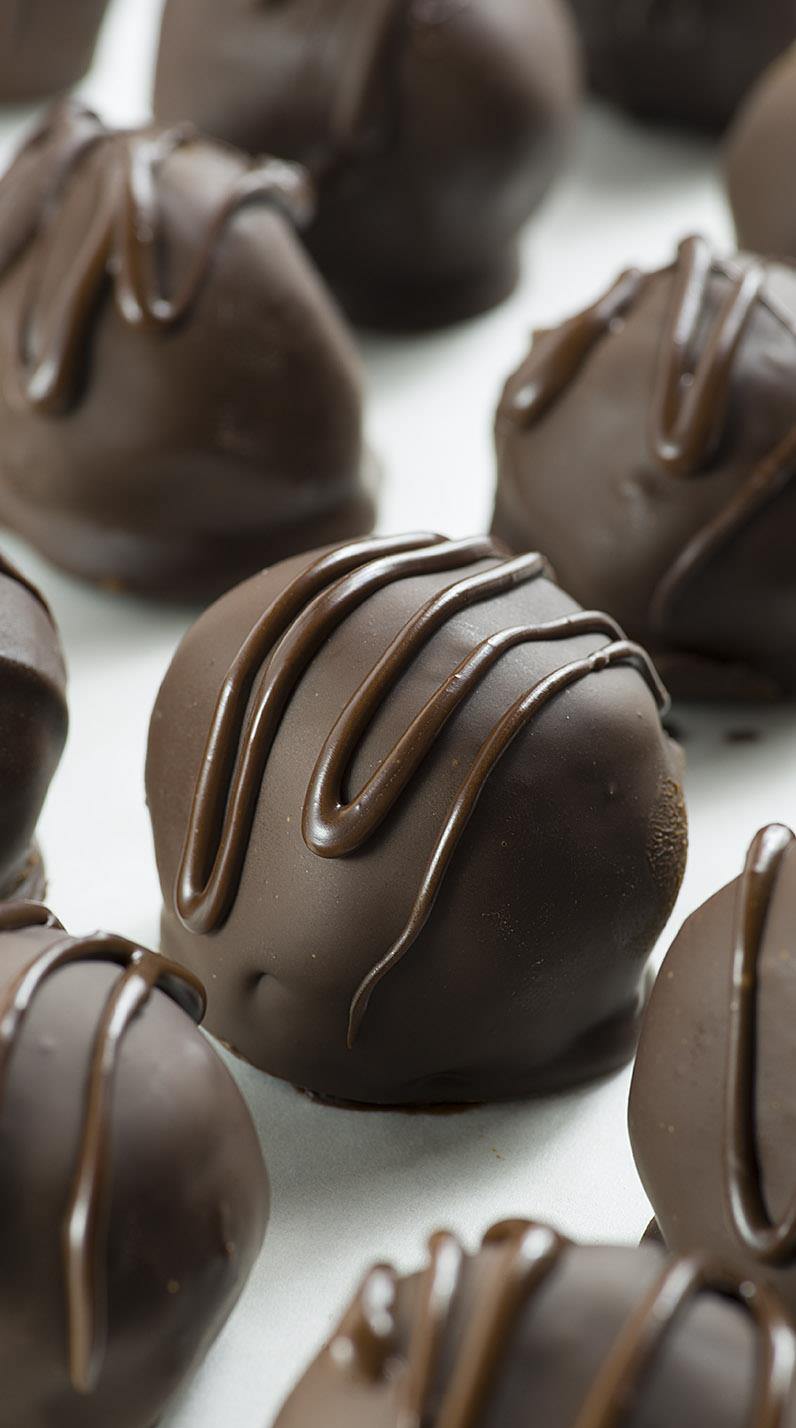 Peanut Butter Cheesecake Truffles are also perfect to be wrapped and give away as homemade Valentine's Day gift.
You will need just five simple ingredients for this recipe: cream cheese, peanut butter, powdered sugar, chocolate chips for the filling and more chocolate for melting and dipping. I have to admit, they are really messy to make because the cheesecake filling is so smooth and delicate and you have to cover it melted chocolate, but working with chocolate is always a mess. A delicious, sweet mess !!!
Even though you need a little more patience to make everything nice and smooth, every second is worth it!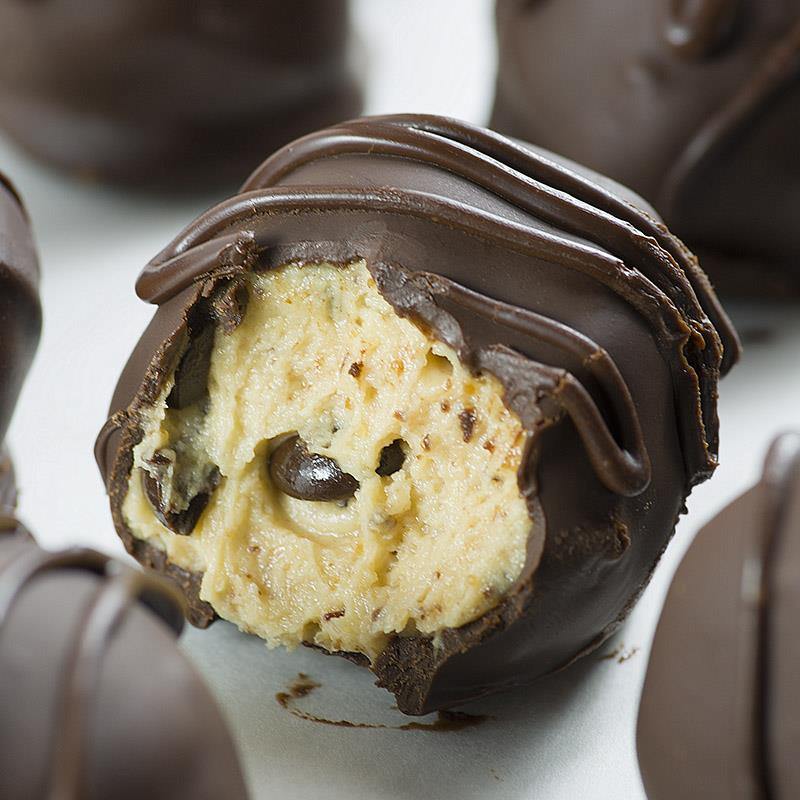 Print
Peanut Butter Cheesecake Truffles
---
Yield:

15
Description
Peanut Butter Cheesecake Truffles are delicious bites of smooth peanut butter cheesecake loaded with chocolate chips, covered with crunchy chocolate shell.
---
Ingredients
8 oz of cream cheese
1/2 cup creamy peanut butter
1/4 cup powdered sugar
1/2 cup of bittersweet chocolate chips-chopped (you can use milk or semi-sweet chocolate chips because the truffles are not too sweet)
8 oz. semi-sweet chocolate-coarsely chopped
---
Instructions
Combine the cream cheese, peanut butter and powdered sugar and mix on medium speed about 2 minutes. Fold in chopped chocolate chips.
Cover the mixture and refrigerate (1-2 hours).
Line a tray with a sheet of parchment paper.
Using small ice-cream scoop, scoop the cheesecake mixture on a the parchment paper lined tray. ( try to make the balls small, because they are so rich and you want small bites). Using your hands roll the balls to make them smooth, then place them in the freezer to harden( for 20-30 minutes)
Melt chopped chocolate. Let the warm chocolate sit for 5 minutes to slightly cool before dipping.
Line another tray with parchment paper and set aside. Using a fork or a toothpicks dip the cheesecake bites into chocolate to cover them completely and place onto parchment paper. You must work very quickly with the truffles and in small batches (take just 3-4 truffles from the freezer at the time).
When the chocolate is harden, you can reheat the leftovers of the melted chocolate, transfer to a zip lock bag, cut the corner off and drizzled over the truffles.
Store in the refrigerator.