Some of you might be thinking now: "Honey Heart Chocolate Cake??? Does this thing even exist? Seriously Vera, what's next? But don't you worry my dear chocoholics, this recipe exists and not only in my imagination. The only catch is that it is an old Serbian chocolate cake that none of you would be familiar with, unless your mother or grandmother came from Serbia.
A few days ago while I was baking Nutella cheesecake, my little son decided that the whole thing just couldn't go without him. You can imagine how this story ends. A two-year-old child in a kitchen full of cake fillings and dishes- splendid! But only for Marco! He had chocolate smeared all over him and he's putting utensils in his favorite kitchen nooks. As you can guess, after no more than 15 minutes I decided to take him to my mother-in-law, so that she would babysit him.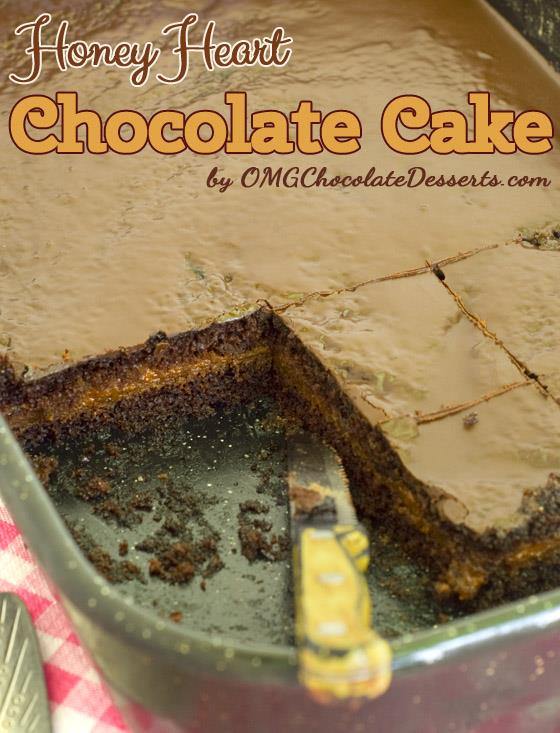 When I took him to Grandma (that's how we all call my mother-in-law) I could literally smell that something was baking in her kitchen! "Vera, it's a great thing you came. I meant to bring a few slices of Honey Heart Cake to you. Just hang on a sec!"- said Grandma.
Grandma had just finished the old cake she called Honey Heart Chocolate Cake! She and Grandpa  simply adored the old-fashioned cakes with a no cream and this one was their absolute favorite. While Grandma was slicing the cake, I took one tiny, little piece. Yummy!!! This gorgeous cake tasted like heaven! Home-made apricot jam and cinnamon perfectly combined with a chocolate base.
"Grandma, can you lend me the cake pan for a while? Don't worry; you'll get it back soon! Grandma was already familiar with my blogging hobby and she was delighted that this almost – forgotten recipe would find its place in my online culinary diary!
Thus, in 10 minutes,I took the photos of  the pan with the chocolate cake and then individual slices  for all of you who might wanted this to see! Meanwhile grandma copied the recipe instructions  enjoying from the fact that other people might enjoy her good old Honey Heart Chocolate Cake.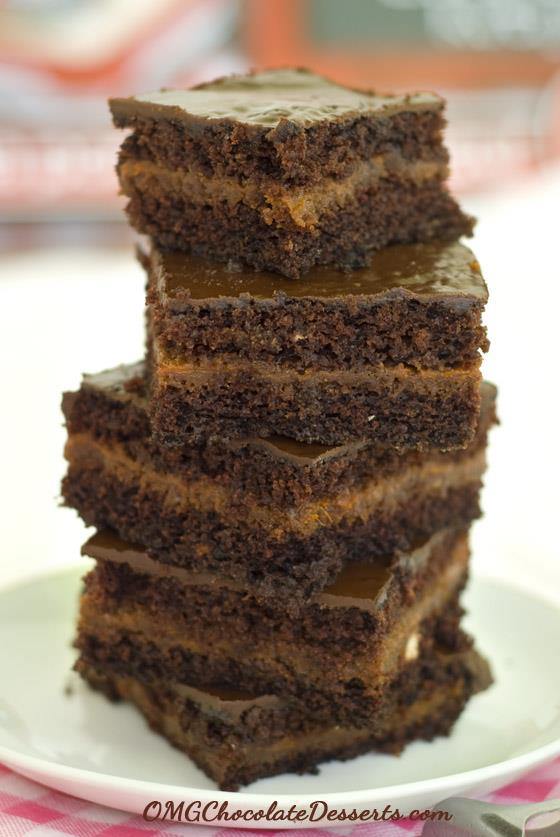 Print
Honey Heart Chocolate Cake
---
Author:

Prep Time:

10 minutes

Cook Time:

25 minutes

Total Time:

35 minutes

Category:

Dessert
Description
Moist chocolate cake, with a hint of cinnamon aroma, filled with home-made apricot jam.
---
Ingredients
For the cake:
1 1/2 cup

sugar

5 tablespoon

oil

1 1/2 cup

water

2 teaspoon

baking powder

1 teaspoon

baking soda

1 teaspoon

cinnamon

3 tablespoon

cocoa

2 cup

flour
For the filling:
For the glaze:
---
Instructions
Grease the 9×14 inch pan, sprinkle with flour and set aside
Preheat the oven at 350 degrees F.
In a bowl whisk together all ingredients until it's evenly combine.
Spread half of the mixture in the pan and bake about 10 mins, or until it get tender crust on top
Take the pan from the owen and spread the jam over the cake, than cover with the other half of the cake mixture and bake about 15 mins.
Let it cool completely.
Melt the chocolate and spoon the glaze over the cake
Cut into squares and serve.