I simply adore reading and following food blogs! Sometimes I catch myself spending hours and hours at the computer reading some of my favorite blogs! My husband would tease me by saying:" What's your friend Karly from Buns in My oven has to say now? "or " Is that Something Swanky of yours again?" and stuff like that. However mad I get at him, the point is that even he as a naive observer realized that there some food blogs that attract visitors like magnets! So, if you are anything like me, you must've caught yourself checking time and time again whether Nikki from Chef in Training uploaded her new cupcake or making just a short visit to Inside BrueCrewLife!
Secret ingredient for success – Excellent food photography
Have you ever wondered why you are constantly following the few above-mentioned blogs, out of thousands and thousands of food blogs? Well, some of them have such a lovely blog design, others have talented hosts who tend to describe their culinary adventures in such a funny and interesting manner and yet others offer perfectly clear recipe instructions .Perhaps it's all the above, but, there is one thing that really stands out. All of these blogs have fantastic photographs of their food in their posts. Yeah, that's right! It's not that they are just fantastic; they are actually real small masterpieces.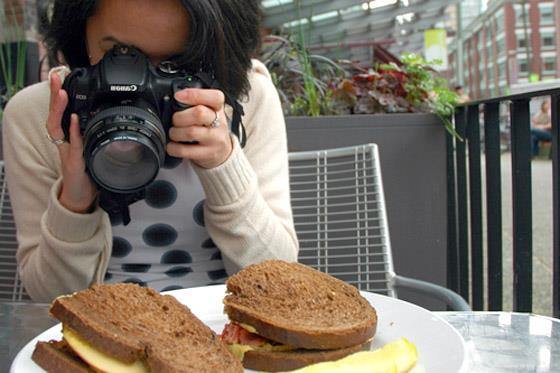 Now you are going to tell me: "Vera, you are exaggerating things! It's not all about the photographs!"  Yep, I agree that it is important to write wittily, have gorgeous recipes and a well-designed blog! But, trust me when I tell you if you don't significantly improve your photography skills, your cute, little food blog will be no more than your pastime activity. It will have a certain number of followers, but it will never grow into a real food blog like the ones I mentioned. If you still have your doubts, here some pretty good reasons.
Why is the good photography crucial?
The hardest thing for us food bloggers is how to boost our blog traffic. Yep, we posted a divine chocolate cake on our blog; we wrote a great story and offered some excellent instructions! But, how can we make a visitor read all of that, fall in love with our blog and bookmark it as his favorite?
There are three ways to do it. Based on the analysis of many food bloggers I followed and my personal experience, I can tell you that your blog traffic will be directly influenced by the quality of your photo. You don't believe me? Let me analyze it!
1. Pinterest
According some analyst the biggest and most popular blogs use Pinterest to drive their traffic. In fact, 60-70% of their followers have been diverted to their blogs from this social network. Maybe you've noticed, thanks to Google awords statistics, that a certain number of visitors are diverted from this network and you don't even know what it is. If you don't know what it's all about, let me explain it you.

Pinterest (the fastest growing social network) is completely image-based. If you register to this network and create an account, you get the opportunity to create boards known as 'pinboards' to which you can upload photos on a certain topic. For example my pinboard named Chocolate Mania is reserved for uploading the images of my favorite chocolate desserts on the Internet. Every Pinterest user can follow my pinboard and even upload some of my images called 'pins' to one of his own pinboards. Just by clicking on a photo in the pinboard, the user is directly diverted to the original source of the photo.
Trust me, all of this is really cool and catchy if you are a food blogger or if you just want to find some good recipes.  You get the chance to glance at a whole bunch of images and recipes within a minute and to choose the ones you like the best.  The Pinterest user will necessarily get hooked on the most beautiful ones. And this is what I talk about. If you took a very nice picture of your chocolate cupcake and post it on the Pinterest and you have a lot of followers, you can expect that your recipe will soon become very popular, since the followers' friends will soon start sharing your photos. Very simple, but extremely powerful indeed!
2. Food Porn sites
These sites are a great tool for the popularization of your blog and attracting the much-desired visitors! If you don't know a first thing about them, you should take a look at the extremely popular food porn site Foodgawker. What's this all about? Basically, Foodgawker can be compared with a huge library of recipes organized in diverse categories. You have to submit your recipe with its short description and a thumbnail photo. If your recipe matches the site criteria, it will soon be uploaded to a certain category. Of course, since there is a small picture attached to every recipe, the idea is the same as with the Pinterest. Out of a bunch of photos the Foodgawker visitor will always look at the most beautiful ones. By the way, you can see how many likes the recipes with lovely photos have! So the conclusion is always the same – the number of prospective visitors is directly influenced by the quality of your photo.
3. Link Parties
Finally, link parties are another great way to make new friends and promote your food blog! Lately link parties have been very popular with food and DIY bloggers. The idea is that on certain days of the week or month, the host of the link party event invites all other bloggers to share the links to their recipes! Here's one example! Every Wednesday you can take part in a Cast Party Wednesday link party held on the amazing blog Lady Behind The Curtain. You simply submit your link via a short questionnaire and voila; it's already on a list of all participants.
Since sometimes more popular link parties can feature over 100 links to recipes, the ordinary visitor will, as you can already guess, choose the link with the nice picture.  Do I need to repeat what's  become so obvious by now? Photo, Photo, Photo!!!
P.S.
This is not the end of our story about how important it is to have great photos of your food! Spend some time thinking about what resources other than the above-mentioned ones could help make your food blog more popular. Facebook, Instagram, Stumble Upon maybe? And here we go again with the good, old story about the importance of photography.
Sometimes surfing the Internet I stumble on some really gorgeous food blogs full of excellent recipes, ideas and stories that don't get as much attention as they deserve just because of their average photos. So, I really hope that after all this talking you get the picture how this blogging thing functions, which is in the beginning a really big step forward. The next step you need to take is learning how to enhance your food photo and make it worth seeing. Though I decided to keep this story for another time and it is up to you to think about all this.