"Wooow, what a beautiful cake" exclaimed my husband licking his lips when I invited him to help me take photos of my new dessert!
"That's not a cake, those are bars!" I explained to him a little mad about the fact that he could call my Dreamy Creamy Coconut Bars "cake". He loves my Magic Custard Cake recipe but the Dreamy Creamy Coconut Bars are not cakes!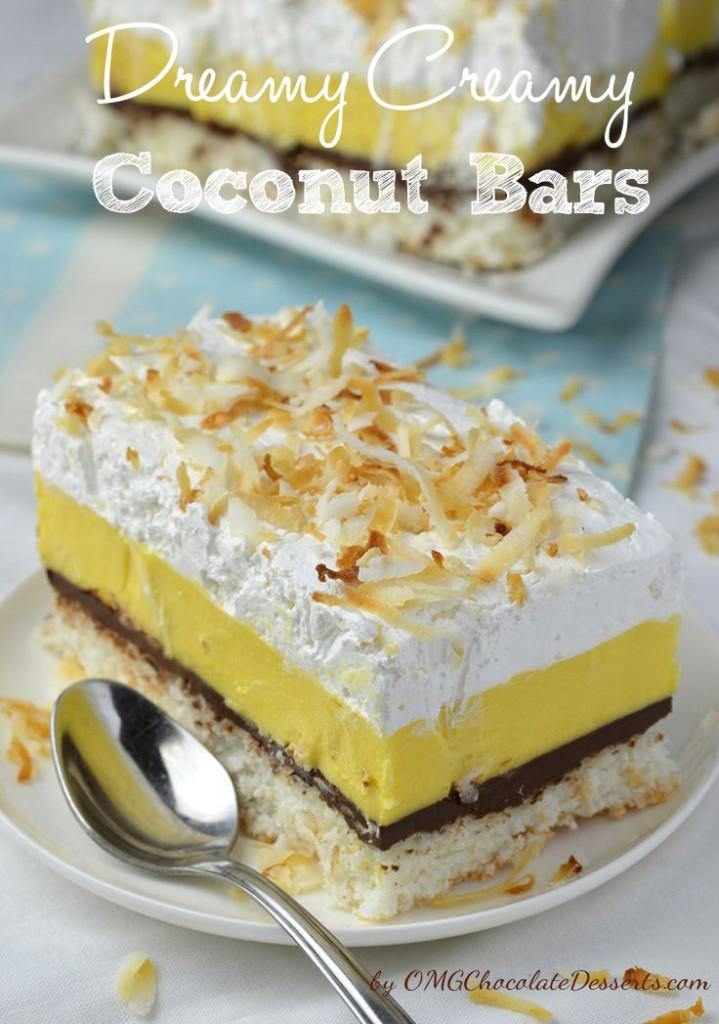 "No way you can convince me these are bars! Like I never ate bars in my life", he couldn't stop complaining.
"I don't want to talk about that at all. I should know what I'm baking! It's bars!" I stepped up the tone slowly
Bars, cake, bars, cake… you could hear a few more times one after another
"Well, OK, explain to me the difference between these "bars" and "Sex in the Pan", cake which you made not so long ago"? He just wouldn't let up.
"Well now that's enough. If you want to try this sweet treat, you will have to come to terms with the fact that these are bars". It was the last ace I had up my sleeve.
"Ok, Ok, it's bars" he said  with a quiet tone and stepped back probably thinking he could stay without a tasty bite 🙂
Still, while we were taking photos of my Creamy Coconut Bars, I saw that I went a little too far. The crust was really for Coconut Bars but I also had a little too much beautiful layer with pudding and cream so my bars really looked at least a little like a cake. Well, OK, when things really stood that way, I decided to make the piece which I will take photos of a little bigger like, say, the one for Chocolate Lasagna and take pictures like that.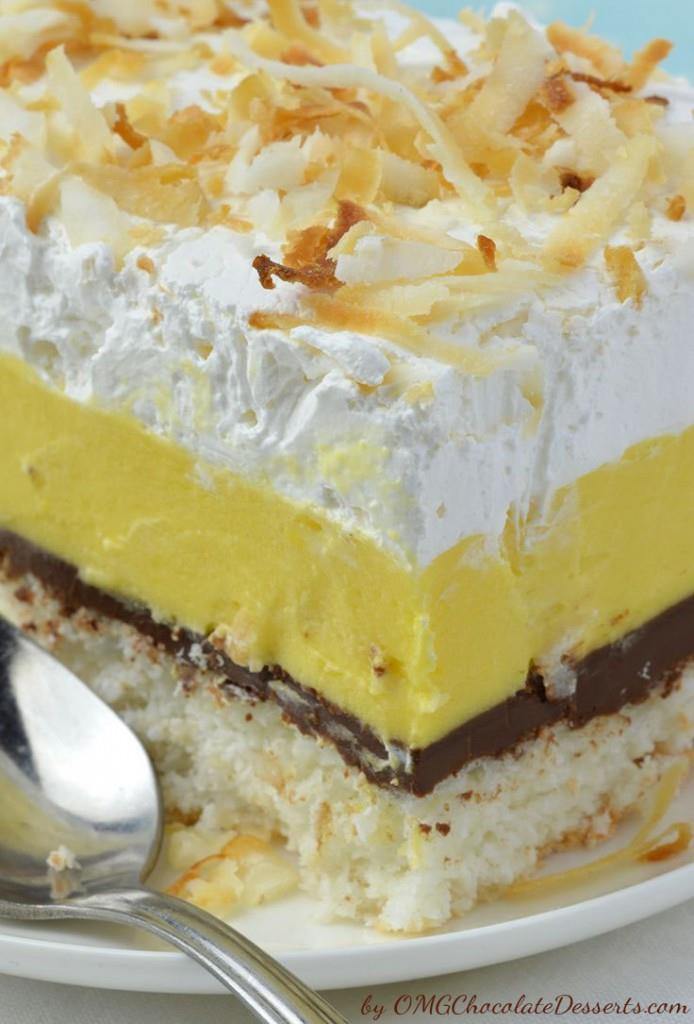 And so, after an hour of playing with our camera, my husband couldn't wait to try what was on the table.
"Ok, can I try this cake already? Ooops, bars!" He was very inpatient. He ate the first piece in one bite and took another big one.
"Wether bars or cake, one thing is sure! This is fantastic! I love the taste of coconuts on these creams! The only thing is… there goes my diet again" he concluded while he was licking the spoon.
And so, I leave up to you to decide whether you will call my Creamy Coconut Bars "cake" or "bars". But, one thing is sure, you will not make a mistake if you decide to make them yourselves. Cheers!
Print
Dreamy Creamy Coconut Bars
---
Author:

Prep Time:

45 minutes

Cook Time:

25 minutes

Total Time:

1 hour 10 minutes

Category:

Dessert
Ingredients
For the Crust:
5

egg whites

1 cup

sugar

1 1/2 cup

finely shredded coconut

2 Tablespoon

flour
For Chocolate Layer:
8 oz

semi sweet baking chocolate-chopped

4 Tablespoon

oil
For Vanilla Layer:
2 cup

milk

5

egg yolks

1 cup

sugar

1/2 cup

cornstarch

2 teaspoon

vanilla

1 cup

(

2

sticks) unsalted butter
For Topping:
1 cup

heavy whipping cream

1 teaspoon

vanilla

3 Tablespoon

powdered sugar

3/4 cup

shredded coconut- toasted
---
Instructions
Preheat the oven at 350 F, line 12×8 inch pan with parchment paper and set aside.
Beat the egg whites on maximum speed, gradually add sugar and continue mixing until the stiff picks form.
Reduce the speed on low and mix in flour.
Gently stir in finely shredded coconut, transfer to a prepared pan, smooth with spatula and place in the oven.
Bake 20-25 minutes, until it's light golden brown.
Remove from the oven and let it cool for 10 minutes in the pan, than transfer to a plate and let it cool completely.
Place oil and chopped chocolate in a small sauce pan and melt chocolate on low heat, stirring occasionaly. Let it cool a few minutes, then spread over the crust and leave in a fridge to set.
Mix egg yolks and sugar until pale yellow, add milk and corn starch and mix on low speed, transfer to a sauce pan and cook on medium heat stirring constantly until it's thicken, stir in vanilla and set aside to cool completely ( cover with plastic wrap to avoid forming a crust on a surface).
Beat the butter separately until it's light fluffy, then combine with the cooled filling and spread over the chocolate layer. Set in a fridge while mixing heavy whipping cream.
Mix heavy whipping cream, gradually add powdered sugar and continue mixing until it's thicken, stir in vanilla and spread over the yellow layer.
Sprinkled with toasted coconut and store in a fridge.