Nutella Crescent Rolls is simple and easy recipe with jut 4 ingredients: puff pastry sheets butter, sugar and Nutella, of course.
A few days ago virtually a small war broke out in my house. On one side, there was me, who was trying to feed my two-year-old child with the foods that children his age are supposed to eat. On the other side, there was my little son Marco, who constantly refused anything, but his favorite baby food (oatmeal and chocolate porridge). The little gentleman even refused to eat by himself and food served in his favorite mug acting like a real little count!
"Enough is enough"- I said to the little prince "Either you eat what you are supposed to eat or you don't eat at all!" I was even threatening him with my finger, but he couldn't care less!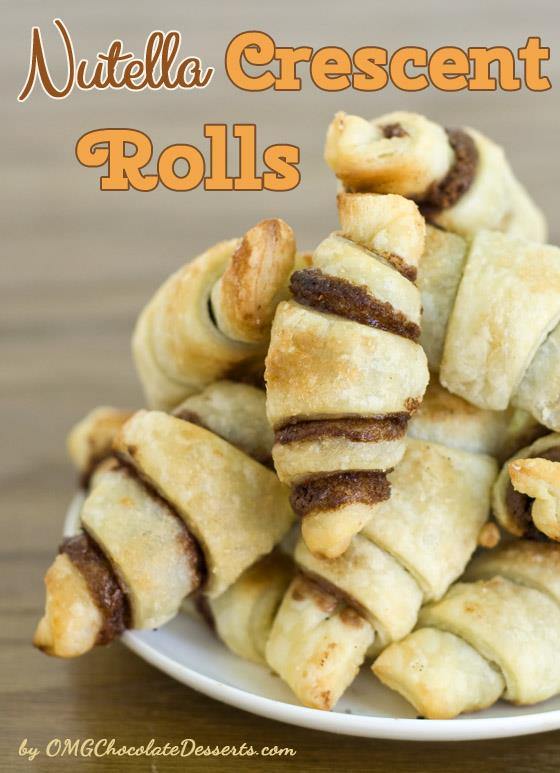 That's when the battles begun! He gallantly refused eggs, bacon and tomato by spitting the few bites he had taken. 15 minutes later my next attempt to feed him was doomed to failure because of his continuous crying, whereas the third attempt that occurred 20 minutes after the second one ended in Marco's sinking his head in the feeding chair. I was at utter despair!  Not knowing what to do I picked up one Nutela crescent roll I bought in the supermarket the day before. I offered it to Marco, so that he would eat something other than his baby food. My husband and I just love those delicious Nutella crescent rolls that Marco wouldn't even look at until now. To my utter surprise, Marco took a bite and started chewing it like nothing ever happened! And it wasn't just a single roll! He continued eating the rolls for the next 15 minutes until he was full asking for some water to drink. It may not be the perfect meal, but at least it wasn't baby food!
To honor those Nutella crescent rolls from the supermarket I decided to make similar ones and celebrate my partial victory. I remembered a recipe that was very popular on the Pinterest and I found it very quickly. Divine Nutella crescent rolls from Novice Chef!  I modified the recipe just a bit and soon the delicious aroma of my sweet little Nutella rolls spread across the kitchen!
As soon as they cooled off a bit, full of hope and pride I offered one roll to my little prince! And guess what, my little son just looked at it, turned away and moved on!
Thus, the truce was over and the war was still on, but postponed for a while!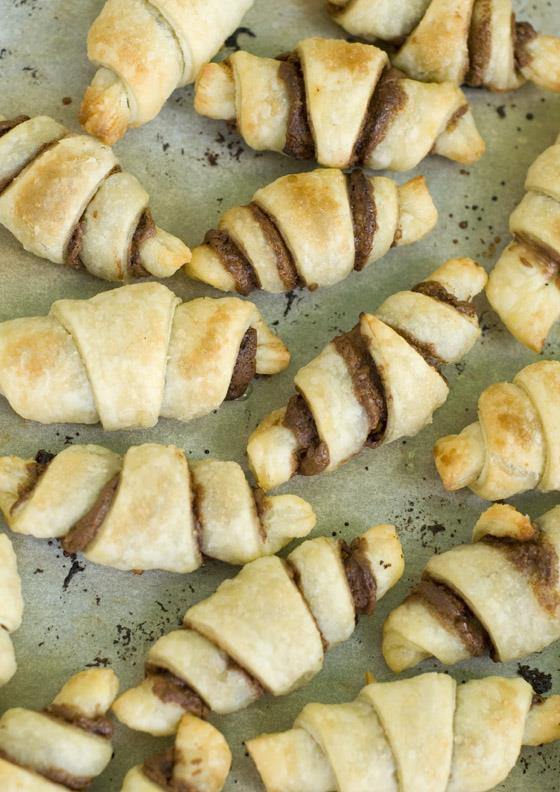 Print
Nutella Crescent Rolls
---
Author:

Prep Time:

15 minutes

Cook Time:

15 minutes

Total Time:

30 minutes

Category:

Dessert
Description
Quick and easy Puff Nutella Crestens Rolls
---
Ingredients
17 oz

puff pastry sheets

3/4 cup

Nutella

2 tablespoon

butter melted

2 tablespoon

brown sugar
---
Instructions
Preheat the oven to 375 and line a baking sheet with parchment paper, set aside.
Roll out the sheet of puff pastry and cut in triangle.
Spread with Nutella and roll the crescents.
Place crescent rolls on baking sheet and using a pastry brush, brush with melted butter and sprinkle with brown sugar.
Bake for about 10-15 minutes until reach golden brown color