Buckeye Brownie Cookies are the perfect cookies for chocolate peanut butter lovers. Made with brownie cookies, peanut butter filling and rich chocolate on top!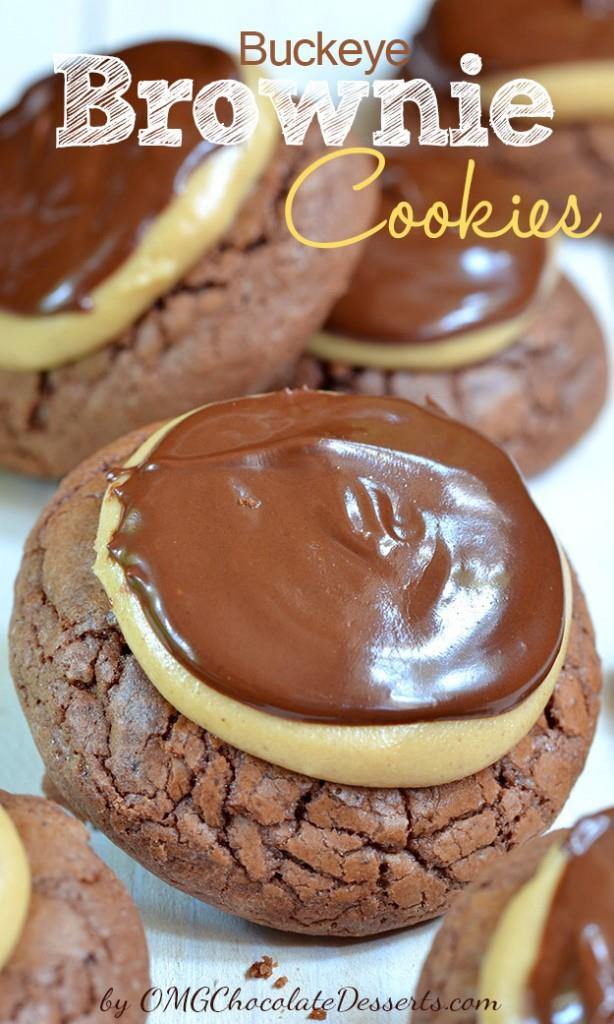 Buckeye Brownie Cookies
Cookies, cookies, cookies! How simple this dessert is and how many recipes there are! When it comes to this sweet treats, maybe the biggest problem is which of the cookies to choose at that moment!
Well just think a little! If you like to find recipes on food blogs like I love to do, just remember how long the list is with recipes in the category cookies on your favorite blog!
OK, since you know that one of my favorite ingredients is chocolate (and peanut butter, check out this page for a great recipe), I will make the decision a little easier. But just a little easier since there are so much chocolate cookies also! And this is a new problem for a real chocoholic 🙂
But a few days ago my problem came down to only two fantastic recipes for chocolate cookies which I found searching Pinterest – Nutella Filled Cookies or Buckeye Brownie Cookies! A real Shakespearean "to be or not to be" dilemma. Of course, only a real kitchen Hamlet could solve this kitchen dilemma – my husband.
"Tomorrow is cookie time. Come on, make a decision on these two recipes" I suggested to my husband not knowing that I was about to enter a real life "to be or not to be" drama.
"Woow they are both great. I really don't know what to tell you", concluded my husband delighted looking at the pictures on the display.
"These Buckeye Brownie Cookies look so decadent and delicious… but come to think of it, Nutella is Nutella". The dilemma was getting bigger.
"You know what? Make this brownie cookies, they have peanut butter. No, when I think a little more, after this, you probably won't make cookies for a long time. So… maybe it's better that you make the ones with Nutella". The drama continued.
So after a few minutes, I had only one solution. To throw my husband out of the kitchen and make my own decision. And the decision was final –  Buckeye Brownie Cookies and that's it.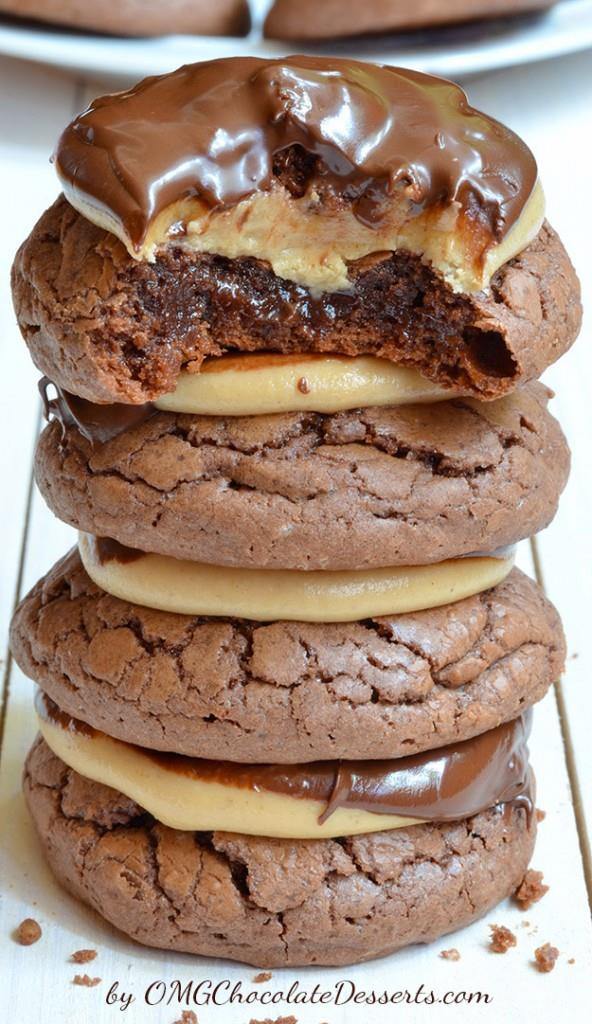 And of course, the one who risks – profits! What else could you expect from a fudgy dough with a layer of sugar and peanut butter and chocolate ganache topping. My brownie cookies were looked  like chocolate heaven 🙂
"Vera, what have you decided? I think that it better be the ones with Nutella" my husband flew in the kitchen a bit latter.
"Well, Hamlet, your time has passed. But since you were very dedicated to the problem, here is the reward" I was joking around with my husband while I was giving him a plate with a few Buckeye Brownie Cookies which my husband took with both hands happy that the dilemma was successfully solved.


Print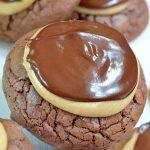 Buckeye Brownie Cookies
---
Author:

Prep Time:

30 minutes

Cook Time:

10 minutes

Total Time:

40 minutes

Yield:

24

cookies

1

x
Category:

Dessert

Method:

Oven

Cuisine:

American
Description
Buckeye Brownie Cookies are the perfect cookies for chocolate peanut butter lovers. Made with brownie cookies, peanut butter filling and rich chocolate on top!
---
Ingredients
8 oz

bittersweet chocolate- chopped

2 tablespoons

unsalted butter ( room temperature)

2

eggs

1/2 cup

+

2 Tbsp

cups granulated sugar

1/2 teaspoon

vanilla extract

1/2 cup

all-purpose flour

1/4 teaspoon

baking powder

1 cup

creamy peanut butter

1 cup

powdered sugar

4 oz

semisweet chocolate
---
Instructions
Preheat the oven to 350°F. Line two large baking sheets with parchment paper.
Melt the butter and 8 oz bittersweet chocolate in a heatproof bowl over a saucepan of barely simmering water, stirring occasionally until smooth.
Stir together the eggs, vanilla and granulated sugar in a medium bowl, set aside.
Whisk together the flour and baking powder.
Add melted chocolate mixture to the egg mixture and stir to combine.
Slowly add dry ingredients and stir until it is well incorporated.
In a separate bowl, mix powdered sugar with peanut butter until it is combined, then roll it into 1 inch balls. Make 24 balls and set aside.
Scoop about 1 1/2 tablespoons of dough onto prepared baking sheets (if the batter is to thin leave it in the fridge until it's firm enough to handle)
Bake for 10 minutes or until they are firm on the outside, but do not overbake!
When the cookies are baked, press peanut butter balls lightly into the center of each cookie , let the cookies to cool for 5 minutes in the pan then transfer them to a wire rack to cool completely.
Melt semisweet chocolate and spoon over the peanut butter.