Just a moment!!! Imperfectly Perfect Blueberry French Toast Roll Ups – doesn't that sound a little familiar? Wasn't that one of the recipes already on my blog?
No, you are not wrong! If Hollywood superstars can make sequels to their movies, why couldn't I make sequels to my recipes?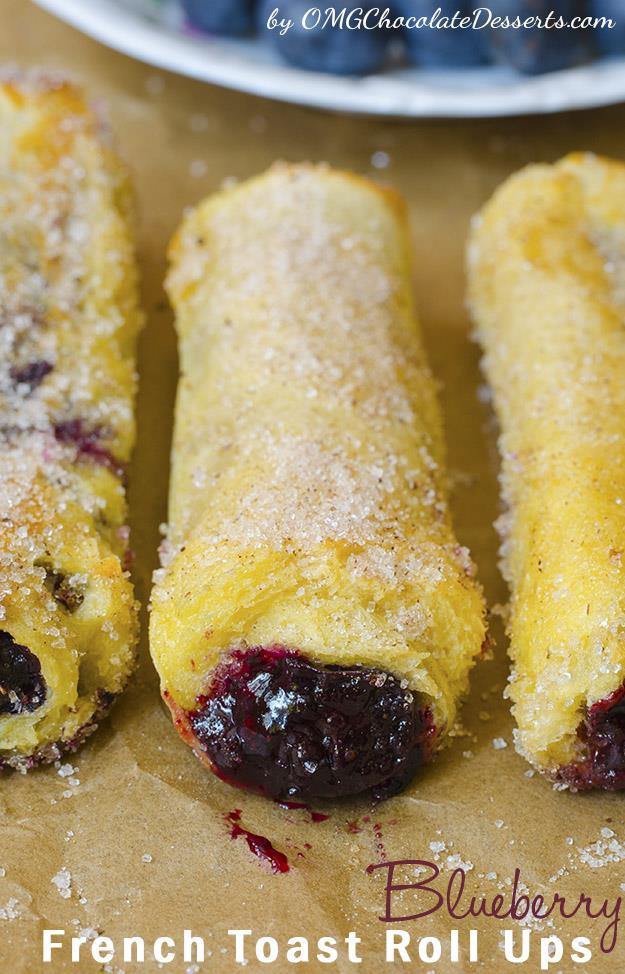 I must be honest, the first part (Imperfectly Perfect Blueberry French Toast Roll Ups) was not that successful. Butt all of the main characters from the original movie, the plot and the director are all the same, so why not!
And if you read the first part, you know that the leading role was my husband in the kitchen. What else to say? To me, it all looked like "Scary Movie", but in the end, many of you liked his Roll Ups.
This time, Darko decided to fix his mistakes from the last episode, but for the leading role, he chose blueberries instead of Nutella. And the guarantee that Nutella will not pour out of the frying pan was that this time, he will put his Blueberry French Toast Roll in a warm oven and bake them slowly.
And of course, everything started out just as well as possible. Beautiful slices of bread were filled first with blueberry jam and after that, he put fresh blueberries over them and rolled it all into fresh Roll Ups. And as a guarantee that the jam will not pour out, like Nutella the first time, on everyone of them, he put a blueberry on each end and closed them in that way.
But, in the end, as everything else that my husband does in the kitchen, it all turned into horror 🙂 After 10 minutes of baking the blueberries, they fell out and the beautiful jam was all over the frying pan. Perfect Blueberry French Toast Roll ups were again not perfect and the disgraced director was cursing his bad luck.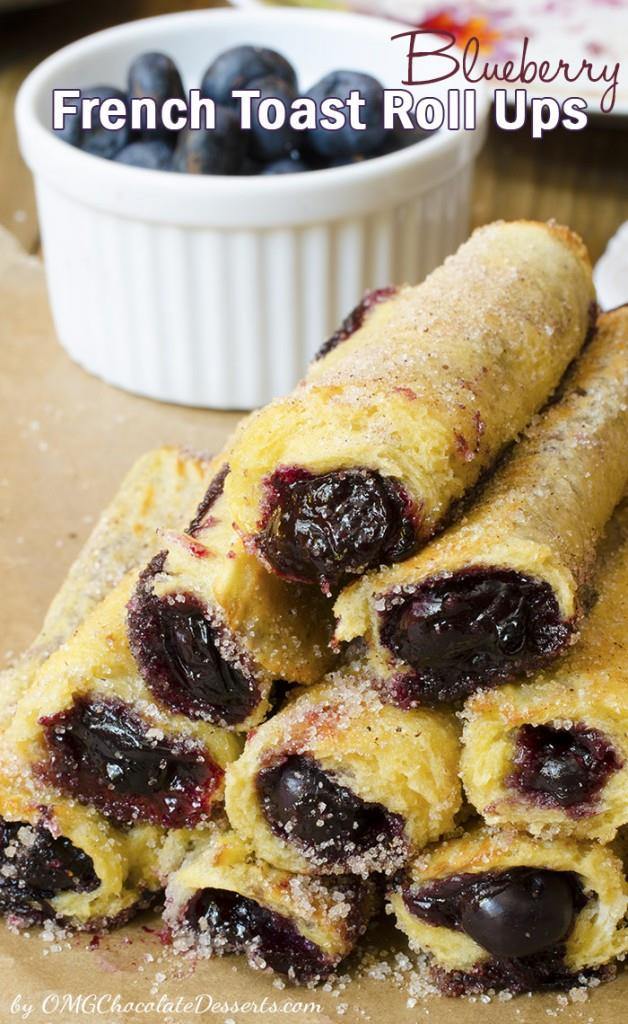 But even the Roll Ups didn't really look perfect, the taste was simply divine. My husband soon came to the same conclusion and immeadately became brave and swore that the next roll ups will be perfect in every way.
What else can I tell you? I think this is the making of the first trilogy in the history of French Toast Roll Ups. Cheers 🙂
Print
Imperfectly Perfect Blueberry French Toast Roll Ups
---
Author:

Prep Time:

15 minutes

Cook Time:

20 minutes

Total Time:

35 minutes

Yield:

10

1

x
Category:

Breakfast/Dessert
Ingredients
10

slices white bread

1/3 cup

blueberry jam

1cup

fresh blueberries

2

eggs

1/4 cup

milk

1 Tablespoon

all-purpose flour

1/4 teaspoon

baking powder

1

–

2

Tablespoon unsalted butter-melted

1/3 cup

granulated sugar

1 teaspoon

cinnamon
---
Instructions
Preheat oven to 375 degrees, line baking pan with parchment paper and greased it lightly.
In a blender combine eggs, milk, flour and baking powder and bland 15 seconds on low speed, pour in a bowl and set aside.
In a small bowl combine granulated sugar and cinnamon, set aside.
Trim crusts from bread.
Flatten bread with a rolling pin.
Spread about 1 teaspoon blueberry jam onto one half of the bread and align a row of blueberries.
Roll bread to opposite end and set aside.
Dip each rolls into egg mixture and allow several seconds to absorb liquid, then transfer to a pan.
Bake for 9 minutes, then remove from oven, brush tops lightly with melted butter, rotate roll ups and brush lightly with melted butter, place back in the oven and bake for another 9 – 12 minutes.
Roll baked french toast in cinnamon sugar mixture to coat them well.
Serve warm.