Perfect party snack – Ham and Cheese Rolls are soft and gooey, pizza style rolls.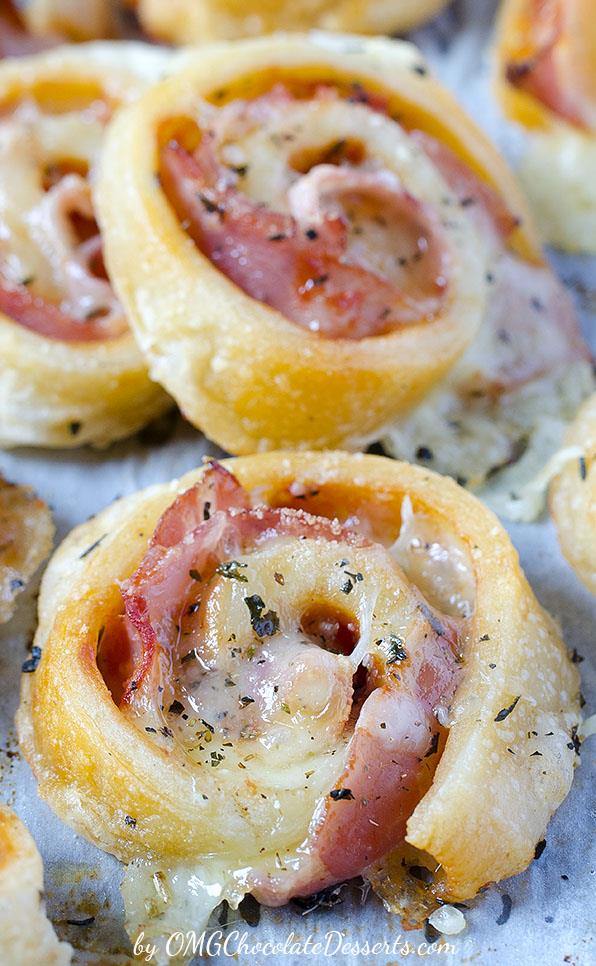 These Cheesy rolls are my favorite appetizer, which I like to prepare for years for family and birthday celebrations, and I can tell you that every time, they are a hit, however good the rest of the feast is 🙂
When I made them for the first party since I got married, all of the guests asked in which bakery I had bought that fantastic pastry. Even my husband couldn't believe that something that tasty came out of my kitchen and told me: "OK, you showed off in front of the guests, but now admit, where did you buy them?". In order to make him believe, I had to make them again in a few days. From then on, I make them very often, even when it's not a special occasion, because my husband and I simply love them. Almost always, it ends in a fight for the last bite 🙂
Except being very tasty, these Ham and Cheese Rolls are great "Freezer Friendly" food, so you can always have them in reserve when you need a dinner, or a breakfast or a lunch ready in 20 minutes.
These rolls are something between pastry and pizza and you can make them very quickly and easily using store-bought puff pastry sheets.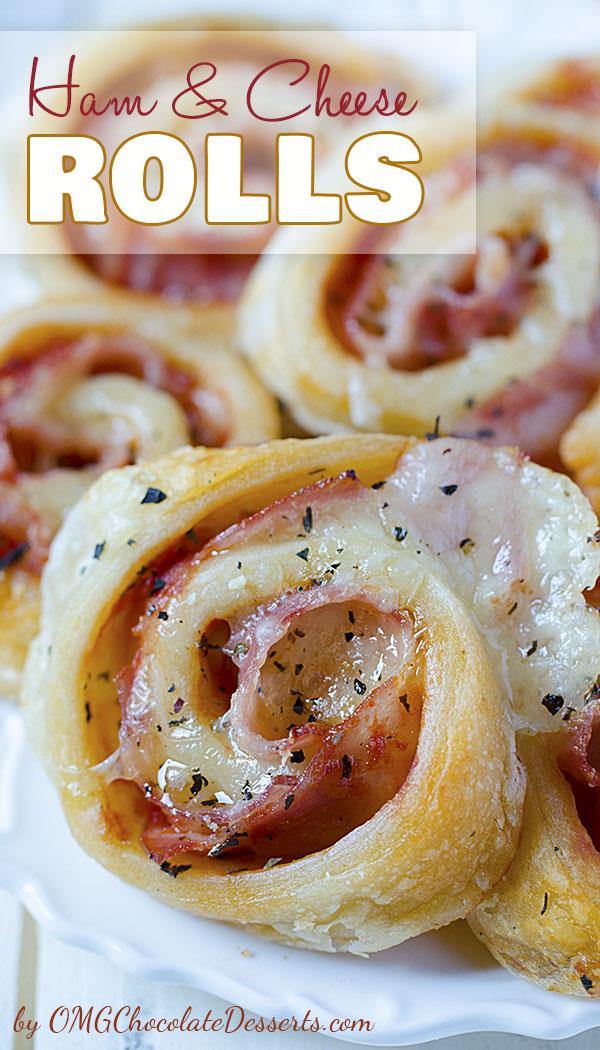 Here's what you need for them: A few thin slices of ham, grated mozzarella cheese, pizza sauce, olive oil, oregano, basil, and two sheets of puff pastry. You roll out thawed pastry into a rectangle, spread pizza sauce on it, arrange the ham, sprinkle the grated mozzarella, roll that into a log, cut it, brush with olive oil mixed with a little oregano and basil and trhe rolls  are ready for baking! I like to sprinkle them with some Parmesan, but if you don't like that, you can skip that step.
If you don't want to bake the rolls at that moment, pack them and you can keep it in the freezer for another chance when you need a quick and tasty meal .
If you have not tried these Ham and Cheese Rolls by now, you simply have to. You can change the ingredients for filling, add or take something as you wish. You can replace the ham with sausage or you can even make a veggie version with mushrooms. I'm sure every version will be tasty. Enjoy!!!

Print
Ham and Cheese Rolls
---
Author:

Prep Time:

20 minutes

Cook Time:

20 minutes

Total Time:

40 minutes

Yield:

24

1

x
Ingredients
1

17.5 oz package (

2

sheets) store-bought puff pastry(thawed but still cool)

1/2 cup

pizza sauce

12

slices deli ham

1

–

1 1/2

cup shredded cheese (mozzarella)

2 Tablespoon

olive oil

1 teaspoon

dried basil or oregano ( you can combine both)

2 tablespoon

grated parmesan cheese
---
Instructions
Preheat oven to 400 F and line two large baking sheets with silicone baking mats or parchment paper and set aside.
Place a sheet of thawed puff pastry onto a baking paper dusted with flour and roll out into approximately 8×12 inch rectangle (dimension may vary depending on brand of pastry you use) It should be rolled out thin but don't thin it out too much or it won't be able to hold the filling.
Spread athin layer of pizza sauce, arrange ham slices and sprinkle with shredded cheese (do not over-top or else you won't be able to roll the dough into neat log, you can add more cheese onto top of each slice before baking).
Tightly roll up the dough like a cinnamon bun with the baking paper already under the dough(lift the edge of baking paper and roll). Repeat the process with the second sheet of puff pastry and the other half of the filling.
You can place rolls onto 1 prepared baking sheet and set it in the freezer for 10 minutes , it will be easier to cut, or you can cut it immediately.
Cut roll into slices, approximately 1-inch wide and place onto baking sheet keeping 2 inch apart.(while you cut the roll slices will flatten and lose their shape but using your finger shape them back into circle when place them onto baking sheet).
Combine olive oil with basil or oregano and brush the tops and edges of each slice, then sprinkle with parmesan.
Bake in preheated oven about 15-20 minutes (until the edges are golden brown).
Let them cool 5-10 minutes onto baking sheet (if the bottoms are stick a little run a thin knife under each slice and transfer them onto a serving plate).
If you want make them ahead and keep in the freezer pack them into a foil. When you're ready to bake take them out the freezer for 15 minutes before cutting into slices, then let the slices sit another 15 minutes at room temperature to thaw completely before baking(brush with oil, sprinkle with parmesan and bake).