White Chocolate Orange Creamsicle Truffles perfectly fit for summer- a tasty no bake dessert which simply melts in your mouth.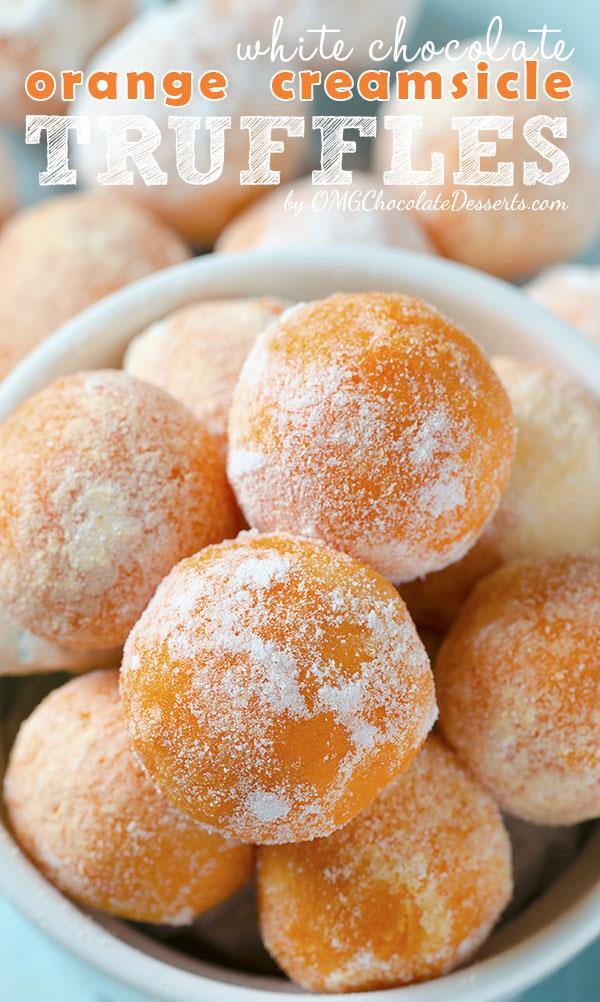 It's almost a year since I tried the recipe for White Chocolate Lemon Truffles and really, they were a big hit. Since then, I always thought about trying a new flavor. As a food blogger, I always have to test new recipes, but truffles never seemed to get their turn. But, since the heat is coming, no bake desserts are the "it" thing again.
I was thinking about which aroma in the combination with white chocolate  would be the right choice for the summer. Of course, Orange Creamsicle was the first thing to come to mind. Who doesn't like to cool off with an Orange creamsicle popsicle on a hot summer day?
The refreshing taste of orange and sweet white chocolate  are the real deal. And if these truffles are eaten cold out of the fridge (or straight out of the freezer) they really do look like a popsicle.
Except being tasty, they are very simple, for these Orange Creamsicle Truffles, you need only a few simple ingredients. And of course, an oven isn't necessary.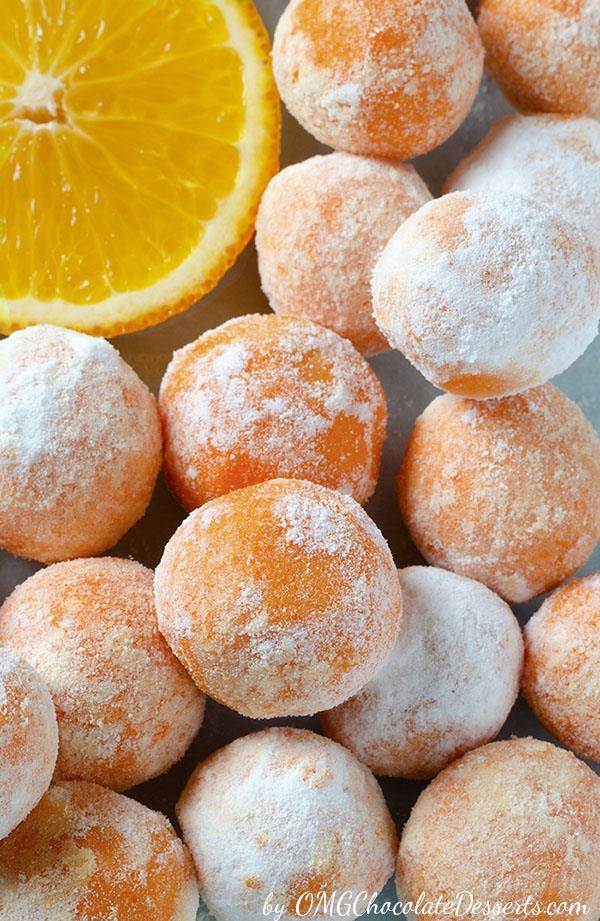 The only trick is that you really need patience to make them because the chocolate must be melted at a very low temperature. And in that low temperature, it needs more time to melt. But, by no means should you hurry!!! If you overheat it, the chocolate could be separated or sized and will be unusable. You must melt it at 105F at most and that means you can just about touch it with your fingers and not be burned.
Besides the possibility of making a mistake with heating the chocolate, you can have another problem, but it's also easily solved. Since the truffle mix is cooled in the fridge at least for two hours, there is a possibility that the fat can single out and form a thin lair at the top even though you have covered it perfectly with plastic wrap.
The solution is to stir the mix a few times with a fork during the process of cooling. And after these few tricks, after two or three hours, you will get a smooth mass which is easily rolled into balls. And  if you have a problem there, which may be that the chocolate is melting in your hands and becoming sticky, just put on a little powder sugar on your hands and everything is solved.
Don't let this scare you, I just wanted to help since, after the white chocolate lemon truffle recipe, a few of you told me about problems like these, so now I decided to make the instructions a little more detailed so you would make this summer treat without any problems and in a very short time.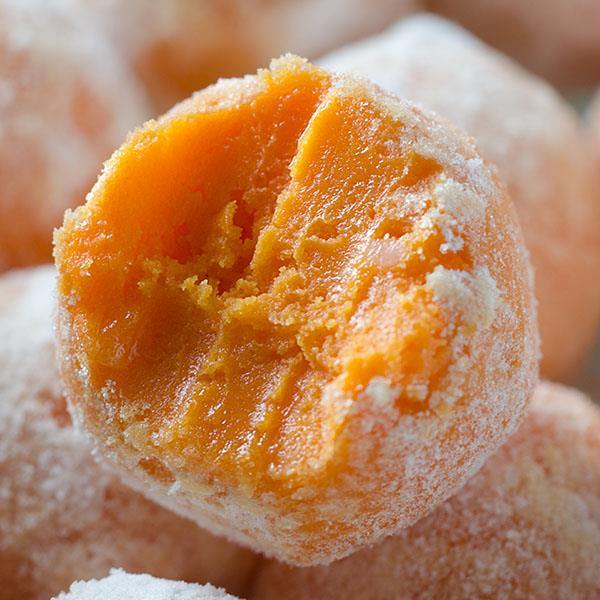 Print
White Chocolate Orange Creamsicle Truffles
---
Yield:

22

1

x
Category:

Dessert
Ingredients
8 oz

. white chocolate-chopped into small pieces

5 Tablespoon

unsalted butter

3 Tablespoon

heavy cream
pinch of salt

1 teaspoon

orange extract
Orange(or red and yellow) food coloring-optional

1/3 cup

powdered sugar
---
Instructions
In a small sauce pan melt butter, add heavy cream and stir to combine, then stir in salt, orange extract and food coloring and stir again to combine, set aside.
Over a double boiler melt chopped white chocolate, stirring casually until smooth and completely melted. DO NOT over heat the chocolate!!! It takes some time to melt completely, but do not heat above 105F (if touched with finger, it will feel about the same temperature as your body), or the chocolate will separate and be unusable.
Gently stir in lukewarm butter and heavy cream mixture into melted chocolate. NOTES!!!Butter and heavy cream mixture should be approximately the same temperature as melted chocolate before you combine them.
Cool slightly, cover with plastic wrap and refrigerate for 2-3 hours (or until firm enough to roll the balls).While it's cooling, you can take it from the fridge, stir with a fork, cover again with plastic wrap and place back into the fridge.
With a small spoon or a melon baller scoop out the mixture and roll into 1 inch balls. You can dust your hands with powdered sugar or if it's too sticky drop a spoon of mixture into powder sugar,( it makes it much easier to roll into a ball) then roll it again in the sugar when the ball is formed.
Roll each balls into powdered sugar to coat them well.
Store in the fridge in airtight container up to 1 week or freeze for longer storage.