In only half an hour, prepare a quick and tasty dinner for your family! Stuffed French Bread is a quick and a simple recipe for a crispy loaf of bread stuffed with cheesy ground beef. You can serve it cut into pieces as a sandwich or as an appetizer.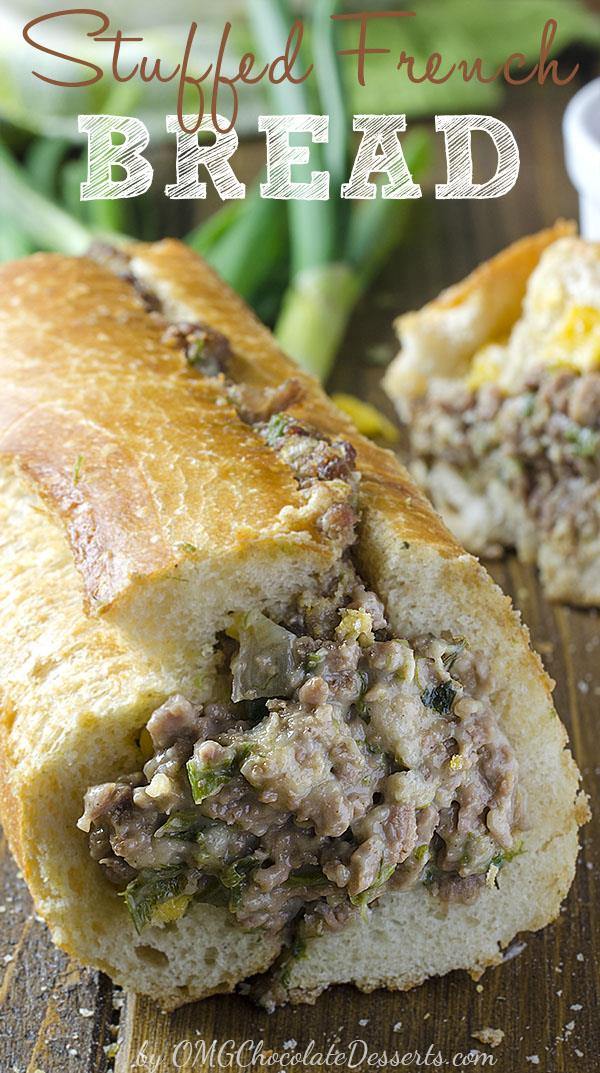 Happy New Year everyone! The holidays are behind us. Although Christmas and New Year are surely the most beautiful moments with your family and friends. That "hanging out" almost takes into it automatically delicious meals. So, that means that you have spent lots of hour preparing those treats. So, now is the right time to take a break with this simple recipe like Stuffed French Bread is. This is really a quick and easy recipe with which you will have in half an hour crispy French bread filled with delicious ground beef, vegetables and cheese. This filled crispy loaf can be served as slices like sandwiches or as an appetizer, and it can be a tasty meal for the whole family.
Stuffed French Bread is ideal for the days when you don't have the time or just don't have the will to cook. It is prepared very easily, for 20 minutes, browned the beef in the skilet and throw in some onion, garlic, chopped leek (or some other vegetables by your choice), put in the spices, cut the bread, crumble the middle and mix it with the filling , pack all that in the loaf, add grated cheese and bake it in the oven for about 15 minutes.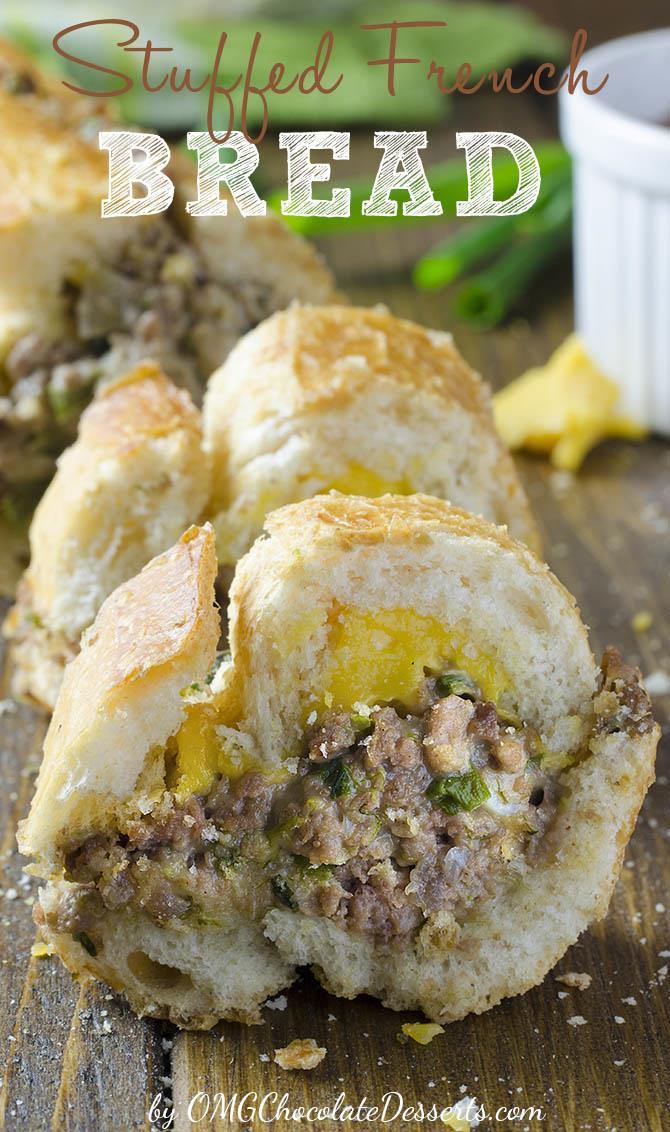 Quicker and simpler it just can't get. It's harder to find a quicker dinner which will make your whole family fully and happy.
This recipe can also be used as a starting idea and you can adjust it to your taste. You can add mushrooms, carrots, green bell pepper, different spices or sauces. But the crispy crust of your warm bread baked in the oven, full of cheesy beef, will be tastier than any hamburger or other fast foods. And much healthier too.
And if you don't need a whole loaf of bread, you can halve the recipe, depending on how much people you are preparing for. Also you have an option to freeze what is left and when you have the need, unfreeze it and bake in the oven again.

Print
Stuffed French Bread
---
Author:

Prep Time:

10 minutes

Cook Time:

30 minutes

Total Time:

40 minutes
Ingredients
1

loaf french bread

1 Tablespoon

olive oil

1

Lb. lean ground beef

1

small onion -chopped

1 teaspoon

minced garlic

1/2 cup

chopped leek (you can use other chopped vegetables: carrots, celery, green bell pepper…)

1

can cream of mushroom soup (or cream of celery or chicken soup)

1 Tablespoon

s milk ( or more if needed )

1 Tablespoon

mustard
salt and pepper, to taste

1 1/2

–

2

cups shredded cheese
chopped parsley (optional)
---
Instructions
Preheat the oven to 350 F.
Slice French bread in half (lengthwise), scoop the center of each half and crumble it in a large bowl.
Place the halves of bread onto a baking sheet and set aside.
In a large skillet place 1 Tablespoon of olive oil and ground beef and cook over medium-high heat until the beef is browned, stirring occasionally. Add chopped onion, chopped leek (or other vegetables) and minced garlic and cook a few minutes until the vegetable is tender.
Add soup, mustard, salt and pepper to taste and cook for at least 5 minutes.
If the mixture is too thick add a little milk.
Add cooked beef mixture to the bread and stir to combine.
Spread the mixture in the center of one half of the french bread.
Spread shredded cheese in the center of other half of the french bread. and place the bread carefuly back on top of first half.
Bake 10-15 minutes (until the cheese is melted). If you don't want to brown the bread too much or to become too crispy, cover with aluminium foil.
Let it cool 5-10 minutes before slicing. Garnish with chopped parsley if you like.