Do you need a recipe for a quick but a decadent cake at the same time? All you need is Graham Crackers, cream cheese, Nutella and some nuts, and only in 30 minutes, you will have a beautiful no bake Nutella Cheesecake. Try it!!! Also try this delicious peanut butter cheesecake as well!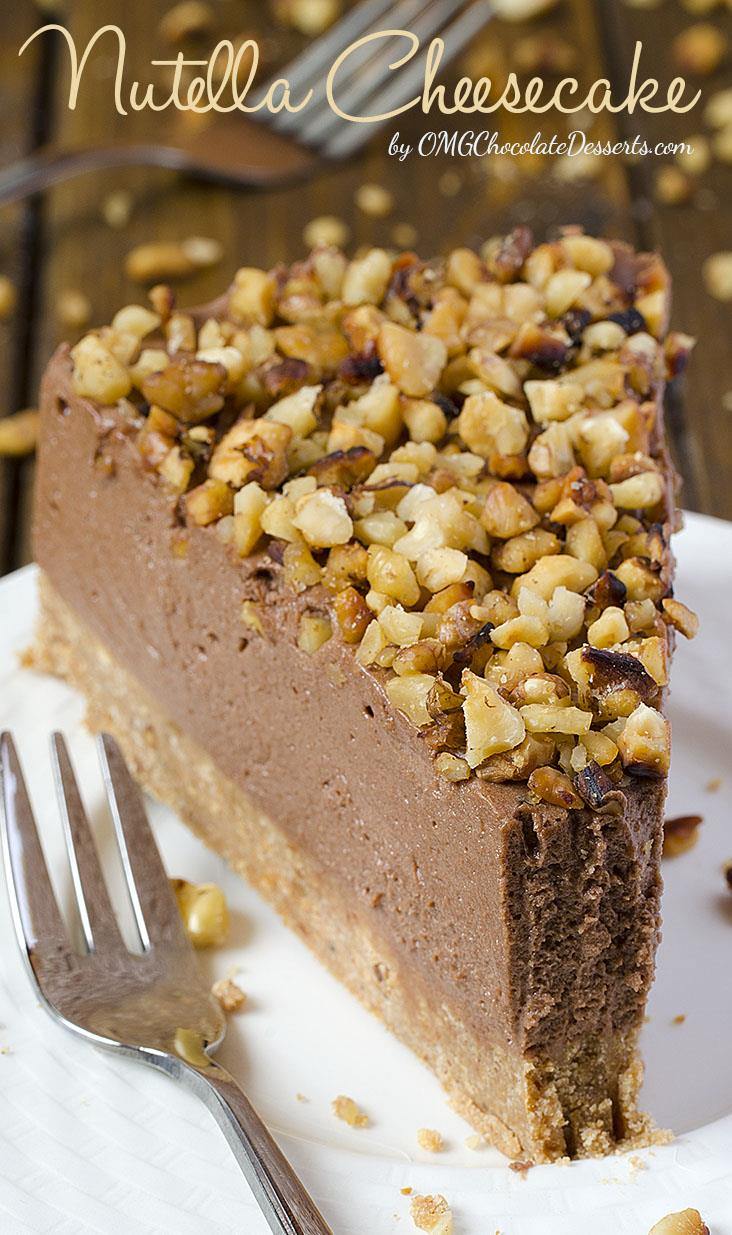 adapted from Rasamalaysia.com
I should have known, when for New Year's Eve, I made the beautiful Triple Chocolate Mousse Cake, that there is very little chance that anything of this tasty treat will be left for the guests who said they would come the day before and two days before the New Year. My chocoholics (my son and husband) joined forces to attack the cake as soon as I made it. Even though I managed to defend it for some time, on New Year's eve the attacks were so strong that I simply had no chance! And so, only a day after the New Year, in a huge plate for cakes, there were only some remains left. You couldn't make two serious pieces out of all that.
But what to do now when we have more friends to come for a holiday's visit? I needed a quick solution, a simple dessert but yet, at the same time, a decadent one which will not shatter my reputation in front of my friends. After only a few moments of searching of my Pinterest boards the solution was there! A beautiful No Bake Nutella Cheesecake from the blog Rasa Malaysia by my Pinterest friend Bee. Her photo is one of the most popular cheesecake photos for a long so there is no doubt that the taste is also great.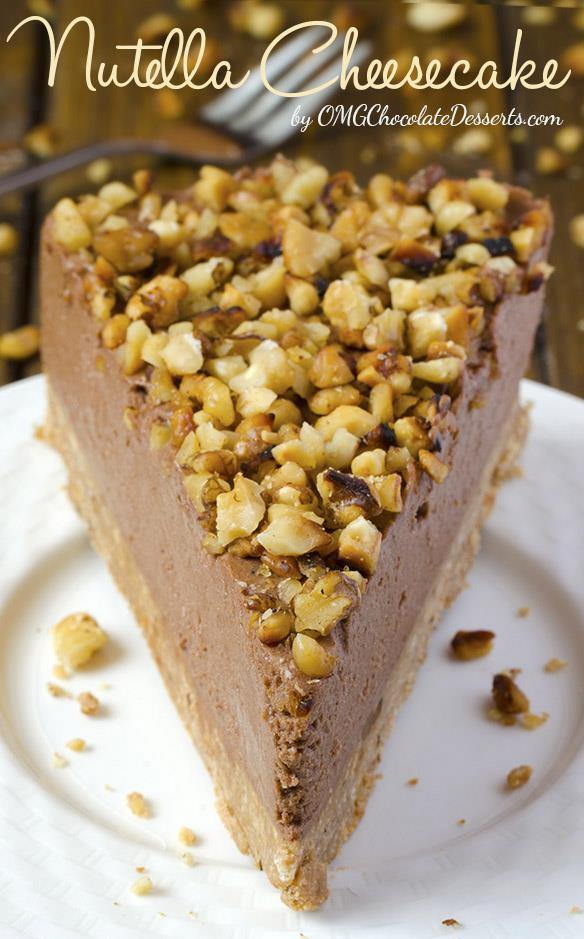 The only thing left to see is are all the needed ingredients there? Graham crackers, cream cheese, Nutella, hazelnuts! Everything was there, ready for action. And for the whole beautiful Nutella cheesecake, I needed about 30 minutes. Crust from ground Graham crackers, butter and a some nuts, after that, a beautiful layer of Nutella and cream cheese and over all that, a bunch of chopped nuts. In the blink of an eye, the cake was cooling down .
Of course, as usual, quickly, on the door of my kitchen there were the chocoholics, interested by the sounds of my kitchen.
"This time, you have no chance! You won't get a bite before the guests try the cake! And I'm very serious."
That was my "angry" message while the look in my eye confirmed that this time I was really, really serious.
And you can only imagine how it came out in the end! Nutella Cheesecake was really fantastic and my friends were really delighted by this quick dessert. Luckily there was a piece of two left for my son and husband, so their patience was this time rewarded with this great dessert.

Print
Nutella Cheesecake
---
Author:

Prep Time:

30 minutes

Total Time:

30 minutes

Category:

Dessert
Description
No-bake Nutella Cheesecake
---
Ingredients
10 oz

. graham crackers

5 Tablespoon

s softened butter (unsalted)

1

–

13

oz. jar Nutella (room temperature)

1

lb. cream cheese- softened

3/4 cup

powdered sugar

2 Tablespoon

cocoa

3

tespoon gelatin softened in 3 Tablespoon cool water

3/4 cup

toasted hazelnuts- chopped
---
Instructions
Place the ring of 8 inch springform pan at the plate and set aside.
In a small heat proof bowl dissolve gelatin in cool water and set aside.
In a food processor combine crushed graham crackers, 5 Tbsp. butter, 1 Tbsp. Nutella and pulse until it starts to clumps.
Add 3 Tbsp. hazelnuts and continue to pulse until it looks like a sandy mixture. (it should hold together if you squeeze it in your hand, but should not be too moist or sticky. If it seems too dry to form a solid crust add 1 Tbsp. butter and pulse again and if it's too sticky add more graham crackers).
Press the graham cracker mixture into a even layer inside the ring of springform pan and set in the fridge.
Over a double boiler melt dissolved gelatin until it's completely clear and free of lumps.
Beat cream cheese and powdered sugar until smooth, then add Nutella and continue beating until combined,add cocoa powder and mix to combine. Mix in melted and cooled gelatin.
Spread cream cheese and Nutella filling over the crust.
Sprinkle with chopped hazelnuts on top and set in the fridge for at least 5-6 hours or overnight.
Before serving run a thin warm and dry knife around the cake, unlock the ring of springform pan and gently take it off the cake.
Store in the fridge for a few days.