Triple Chocolate Mousse Cake Minis are rich and decadent layered dessert with brownie bottom, dark, milk and white chocolate mousse, topped with milk chocolate ganache and chocolate curls. Chocolate lovers dream come true!!!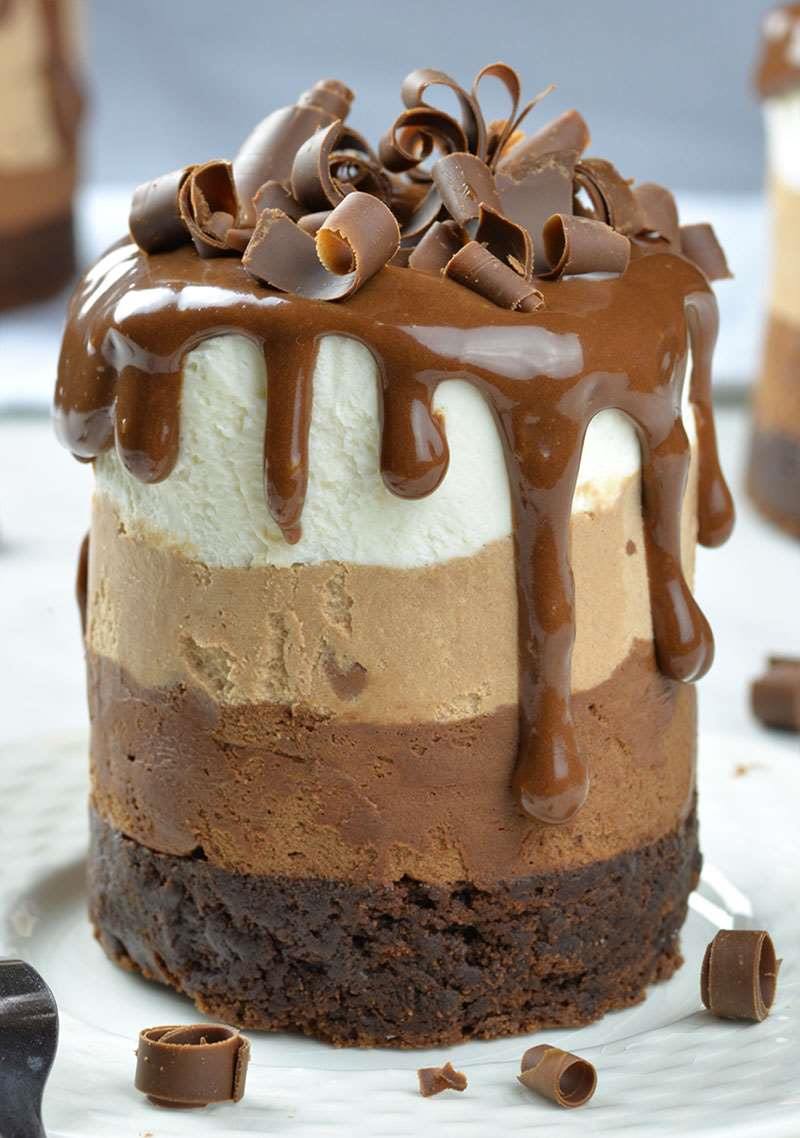 Triple Chocolate Mousse Cake Minis are the chocolate cake you've been dreaming of! 6 layers of chocolate!!! After all, there is never too much chocolate, right?! It's pure decadence in every single bite!!! If you're not into chocolate but are more of a vanilla person, check out this delicious custard cake recipe!
If you are not a true chocoholic then move on. But if you are, then you must try this Triple Chocolate Mousse Cake Minis!!!
To tell the truth, this is not quick, simple and easy chocolate cake recipe at all. It has too many steps, but it's totally worth it.
Actually, it's not that complicated to make the brownie base and the mousses. But it's really time consuming and requires a lot of skills to assemble each of these mini cakes.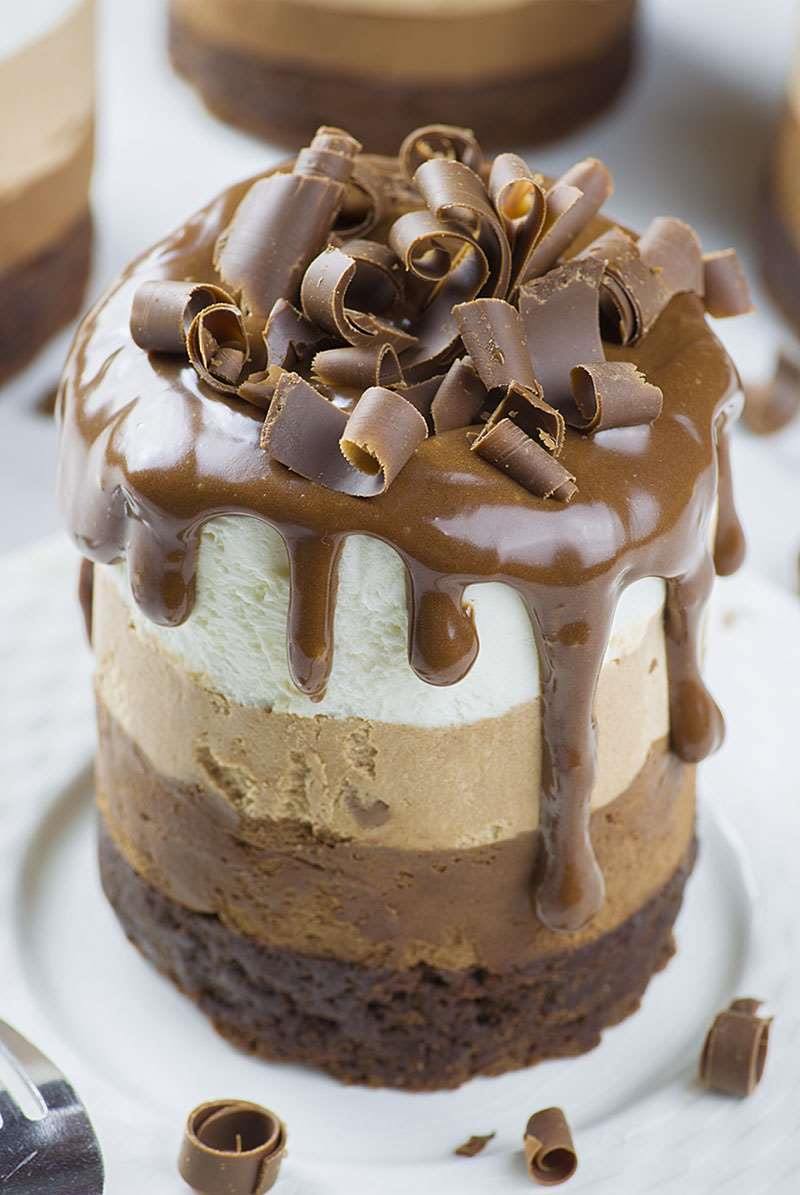 My biggest problem was the fact that I don't actually have the necessary equipment. This kind of a recipe requires ramekins and molds for mini mousse cakes and I don't have it. Again I did not want to buy them because my kitchen cabinets are already overcrowded. I really don't have space for more equipment.
Therefore I had to improvise using baking paper. Making collars of baking paper and sticking it with the tape, then piping the mousses inside wasn't as easy as I expected. After all, collars made of paper are not easy to work with as metal molds. So this was a huge challenge for me.
Also working with chocolate during the hot summer day is quite labor.  It's melting and sticking on your fingers…But I'll do anything for the love of chocolate!
More Recipes for Real Chocolate Lovers:
Triple Chocolate Cheesecake with  Oreo Crust
Chocolate Pound Cake With Chocolate Ganache

Triple Chocolate Mousse Cake Minis Recipe:
Print
Triple Chocolate Mousse Cake Minis
---
Description
Chocolate lovers dream come true!!!Triple Chocolate Mousse Cake Minis are rich and decadent layered dessert.
---
Ingredients
For Brownie Layer:
1/2 cup

unsalted butter

7 oz

. quality semi-sweet chocolate-chopped

¾ cup

granulated sugar

2

large eggs

1 teaspoon

vanilla

½ cup

+

2 Tablespoon

s flour

2 Tablespoon

s unsweetened cocoa powder

¼ teaspoon

salt
Chocolate Mousse:
1 2/3 cup

s chilled heavy whipping cream

5.5 oz

. dark chocolate-chopped in really small pieces

5.5 oz

. milk chocolate-chopped in really small pieces

5.5 oz

. white chocolate chopped in really small pieces

3

x ¾ teaspoon unflavored gelatin powder

3

x 1 tablespoon cool water

3

x ¼ cup heavy cream
For milk chocolate ganache:
4 oz

. milk chocolate- chopped

¼ cup

heavy cream
Block of semisweet baking chocolate to shave the curls.
---
Instructions
Preheat oven to 350 F, line the bottom and sides of 7 x 11 inch pan with aluminum foil or baking paper (leaving overhang on all sides so you could easily lift the brownies out of the pan), set aside.
In a medium sauce pan over low heat melt the chopped chocolate and butter, stirring constantly, until smooth. Remove from heat and add ¾ cup of granulated sugar into melted chocolate, whisk until combined. Cool for 10 minutes.
 Add eggs and vanilla and whisk well.
In a small bowl stir together flour, cocoa powder and salt. Gently fold dry ingredients mixture into chocolate mixture and pour into prepared pan (the batter will be thick). Smooth the top.
Bake 20-25 minutes until the toothpick inserted in the center comes out clean. Cool on a wire rack for 1 hour, then cover and refrigerate at least 2-3 hour.
Lift the brownies from the pan (with baking paper) and place on working surface. Using 2 ½ or 3 inch diameter circle cutter cut out 6 disks. Invert discs and arrange them on a tray lined with baking paper.
Cut six 4 x 10 inch rectangles of baking paper. Make the collar around each brownie disk and secure it with tape. Set aside.
To make the mousse, beat 1 2/3 cups heavy whipping cream until soft peaks form. Do not overbeat it. Divide beaten heavy cream into 3 equal portions and set aside.
To make dark chocolate mousse, place 5.5 oz. chopped dark chocolate into heatproof bowl.
Heat ¼ cup of heavy cream until simmer. Pour ¼ cup of simmering heavy cream over chocolate. Let it sit 1-2 minutes, then stir until the chocolate is completely melted and the mixture is smooth. If the chocolate won't melt completely re-heat the mixture on a low heat, and continue to stir until it's all melted. Set aside to cool. Chocolate mixture must be free of lumps and the temperature should be about 80 degrees F (in order to avoid that chocolate sets up, but if it's too hot, whipped cream will melt).
In a small dish soften 3/4 teaspoon of unflavored gelatin in 1 tablespoon cool water set aside for a few minutes. Heat softened gelatin on low heat, stirring to dissolve.
Add about half of the one portion of whipped cream to the chocolate and whisk gently until combine. Stir in melted gelatin. Then fold in the remaining of a portion of whipped cream (make sure to evenly incorporate all melted chocolate from the bottom of the bowl)
Transfer the mousse to a piping bag with a large round tip (or simply cut off the end of disposable piping bag) and pipe inside the collar over the each brownie bottom. Try to make this layer as even as you can. You can smooth the top with a spoon. Place in the fridge to set while making the next layer.
To make the Milk Chocolate Mousse repeat the steps from 9-13 using milk chocolate instead of dark.
To make the White Chocolate Mousse using white chocolate instead of dark repeat the steps from 9-13, too. But be careful, melted white chocolate must be completely cold and almost thick or it might separate when you add whipped cream.
Chill the cakes in the fridge for 4-5 hours, until completely firm. Remove the paper collars
To make milk chocolate ganache pour ¼ cup warm heavy cream over chopped milk chocolate and stir until completely melted. Set aside to cool then spoon over chilled cakes. Garnish with chocolate curls.