This Crescent Roll Peach Dumplings recipe is one of the best Southern food dessert recipes.
Another recipe without chocolate! Really distressing, but in a temperature of over 30 degrees, what do you have left except fruit? Well, all right, why not! So many beautiful fruit treats can be prepared, but things can get complicated when you have a restriction of using berries in the middle of the season. What kind of restriction, you must be asking yourself now?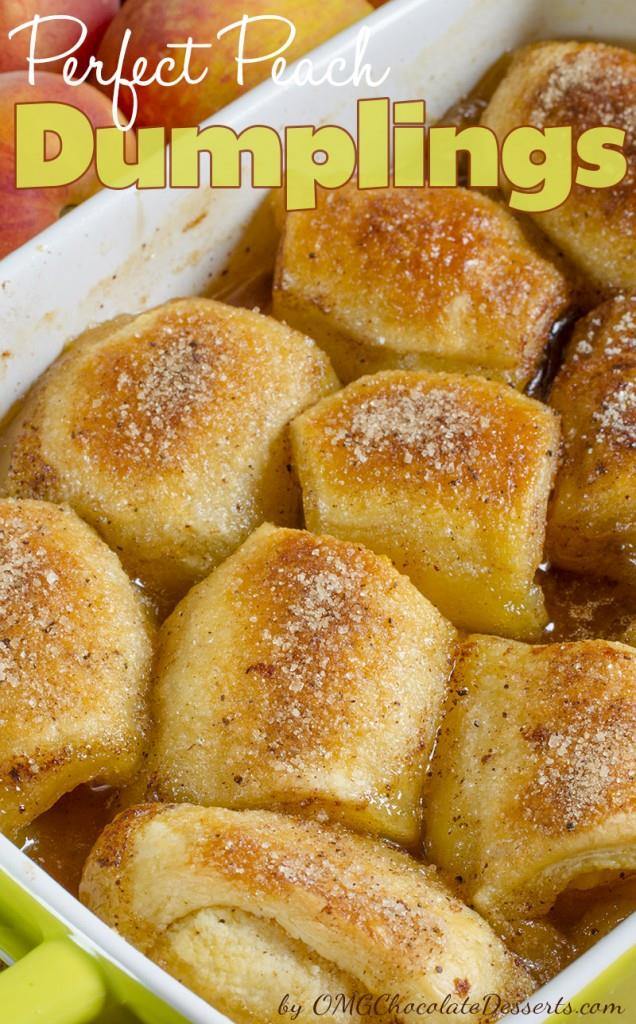 "Look at your blogs through the last few weeks and you will see that there is nothing except treats with berries. I think it's time for you to forget about berries, at least for two or three weeks!", was the answer of my husband, when I asked him what he thought about a beautiful strawberries cake for my new project.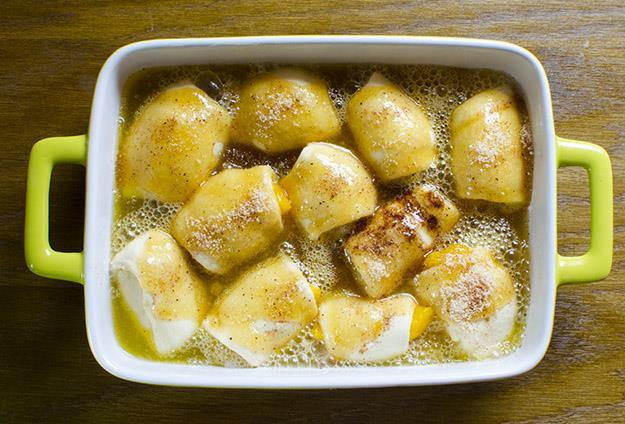 Hmmm, true! Of the last seven posts on my blog, six recipes were with strawberries, blueberries or raspberries. Maybe I got a little carried away. This time, I decided to make something that my husband really loves without berry.
And immediately, I remembered a recipe which, of all my treats, delighted my husband the most – Apple Dumplings. When I remember that after the dumplings, in all his eating enjoyment, Darko kissed me on the cheek, then it was completely clear that this was my final solution. But, of course, I had to make a change. Instead of apples, this time it will be Peach Dumplings since my kitchen was full of fresh peaches.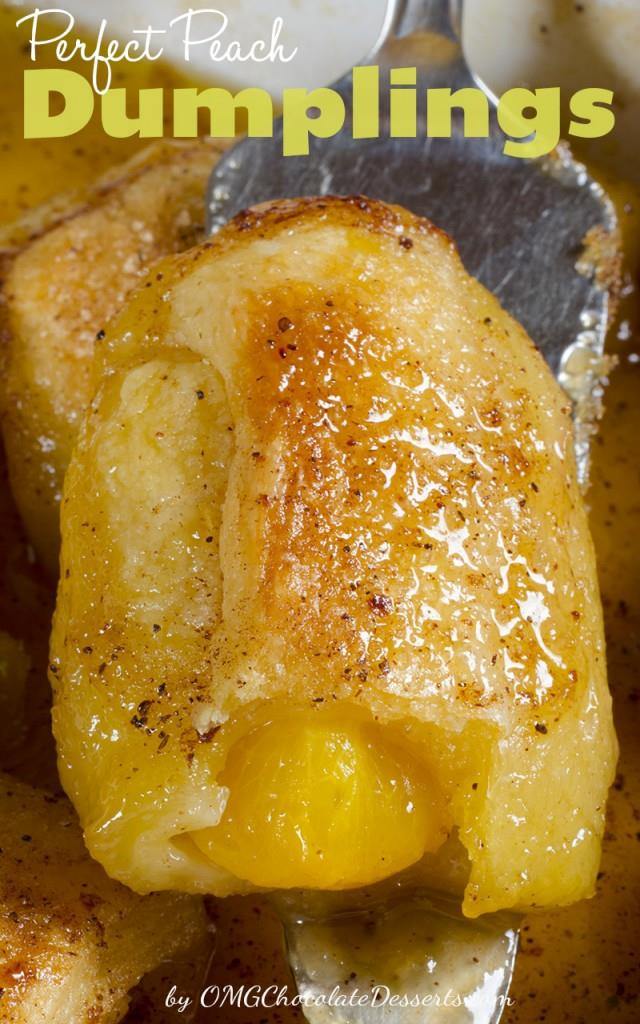 Of course, I would never repeat an older recipe, so my Peach Dumplings had to endure some changes. First, the shape won't be like crescent rolls, but a little different. Second, instead of the 7up soda, this time I will use Fanta. And that is that.
And so, after about 30 minutes, on the tables were Peach Dumplings and the smell which was spreading immediately attracted my husband!
"Wooow, Dumplings! Vera, you are the queen". He was delighted and just couldn't wait for the dumplings to cool off.
"Well, this is great. But…these aren't apples!" concluded my gourmand!
"Of course they aren't. It's peaches"
"Never mind, it looks to me like they are more tasty then the last ones" concluded Darko literally drowning in the dumplings.
"And do you remember what you did the first time you tried them?" I was joking around with Darko.
"Well of course I do" answered my husband and kissed me first on one and then on the other cheek, so I had peach all over my face (it was probably intentional ).
"It's not my fault that you are the master of dumplings", he was laughing while I was whipping my cheeks.
Craving for more peach desserts?! Check these delicious recipes:
There are three reasons why this fantastic Peach Cobbler can become one of your favorite recipes – it's super tasty, super simple and super economic. You don't believe me? Try it and tell me if I was right!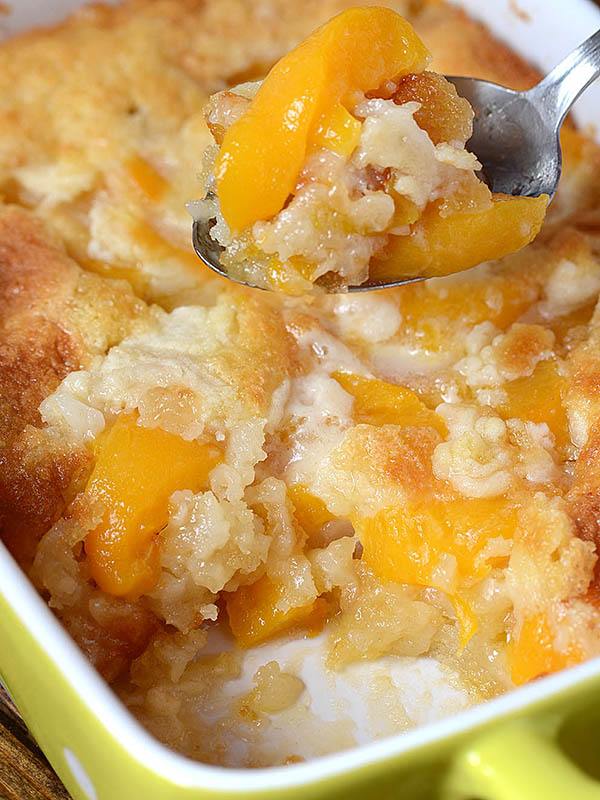 Peaches and Cream Pie is delicious, refreshing summertime dessert. This easy recipe calls for canned peaches, so you can enjoy it any time of year.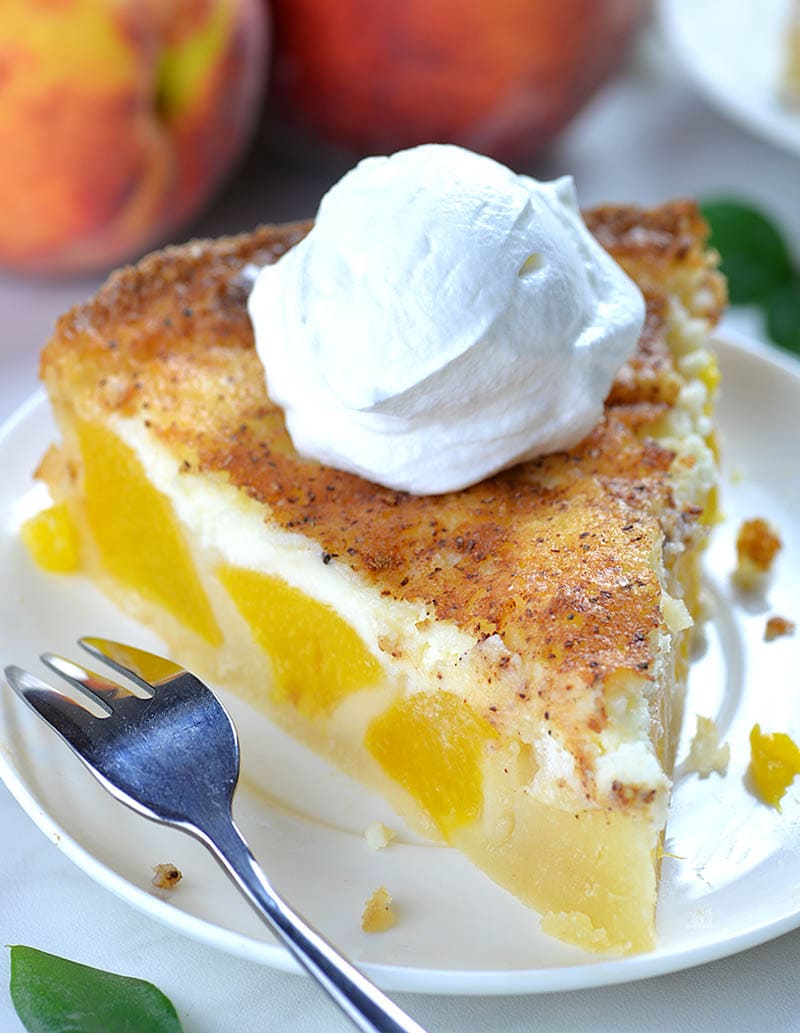 Caramel Crumble Peach Pie – homemade buttery crust packed with sweet juicy peaches and salted caramel sauce, topped with brown sugar cinnamon crumbs. Super easy, crowd-pleaser summer dessert.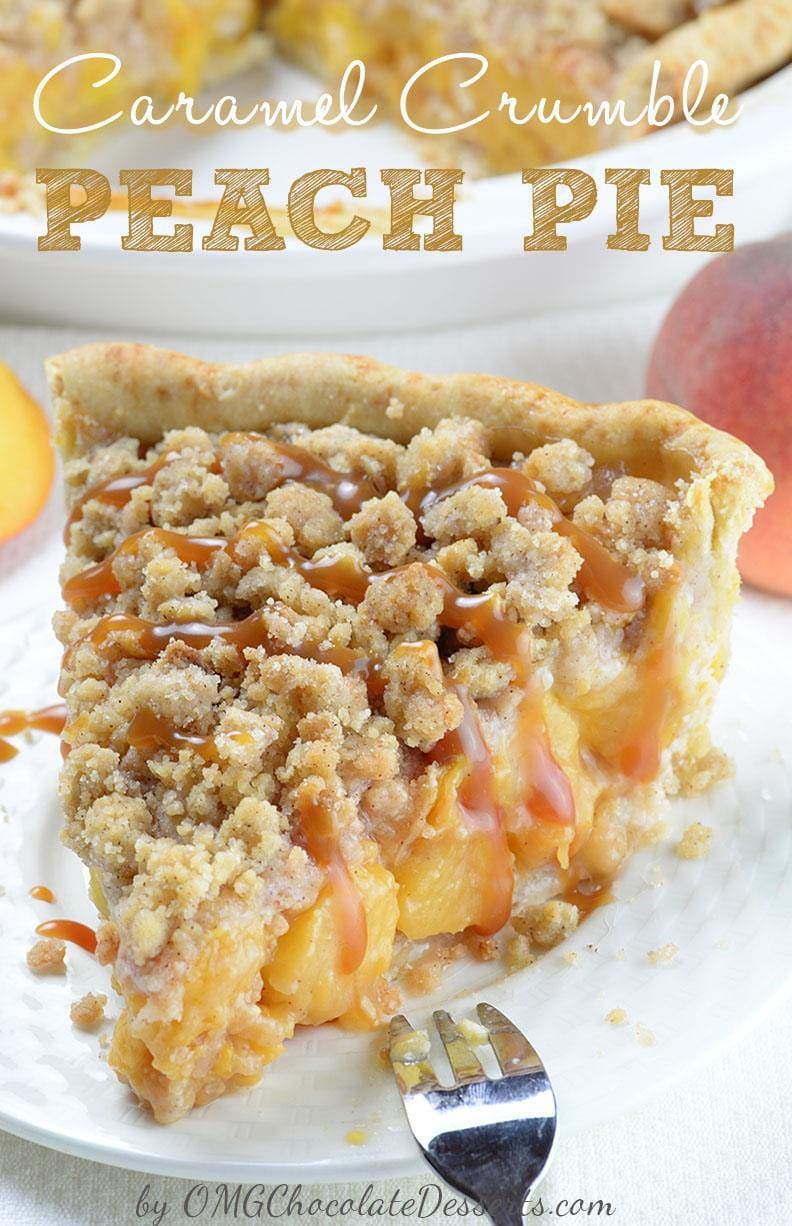 Pin Peach Dumplings image for later:

Print
Peach Dumplings
---
Author:

Prep Time:

15 minutes

Cook Time:

35 minutes

Total Time:

50 minutes

Yield:

12

1

x
Category:

Dessert
Description
This Crescent Roll Peach Dumplings recipe is one of the Southern food dessert recipes.
---
Ingredients
1 1/2

(8 ounce) cans crescent rolls

1

stick unsalted butter

3/4 cup

s brown sugar

1 teaspoon

s vanilla

1

–

2

teaspoon cinnamon

1 teaspoon

lemon juice

1 cup

orange soda

2

–

3

fresh peaches
---
Instructions
Butter 8×8 inch baking dish.
Preheat the oven at 350 F.
Peel peaches and cut each into 4-6 slices (smaller peaches you can cut in 4 slices and larger in 6)
Roll each peach slice in a crescent roll and place in a buttered dish.
Melt butter, stir in brown sugar, cinnamon, lemon juice and vanilla, when it's thickened, remove from heat and pour over the dumplings.
Pour the soda in the middle and along the edges of a pan (not over the rolls)
Bake for 30-40 minutes, or until they become golden brown.
You can sprinkle more cinnamon-sugar on top of the baked dumplings if you like.
Serve warm.