I don't know if you have read my post about White Chocolate Strawberry Cupcakes in which I talked about how I was tired of pumpkin recipes which become sooo abundant when the autumn comes! Well, now the time has come to say sorry to the poor pumpkins 🙂

I want to make peace with them now! The reason is the irresistible Pumpkin Pie Cupcakes which I ran into by chance watching my favorite boards on Pinterest. You can only imagine how much I liked this wonderful desert when, after 15 recipes with chocolate on my blog, I decided to make something without a trace of chocolate.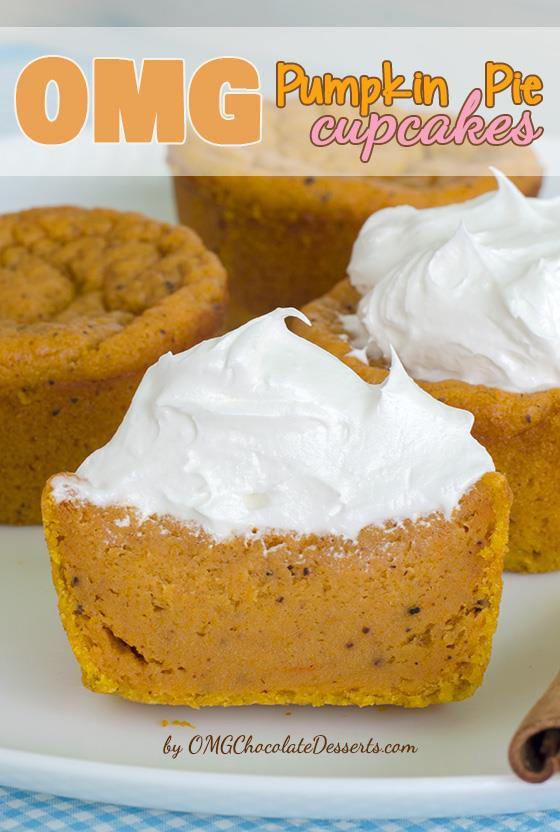 And as if it was by destiny, mu mother brought me a beautiful pumpkin which was surplus to her and she didn't know what to do with it. And so, my first autumn pumpkin adventure began!
But, it was almost over very quickly, since preparing the pumpkin took too long, and that day, I was not really in the mood of spending the whole day in the kitchen. After all, when the smell of pumpkin began spreading, it was immediately clear that Pumpkin Pie Cupcakes would be on the table very soon.
And so, following the instructions of this recipe, of course, with a couple of compromises, beautiful, golden Cupcakes were on the table and the irresistible smell was spreading everywhere. But the price of this delicious desert was paid by my poor tongue, since I did not have the patience to wait for the Cupcakes to cool off. To tell you the truth, it was worth it!
In the end, to finish the whole thing off, I prepared cream and put it on my beautiful cups. Beautiful! It's no wonder that the original name for this desert is "Irresistible Pumpkin Pie Cupcakes". And you can imagine how I named mine! Well, of course, OMG Pumpkin Pie Cupcakes!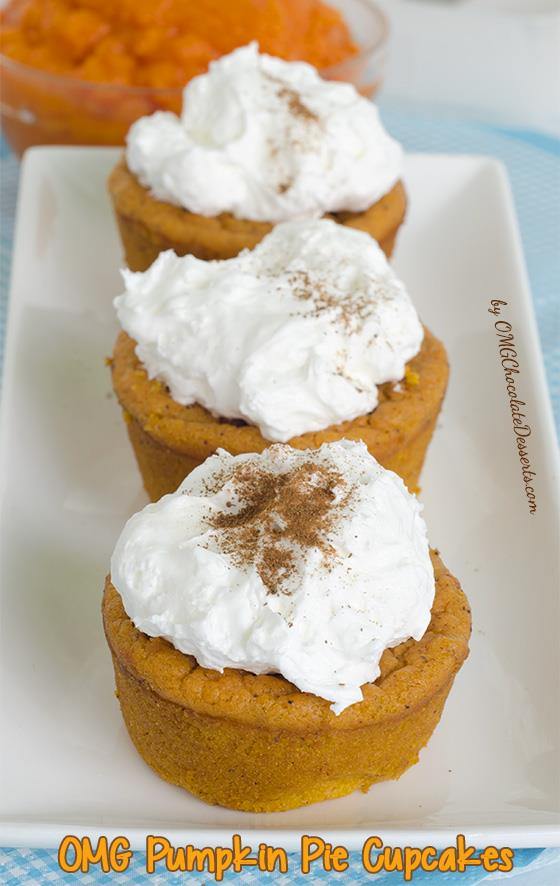 OMG Pumpkin Pie Cupcakes Recipe
OMGChocolateDesserts.com
OMG Pumpkin Pie Cupcakes
Individual portions of traditional pumpkin pie with great combination of texture and yummy pumpkin and spice flavor.
Ingredients
15 oz pumpkin puree
3/4 cup sugar
2 eggs
1 tsp vanilla
3/4 cup evaporated milk
2/3 cup flour
1/4 tsp salt
1/4 tsp baking soda
1/4 tsp baking powder
2 tsp pumpkin spice
Whipped cream
Instructions
Preheat the oven to 350 F.
Grease 12 cup cupcake pan.
In a bowl stir together flour, pumpkin spice, salt, baking powder and baking soda.
Mix the pumpkin puree with sugar, eggs, vanilla and evaporated milk
Add dry ingredients in the mixture and mix until it's evenly combine.
Fill the pan with 1/3 cup of the mixture in each cup.
Bake for 20 minutes.
Let the cupcakes cool in the pan for 20 minutes than remove them from the pan and let them cool completely. Store them in the fridge.
Top the cupcakes with whipped cream and dusted with cinnamon or pumpkin pie spice on top before serving.
7.6.5
157
https://omgchocolatedesserts.com/omg-pumpkin-pie-cupcakes/
Show All Comments
Close All Comments