Homemade Chocolate Banana Bread is the best way to start your day. It makes a delicious breakfast, snack or even dessert! This comforting banana bread is a fool-proof feel good recipe.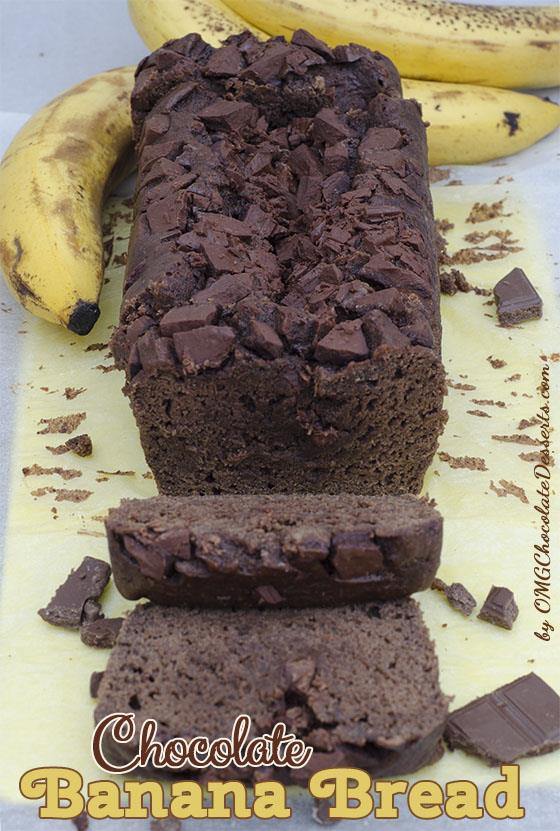 Chocolate Banana Bread
What is your favorite breakfast? In my home, it is starting to become a problem. My husband always insists on meals full of calories. He cannot start a day without ham or bacon, fried eggs, bread and similar "sweetmeats".
On the other hand, my baby son, who is a little spoilt, does not even want to look at the things his father loves. He loves his oatmeal and chocolate mashes, and sometimes makes an exception in the shape of a croissant with Nutella or jam. The third side is, of course, myself, and I prefer neither of the things that my son and husband like so much. And of course, that is the reason our breakfast often looks like a marketplace.
Looking through Pinterest boards, I found a few interesting recipes for Banana Bread! They looked unbelievably good and reading comments on blogs, I came to the decision that they must be very delicious too! "Maybe it would not be such a bad idea for a Sunday breakfast", I hoped! And so, with a combination of a few exceptional recipes, I began the improvisation. Of course, I thought that a little chocolate must make things even better! But, as usual with me, a "little" chocolate always becomes "a lot"! So, for a start, I wanted to put the chocolate just into the batter, but before baking, I decided to cover the whole bread with a pile of chocolate chunks hoping that everything will come to a "happy end". And here are the results…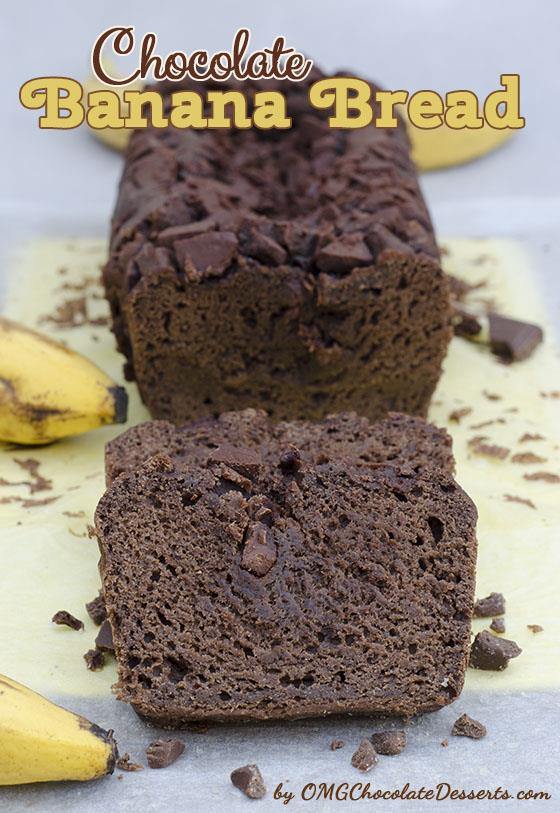 Really, at first site, it looked tempting. But, how will my housemates like this? My husband, who in general does not prefer a sweet breakfast, became a little interested. The bread smelled wonderful and the pile of chocolate on top looked great too. "Yummy, it's really good", was Darko's verdict after the first bite. "I can continue with this, but I have to eat something salty first", he said. "Well, not so bad", I thought, "but let's see the second part of the test now." I put a slice in front of Marko. Of course, it looked interesting to him too, but for making the plate as dirty as possible J After playing with the brad and chocolate chunks at the table, he pushed the bread away, look at me oddly, like he was asking for some "real" food.
And so, our usual "breakfast market" has one more member! A beautiful Chocolate Banana Bread. Maybe not everybody was jumping for joy, but Chocolate Banana Bread has a new true fan. It was "love at first bite" and I came to the conclusion that this is an ideal breakfast for me.  And if you are a fan of these kinds of breads, I recommend it sincerely.
Print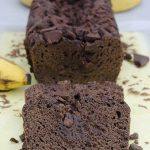 Chocolate Banana Bread
---
Author:

Prep Time:

15 minutes

Cook Time:

50 minutes

Total Time:

1 hour 5 minutes

Category:

Dessert

Method:

Oven

Cuisine:

American
Description
Homemade Chocolate Banana Bread is the best way to start your day. It makes a delicious breakfast, snack or even dessert! This comforting banana bread is a fool-proof feel good recipe.
---
Ingredients
3

medium bananas-mashed (about

1 1/2 cup

)

1/2 cup

Greek yogurt

2

eggs

1/2 cup

sugar

1 tsp

vanilla

1

stick butter-melted

1 1/2 cup

flour

1/4 cup

cocoa

1 tsp

cinnamon (optional)

1 tsp

baking soda

1/4 tsp

salt

3

,5 oz chopped chocolate for garnish
---
Instructions
Preheat the oven at 350 F.
Grease and dust with flour 9×5 inch loaf pan and set aside.
In a bowl stir together flour,cocoa, baking soda and salt.
Blend together bananas,Greek yogurt,cinnamon and vanilla.
Lightly beat the eggs and sugar, add banana mixture, melted butter and mix well.
Mix in dry ingredients until it's evenly combine (do not over beat it).
Pour the batter into prepared pan and scatter chopped chocolate on top, than place it in the oven.
Bake for 45-50 minutes, or until a toothpick inserted into the center comes out clean.
Leave the bread in the pan to cool for 15 minutes, then transfer it from the pan on a wire rack and let it cool completely.