Ferrero Rocher Cupcakes are delicious chocolate cupcakes stuffed with Ferrero Rocher candy and topped with decadent Nutella frosting.
If you have seen the photo of this beautiful Ferrero Rocher Cupcakes , then you have surely wanted to see the instructions how to prepare these divine chocolate treats. Of course! But, before you find the instructions, what you will find is the ultimateguide how to keep at least half of these beautiful cupcakes from potential attacks during their preparation 🙂 At least for me, that was a very big problem while I was preparing this fantastic dessert a few days ago, a bigger problem than the preparation itself.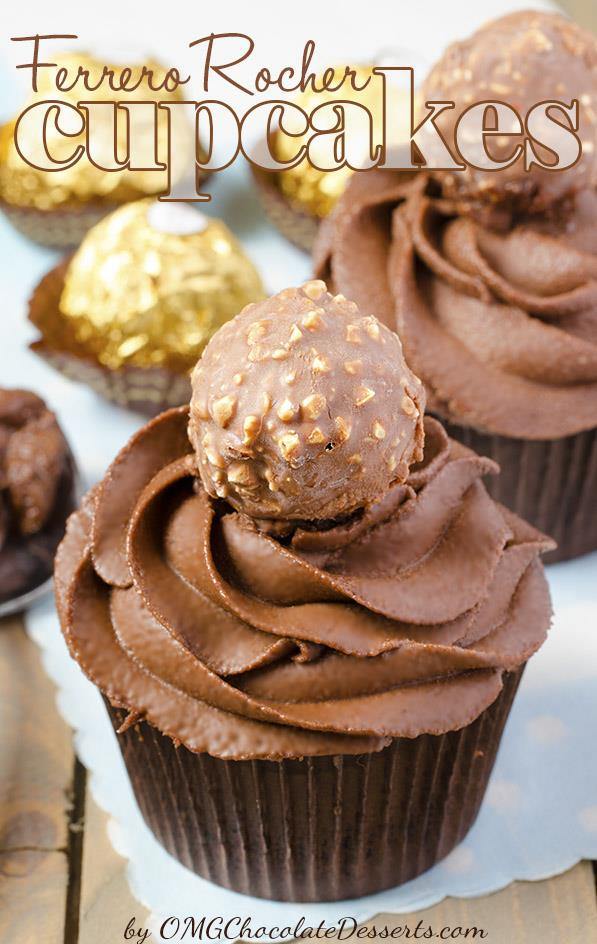 OK, let me make the situation a little clearer! If you have already read some of my chocolate posts,  you know that during the preparation of anything with chocolate (for instance), two big dangers lurk in my kitchen: my little son who loves different truffles more because of playing with them than eating, and my husband, who is a real Tasmanian Devil when something with chocolate is in front of him.
This time the danger was triple because Ferrero Rocher balls were supposed to be saved (I really don't know a person who doesn't love them) and after that beautiful Chocolate Nutella Frosting, and in the end, the finished Ferrero Rocher Cupcakes should stand at least a little while in the fridge.
I will be completely honest and admit that I had no success in any of the tasks, but for all of you who will dare to try, here are 3 very useful advices (steps).
3 steps to keep the ingredients for Fererro Rocher Cupcakes 🙂
1. How to get yourself enough Fererro Rocher balls for the cupcakes? – The only way is to buy much more than you really need. In my case, just a few moments of loosing concentration were enough for a few balls to disappear in the play of my son and the mouth of my carnivorous husband 🙂 So you can't leave anything to chance, just buy more Fererro Rocher balls.
2. How to have enough Nutella Frosting for the cupcakes?  – Very simple. Like in the preceding case, make half a measure of frosting more and offer it to the carnivores with the spoons in their hands. If you try to save your exact measure you will find yourself in a battle you have no chance to win, so better make the concessions now .
3. How to keep the finshed Fererro Rocher cupcakes and leave them for some time in the fridge to get cold? – In this case, there are two solutions! You may stand for some 30 minutes by the fridge and fight the attacking chocoholics or you may sacrifice two cupcakes and give them immediately to the attackers. In that way, you give yourself some breathing space .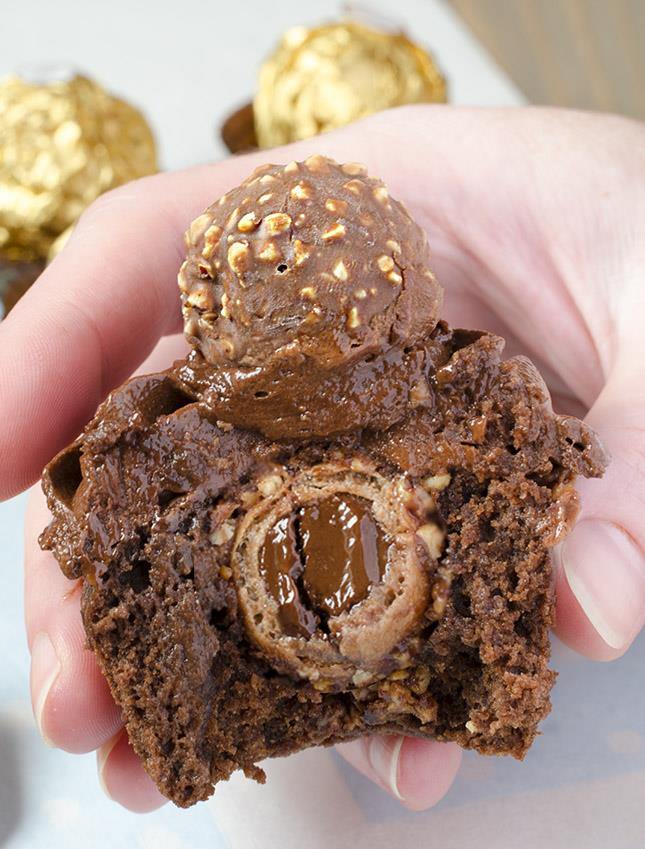 And that's it. Now that you are ready for the whole process of preparatiton of Fererro Rocher Cupcakes , the time has come to offer you the instructions . And these photos will tell you that they are worth the effort. More than a thousand words 🙂 ENJOY!!!
Print
Ferrero Rocher Cupcakes
---
Author:

Prep Time:

30 minutes

Cook Time:

20 minutes

Total Time:

50 minutes

Yield:

12

1

x
Category:

Dessert
Ingredients
For Chocolate Cupcakes:
1 cup

all-purpose flour

3/4 cup

sugar

1 teaspoon

baking powder

1/2 teaspoon

salt

1/2 cup

cocoa powder

3/4 cup

s vegetable oil

1/2 cup

buttermilk

1

egg

1 teaspoon

vanilla extract

12

Ferrero Rocher (frozen)
For Chocolate Nutella Frosting:
1 cup

powdered sugar

1/2 cup

unsalted butter

1/4 cup

cream cheese

1/3 cup

Nutella

4 oz

semisweet baking chocolate

2 Tablespoon

cocoa powder
pinch of salt

1/2

tespoon vanilla
For Garnish:
---
Instructions
Preheat the oven to 350 degrees F, and line standard cupcake pan with paper liners.
In a large bowl whisk together flour, sugar, cocoa, baking powder and salt.
With electric mixer beat together oil, egg, buttermilk and vanilla extract on medium speed until well combined.
Add dry ingredients and mix well to combine.
Cupcake liners should be about 2/3 full. First add about 1 tablespoon of the batter, then place unwrapped (frozen) Ferrero Rocher in each cup and add remaining batter.
Bake until a toothpick inserted in cupcake comes out clean (it takes about 16-20 minutes)
Wait the cupcakes to cool completely before icing
To make the frosting melt 4 oz chocolate and let it cool to a room temperature.
Beat the butter and sugar until it's light and fluffy, then add cream cheese and mix well.
Add vanilla, salt, Nutella,cocoa and melted chocolate and mix it well to combine evenly.
Set the frosting in the fridge for 15 minutes to set, then frost the cupcakes and garnish with Ferrero Rocher.
Store in the fridge until serving.