Whether for Valentine's Day or for when you just want to show someone how much you care, these adorable Easy Cream Cheese Danish Valentine's Hearts are perfect breakfast idea.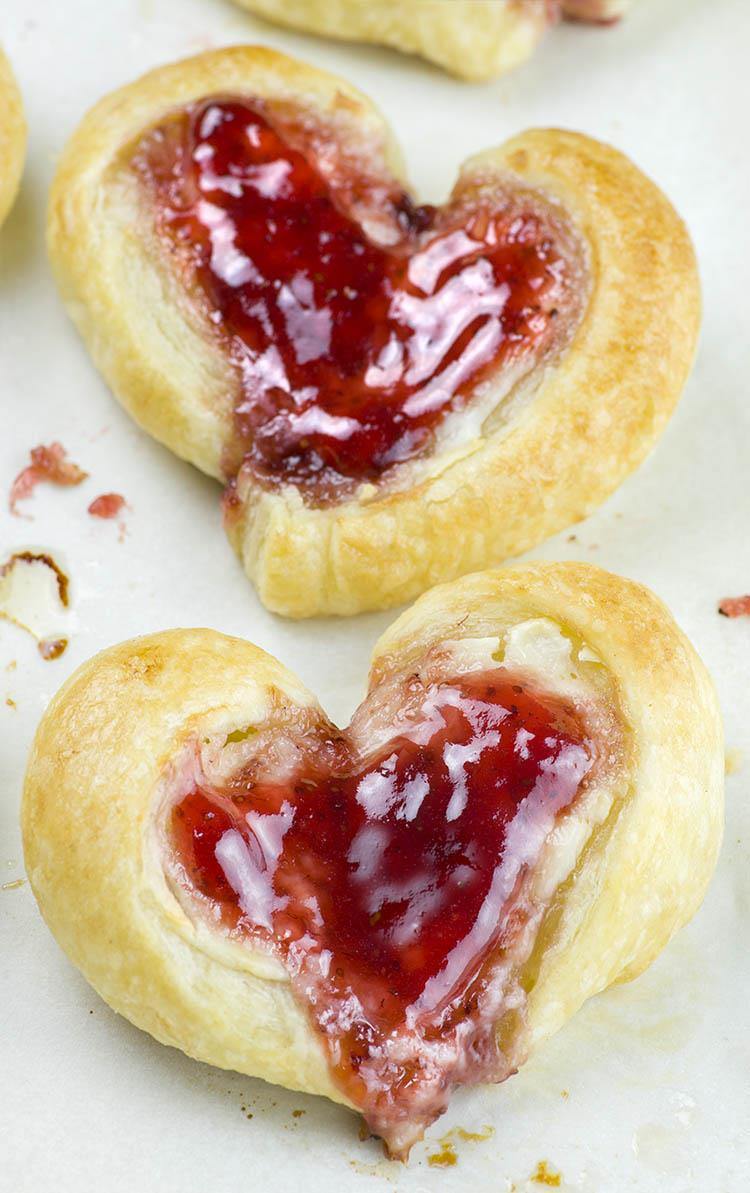 A touch of love for the first and the most important meal of the day is the perfect way to show your love and affection.
Speaking of that, are you looking for easy Valentine's Day breakfast recipes? Valentine's Day happens to fall on a Tuesday this year. Since workday mornings is usually busy, it can be really challenging to make homemade baked goods.
But this Cream Cheese Danish recipe doesn't call "EASY" for no reason. You can have a batch of Easy Cream Cheese Danish Valentines Hearts ready for breakfast in half an hour.

MY LATEST VIDEOS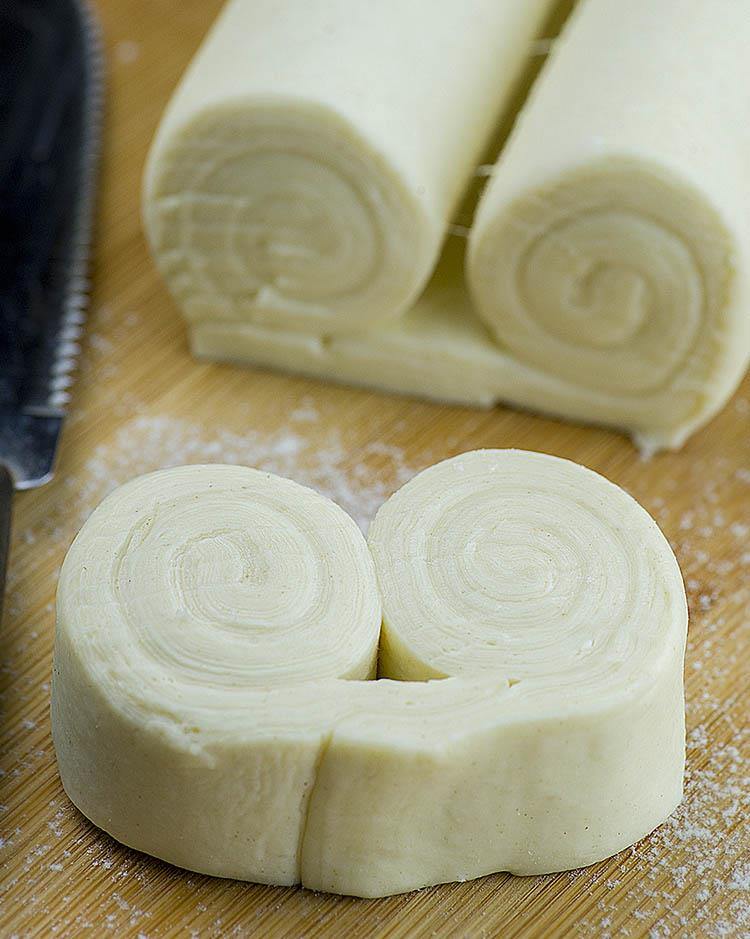 The recipe starts with a can of refrigerated crescent dough sheet or a can of refrigerated crescent dinner rolls. Whatever you have on hand, any of these two will work just fine.
Following the instructions and photos I'm sure you'll have no problem to transform the slice of the dough into heart shape. When you do this, half of the work is done.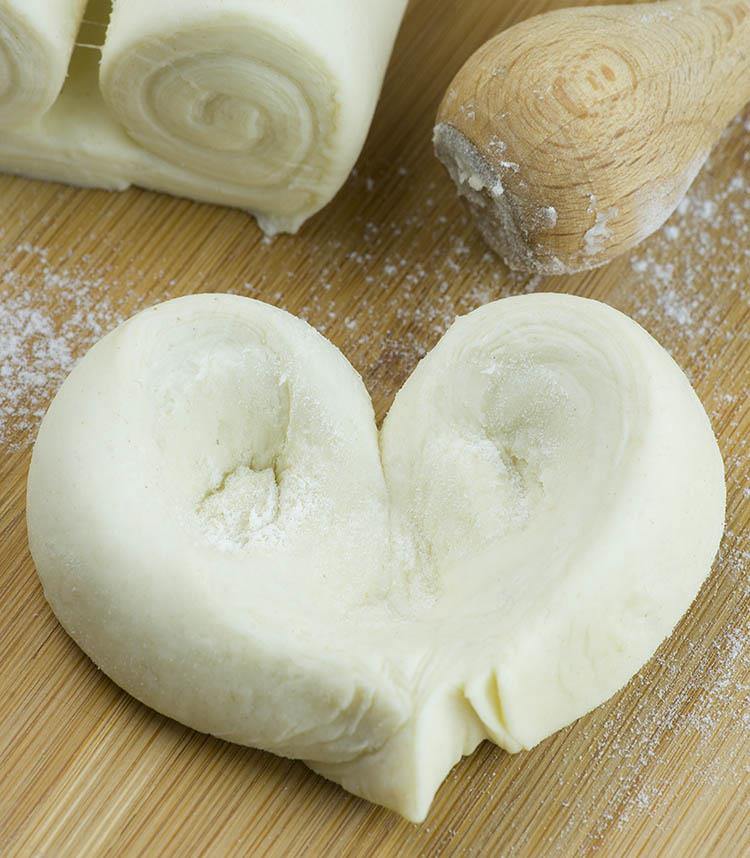 Filling is really easy. It's just simple mixture of cream cheese and sugar. You can add a few drops of vanilla extract, but it's optional. Spoon it onto heart shaped dough, spread strawberry jam on top and your heart shaped Danish are ready for baking.
Oh yes, I forgot one extra step and it makes this Easy Cream Cheese Danish Valentines Hearts really buttery and tasty. Before baking, brush the dough with the mixture of melted butter and brown sugar. It gives really extra flavor to this pastry.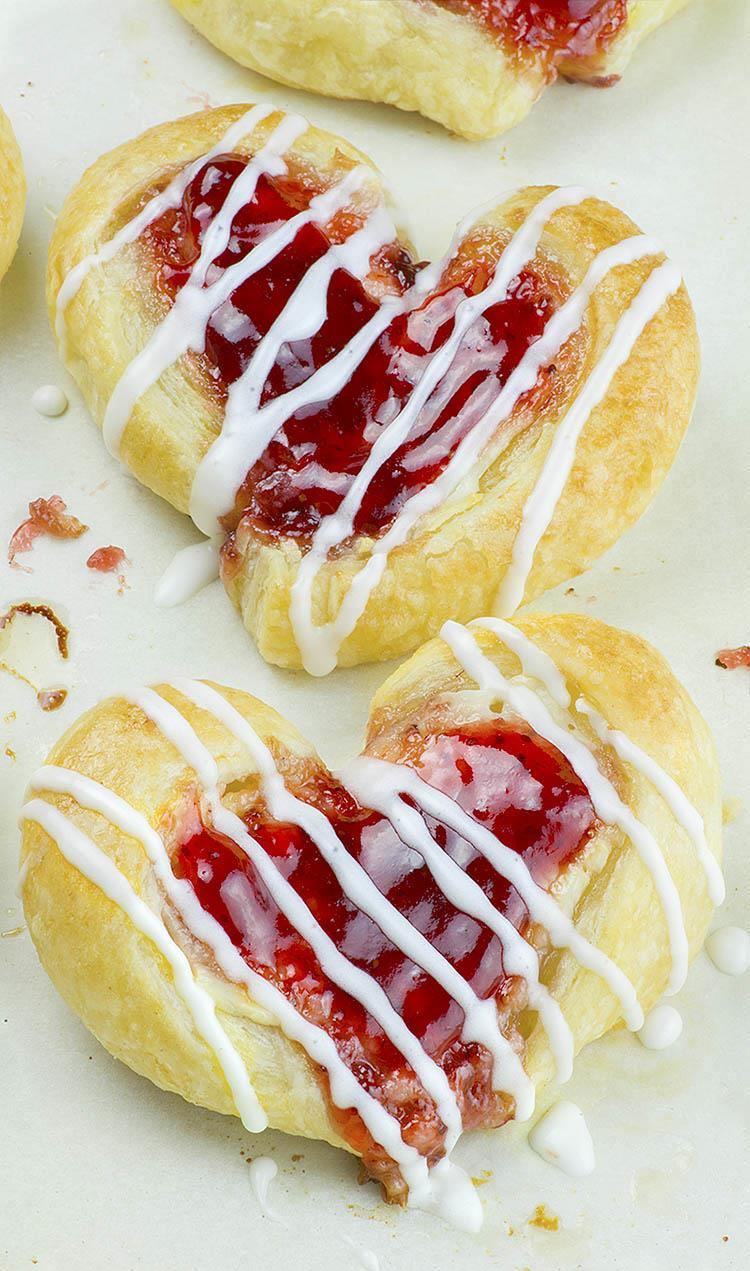 You can drizzle baked Danish hearts with sugar glaze, but they are sweet and tasty enough even without the glaze. I personally prefer them without the sugar glaze on top.
To make a long story short, these Easy Cream Cheese Danish Valentines Hearts look adorable. But they are incredibly tasty, too. They are perfect Valentine's Day breakfast idea.
Serving someone breakfast in bed is about as romantic as it gets. There's no better way to say "I love you' than by treating your loved one with a special Valentine's breakfast!
If you want more heart shaped treats, check these : Ding Dong Valentine's Heart, Oreo Truffles Valentine's Hearts or Chocolate Chip Cookie Dough Hearts.

Print
Easy Cream Cheese Danish
---
Author:

Prep Time:

15 minutes

Cook Time:

18 minutes

Total Time:

33 minutes

Yield:

10-12
Description
These adorable Easy Cream Cheese Danish Valentine's Hearts are perfect Valentines breakfast idea.
---
Ingredients
8 oz. can of refrigerated crescent dough sheet or 1 (8 oz.) can of refrigerated crescent dinner rolls
1 ½ tablespoons melted butter
1 ½ tablespoons light brown sugar
For the filling:
¼ cup powdered sugar
½ teaspoon vanilla-optional
4 oz. softened cream cheese
¼ cup strawberry jam
For the Glaze:
1/3 cup powdered sugar
1-2 teaspoons milk or cream
---
Instructions
Preheat the oven to 350 F and line large baking sheet with parchment paper, set aside.
To make the filling mix softened cream cheese with ¼ cup powdered sugar and vanilla. Set aside.
Stir brown sugar and melted butter until sugar dissolves, set aside.
Open the can of crescent dough and unroll it barely over half. If using crescent dinner rolls, pinch the perforation to seal. Roll it in the opposite direction towards the middle (as shown on the picture above).
Using serrated knife cut the slices about ¾ inch thick. Pinch and pull middle of slice down to make a point, forming heart shape. Arrange them onto baking sheet leaving 2 inch space apart.
Press the center of each heart to make deep indentation in center of each roll. Indentation should be in shape of the heart, too.
Spread the cream cheese mixture in the indentation. 1 heaping teaspoon of filling per heart should be enough.
Spread strawberry jam over cream cheese. Top each with 1 teaspoon of jam or however much it can hold.
Brush the edges of each heart (around the filling) with the melted butter and brown sugar mixture.
Bake 16-18 minutes or until the edges are golden brown.
To make the glaze stir ¼ cup powdered sugar and milk. Start with 1 teaspoon milk and add more if needed to get desired consistency. Drizzle the hearts and serve.