Ding Dong Valentine's Chocolate Hearts are a delicious, fun and festive Valentine's Day treat! Show your loved ones that they make your life sweeter with this easy recipe!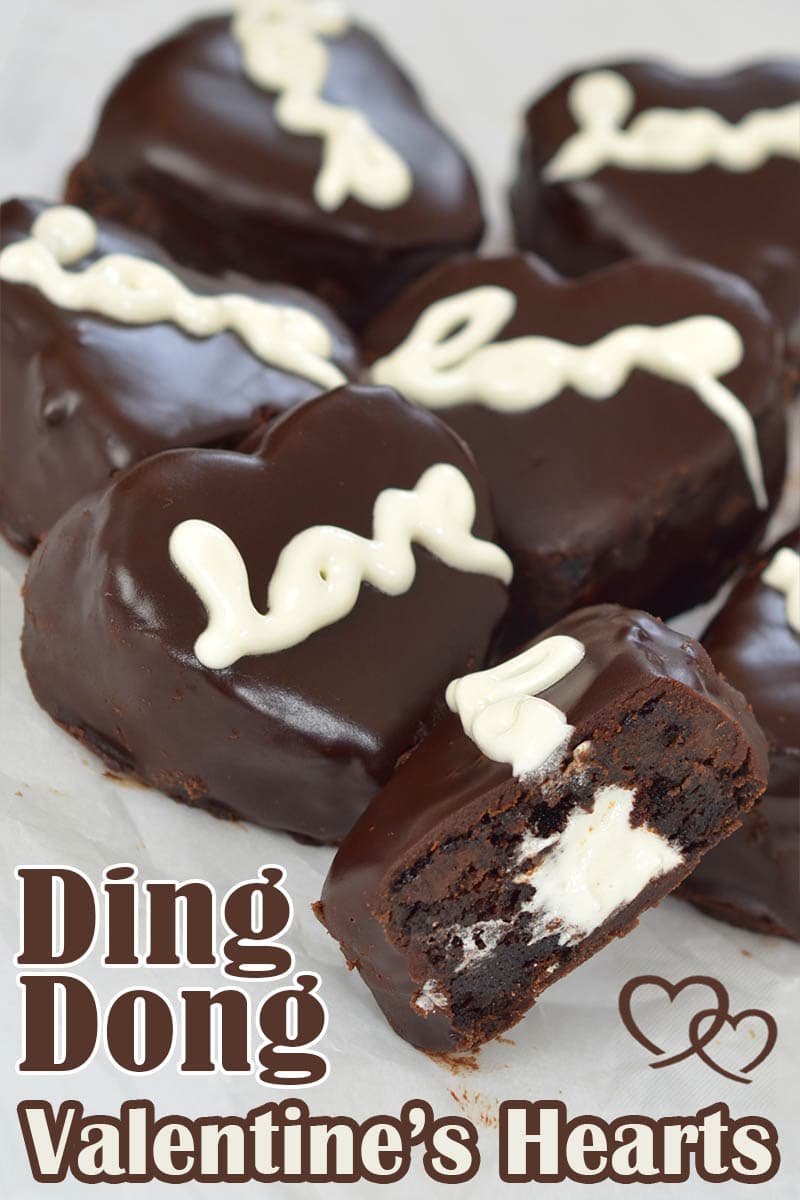 If you are a food blogger, as soon as the calendar turns to February, everything is clear – it's time for Valentine's day dessert! I have to admit that, in recent years, for me, sometimes it was a real nightmare! Usually, in days like that, you get hundreds of beautiful Valentine's recipes! In the blink of an eye, my bookmark is full of sweet little things that complicate my life for days!
Hmm, these cookies are really beautiful! That is it!", I would think to myself, and as soon as I (almost) made the decision, here come the beautiful red velvet cupcakes! And while the fight between these two deserts was raging, suddenly I saw a beautiful photo of a third dessert and that got me back to the beginning. And so long and so forth…
But this year, "gods of baking"  were on my side :). In the middle of January on Pinterest, I found a beautiful recipe for Cream Filled Chocolate Heart-Shaped Cakes and I knew that was "it". These small chocolate hearts looked so sweet that there was simply no need for any further research. And when I saw that the whole Valentines Chocolate Hearts recipe is a version of the "Ding Dong" cake that we all just love, things were crystal clear.
And so, a few days ago, I found my old cookie cutter in the shape of a heart and full of enthusiasm, started making my Valentines chocolate hearts. And everything started off just fine, until the moment I was supposed to pour chocolate icing on the small hearts. My "gods of sweets" turned their backs on me and even though I did everything as it was written in the recipe, the icing was so thick that there was no chance the hearts would be perfectly smooth and beautiful. On the contrary, they looked so unsmooth that I felt sad looking at them.
"Maybe you should make a sacrifice for your "baking gods" said my husband, obviously making fun of me. "OK, I will be the victim and I will eat some of your unsucessful hearts", said Darko while laughing out loud and munching one of my cookies. I decided to try once more with icing, but to increase the temperature in which I will melt the chocolate! Bingo! The chocolate was now thinner and I was beginning to get perfect little hearts!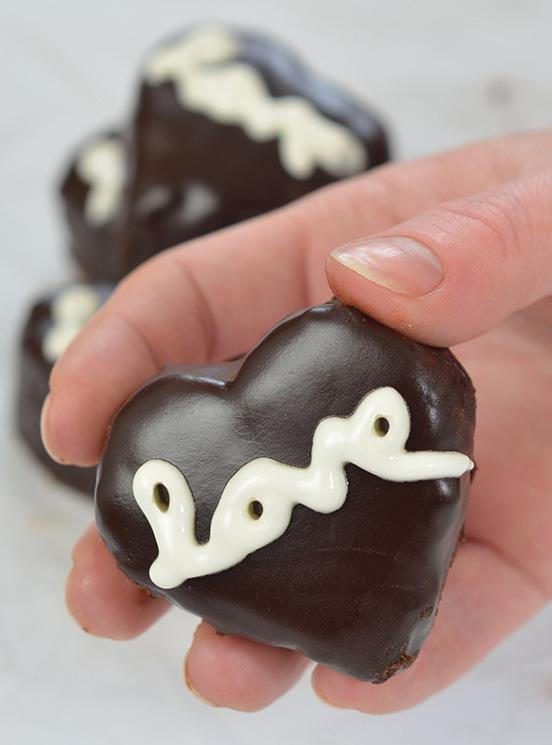 But, soon I had a new problem. I had one last bag with which I was supposed to make the word "love" with a 7 minute meringue frosting over the chocolate, and I cut it just a little thicker than I was supposed to. And so, the word "love", which was supposed to be tiny but clear, was like a white stain over my perfect Valentines chocolate hearts!
"I told you I should have sacrificed a few more hearts, but you drove me out of the kitchen", said my husband in his usual frivolous way, while I was desperate in my troubles. But, life goes on. There was no going back and in the end, I decided to make a few photos of my Valentine's recipe for this year.
All in all, it was not as bad as it looked in the first moment. But, whatever the look of chocolate hearts was, the taste was great! Well, if you ever tried Ding Dong cake or Hostess Cupcakes, then you know what a treat this is.
And another problem was that my husband ate all of the hearts very quickly so I was out of Valentine dessert.
"Don't worry", he consoled me. "At least we have sacrificed so much cakes to your "baking gods" that your next recipe will definitely be absolutely perfect." 🙂
Print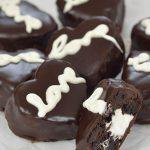 Ding Dong Valentines Chocolate Hearts
---
Author:

Prep Time:

30 minutes

Cook Time:

35 minutes

Total Time:

65 minutes

Yield:

8

hearts

1

x
Category:

Dessert

Method:

Oven

Cuisine:

American
Description
Ding Dong Valentine's Chocolate Hearts are a delicious, fun and festive Valentine's Day treat! Show your loved ones that they make your life sweeter with this easy recipe!
---
Ingredients
For the cake:
1 ounces

semi-sweet chocolate, chopped

1/2 cup

hot, brewed coffee

3/4 cup

all-purpose flour

1/2 cup

unsweetened cocoa powder

1 cups

sugar

1/4 teaspoon

baking powder

3/4 teaspoon

baking soda

1/4 teaspoon

salt

1

egg

1/4 cup

vegetable oil

1/2 cup

buttermilk

1/2 teaspoon

vanilla
For 7 Minute Frosting:
1

egg whites

1/4 cup

sugar

1/8 cup

light corn syrup

1 tablespoons

water

1 teaspoons

vanilla extract
Pinch of salt
Chocolate Ganache:
1/2 cup

heavy cream

1 tsp

unsalted butter

6 oz

semisweet chocolate, chopped
---
Instructions
Cake:
Preheat the oven to 350 F. Spray with cooking spray 9-inch round cake pan (or square 8×8 inch pan), line with parchment paper, and spray the paper with cooking spray and set aside.
Place chopped chocolate in a small bowl and pour brewed coffee over the chocolate and whisk to combine until the chocolate is melted. Set aside.
In a large bowl, sift together dry ingredients: sugar, flour, cocoa powder, baking powder, baking soda and salt and set aside.
In a large bowl beat eggs with an electric mixer, until pale yellow, than add oil, buttermilk, vanilla and chocolate-coffee mixture. Continue beating to combine well.
Add dry mixture into wet mixture and beat until evenly combined but don't over-mix it. Spread batter in prepared pan and bake for 30-35 minutes or until a toothpick inserted in the center comes out (almost) clean.
Cool cake in the pans 5-10mins and transfer it on the wire racks to cool completely.
Using heart shaped cookie cutter, carefully cut hearts of the cake (I cut 8 hearts-number depends on size of your cookie cutter).
Place hearts upside on a large baking sheet lined with parchment paper.
Using a cupcake corer (or a sharp knife) carefully cut out a cone of cake from each heart.
To make the 7 minute frosting:
Combine all ingredients in a metal bowl set over a saucepan of simmering water and beat with a handheld electric mixer at high speed until frosting is thick and fluffy(6 to 7 minutes).
Remove bowl from heat and continue beating until slightly cooled.
To make the ganache:
In a small saucepan heat heavy cream over medium high heat, bring to a boil.
Place chopped semisweet chocolate in heatproof bowl and pour the boiling cream over, leave it for 5 minutes, then stir until its smooth.
Assemble the hearts:
Carefully pipe a small amount of 7 minutes frosting in each heart. Notes: you will have a lot of frosting leftover, actually it's enough to fill double measure of the cake!!!
Spoon a small amount of ganache on to each heart and spread into a thin layer on the top of the cake. Place cakes into refrigerator for 20 minutes to firm the ganache so you can turn the hearts and cover the other side with the ganache. Pour the ganache over the each heart to covers it evenly and drip to cover the sides over all edges.( If the ganache is too thick to pour it over the heart you can rewarm it!!!)
Return cakes to the refrigerator until the ganache is completely hardened.
Transfer about 1 TBSP of 7 minute frosting in a small bag and cut the corner, pipe "LOVE" swirl on each cooled heart.