Whether you need a dessert or snack, no bake Chocolate Peanut Butter Oatmeal Bars recipe will satisfy your taste buds!  Peanut butter oatmeal bars with chocolate frosting and pieces of Reese's cups on top, are sure to please.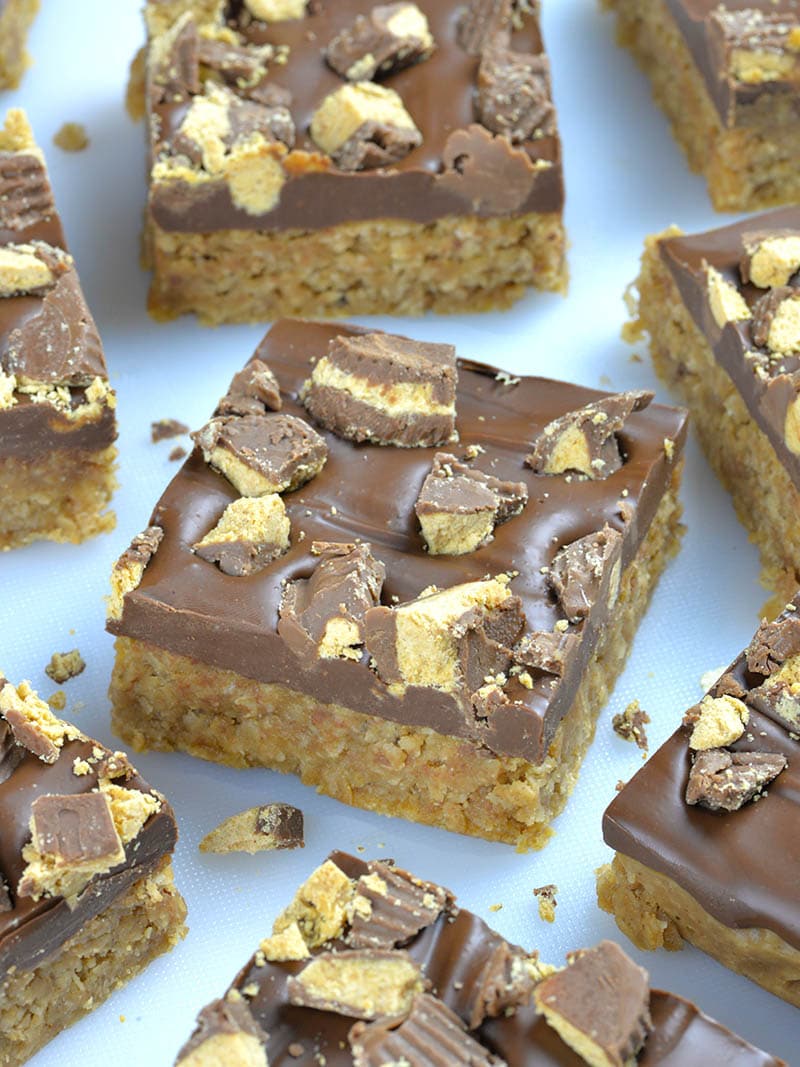 Oatmeal bars are my favorites. They are perfect snack and make ahead breakfast to eat on the go. But they are very satisfying desserts, too. And speaking about oatmeal, you are all familiar with health benefits of oats.
Maybe you like to start a day with a bowl of cereals. But, it might be too boring. So, I like to make a little twist on a healthy breakfast. Also, I like to use rolled oats or oatmeal to make a cookies  or bars. However, that's totally acceptable to eat for breakfast.
Peanut Butter Oatmeal Bars with Chocolate Frosting
Well, sometimes I carried away and turn an ordinary oatmeal bars in a very rich and decadent dessert. I'm not going to convince you that this Reese's Peanut Butter Oatmeal Bars are good choice for breakfast. With a thick layer of chocolate frosting and chopped Reese's cups on top, they certainly are not healthy breakfast.  But these Peanut Butter Oatmeal Bars with Chocolate Frosting are super delicious treat.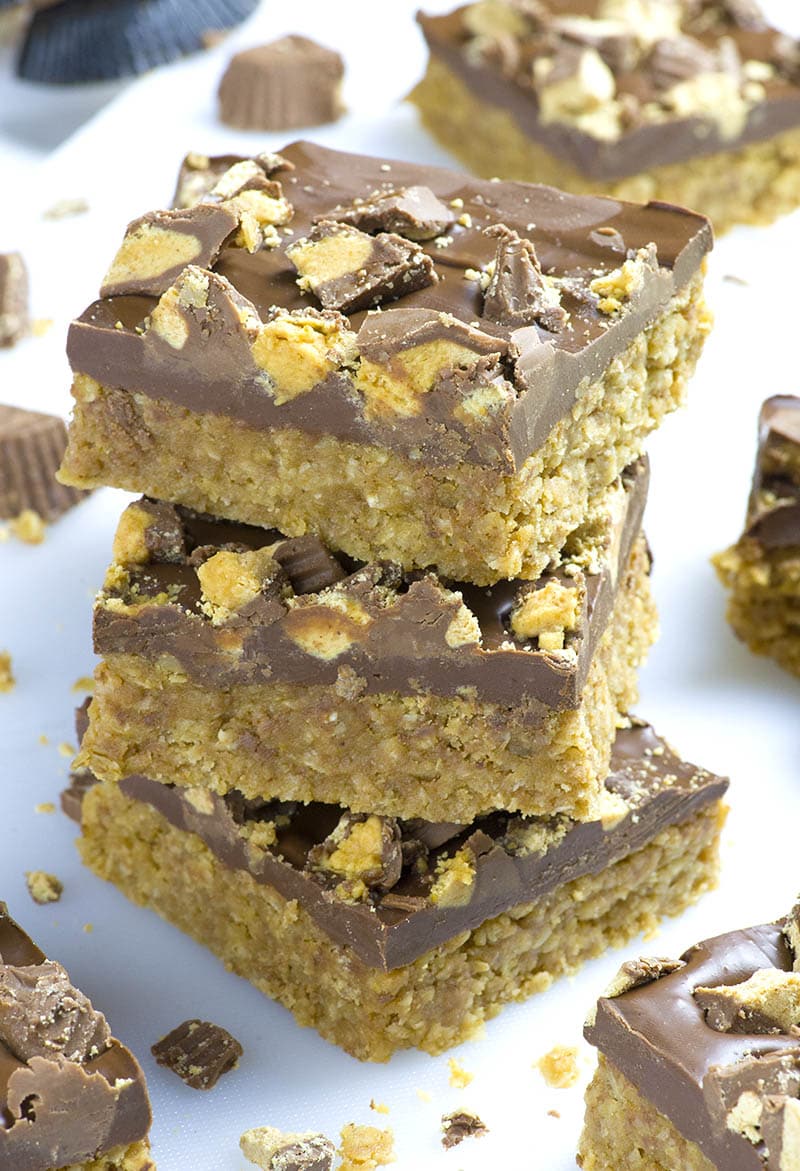 Peanut butter oatmeal bar layer is so flavorful and chewy. But, smooth peanut butter- chocolate frosting takes it over the top. And don't forgot the Reese's cups. These bars are peanut butter lover dream come true.
Speaking about peanut butter lovers, I'm one of those, as well. So, these no bake Peanut Butter Bars recipe is my new favorite. It uses peanut butter for oatmeal bar layer, but for chocolate frosting, too. Plus, Reese's peanut butter cups on top. And they taste so good!!!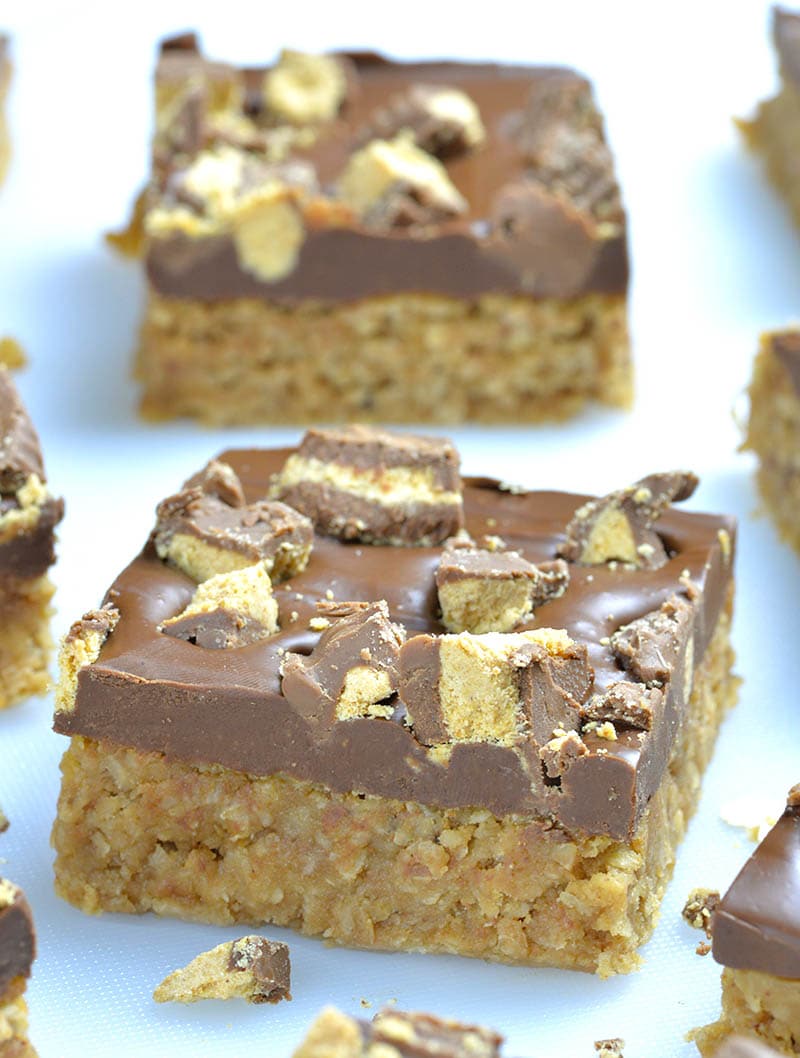 But, here's my favorite part: this is NO BAKE Peanut Butter Bars RECIPE. That means that you'll just have to bring to boil brown sugar, butter, milk and peanut butter. Then, stir in oatmeal and vanilla and spread the mixture in the pan. When it's chilled and firm, top with fudgy and smooth chocolate frosting, slice into bars or squares and enjoy.
You should also check following
 Oatmeal Bar Recipe
Easy Skinny Strawberry Oatmeal Bars
Reese's Peanut Butter Oatmeal Bars Recipe

Print
Chocolate Peanut Butter Oatmeal Bars
---
Description
Peanut butter oatmeal bars with chocolate frosting and pieces of Reese's cups on top, are sure to please.
---
Ingredients
¾ cup

light brown sugar

½ cup

sugar

1/3 cup

unsalted butter
pinch of salt

1/3 cup

milk

2/3 cup

peanut butter

1 teaspoon

vanilla

2 ½

–

2 ¾

cups quick-cooking rolled oats
For Chocolate Frosting:
¼ cup

creamy peanut butter

7 oz

. semisweet baking chocolate- chopped

5

–

6

Reese's cups- coarsely chopped
---
Instructions
Line 8 x 8 inches pan with parchment paper and set aside.
In a sauce pan over medium heat, combine butter, sugar, brown sugar, milk and salt. Whisking constantly bring the mixture to a boil. Boil for 1 minute then remove the pan from a heat.
Add peanut butter and vanilla and whisk until evenly combine.
Using a spatula or a spoon, fold in oats. Do not add all oats at once. You don't won't to make your mixture too dry. Add 2 cups, stir well, then add ¼ cup at the time if needed. The amount of oat depends on the brand you use. Keep in mind that the mixture will thicken and harden as it cools.
Cool to room temperature, then place in the fridge to cool completely.
To make the chocolate frosting, combine ¼ cup peanut butter and chopped chocolate in a microwave safe bowl and microwave until melted and smooth, stirring every 30 seconds. Or you could melt it in a small sauce pan over low heat on a stove top, stirring constantly.
Spread chocolate mixture over the peanut butter bars, sprinkle with chopped Reese's cups and refrigerate for at least 1 hour.