Christmas Lasagna is whimsical layered dessert with buttery red velvet shortbread cookie crust, peppermint cheesecake layer, white chocolate pudding, whipped cream and mini marshmallows on top. I'm sure it will be a hit at your Christmas gathering, like this Christmas Cheesecake, too! Merry Christmas everyone!!!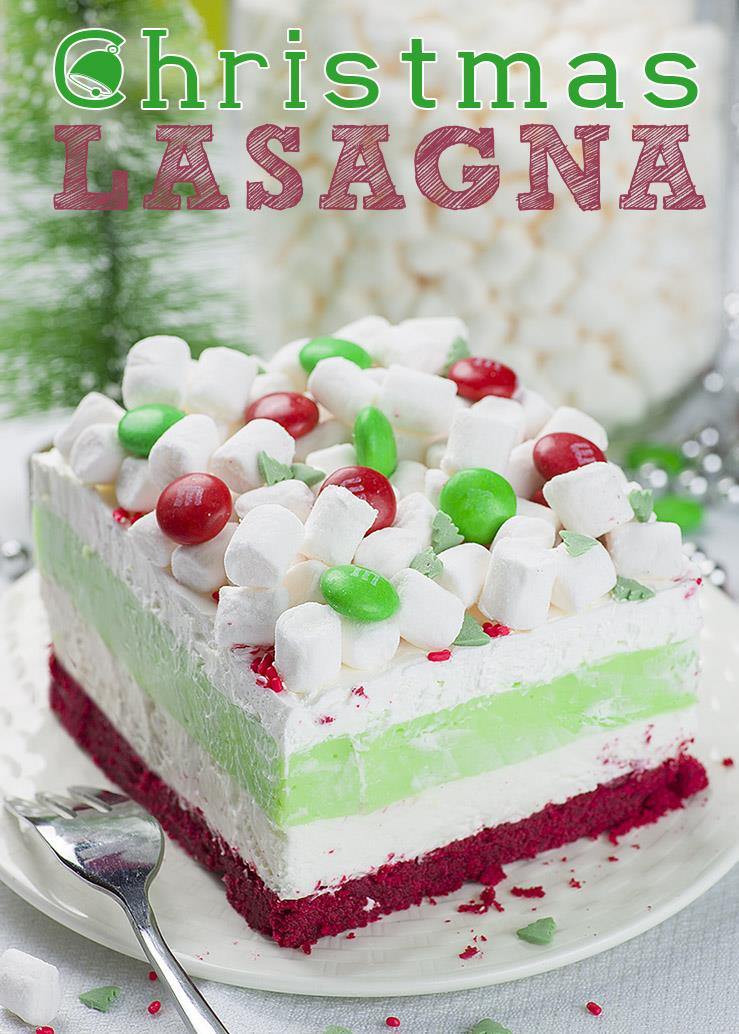 However, you all know that I'm a little obsessed with my Lasagna desserts. And I've already made it in chocolate version, then came my Pumpkin lasagna and Key Lime Pie Lasagna, and the latest version was my White Chocolate Blueberry Lasagna I made this summer.
Today, I'm sharing with you my new favorite: Christmas Lasagna!!! But if you thought that I'm done with lasagna desserts, you're wrong. Moreover, I still have so many interesting ideas on my mind, too.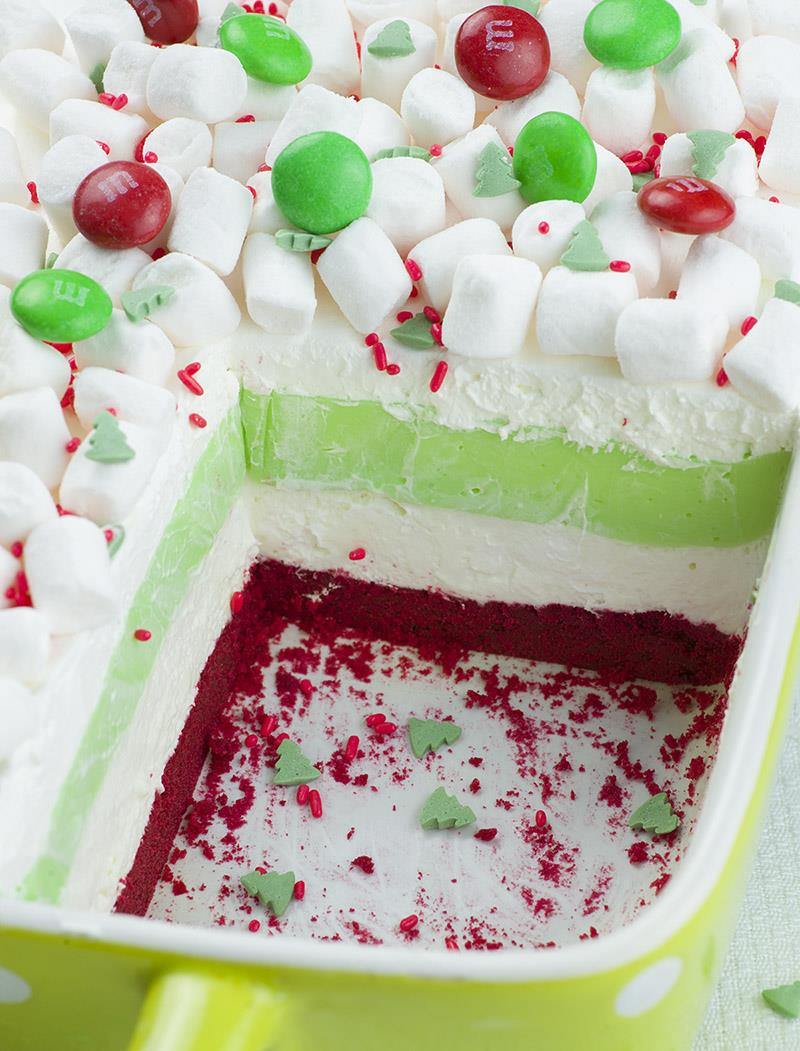 When I start thinking about this dessert, I wanted it to be easy to make as much as possible. And it should taste delicious, of course. But as a Christmas dessert it must look really cheerful, in the first place. Therefore, I decide it will be in the colors of Christmas. However, red white and green are traditionally associated with Christmas. Layered desert seems as the best option.
Firs, for RED layer I decided to make red velvet shortbread crust. I used my favorite shortbread recipe from my Strawberry White Chocolate Shortbread Cookies. But I just left out the add-ins and mix in red food coloring and get delicious, buttery crust for Christmas Lasagna.
Second, WHITE layer is simple no bake cheesecake. But instead the usual vanilla flavor, I added some peppermint extract this time.T here's just something special about peppermint treats at Christmas season. You all know how many limited-edition sweets with peppermint flavor shows at grocery store that time of year.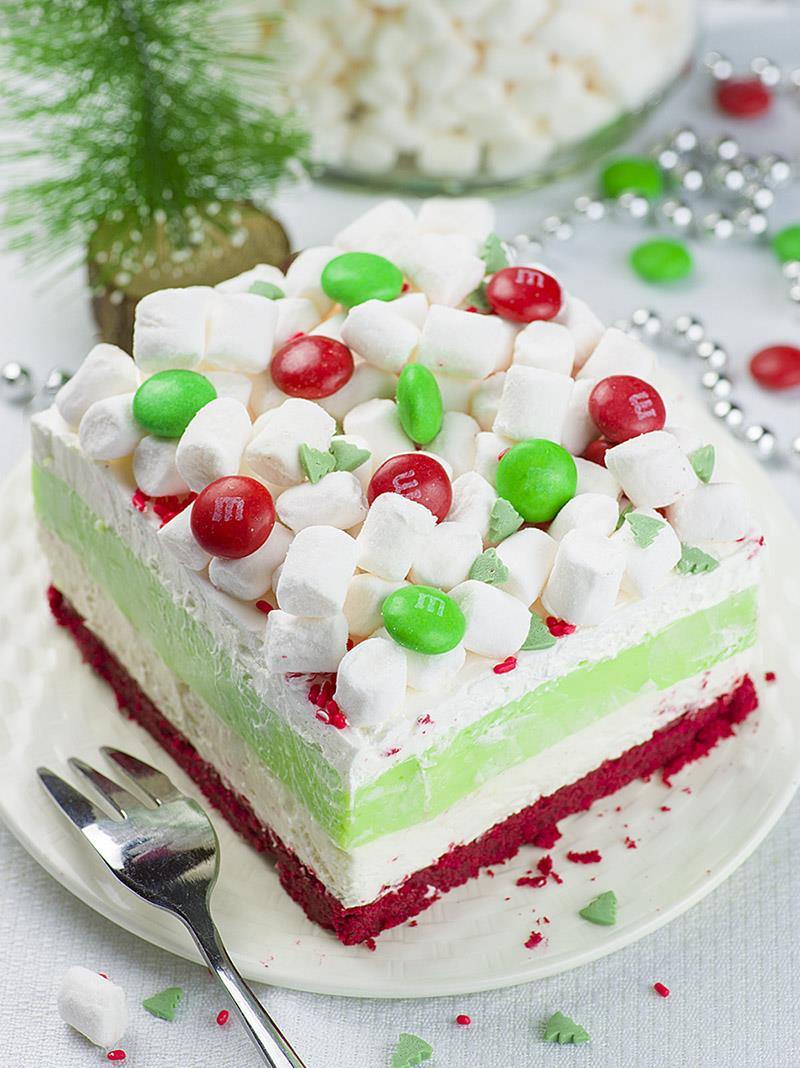 Next, for GREEN layer I used white chocolate instant pudding dyed with a few drops of green food coloring. Although, I could use pistachio pudding which is already green, but the flavor combination doesn't seem right. White chocolate goes much better with mint cheesecake.
And for garnish I used mini marshmallows. They make these Christmas lasagna looks magical and snowy. I also scattered a few red and green M & M candies and sprinkle cute little green Christmas trees and red sprinkles. Well, it's Christmas Lasagna and it should be cheerful and merry!
Merry Christmas everyone!!!

Craving for more Christmas desserts?! Then you will like this:
Christmas Cranberry Pound Cake is perfect dessert for Christmas. It's really moist, flavorful and easy to make.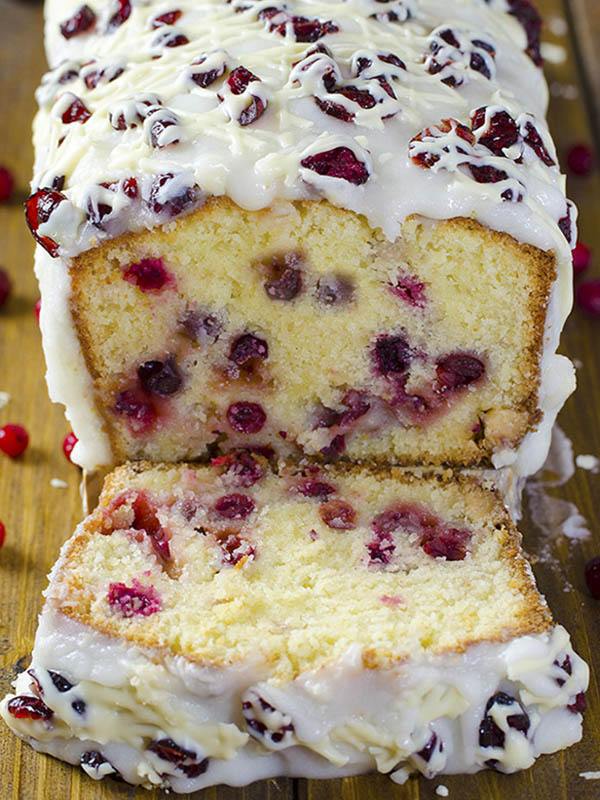 Christmas Tree Cheesecake on a stick is festive and fabulous Christmas treat. Eating cheesecake has never been this fun!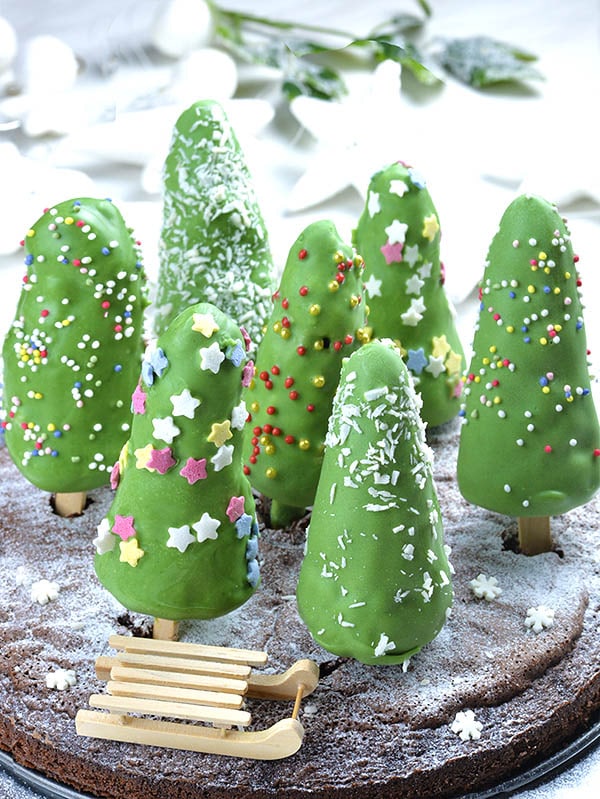 Hot Chocolate Lasagna is delicious dessert, perfect for parties to feed the crowd and it's completely no bake recipe!!!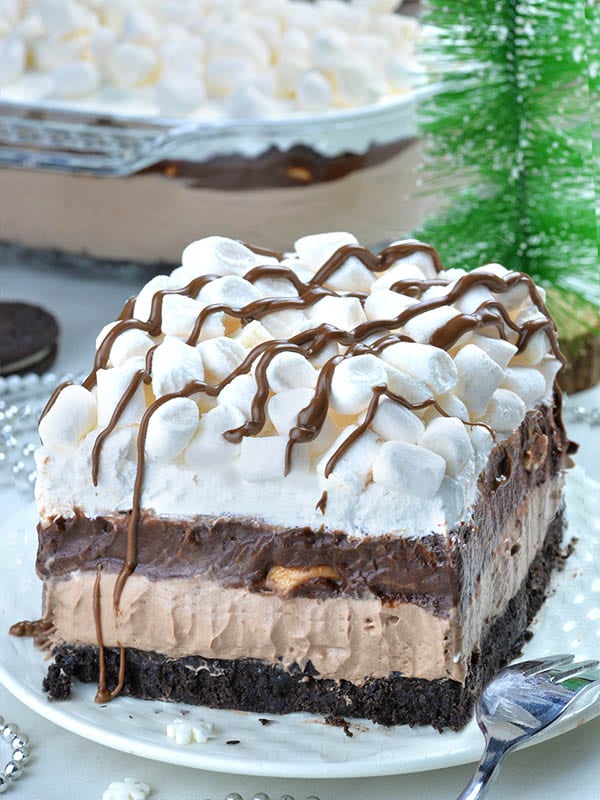 Print
Description
Christmas Lasagna is whimsical layered dessert that will be a hit at your Christmas gathering!
---
Ingredients
Shortbread Cookie Layer:
3/4 cup

unsalted butter-softened

½ cup

powdered sugar

1 1/2 cup

s all-purpose flour

1 tablespoon

cocoa powder

¼ teaspoon

salt
Red food coloring
Peppermint Cheesecake Layer:
1 cup

powdered sugar

8 oz

. cream cheese-softened

1 ½ cup

Cool Whip-thawed

1 teaspoon

peppermint extract
Pudding Layer:
2

x 3.9 oz. box white chocolate instant pudding

3 cup

s milk
Green food coloring
For Topping:
1 ½ cup

s cool whip
For Garnish:

2 cup

s mini marshmallows
Red and green sprinkles
M & M candies
---
Instructions
Preheat the oven to 350 F. Lightly butter 9 x 13 inch baking dish, set aside.
In a small bowl stir together flour, salt and cocoa powder.
In large bowl beat butter and sugar until smooth. Add red food coloring and mix well ( I used 1 tablespoon food coloring to get intense red color). Turn you mixer on low speed and gradually add flour mixture. Mix until combine.
Press the mixture into bottom of baking dish and bake for 18-20 minutes. Remove from the oven and cool completely.
To make cream cheese layer beat softened cream cheese and powdered sugar until smooth. Add 1 ½ cup Cool Whip and peppermint extract and mix to combine. Spread over cooled shortbread layer. Place in the freezer to firm while preparing pudding.
To make the green pudding layer whisk together 2 x 3.9 oz. boxes white chocolate instant pudding mix with 3 cups milk. Add green food coloring (add a few drops at a time, to desired color) and whisk until smooth. Spread over cream cheese layer. Set in the freezer for 5 minutes.
Spread 1 ½ cup Cool whip over pudding layer and top with mini marshmallows and sprinkles. Place in the fridge for 3-4 hours until set.