No Bake Summer Berry Lasagna is EASY SUMMER DESSERT RECIPE for refreshing sweet treat. RED WHITE and BLUE no bake dessert is fun idea for Memorial Day and 4th of July.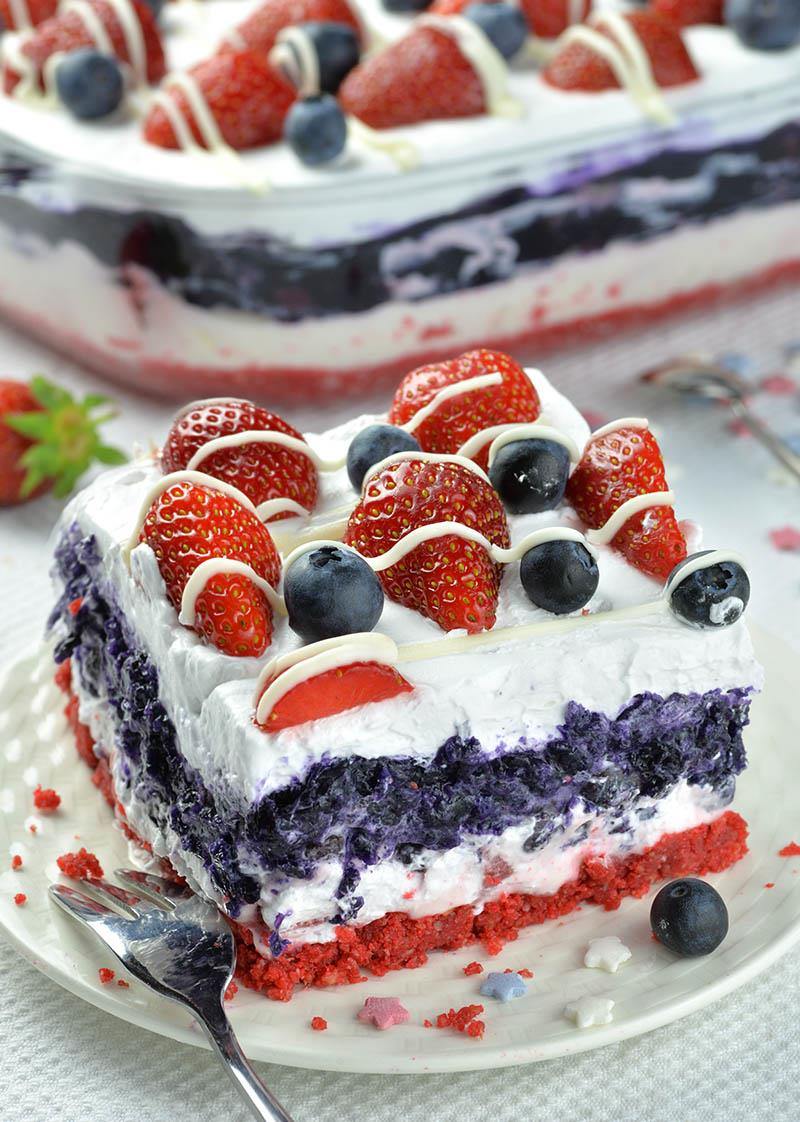 Memorial Day is just around the corner and it's the unofficial beginning of summer, too. Definitely summer is perfect time for light and refreshing sweet treats.
To tell the truth, we all like to eat delicious food and desserts. However no one is willing to heat the oven when the weather is warm. But don't worry!!! NO BAKE DESSERT RECIPES can be really awesome, too!!!
My favorite type of all easy no bake sweet treats is DESSERT LASAGNA. So far I've shared much more than a few here on my blog.
After the last one, No Bake Strawberry Jello Lasagna (which was great, by the way) I created another dessert lasagna.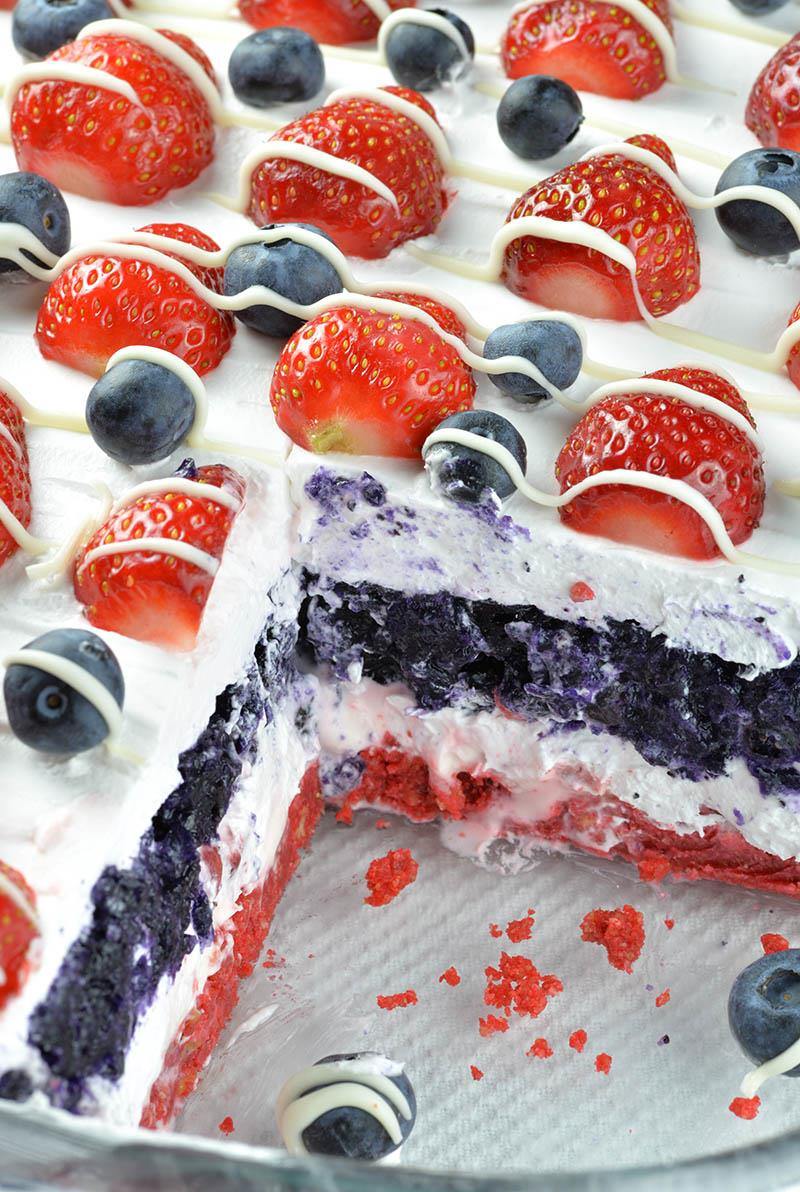 Incoming holidays, Memorial Day and 4th of July inspired me to make this delicious, festive and fun RED WHITE and BLUE DESSERT.
Speaking about red, white and blue, let me tell you more about this layered dessert.
First one, RED VELVET LAYER at the bottom is graham cracker crust flavored with strawberry jam.
Second is white CHEESECAKE LAYER with some fresh strawberries.
Dark blue layer is BLUEBERRY JELLO SALAD. It's mixture of blueberry pie filling, crushed pineapple and gelatin.
Top layer is just simple whipped cream garnished with a lot of fresh strawberries and blueberries, drizzled with white chocolate.
Three-day weekend upon us is perfect time for you to try this easy No Bake Summer Berry Lasagna recipe dessert.  It's really simple to make, it doesn't take much of active prep time. But It's the best to be made a day before serving because it need 5-6 hours to set.
Fun and festive, easy summer dessert recipes for parties, potlucks and BBQ:
No Bake Strawberry Jello Lasagna
White Chocolate Blueberry Lasagna
Strawberry Cheesecake Chimichangas
Summer Berry Cheesecake Chimichangas

No Bake Summer Berry Lasagna
No Bake Summer Berry Lasagna is EASY SUMMER DESSERT RECIPE for refreshing sweet treat. This is perfect idea for Memorial Day and 4th of July dessert.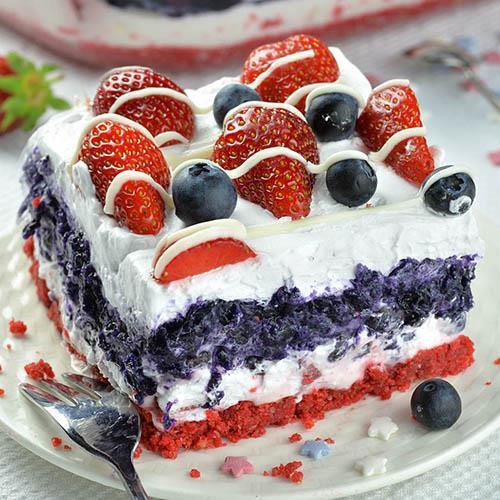 Ingredients
For Whipped Cream:
1 2/3 cup heavy cream-chilled
1/3 cup powdered sugar
1 teaspoon vanilla
For Red Velvet Crust:
3 cups graham cracker crumbs
¼ cup strawberry jam
½ cup+ 2 tablespoons unsalted butter-melted
Red gel food coloring
For Cheesecake Layer:
8 oz. cream cheese-softened
½ cup unsalted butter-softened
1 cup powdered sugar
1 teaspoon vanilla
1 cup of whipped cream
2/3 cup diced fresh strawberries
For Blueberry Jello Salad Layer:
2 (3 oz.pckg) berry blue Jello (or other flavor to your taste)
1 1/4 cup boiling water
2 cups blueberry pie filling
1 cup of canned crushed pineapple-drained from juice (if use pineapple chunks, pulse it in a food processor to get fine crushed pieces)
For Topping:
2 ½ cups whipped cream
Fresh strawberries halved
Fresh blueberries
¼ cup chocolate chips
Instructions
To make the crust combine graham cracker crumbs, strawberry jam, melted butter and red food coloring( drop the color directly in melted butter or jam, it will dissolve better). Mix until evenly moistened. Press the mixture in the bottom of 13 x 9 x 2 inch dish. Place the crust in the freezer to firm.
To make the whipped cream in a bowl beat chilled heavy cream until soft peaks form. Add powdered sugar and vanilla and continue mixing until really STIFF peaks form. Measure out 1 cup of beaten whipped cream for cheesecake layer. Cover remaining whipped cream and reserve for topping.
To make cheesecake layer cream together softened cream cheese, powdered sugar, vanilla and softened butter. Mix in 1 cup of whipped cream(do not use soft whipped cream, cheesecake filling have to be thick or it won't hold dense blueberry jello salad layer on top)
Gently fold in diced strawberries and spread over the crust. Place in the fridge to set.
To make the blueberry jello salad layer in a large bowl place 6 oz. berry blue Jello gelatin mixture. Pour 1 ¼ cup boiling water and stir for a few minutes until the gelatin dissolved completely. Set aside to cool for 15-20 minutes, then stir in crushed pineapple and blueberry pie filling. Wait until it's cooled to room temperature and soft set, or place in the fridge to speed the process but stir from time to time.
Spread blueberry jello layer over chilled cheesecake layer. Do not pour warm blueberry jello over cheesecake layer, it will melt it.
Place in the fridge to chill until jello layer is set completely .
Top with remaining whipped cream. Before serving arrange fresh berries on top. Melt white chocolate chips, transfer melted chocolate to a ziplock bag, cut off the corner and drizzle over the top of lasagna.
Store in the fridge.
7.6.4
348
https://omgchocolatedesserts.com/no-bake-summer-berry-lasagna/
Show All Comments
Close All Comments