If you are thinking about something ideal to go with your BBQ, fried chicken or hamburgers, German Potato Salad is something just perfect to think about. It always looked to me that this great side dish can even become a main dish for itself if you increase the amount of fried bacon in it. In which ever way you serve it on your table, German Potato Salad will be a hit!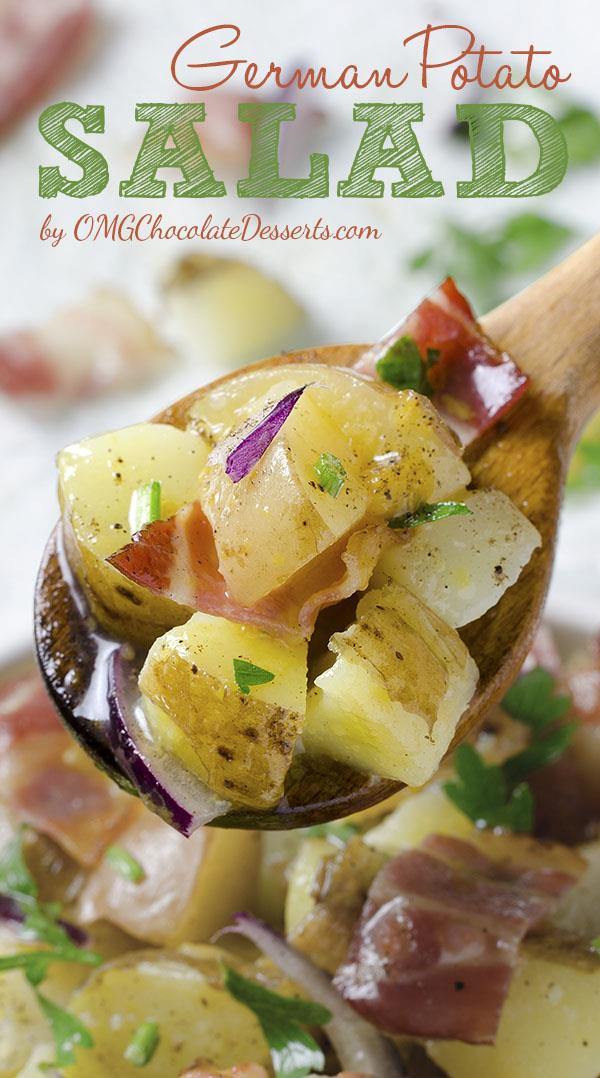 "Darling,  I won't be having lunch today. Maybe just an easy salad" was the SMS I got for I don't know which time from my husband. It meant that right after work, he would eat some "light" food and then go right off to a game of badminton or ping pong with his friends. He always thought that with an easy meal, he would be raring to go, but what he didn't see is that always, besides the salad, he got various meat treats or some kind of cheese out of the fridge. All in all, to me it all looked like a meal with more calories than the lunch he wanted to avoid.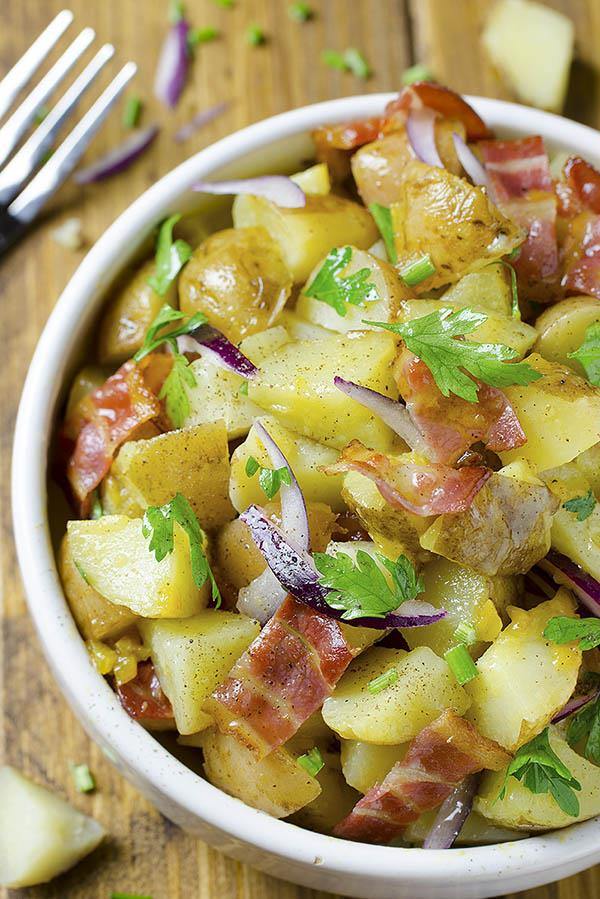 This time, I decided that his "easy salad" must have more calories, so for lunch, I prepared German Potato Salad, a dish I often like to have when I make barbecue. Since this salad, besides tasty cooked potatoes, has slices of bacon and onion, I decided to increase the amount of bacon just a tiny bit and make it the main dish.

MY LATEST VIDEOS
And so, as soon as he came back from work in a rush, with a little disappointment, he saw that it was not a real salad, but he started eating anyway.
"Hmmm this combination of potatoes and bacon is great! If it only had a little more bacon", he said completely forgetting that he was supposed to have an "easy salad".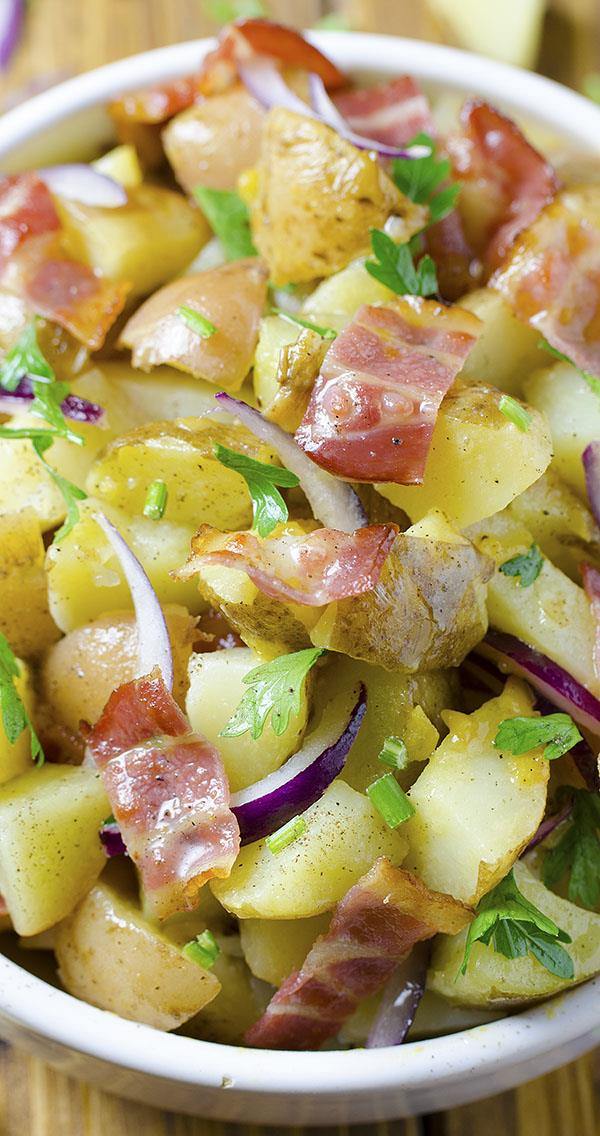 Of course, I was completely aware something like this could happen, so I had a bowl of bacon pieces ready. He mixed it with the rest of the salad as quickly as he could.
"You know what, this is great. I had only salad, and yet I am full" he concluded while packing for the upcoming match
I also didn't want to leave anything to chance, so I added a hamburger which I prepared earlier to this potato salad for lunch 🙂

Print
German Potato Salad
---
Prep Time:

10 minutes

Cook Time:

30 minutes

Total Time:

40 minutes

Yield:

4-5
Ingredients
2 pounds new potatoes (small or medium sized)
1 teaspoon salt
10-12 oz. bacon chopped into bite size
2-3 cloves garlic-minced
1 tablespoon olive oil
5 tablespoon apple cider vinegar
1 tablespoon brown sugar
1 tablespoon Dijon mustard
1/2 teaspoon salt (or more to taste)
Freshly ground pepper (to taste)
1/3 cup chopped fresh parsley
1 red onion-sliced
---
Instructions
Place the potatoes into a pot and cover with cold water, bring to a boil and add 1 teaspoon salt. Cook for about 15-20 minutes, or until tender when pierced with a fork, drain, and set aside to cool. Chopp potatoes with the skin into 2/3 inch cubes.
In a large deep skillet fry bacon over medium-high heat until browned and crisp. Remove the bacon from the pan and set aside.
Add minced garlic to the bacon grease and cook over medium heat until browned, then add olive oil, apple cider vinegar,mustard, brown sugar, salt and pepper to the pan and bring to a boil. Add the potatoes, sliced red onion and half of the parsley and bacon. Heat through and transfer to a serving dish. Sprinkle with the remaining bacon and parsley. Serve warm.