Hocus – Pocus! From one cake batter poured into your baking pan, in a very short time, you will have three fantastic chocolate layers! Chocolate Magic Custard Cake is the perfect dessert for a true chocoholic!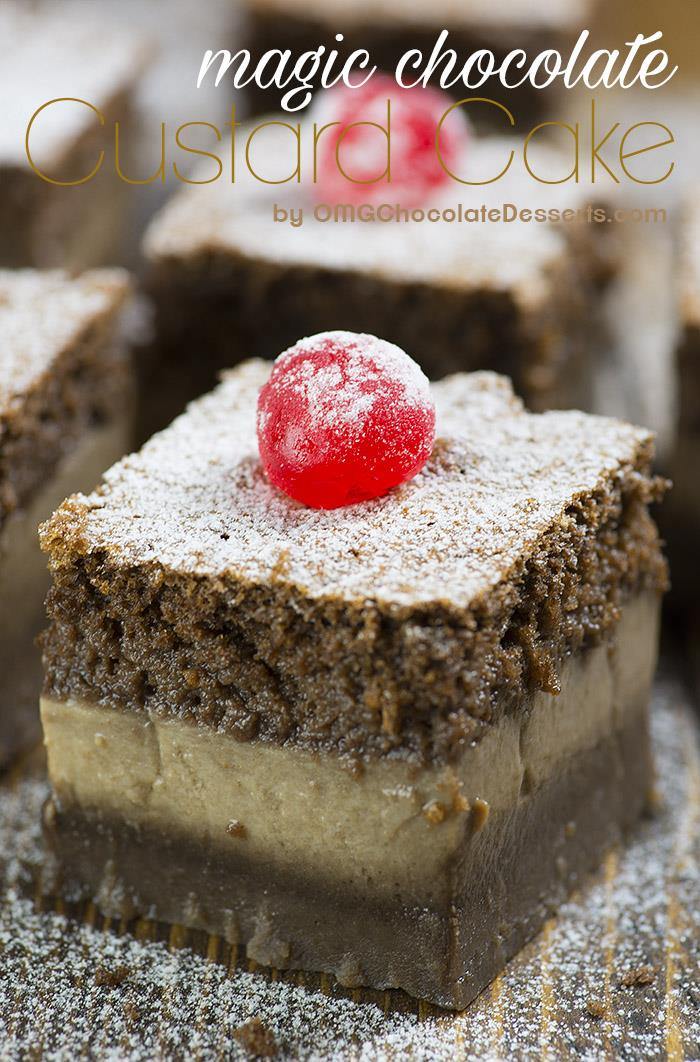 Sometimes, you really need a magic wand even if you have  all that amazong kitchen utensiles 🙂 Well, how to get this wand, and where to buy it is hard for me to tell you, but when you are playing with a cake like the Chocolate Magic Custard Cake, maybe you will get some help from it.
You think I'm talking nonsense? Just imagine the expression on my face when my husband came in and saw my Chocolate Magic Custard and really delighted said "Woow, Brownies, we haven't had them in years".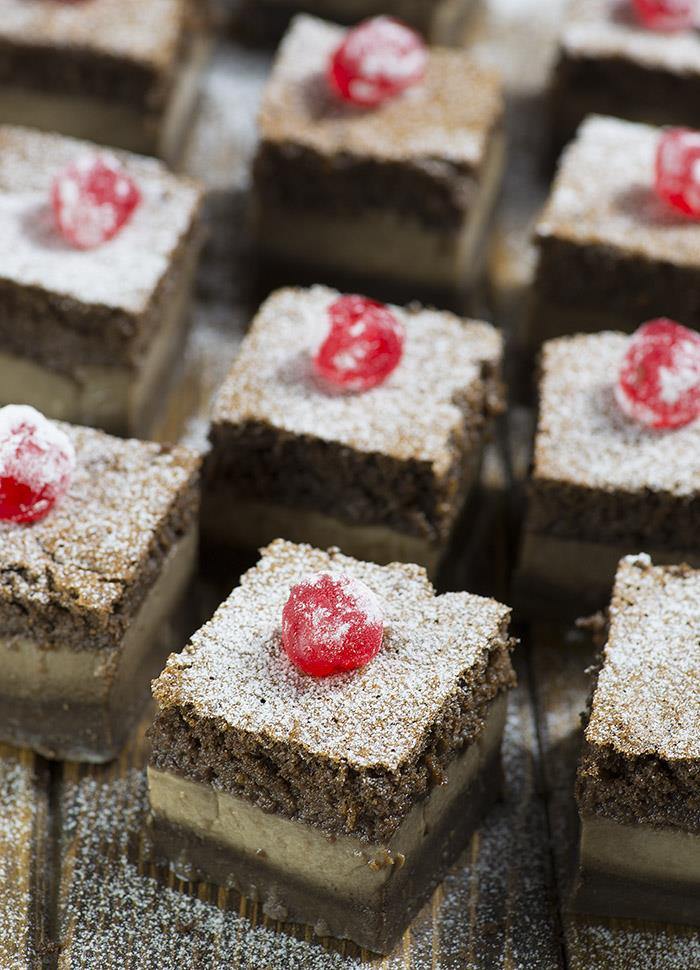 Although my debut with this vanilla magic custard cake was fantastic, this time, instead of three completely different chocolate layers, my magic cake looked like tasty but over sized Brownies. What happened? Was I overconfident and relaxed while mixing the ingredients? Or, maybe, I keept the cake in the oven too much? Or I haven't said the right magic word? I had no idea what it was, but one thing was sure – Vera wasn't giving up, for all it's worth.
And while my husband was already in the middle of enjoying what should have been Chocolate Magic Custard Cake, I started again. From the beginning. This time, every ingredient was weighed three times, and while the cake was baking in the oven again, my look went from the oven to the clock, back and forth. And, just to make sure, I said the magic words (I can't tell what they are because they would lose their magic then).
And just look – as soon as I took out the first piece of my "repeat" Chocolate Magic Custard Cake out of the oven, where they were on the plate, three beautiful chocolate layers smiling at me. I don't know if it's because of the magic, or maybe because I was a little more serious, but anyway, this time, the cake looked just wonderful. The only thing that was looking sad was my husband, he had to postpone eating this version of the cake for a few hours, the reason being he had eaten all the "Brownies" made just before.

Print
Chocolate Magic Custard Cake
---
Prep Time:

15 minutes

Cook Time:

1 hour

Total Time:

1 hour 15 minutes

Yield:

9

1

x
Category:

Dessert

Method:

bake

Cuisine:

American
Ingredients
1/2 cup

unsalted butter-melted and slightly cooled

2 1/2 cups

milk-lukewarm

4

eggs-separated

1 3/4 cups

(

210 g

) powdered sugar

1 Tablespoon

water

1 cup

(

115g

) flour

1/2 cup

(

43 g

) cocoa powder

2 tablespoons

espresso or strong coffee-lukewarm

1 teaspoon

vanilla extract
powdered sugar for dusting
maraschino cherries for garnish-optional
---
Instructions
Preheat the oven to 325°F. Lightly grease 8×8 inch baking dish, set aside
Whisk together flour and cocoa powder and set aside.
Whip the egg whites until stiff peaks form, set aside.
Beat the egg yolks and powdered sugar until pale yellow.
Mix in melted butter, vanilla, water and espresso until evenly combined (for about 2 minutes)
Mix in the flour and cocoa mixture until evenly incorporated.
Slowly beat in the milk until well combined.
Gently fold in the egg whites (1/3 at a time, then repeat until all of the egg whites are folded in). Use rubber spatula to fold in the egg whites, don't do this with electric mixer or the cake might not separate in layers while baking.
Pour the batter into the pan and bake for 50-60 minutes (until the cake is barely jiggly in the center). Baking time might vary depending on your oven or pan you use, but start checking after 50 minutes.
Cool the cake completely before dusting with powdered sugar. Even cooled, it will be slightly jiggly because it has custard layer in the center.