Old fashioned Chocolate Cake is dangerously delicious, rich and decadent cake packed with real chocolate flavor. And it's perfect birthday cake because chocolate cake is just about everyone's favorite!!! It's supremely moist cake with tender texture thanks to mayonnaise used as a substitute for oil.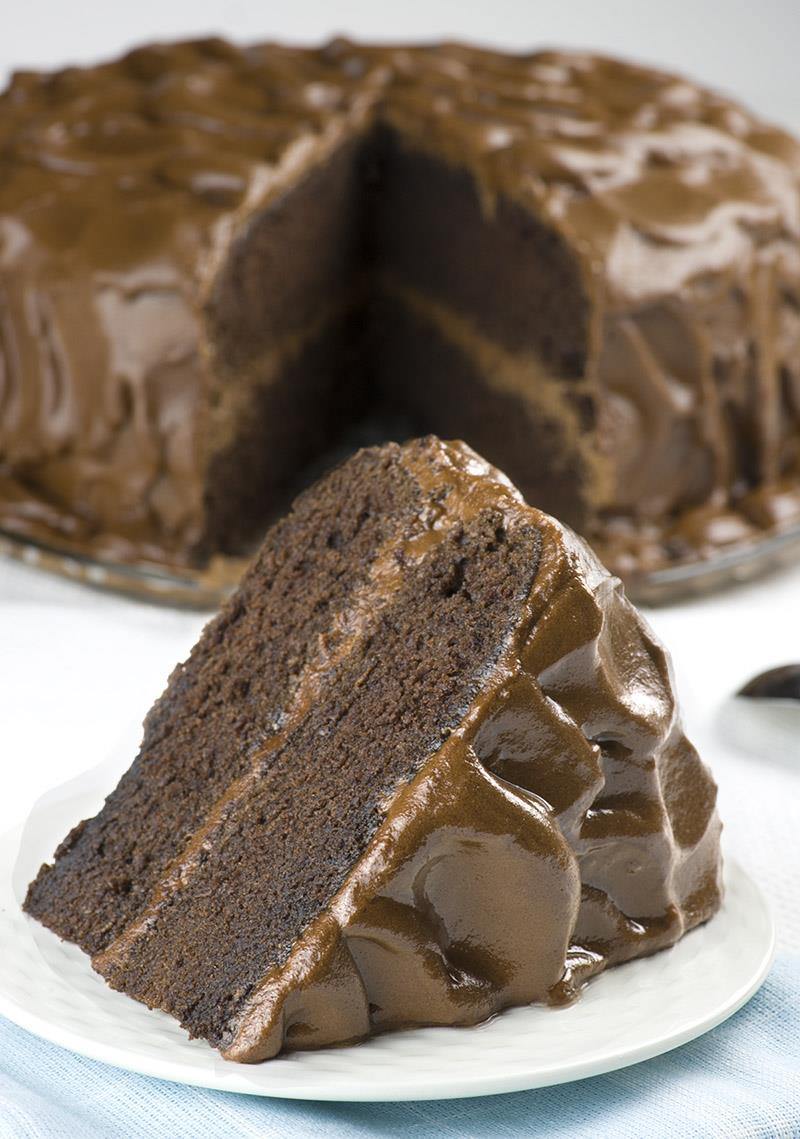 A few days ago my hubby turned 42! WOW, I would never say he's 42, he is still so smokin' hot !!! He asked for a chocolate mayonnaise cake for his birthday party. His mom used to bake chocolate mayonnaise cake that he loved and he asked me if I could do that. It was very difficult task for me to make something as nearly as good as his mom's cake because my mother in law is the best cook I've ever met!!!
But after all, I love my husband very much so I decided to give my best and try to fulfill his birthday wish. I was very anxious to try new recipe that I've never made before because I didn't know how it will turn out.  Just to make the things even more complicated I don't have to please just my husband with this Old fashioned Chocolate Cake. My in laws will come to dinner and I'll get the reviews from his entire family.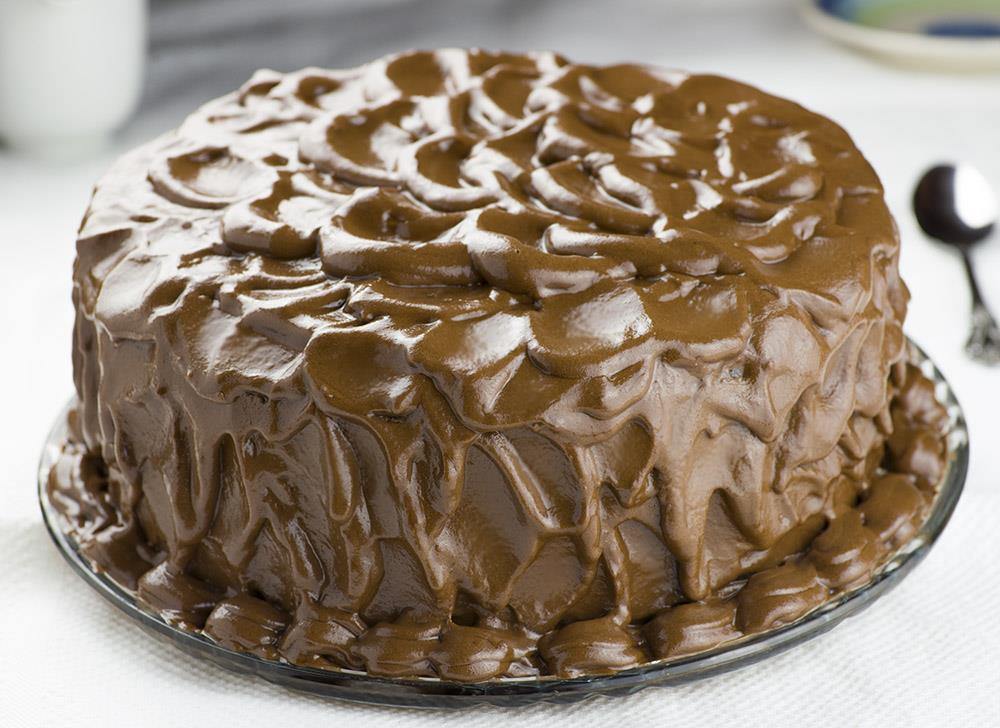 Like I said it was very difficult task!!! Can you imagine me who've made a career out of baking and cooking dreading of family reviews! Luckily everything went well!!!
I found the recipe for Chocolate Mayonnaise Cake at Bon Appetit and start my baking adventure. The original recipe was for three layer cake but since I didn't have three 8-inch-diameter cake pans with 1 1/2-inch-high sides, I decided to use my 9 x 2 1/2  inch round pans and make two layer cake.
The result was great. The cake was supremely moist. I was afraid that the mayonnaise would give some tartness to the cake, but if you don't know that the cake was made with mayaonnaise as a replacement for the oil, you would never have guessed.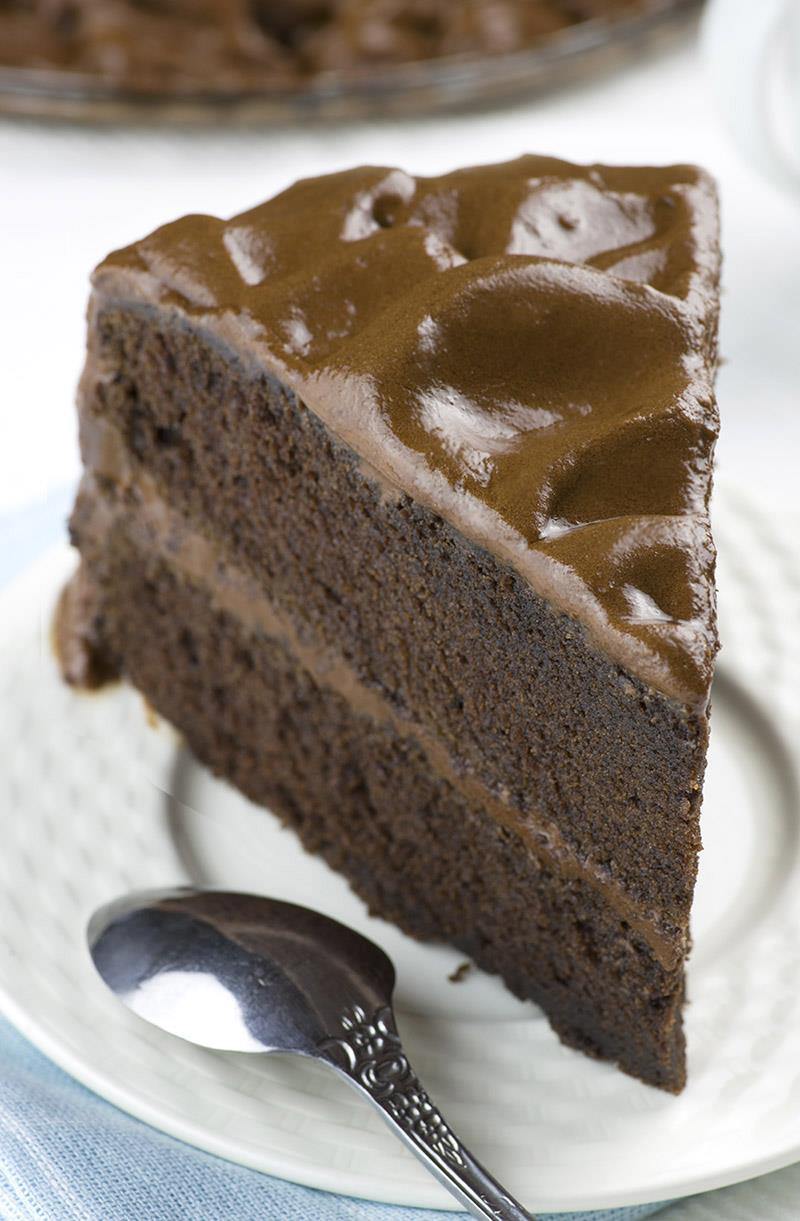 This Old fashioned Chocolate Cake was moist, tender, ain't too sweet and it's loaded with chocolate flavor.
Chocolate frosting was melt-in-your-mouth good. It's simple buttercream made with a lot of melted chocolate, not cocoa, and it turned out incredibly silky and smooth.
Old fashioned Chocolate Cake came beyond all my dreams. It's so rich and decadent. You can only eat a small piece at a time, but my hubby ate a big fat slice of his birthday cake and said that it was INCREDIBLE!
Even if this Old fashioned Chocolate Cake with mayonaisse was not the top notch (but luckily it was) my husband would know to appreciate my effort and said that cake was great. He knows that main ingredient of this birthday cake is not chocolate or mayo, it's LOVE!
After all, it's not all about the food!!!
Happy birthday dear!!!

Print
Old Fashioned Chocolate Cake
---
Description
Old fashioned Chocolate Cake is dangerously delicious, rich and decadent cake packed with real chocolate flavor.
---
Ingredients
For the Cake:
2 oz

. semisweet chocolate (or bittersweet with max. 61% cacao)- chopped

2/3 cup

cocoa powder (unsweetened)

1

and 3/4 cups boiling water

2

and 3/4 cups flour

1/4 teaspoon

baking powder

1 ¼ teaspoon

s baking soda
dash of salt

1 cup

sugar

1 cup

packed light or dark brown sugar

2

large eggs

1

and 1/3 cups mayonnaise (not reduced-fat or fat-free)

1 teaspoon

vanilla
For the Frosting:
10 oz

. semisweet chocolate (or bittersweet with max. 61% cacao)-chopped

1

and 1/2 cups unsalted butter-softened

3 cup

s powdered sugar

1 tablespoon

vanilla extract

1

–

2

Tablespoons milk-optional
---
Instructions
To make the cake:
Preheat oven to 350°F and grease two 9 inch diameter pans with at least 2.5 inch high sides or three 8 inch- cake pans with 1.5-2-inch-high sides. Then, line the bottom of each pan with circle of parchment paper and set aside.
First, in a medium bowl whisk sift together flour, baking powder, baking soda and salt, set aside, too.
Then, in a medium heat proof bowl combine cocoa powder and chopped chocolate. Pour with 1 and 3/4 cups boiling water and stir until all chocolate is melted and the mixture looks smooth.
Now, in another large bowl mix both sugars and mayonnaise until well blended.
Add one by one eggs at the time and mix well after each addition. Mix in vanilla.
Alternately add flour mixture in 4 additions and chocolate mixture in 3 additions. Mix well after each addition. Start with ¼ flour mixture, mix, add 1/3 chocolate mixture, mix and continue until all ingredients are added and well blended.
Divide cake batter among prepared cake pans and bake until tester inserted into center comes out clean(30 to 32 minutes for 8 inch pans or 35-40 minutes for 9 inch pans). Do not overbake or the cake will be dry!!!
Cool cakes in pans on for 15-20 minutes, then run small knife around sides of cakes to loosen and carefully invert cakes onto racks to cool completely.
To make the frosting:
Melt 10 oz. chopped chocolate and set aside to cool.
Beat softened butter until smooth and creamy. Gradually add sifted powdered sugar and mix until well blended. Mix in vanilla.
Add melted chocolate and mix until silky and smooth.
If the frosting is too thick add 1 Tbsp. milk at the time.
Place first cake layer onto serving plate, spread approximately ¾ cup frosting onto each layer (for 8 inch cake) or 1 -1 ½ cup (for 9 inch cake), spread remaining frosting on top and sides of the cake.
Notes
Original recipe calls for three 8 x 1.5 inch round cake pans and make three layers cake. I used two 9 x 3 inch round cake pans and made two layers cake. My 9 inch cake layer was between 1.5- 2 inch thick when baked. You have enough frosting for either two layers of 9 inch cake or three layers of 8 inch cake.