I know, I know, just a few days ago I said I will forget the sweets and take off the weight that i gained over the holidays. I even gave them a little festive "good bye" with Chocolate Turtles Clusters. But this time, you simply must forgive me, because for these sweet little Peanut Butter Chocolate Cups, I really had a valid reason. They were, actually, just a part of therapy for the trouble that hit me in the last few days: chickenpox!!!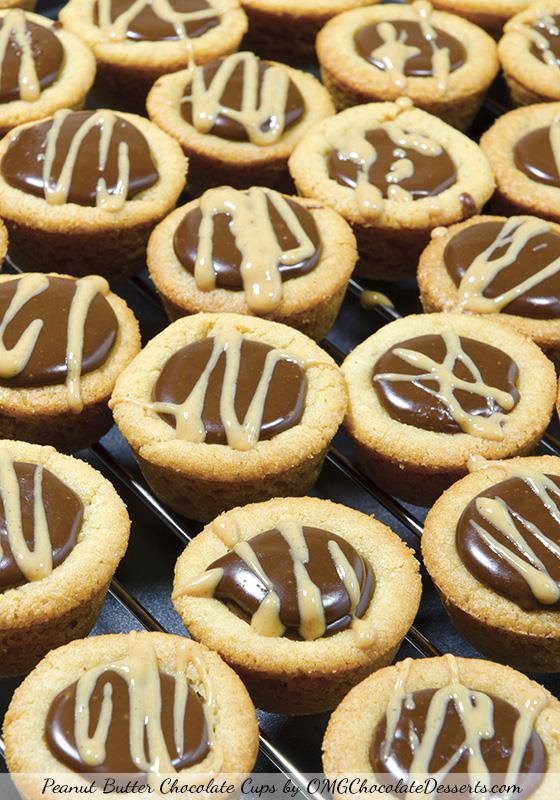 I know, you will not believe me. How come somebody who is 36 has not had chickenpox? Usually, everyone has them as a kid. And if I tell you that I probably got them on a kid's birthday party, where I went with my son Marko, and plus, he didn't get them, then you will probably understand in what kind of trouble I am. I have to sit in a quarantine for days and plus, my son will probably get them soon!
And what to do with boredom? For the last ten days, my best friend is, you guessed it, my computer. Blogs, news, Pinterest and then the same again. Yesterday, I decided that it is time to begin returning to normal and of course, the best way to do that is the kitchen. Ok, I won't go too far. A sweet little desert just to get back in the groove. And so, I chose the very simple treat: Peanut Butter Chocolate Cups. And as soon as I started getting the ingredients out, I felt alive! And for this beautiful treat, you really need little effort. Ten minutes to prepare the cups with peanut butter, a little time for baking and in the end, just a few more minutes to fill these cups with this beautiful mix of condensed milk and chocolate.
But, then comes the biggest problem. How to try just a few bites of this delicious treat? Well, I'm afraid I can't help you with that since I ate so much that I felt sick. My husband went down the exact same road. You see, he had immunity against chickenpox, but he did not have immunity against these yummy cups. If you have found a way to fight them, please, contact us.

Peanut Butter Chocolate Cups
---
OMGChocolateDesserts.com
Yields 35
Crispy peanut butter cookie cups filled with chocolate fudge filling.
Ingredients
For Cookie Cups:
1/2 cup butter- softened
1/2 cup creamy peanut butter
1 cup white sugar
1 egg
1/2 teaspoon vanilla extract
1 1/4 cups all-purpose flour
3/4 teaspoon baking soda
1/2 teaspoon salt
For Chocolate Filling:
1 cup milk chocolate chips
1 cup semi-sweet chocolate chips
1 (14 ounce) can sweetened condensed milk
1 teaspoon vanilla extract
1 Tbsp peanut butter for decoration
Instructions
Preheat oven to 325 degrees F and spray a mini muffin pan with cooking spray.
Cream butter, peanut butter and sugar.
Add the egg and vanilla and mix.
Add in flour, baking soda, salt and mix until combined.
Roll 1 Tbsp dough into ball (or use cookie scoop to do it faster and no need to roll) and place each scoop or ball in pan.
Bake for 12 to 15 minutes (until lightly browned).
Remove from oven and make wells in the center of each cookie using 1 tsp measuring spoon. Press it well to make place for a lot of fudge.
Cool in pan for another 8-10 minutes and then remove the cookies to a wire racks.
Cool for an additional 15 minutes.
To make the chocolate filling combine chocolate chips and sweetened condensed milk in a microwave safe bowl and microwave on high for 1-2 minutes. Stirs a bit until it's evenly combine, then add vanilla and stir again.
Transfer the filling into ziplock bag, squeeze it into a corner and snip the corner off. Pipe the fudge into the cups and fill it well, the chocolate should goes above the cookie- it will set really fast and not run out. (if chocolate filling become too solid, microwave it for 10-15 seconds)

!!You will have about 1/3 the fudge chocolate filling leftover, place it in the fridge and use for another dessert (or eat it with the spoonful like I did)!!!

Warmed about 1 TBSP peanut butter and drizzled it over the chocolate cups also using a small ziplock bag
7.6.4
166
https://omgchocolatedesserts.com/peanut-butter-chocolate-cups/
Show All Comments
Close All Comments